Winner of National Geographic Traveler's Essay Contest
"Place of a Lifetime" 
By night, the moat wall is a stargazing platform. No pesky street lamps, no car lights; no lights whatsoever to distract from shooting stars that fall into the Gulf of Mexico. Welcome to Fort Jefferson in the Dry Tortugas National Park.
Only a sky this black offers naked eyes such infinite depths of the Milky Way.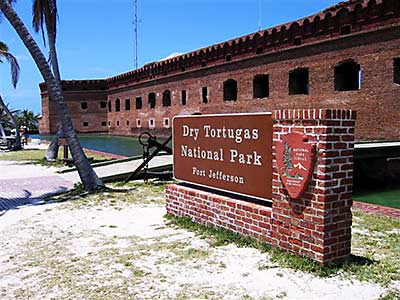 Dry Tortugas National Park – Fort Jefferson Entrance
By day, the moat wall is nothing less than a jogger's wet dream. Wild blue waves crash into the half-mile-long brick and mortar footpath that surrounds this largest of all Civil War fortresses. Literally, I'm splashing through saltwater puddles into a time warp that spans creation.
The 70-mile float-plane ride from Key West to Fort Jefferson in the Dry Tortugas doesn't initially feels like a skip in the Twilight Zone. This is, after all, the dead-end of the Florida Keys chain, and the newest US national park. But a fly-by of the six-sided behemoth rising from the middle of nowhere is akin to sighting an intergalactic Mother Ship floating somewhere out there in deep blue space.
Upon landing, a tour of the fort is a giant step for mankind: architecture funnels history back in time to Roman arches and vaulted ceilings, to moat-walls and castles and 19th century lighthouses.
Fort Jefferson History
Modern political science fills in gaps between Earth's natural history and Star Wars. For instance, Dr. Samuel Mudd was imprisoned here in 1865 after he was convicted of complicity in the murder of President Lincoln. The USS Maine refueled here in 1898 before sailing to Havana Harbor where it sank and kicked off the Spanish American War. And a raging, ten-year battle of government operating rights vs. commercial operating rights (fishing, diving, etc.) ended here recently when Fort Jefferson, the Army Corps of Engineers' first submarine project (1847), was annexed into the Florida Keys National Marine Sanctuary.
Only time can judge man's impact on the planet, of course, but anyone lucky enough to visit instantly knows this place is remarkable.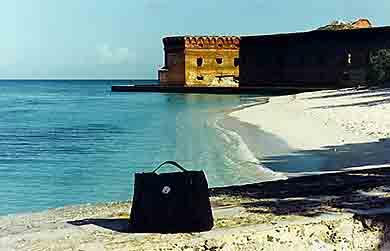 Whether day-tripping from Key West or weekend camping, visitors to Fort Jefferson must pack out everything they bring in.
Fort Jefferson Saved
Rescued from oblivion by President Roosevelt following the demise of its military services, Fort Jefferson was named a national monument in 1935, a national park in 1992. Since then, the influx of visitors went from 30,000 to 100,000, forcing impact studies and protective limits.
Still, Fort Jefferson is the least visited, most inaccessible monument in the national park system. It shows. Pristine coral reefs are the sites of decades-old lemon shark studies.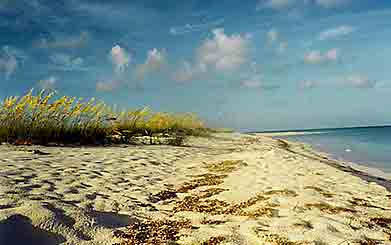 Pristine beaches in the five islands of the Dry Tortugas–this is East Key–are significant turtle nesting sites.
Giant jewfish and swordfish and marlin roam the nearby, deep outer banks. Sugar-fine beaches in the five-island, Dry Tortugas group sport more loggerhead and green sea turtle nests than anywhere else in North America. One island, Bush Key, is a significant nesting site for sooty terns. Even the fort's moat wall is fortified with sea fans and sea urchins, with barnacles and reef building coral polyps. A morning's snorkel around it is like floating in outer space: at the very least, I spy aliens here.
Its contribution to the American heritage is larger than life, but Fort Jefferson's environmental legacy may be its most lasting. No other testament to mankind merges salt and sea and sand and sun and stars – and humility – so succinctly into the timelessness of the universe.
Barbara Bowers is a freelance writer and photojournalist.