Resources
Best Dog Breeds for Seniors: Top 15 Dogs for Seniors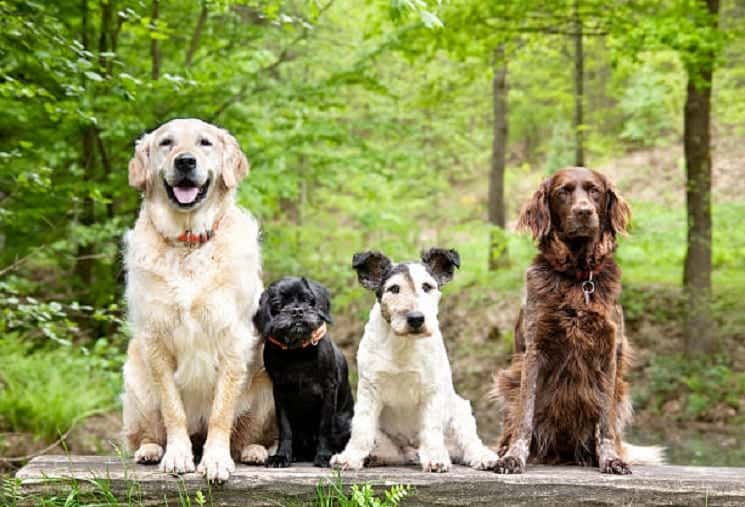 Are you ready to adopt a puppy? The truth is, not all senior citizens have a Golden Retriever. Take a look at the top 15 best dog breeds for seniors!
Did you know that it only costs $800 to raise a puppy in its first year? If you're a senior citizen, that's a really small price to pay for infinite love and companionship. Not only are dogs a natural stress-reliever, but they're also a great way for older folks to stay in shape.
As if that's not enough, dogs can even help seniors deal with health issues like Alzheimer's and high blood pressure. Are you an older adult that wants to adopt a pet? We've got you covered.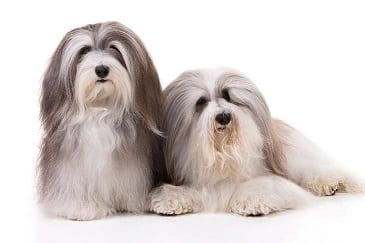 Havanese Dogs
Can we be honest with you? Havanese dogs truly are the best small dogs for senior citizens. That's because they're conveniently tiny and strong at the same time.
Weighing about 10 pounds, Havanese dogs are only approximately 10 inches tall. For those who like a Havenese pup with a curly coat, expect to spend a lot of time grooming its fur. Want to know why Havanese dogs are the perfect fit for seniors?
The answer is simple: they're super social and loyal. But here's the catch. They don't like to be left alone for long periods throughout their day!
French Bulldog
When it comes to dog breeds for seniors, you can't get any better than the French Bulldog. As a pretty rare breed, French bulldogs are known to be extremely friendly. Usually weighing between 15 and 25 pounds, the average French Bulldog is just under a foot tall.
Although they're known to shed and drool, French bulldogs are great pets for seniors that live in apartment buildings. Since they don't bark very loudly, they won't annoy your neighbors either. Another word of advice: this particular breed of dog loves to have companionship around the clock!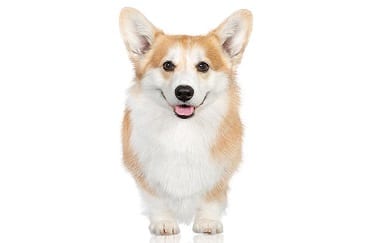 Pembroke Welsh Corgi
Is getting old wearing you down? Brighten your day with a Pembroke Welsh Corgi. Pro tip: they're the best dogs for older adults.
Popularized by British kings and queens, the Welsh Corgi is affectionate and small. Some have even said that they resemble foxes. Due to their small size, Pembroke Welsh Corgis are the ideal companion for long walks around your community.
Since Welsh Corgis were made to herd, they're extra smart and extremely trainable. Want to shed a few pounds? Luckily for you, the Pembroke Welsh Corgi is a natural exercise fanatic!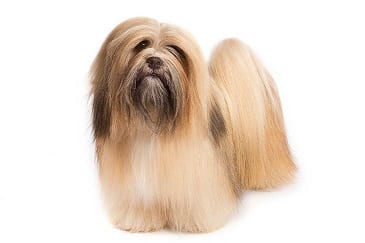 Lhasa Apso
Are you sick and tired of looking for the perfect dogs for seniors? We're here to help. If you've never heard of the Lhasa Apso before, you're in the right place.
Coming from Tibet, the Lhasa Apso was originally trained as a watchdog for Buddhist places of worship. As a result, they're typically very attentive and alert with long, thick coats of fur. Weighing about 15 pounds, they prefer moderate exercise.
Even though it might take a while to warm up to you, they're known to have a lifelong bond with their owners. Another perk about Lhasa Apsos is that they can live for over 20 years!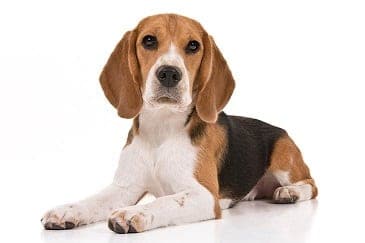 Beagle
On the hunt for the best dogs for seniors? Luckily for you, the beagle is the ultimate companion for older adults. As one of the most famous and well-liked dogs out there, Beagles are celebrated for their fantastic personalities.
On top of that, Beagles have an amazing sense of smell too. The result: they're excellent trackers and hunters. Nevertheless, they can be super sweet and gentle as well.
Want to know why Beagles are such a good match for seniors? Because they're usually very loving and healthy. Not only do they have incredible stamina, but they don't need a ton of exercise either!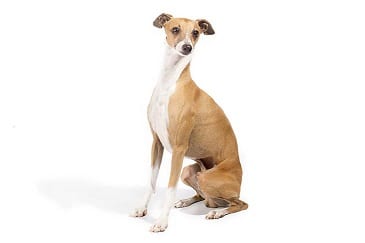 Greyhound
Wish you got a Greyhound earlier in life? We're here to tell you that it's never too late to adopt a pet. Although Greyhounds are most known for their racing capabilities, they are also ultra-gentle and loving dogs.
At about 30 inches tall, the average Greyhound weighs less than 100 pounds. Even though they can run at a pace of 40 miles per hour, Greyhounds love to lounge around on the couch with their owners too. It gets better: retired greyhounds rarely bite their owners.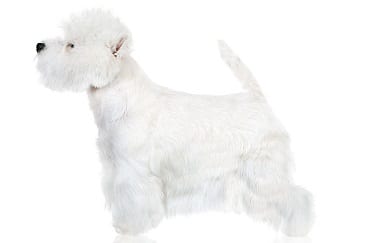 West Highland White Terrier
Fun fact: West Highland White Terriers are commonly referred to as "Westies." As a popular breed of dog, this tiny terrier typically weighs around 15 pounds. At less than one foot tall, the West Highland White terrier has a great deal of personality in a small package.
Amazingly, West Highland White terriers are hyper-intelligent too. The result is that they're very popular to use for therapeutic purposes. Not sure why a West Highland White terrier is great for older adults?
It's easy. They're super petite, affectionate, and independent. As if that's not enough, West Highland White terriers are also very social and loyal pets. However, they don't need 24/7 companionship like other small breeds!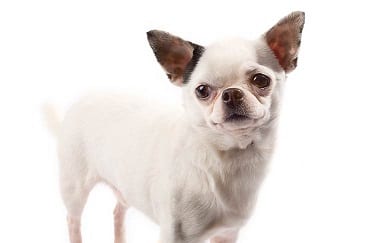 Chihuahua
Everyone knows that chihuahuas are some of the tiniest pups you can find. That's why they're such a good fit for senior citizens. Exuberant and lively, most chihuahuas only weigh about five pounds.
You might be wondering: what's the biggest perk of having a chihuahua as a companion? First of all, they're outstanding watchdogs. Secondly, it doesn't take much to keep them groomed and fit. Plus, they're known as extremely loyal dogs.
Here's the kicker. Chihuahuas can also be a little bit aggressive toward other people. But if you can handle a high energy pet, there's nothing more energetic than a chihuahua!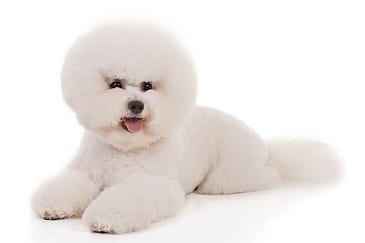 Bichon Frise
Have you ever heard of the Bichon Frise? As another tiny breed of pups, the Bichon Frise is a super trendy pet for older adults. The best part is that they'll never grow taller than one foot in their entire lives.
Also, their white, silky coat doesn't shed, which is wonderful for pet owners with dog allergies. And this dog breed is very kid-friendly as well. So, if you have grandkids, they'll have a blast playing with your new puppy.
Keep in mind that Bichon Frise puppies enjoy going out for walks regularly. Hopefully, your new dog will help you get out of your chair and around the block as well!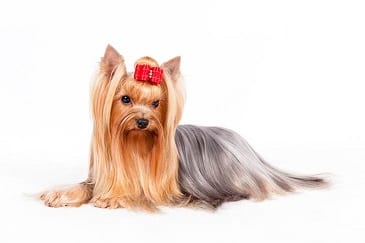 Yorkshire Terrier
Let's be honest: there's nothing more adorable than the Yorkshire terrier. As a famous toy breed, the Yorkshire terrier is renowned for its big personality. And at only seven pounds, you can buy a "Yorkie" in several different coat shades as well.
This is crazy. Yorkshire terriers can live over 20 years, which is perfect if you're looking for a longtime companion. Not only are they small, but they're also very affectionate and intelligent. As a result, their training process is very simple.
Craving a pup that's obsessed with exercising? Then you might want to think about adopting a Yorkshire terrier soon. We promise that you won't regret it!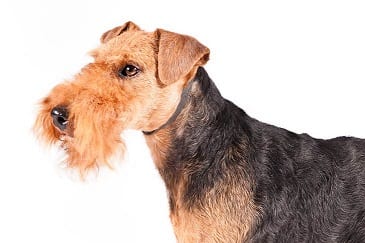 Welsh Terrier
Speaking of terriers, the Welsh terrier is another great companion for senior citizens. This medium-sized pet typically has a signature black and tan coat. Since it was made to hunt, this type of terrier is very energetic and super independent.
Do you live in a small apartment? If so, you should add a Welsh terrier to your living environment. Good for beginner dog owners, these puppies are known to be very affectionate to just about anyone.
Weighing about 20 pounds, Welsh terriers are naturally playful. So, if you're not very active, it may not be the best choice for you. However, Welsh terriers are ideal for those that are trying to whip themselves into shape.
Due to their lively attitude, these dogs are the perfect fit for lazy afternoons with the grandkids. How can you beat that?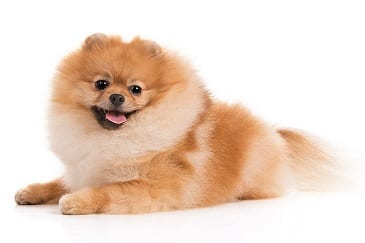 Pomeranian
Let's get real: who doesn't love Pomeranians? A distinctive and popular breed, the average Pomeranian is known for its tiny size and scruff of fur around their fuzzy necks. Since they're extremely small, Pomeranians usually weigh no more than five pounds, which is awesome for senior citizens.
Affectionate and lively, this pint-sized breed loves spending the day with its owner. Also, Pomeranians are celebrated for being very alert and smart. Another bonus is that Pomeranians are naturally healthy pups!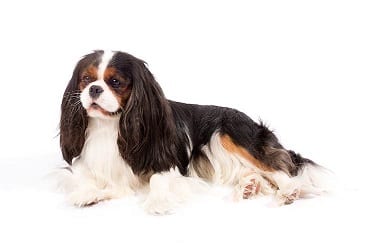 Cavalier King Charles Spaniel
If you're not familiar with the Cavalier King Charles Spaniel yet, allow us to enlighten you. It's only recently that this toy dog began to grow in popularity. Weighing about 15 pounds, the average Cavalier King Charles Spaniel is approximately one foot in height.
Usually, this breed of dog has a straight, silky coat of fur that comes in various colors. Since they're so affectionate and gentle, Cavalier King Charles Spaniels have been companions with older folks for a long time. Plus, they were bred to be lap dogs, which makes the Cavalier King Charles Spaniel a fantastic armchair pet.
Worried about your dog getting along well with others? With a Cavalier King Charles Spaniel, you'll never have to be concerned about doggy drama again. Easygoing and adorable, the Cavalier King Charles Spaniel might just be your next best friend!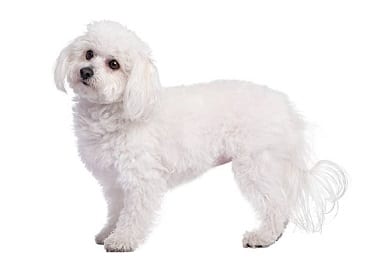 Maltese
Want to know a secret? The key to life happiness is taking your dog on a daily walk outside. For those that need a push in the right direction, we highly recommend adopting a Maltese poodle.
As another breed of toy dog, Maltese poodles are an ancient and popular choice for senior citizens everywhere. Typically weighing less than 10 pounds, this specific type of dog will rarely grow to be more than one foot tall. Normally, Maltese poodles have super curly, silky coats of white fur.
If you're looking for an affectionate pup, you might want to think about spending time with a Maltese poodle. Not only do they adore humans, but they also fit right into homes with really tiny backyards. As a result, they don't require much exercise at all!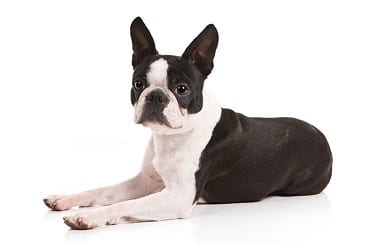 Boston Terrier
Ever considered adopting a Boston terrier? If so, then you already know why they're named the "American Gentleman." A popular breed, Boston terriers usually weigh approximately 20 pounds, which is an excellent size for senior citizens.
Usually, these seal, brindle, or black colored pups have adorable white markings on their coats as well. Plus, they don't need to be groomed too often and are normally super silent.
Another benefit is that Boston terriers are extra protective of their owners. Nevertheless, their fiercely loyal attitude might come off as territorial or aggressive toward other humans and pets.
But on the other hand, they're also extremely well-trained, people-friendly, and energetic companions. So, don't be surprised if you're suddenly unable to get enough of this cheerful and affectionate breed!
Where to Find a New Dog for Older Adults
Curious about where to find a new dog for older adults? We got your back. Although dog breeders are usually a good place to start, it's much cheaper to adopt a puppy from an animal shelter. Plus, you'll feel good about giving an unloved dog a fresh start.
Also, your puppy adoption could save a pup from getting euthanized. On top of that, some animal shelters will give you a pretty decent price cut for adopting older dogs. They may even give you a discount for being a senior citizen as well.
Don't know where to start? Try asking an animal shelter staff member for assistance. They typically know all of the shelter animals well and can help you find a perfect match.
For those that don't have time to visit a shelter, you have the option of buying a dog online too. If that's the way you want to go, you could potentially have hundreds of thousands of dogs to choose from. But we can't emphasize this enough: it pays to get to know your pup in the flesh first!
Find the Best Dog Breeds for Seniors
Are you an older adult that wants a puppy companion? You're not alone. We can't emphasize this enough: it pays to get to know the best dog breeds for seniors.
From Havanese dogs and French bulldogs to Pembroke Welsh Corgis and Lhasa Apsos, we've got the ultimate list of senior-friendly dogs breeds. That means that finding the perfect pet should be a breeze.
However, there are a few things that you need to consider before you add a new pup to your life. For instance, do you prefer highly energetic dogs? If so, then we suggest that you think about adopting a Chihuahua or a Welsh terrier.
For those that want their pets to be more of a couch potato, you might want to think about rescuing a Greyhound or a Maltese poodle. Whatever you choose, you'll be sure to love your pet companion for life!
Do you feel way too young to be old? Check out our blog for more hip senior tips!
Sponsored Links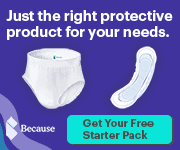 ---
Your link could be here.
About
This top-ranked site now has over 4,000 pages of humor, nostalgia, senior advocacy and useful information for seniors 50+. Updates weekly!
The daily e-zine for everyone over 50 who feels way too young to be old.
"...the perfect mix of Andy Rooney, Dave Barry, and Garrison Keilor, combining knee-slapping humor with useful information and genuine compassion."
Retired.com
"Thousands look to and trust Suddenly Senior. Other Websites pale in comparison to the real-life, intimate look into senior lives. What sets apart Suddenly Senior is its blistering honesty and its incomparable encouragement. Millions need guidance."
Suzette Martinez Standring
"Best Senior Site ever on the Web! Great, up-to-date information on how seniors can save money on drugs. Wonderful nostalgia. Hard-hitting senior advocacy pieces that get read in high places. Wonderful humor. It's all at Suddenly Senior."
Alexa.com
KUDOS
Now read by 3.1 million in 83 newspapers from Florida's St. Petersburg Times to the Mumbai, India News.