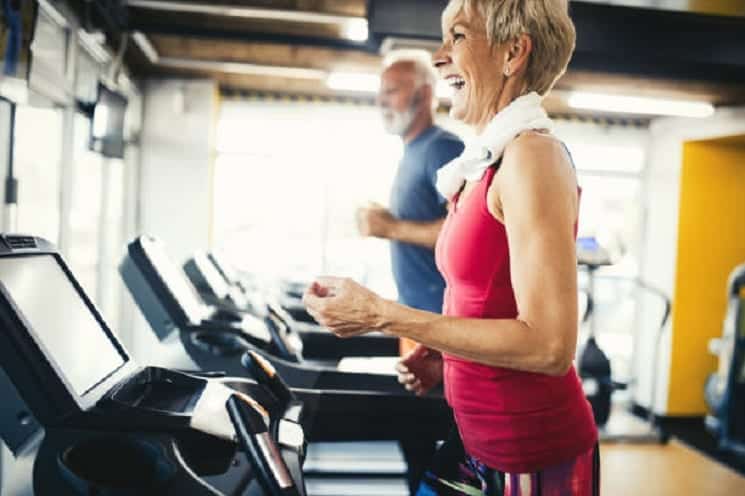 It seems that we see these two words together more and more these days.
And for good reason. The health benefits provided through an appropriate
fitness program and a sensible diet are well documented.
Exercise and nutrition go hand in hand to build strong bones and muscles.
Together they help reduce blood pressure and that nasty gunk that tends to
build up in those precious arteries. You know that stuff your doctor keeps
hollering at you about. They call it plaque. Exercise increases flexibility
and decreases depression. But I am willing to bet you already know the
reasons why you should exercise and eat right.
Measuring Senior Fitness
As fitness professionals, we are taught many ways of measuring fitness.
Fitness can be measured in terms of body fat percentages, blood pressure
readings, and heart rates. However, some of the most important benefits of
exercise and nutrition cannot be measured with any instrument. Fitness is
carrying a sack of groceries up a flight of stairs without your heart
bursting into a million pieces. Fitness is falling up those stairs and not
having to wear a body cast for the next six weeks. Fitness is the ability to
hold yourself up straight and tall without the aid of a steel rod in your
spine. I could go on and on but you get the idea.
Enjoying Senior Fitness
Most folks have engaged in a fitness program at one time or another. But
one of the most common reasons for not continuing with the program is because
it just doesn't fit our lifestyles. A good fitness program is one that you
will continue for the rest of your life. It's not something you do for a
couple of months to lose a few pounds. It's something that you do because it
makes you feel good. It's something you do because it's fun and you want to
do it. That's right, I said fun. If the program is not enjoyable or it
forces you to eat foods that you have to choke down, then you will not stick
with it. The fitness lifestyle is something that is accomplished in baby
steps. It just doesn't happen overnight.
Steps to Senior Fitness
The first step on the road to fitness is to talk with your doctor to find
out what your limitations are if you have any. The next step is to do your
homework. Find out what programs are available in your area. Community
centers are an excellent source of various programs. Fitness professionals
can also introduce you to all the different types of exercise available
today. Keep trying different things until you find the right fit. Try
different foods and recipes until you find healthy alternatives that you
enjoy eating. Over time you will have developed the ideal fitness program
for you. One that you want to engage in every day. One that doesn't make you
feel that you are in boot camp or that you will surely starve to death.
Good luck on your journey to a fitness lifestyle. What are you "weighting" for?
About
This top-ranked site now has over 4,000 pages of humor, nostalgia, senior advocacy and useful information for seniors 50+. Updates weekly!
The daily e-zine for everyone over 50 who feels way too young to be old.
"...the perfect mix of Andy Rooney, Dave Barry, and Garrison Keilor, combining knee-slapping humor with useful information and genuine compassion."
Retired.com
"Thousands look to and trust Suddenly Senior. Other Websites pale in comparison to the real-life, intimate look into senior lives. What sets apart Suddenly Senior is its blistering honesty and its incomparable encouragement. Millions need guidance."
Suzette Martinez Standring
"Best Senior Site ever on the Web! Great, up-to-date information on how seniors can save money on drugs. Wonderful nostalgia. Hard-hitting senior advocacy pieces that get read in high places. Wonderful humor. It's all at Suddenly Senior."
Alexa.com
KUDOS
Now read by 3.1 million in 83 newspapers from Florida's St. Petersburg Times to the Mumbai, India News.