Costa Rica's economic, medical, weather, and cultural advantages become overwhelmingly clear when people get to see them up close.
The fact is you could not have dreamed of the new and exciting life possible here.
The cultural generosity of the people, the excitement of doing all of the things you never had time for, the health benefits of unprocessed food, clean air, and exercise, the lack of mosquitoes, 12 month outdoor living, the access to low cost and QUALITY health care, the lack of traffic in the rural areas etc, can open your life here way beyond your wildest dreams.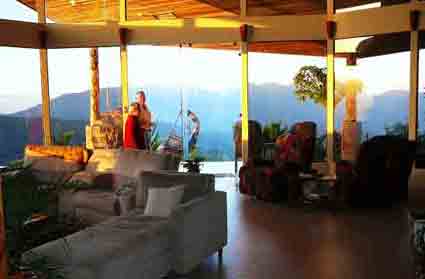 George and Aija breakfast in their new Costa Rican home
Many, MANY of us quit working to live and here we begin living to work at the most fun and interesting activities we can dream up.
Whether you choose the gated communities or become a Pioneer and move to some remote area or something in between, you can discover why so many of us rave on about the life we now enjoy. Most people, who have the open mindedness to investigate life away from the one they know, hear about this "Paradise".
They start reading, doing Internet investigations, and even take a vacation to "check it out" The most common mistake that I have seen over the last 5 years is when they are overwhelmed by the beauty of the country, the incredible weather, and the low cost of living and buy something without living in an area for at least 6 months.
All of the obvious (most written about) advantages of Costa Rica are overwhelming and cause many to buy a place to live after very little research and not learning about the many options of lifestyle available here.
Some are totally content to buy or rent a modern Condominium in a gated area and associate mostly with people of similar backgrounds. They live here very much as they did where they came from and usually are annoyed by the Tico's (Costa Ricans) lack of sharing their urgency to hurry through the day. They spend a lot of attention trying to guard their material possessions. If they have chosen to live by one of the highly advertised beach areas, they soon learn to adjust to the heat or stay in the air conditioning.
The good news is you can shed the attitudes and concepts of what is required to live that are not fun and spend your time in activities that you really consider rewarding to you. One of the greatest rewards to me of showing people how life here can be, is watching them open up and look into themselves to discover how this can be the beginning of the best part of their lives.
If you are single or married with an income over $600 per month, you can concentrate on activities that do not produce an income. If you do not have this luxury, you can find ways to do things you like and earn these modest incomes or add to them.
I give myself as an example. I came here because we could live here on our Social Security income of $2,200. We knew of the quality of food, fantastic weather, and a bit of the niceness of the Ticos. We had to discover how the Tico culture is one of giving for the shear enjoyment of seeing you like what they give you. We could not eat all of the food brought to us when we were sick or attend all of the dinners to which we were invited. We were able to plant all of the plants and trees neighbors brought for us.
We easily and happily gave back. English is required study in all of the schools. The neighborhood children were excited to have us help them improve their skills. My wife loves to bake and cook so we treated neighbors and even the garbage collectors to her cookies, Texas Chile, and Lasagna. I had brought some hand tools, which I quickly found got a lot more use when I gave them to neighbors. They soon were using these and more that I bought and gave to them to remodel our first home.
I now have 3 full time Gardeners and 7 full time home Constructors. We have just completed building our 3rd home. I gave them all of the equipment to build first class homes. They now have 2 cement mixers, scaffolding, 2 air compressors, welding equipment, 2 pneumatic nail guns, 2 Chop saws, a power earth Compactor, the tool for connecting Pex water tubing, 6 Aluminum ladders, safety equipment, and all of the hand tools they need.
We have now moved into our FINAL, FINAL, FINAL HOUSE. It is WAY BEYOND anything we could have ever dreamed of. It has spectacular views of the Central Valley AND the Gulf of Nicoya AND is within 45 minutes of La Cima Hospital, Multiplaza Shopping center, Valle del Sol Golf course, and less than 1 hour to some of the best beach/fishing areas on the Pacific.
This house IS NOT FOR SALE at ANY PRICE!!! We will die here.
We have many friends now who are into this fulfilling and wonderful life. They keep us up to date on their activities. Jim (still in his 40's) in San Ramon has a 2-acre green house where he is living his love of exotic plants. He has tens of thousands of orchids and very exotic plants from the South Pacific that he breeds and sells. The love for plants by Ticos is HUGE. He makes a nice profit from this business.
We have several male friends who have found the love of their life and are now married to Ticas. This culture emphasizes respect of age. We even have a special line at public offices and banks once we are over 65. Ticas are very loving and really appreciate the respect and love of the "Gringos".
Of course the financial security plays a roll but it is secondary to the joy they share. One of the few negatives of the culture is the Machoness of many of the males. That is not so good for single females coming here but really heightens the Ticas interests in Gringo males.
A good male friend here in Santiago de Puriscal started a singles party on Thursday nights. He had to discontinue it because there were TOO MANY SINGLE LADIES.
We have several friends who operate B & Bs. They enjoy the fun of meeting very interesting people from all over the world and make enough to pursue things like gardening, reading, art etc.
There are many Art schools, Language schools, clubs, Churches, Museums, Theaters, and Volunteer projects from cleaning beaches to teaching English as a 2nd language. Don't forget, the temperature here in the mountains is 70F plus or minus 10F 365 days per year to enjoy all of these activities.
How did we ever have time to have a job?
WHAT A COUNTRY!!!!!!!!
George Lundquist: Relocation/Retirement Guide and Columnist on living in CR.