Thinking about a trip to the orient? No place has more secrets to reveal than China.
A SHORT QUIZ for all you world travelers and wannabes:
In what foreign country are you safest visiting today?
What country has the greatest variety of extraordinary sights, cuisines, nationalities and cultures?
In what country do you eat 15- to 20-course meals and never gain weight?
What country actually reveres senior citizens?
What country still loves Americans for fighting on their side in WWII?
And in what country can you expect a warm, genuine smile from everyone?
It's all true, and so much more, in today's China.
In 2004, Carolyn and I placed ourselves in the able hands of Autumn Song at China Professional Tours for three of the most fascinating – you could even say enchanting – weeks of our lives.
CPT calls it their customized "Emperor's Choice Tour." But it's hard to imagine any emperor in China's 4,000-year history ever indulged as we were with five-star hotels every night, 20-course meals, and our own personable experienced and knowledgeable guides every step of the way.
They should call it the "Spoiled Rotten in China" tour.
Starting in Beijing after a 12-hour flight over the North Pole, Carolyn and I were met at the new airport by our personal guide, Beijing born and bred, a 10-year veteran of the tourist trade and sometime traveler to the US. For the next three days, she and our skilled driver introduced us to the cream of China's modern capital city.
It knocked our socks off.
I don't know what I expected of China. Perhaps everyone riding bicycles, wearing Mao outfits with surgical masks.
Instead, we found a thoroughly modern city, akin to New York or Berlin – sophisticated, fashionable, dynamic. In fact, Beijing, Shanghai and Hong Kong all compare well with any city in the world today.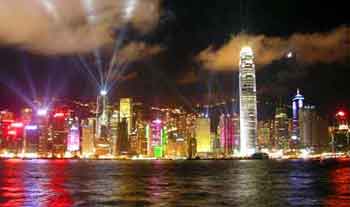 Architecture is vibrant and bold. Of the 21 tallest buildings in the world, 15 scrape the skies of China.
English is widely spoken. By August's Olympics, Beijingers are expected to know 600 helpful English phrases. Most street signs are already in both Chinese and English.
Two sharp differences between our Western cities and those in China that we visited:
You seldom see trash or squalor. Not even cigarette butts. The parks and highway mediums are all as beautifully manicured as an emperor's concubine.
The people: they all smile. Seriously! China is the friendliest place we've ever been, the Chinese more congenial and open even than congenial Italians. Everyone all across this vast land genuinely wished to befriend us. From groups practicing Tai Chi to street market vendors, all went out of their way to make us feel welcome and wanted.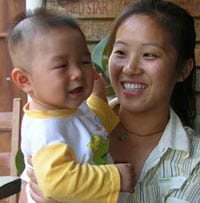 As curious about us as we were them, the Chinese we encountered were full of charm, delight, and accommodation. Unlike traveling in Europe or Latin America, we modern Marco Polos were never taken for granted in China.
Our itinerary featured Beijing with its Forbidden City, Summer Palace, and Great Wall, then the ancient walled city of Xian, the beginning of the famous Silk Road, with its historic Buddhist pagoda and an underground army of 7,000 terracotta warriors discovered in 1974.
At that point, Carolyn and I and our cameras needed a rest.
And rest we got aboard the 5,500-ton five-star deluxe cruiser East King as we ate our way up the picturesque Yangtze River starting at the Three Gorges Dam Project – four days wallowing in the luxury of 95 crew catering to just 21 passengers, interspersed with short trips to pagodas, grottos, cave coffins and easygoing white-water rafting by sampan. As our Australian dinner tablemate exclaimed, "Everyone treats you like a bloomin' queen!"
Next stop: Chengdu, the capital city of Szechwan cuisine and home of the famous Giant Panda Breeding Center. Perhaps the highlight of Carolyn's trip was holding, even cuddling a giant panda (left). She fell head over heels in love. Luckily for me, we couldn't take him home with us.
Guilin – we're now some 1,100 miles south of Beijing – is known throughout China as "the most beautiful attraction on earth." This land of spectacular caves and unique, often bizarre and dreamlike limestone peaks is where photographers meet from around the world to capture the ultimate Chinese landscape image.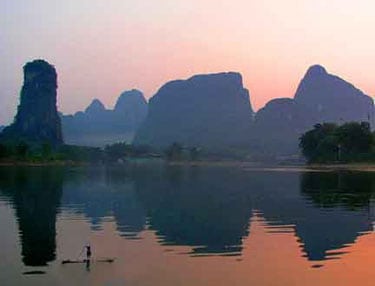 Carolyn and I spent three days taking pictures, exploring caves, shopping, walking, and simply enjoying not only this area's natural beauty but the people of what must be China's most friendly city – and that's saying something!
From Guilin to Hong Kong is only an hour's flight but a world away. Here is New York with unbelievable bargains. This where you may want to shop for that new digital camera, silk tablecloth, or cloisonné-inlaid globe ($65!).
Today's China is modern, safe, friendly, and hassle-free, yet the most exotic and exciting of places. Its cuisine is as various and tasty as its rich landscape, but even 20-course meals end with watermelon, not sweets. While eating better than we ever had, we each actually lost weight, a first for any vacation.
You'll find, as we did, China's greatest asset is its people. Warm, open, curious, and affectionate, they will greet you as they did us with a world of smiles.
Carolyn has written about her impressions of this extraordinary destination at China Smiles – China Travel Facts for Senior Citizens. There's so much more that we want to share with you.
---
CHINA FACTS:
(Please Note: The following was written in 2004. Prices may not have changed much as China's money is pegged to the US dollar.)
Tour Costs:
We shopped around. There are short, cheap tours of China starting at about $1,000. But we wanted the best: a tour just for the two of us, always staying at five-star hotels, guided by experienced professionals, and worry-free. China Professional Tours out of Atlanta fit our order to a "T". Our customized tour gave us exactly what we wanted, from opera in Chengdu to extra days in Guilin and Hong Kong. The cost for our three-week adventure was $3,845 each, everything included. Ten days of luxurious travel with CPT starts at $2,500. Call 1-800.25.CHINA for information and brochures. Or go to www.chinaprofessional.com.
Getting There:
Most common points of entry are Beijing, Shanghai and Hong Kong. CPT has preferential agreements with United and others, often for around $800 rt. (Carolyn and I used frequent-flyer miles.)
What to Wear:
China is casual. Unless your intention is business, forget the suit and tie, leave the Gucci and Armani home. Chinese wear what we wear in Florida; it's all made in China anyway. I took jeans, chinos, sports shirts, and swimming trunks. Remember all four- and five-star hotels in China have swimming pools. Most important, wear comfortable, non-slip shoes.
What to Eat:
Breakfast at the hotels is Western. Eggs exactly the way you want them. Although food differs greatly from region to region, you'll be served 13 to 20-course meals for lunch and supper. Try a little of everything. When it comes to veggies, I'm a George Bush The First kind of guy. But in China vegetables are so fresh, so tasty, even broccoli tastes good.
And though you'll probably get a fork with your meal, eat with chopsticks. You may spill a bit at first, but this is a skill you will put to good use at each meal. Waiters are more than happy to show you how to hold them, and you'll find eating with chopsticks just makes the experience all the richer. If you get homesick, every city now has its McDonald's and KFCs. Biggest surprise: Coffee everywhere is delicious. As a rule, don't drink tap water. Buy bottled water at a local store. Carry one with you.
Toilets:
Hotels and most all tourist destinations have the kind of toilets you're used to. However, get off the beaten track – this includes even The Great Wall – and you find "honeypots," a slit trench in the floor. You squat over it. Many bathrooms have both. Handicapped signs often indicate where you want to go. Always carry toilet paper and/or Handiwipes.
Language:
Although many Chinese speak English, a few Chinese phrases will get you far in this country. "Hi" is nee-hao; use it often as it makes for instant friends. "Yes" is dwee or yao. I think. Boo yao is what you say to overzealous street vendors, meaning "No thank you." No" is boo dwee. "Please" is ching. Probably most important is shie-shie for "thank you."
Shopping:
Be prepared to bargain, whenever you are buying from a vendor. When a price is quoted, offer 50 – 90 percent less. No English? They write a figure. Then you negotiate from there. Check out other vendors offering the same goods. It is all done in great fun, and a way of life, even for the locals. Shops are open from around 8 a.m. to 9 p.m. Credit cards are accepted at hotels and most larger stores. You'll find ATM machines, too. But take American Express checks for incidentals at out-of-the-way places.
E-mail:
All the hotels in which we stayed had high-speed Internet connections in our rooms. You'll find cyber cafes everywhere, even little shops to download your digital photo cards to CD.
Planes:
Unlike Russia and other developing nations, flying in China is like flying in the US. We flew on 737s most everywhere. All the airports are modern and new. Customs officials actually smile.
Tipping:
Ten years ago, tipping was illegal in China. No more. But just a dollar a bag will bring big smiles from porters; a $20 bill (or 100 Yuen/day) will go a long way in thanking your personal city guide or driver.
What about Communism?
The only meaningful "-ism" in China these days is consumerism. We never saw armed troops or other signs of the heavy hand of dictatorship anywhere.
Religious Services:
Beijing, for example, has 17 Catholic and 19 Protestant churches. Law protects freedom of religion.