Humor
Best New Jokes: June 5, 2005
BEST JOKES OF THE WEEK…GUARANTEED
WARNING: MAY DRIVE YOU CRAZY
---
THAT'S PUSHING IT
A man and his wife are awakened at 3 o'clock in the morning by a loud pounding on the door.
The man gets up and goes to the door where a drunken stranger, standing in the pouring rain, is asking for a push.
"Not a chance," says the husband, "It is three o'clock in the
morning." He slams the door and returns to bed.
"Who was that?" asked his wife.
"Just some drunk guy asking for a push," he answers. "It is three o'clock in the morning and it is pouring rain outside."
His wife said, "Can't you remember about three months ago when we broke down and those two guys helped us? I think you should help him, and you should be ashamed of yourself!"
So the man reluctantly gets dressed and goes out into the pouring rain. He calls out into the dark, "Hello! Are you still there?"
"Yes," comes back the answer.
"Do you still need a push?"
"Yes, please!" comes the reply from the darkness.
"Where are you?"
Over here on the swing!!" replies the drunk.
---
BETTER TRY
LESS SPEED PER MILE
THAT CAR MAY HAVE
TO LAST AWHILE.
BURMA SHAVE

---
DRIVE!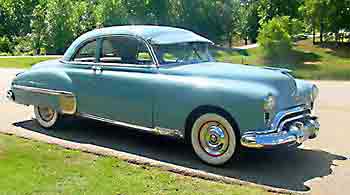 Four women were driving across the country. Each one was from a different state: Idaho, Nebraska, Florida and New York.
Shortly after the trip began, the woman from Idaho started pulling potatoes from her bag and throwing them out of the window
"What the heck are you doing?" demanded the Nebraskan.
"We have so many of these darn things in Idaho, I am just sick of looking at them!"
A moment later, the gal from Nebraska began pulling ears of corn from her bag and tossing them from the window.
"What are you doing that for?" asked the gal from Florida.
"We have so many of these things in Nebraska, I am just sick of looking at them!"
Inspired, the gal from Florida opened the car door and pushed the New Yorker out.
---
A BEARD THAT ROUGH
AND OVERGROWN
WORKS BETTER THAN
A CHAPERONE
BURMA SHAVE
---
SMART ASS
The cop got out of his car and the kid who was stopped for speeding rolled down his window.
"I've been waiting for you all day," the cop said.
The kid replied, "Yeah, well I got here as fast as I could."
When the cop finally stopped laughing, he sent the kid on his way without a ticket.
---
ROSES ARE RED
VIOLETS ARE BLUE
MOST POEMS RHYME
THIS ONE DOESN'T
BURMA SHAVE
---
KEEP ON TRUCKIN'
A truck driver was driving along on the freeway. A sign comes up that reads, "Low Bridge Ahead."
Before he knows it, the bridge is right ahead
of him and he gets stuck under the bridge. Cars are backed up for miles.
Finally, a police car comes up. The cop gets out of his car and walks to the truck driver, puts his hands on his hips and says, "Got stuck, huh?"
The truck driver says, "No, I was delivering this bridge and ran out of gas."
---
IT HAS A TINGLE
AND A TANG
AND STARTS THE DAY OFF
WITH A BANG.
BURMA SHAVE

---
It wasn't much on looks. It had more miles on it than God. The clutch slipped, the rear shocks didn't work, and inside it smelled like someone died. But that '39 Studebaker was my first car, my first true love.
---
HE TRIED TO CROSS
AS A FAST TRAIN NEARED
DEATH DIDN'T DRAFT HIM
HE VOLUNTEERED.
BURMA SHAVE
---
SPEED FREAK
Granny gets pulled over for speeding.
Officer: Ma'am, you were speeding.
Can I see your license please?
Woman: I'd give it to you but I don't have one. Lost it, 4 years ago for drunk driving.
Officer: I see. Can I see your vehicle registration papers please.
Woman: I can't do that. I stole this car. I killed and hacked up the owner. His body parts are in plastic bags in the trunk if you want to see.
The Officer slowly backs away to his car and calls for back up. Within minutes 5 police cars circle the car. A senior officer slowly approaches the car, clasping his half drawn gun.
Officer 2: Ma'am, could you step out of your vehicle please! Is there a problem sir?
Officer 2: One of my officers told me that you have stolen this car and murdered the owner. Open the trunk of your car, please.
The woman opens the trunk, revealing, nothing but an empty trunk.
Officer 2: Is this your car, ma'am?
Woman: Yes, here are the registration papers. The officer is quite stunned.
Officer 2: One of my officers claims that you do not have a driving license. The woman pulls out her license and hands it to the officer. He looks quite puzzled.
Officer 2: Thank you ma'am, one of my officers told me you didn't have a license, that you stole this car, and that you murdered and hacked up the owner.
Woman: Bet the liar told you I was speeding, too.
---
MY CHEEK SAYS SHE
IS SMOOTH AS SATIN
AH! HA! SAYS HE
IT'S MINE YOU'RE PATTIN.
BURMA SHAVE
---
WHY ITALIANS SELL MORE CARS THAN KOREANS
---
OUR FAVORITE BUMPER STICKERS
My karma ran over your dogma.
This is not an abandoned vehicle.
Welcome to Texas, now go home.
Life's too short to dance with ugly men.
I is a college student.
Beer isn't just for breakfast any more.
Sorry, I don't date outside my species.
The proctologist called…they found your head.
Save your breath. You'll need it to blow up your date.
Your ridiculous little opinion has been noted.
I used to have a handle on life, but it broke off.
WANTED: Meaningful overnight relationship.
Don't like my driving? Then quit watching me.
Some people are only alive because it is illegal to shoot them.
Welcome to AMERICA…now speak English.
---
UNLESS YOUR FACE
IS STINGER FREE
YOU'D BETTER LET
YOUR HONEY BE.
BURMA SHAVE

---
TEN SPEED
A man decided that he was going to ride a 10-speed bike from Phoenix to Flagstaff. He got as far as Black Canyon City before the mountains became too much and he could go no farther.
So he stuck his thumb out and after 3 hours hadn't gotten a single person to stop. Finally, a guy in a Corvette pulled over and offered him a ride.
Of course, the bike wouldn't fit in the car. The owner of the Corvette found a piece of rope lying by the highway and tied it to his bumper. He tied the other end to the bike and told the man that if he was going too fast, to honk the horn on his bike and that he would slow down.
Everything went fine for the first 30 miles.
Suddenly, another Corvette blew past them. Not to be outdone, the Corvette pulling the bike took off after the other. A short distance down the road, the Corvettes, both going well over 120 mph, blew through a speed trap.
The police officer noted the speeds from his radar gun and radio'd ahead to the other officer that he had two Corvettes headed his way at over 120 mph.
He then relayed, "…and you're not going to believe this, but there's a guy on a 10-speed bike honking to pass."
---
SHE EYED HIS BEARD
AND SAID NO DICE
THE WEDDINGS OFF
I'LL COOK THE RICE.
BURMA SHAVE
---
ACCIDENT REPORTS
The following are reported to be taken from actual insurance claims:

The telephone pole was approaching. I was attempting to swerve out the way when I struck the front end.
The accident was caused by me waving to the man I hit last week.
Coming home I drove into the wrong house and collided with a tree I don't have.
I collided with a stationary truck coming the other way.
In my attempt to kill a fly, I drove into a telephone pole.
I had been driving for forty years when I fell asleep at the wheel and had an accident.
I was on my way to the doctor with rear end trouble when my universal joint gave way causing me to have an accident.
My car was legally parked as it backed into the other vehicle.
I told the police I was not injured, but upon removing my hair, I found that I had a fractured skull.
I was sure the old fellow would never make it to the other side of the road when I struck him.
I was thrown from my car as it left the road, and was later found in a ditch by some stray cows.
A pedestrian hit me and went under my car.
I thought my window was down, but I found out it was up when I put my head through it.
The guy was all over the road. I had to swerve a number of times before I hit him.
An invisible car came out of nowhere, struck my car and vanished.
A truck backed through my windshield into my wife's face.
---
THE WHALE PUT JONAH
DOWN THE HATCH
BUT, COUGHED HIM UP
BECAUSE HE SCRATCHED.
BURMA SHAVE
---
WHERE DRIVERS ARE FROM
One hand on wheel, one hand on horn: CHICAGO

One hand on wheel, one fist out window: NEW YORK

One hand on wheel, one fist out window, cutting across all lanes of traffic: NEW JERSEY

One hand on wheel, one hand on newspaper, foot solidly on accelerator: BOSTON

One hand on wheel, one hand on nonfat double decaf cappuccino, cradling cell phone, brick on accelerator, gun in lap: LOS ANGELES

Both hands on wheel, eyes shut, both feet on brake, quivering in terror: Ohio, but driving in CALIFORNIA

Both hands in air, gesturing, both feet on accelerator, head turned to talk to someone in back seat: ITALY

One hand on 12 oz. Double shot latte, one knee on wheel, cradling cell phone, foot on brake, mind on radio game, banging head on steering wheel while stuck in traffic: SEATTLE

One hand on wheel, one hand on hunting rifle, alternating between both feet being on the accelerator and both feet on brake, throwing McDonald's bag out the window: TEXAS

Four-wheel drive pick-up truck, shotgun mounted in rear window, beer cans on floor, squirrel tails attached to antenna: ALABAMA

Two hands gripping wheel, blue hair barely visible above windshield, driving 35 on the Interstate in the left lane with the left blinker on: FLORIDA

---
DOESN'T KISS YOU
LIKE SHE USETER?
PERHAPS SHE'S FOUND
A SMOOTHER ROOSTER !
BURMA SHAVE
---
THIS WEEK'S BEST BLONDE JOKE

I pulled into a crowded parking lot at a Super Wal-Mart Shopping Center and rolled down the car windows to make sure my dog, Labrador Retriever Pup had fresh air.
She was stretched full-out on the back seat and I wanted to impress upon her that she must remain there. I walked to the curb backward, pointing my finger at the car and saying ,"Now you stay. Do you hear me?" "Stay! Stay!"
The driver of a nearby car, a pretty blond young lady, gave me a strange look and said " Mister, why don't you just put it in park?"
---
TWINKLE-TWINKLE
ONE EYED-CAR
WE ALL WONDER
WHERE YOU ARE.
BURMA SHAVE
About
This top-ranked site now has over 4,000 pages of humor, nostalgia, senior advocacy and useful information for seniors 50+. Updates weekly!
The daily e-zine for everyone over 50 who feels way too young to be old.
"...the perfect mix of Andy Rooney, Dave Barry, and Garrison Keilor, combining knee-slapping humor with useful information and genuine compassion."
Retired.com
"Thousands look to and trust Suddenly Senior. Other Websites pale in comparison to the real-life, intimate look into senior lives. What sets apart Suddenly Senior is its blistering honesty and its incomparable encouragement. Millions need guidance."
Suzette Martinez Standring
"Best Senior Site ever on the Web! Great, up-to-date information on how seniors can save money on drugs. Wonderful nostalgia. Hard-hitting senior advocacy pieces that get read in high places. Wonderful humor. It's all at Suddenly Senior."
Alexa.com
KUDOS
Now read by 3.1 million in 83 newspapers from Florida's St. Petersburg Times to the Mumbai, India News.