Humor
Favorite Senior Jokes Book (Funny Jokes for Old Folks)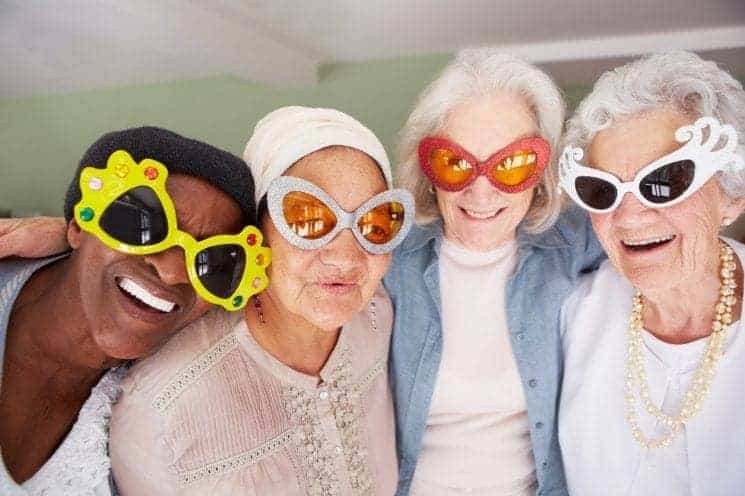 Have a good laugh reading our collection of favorite jokes for seniors. Our senior joke book will keep you laughing for days. Enjoy our funny cartoons, old people jokes, and clean senior humor.
Want even more old age humor?
Check out our Best Senior Jokes Book, our Corny Senior Joke Book, or our Best New Jokes Compilation: Mostly Old Jokes. Remember, laughter is the best medicine!
Bestseller No. 1
Bestseller No. 2
Bestseller No. 3
Favorite Senior Jokes
Remember: A Smile is the first step to Peace.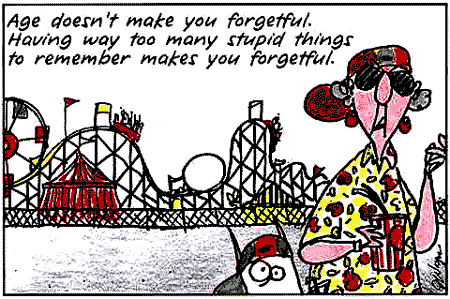 THE STAGES OF SUCCESS
At age 4 success is…not peeing in your pants.
At age 12 success is…having friends.
At age 16 success is…having a drivers license.
At age 20 success is…having sex.
At age 35 success is…having money.
At age 50 success is…having money.
At age 60 success is…having sex.
At age 70 success is…having a drivers license.
At age 75 success is…having friends.
At age 80 success is…not peeing in your pants
STINGY OLD LAWYER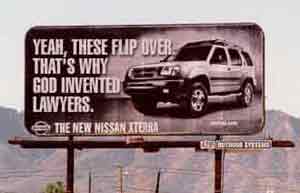 A stingy old lawyer who had been diagnosed with a terminal illness was determined to prove wrong the old saying, "You can't take it with you."
After much thought and consideration, the old ambulance-chaser finally figured out how to take at least some of his money with him when he died.
He instructed his wife to go to the bank and withdraw enough money to fill two pillowcases. He then directed her to take the bags of money to the attic and leave them directly above his bed.
His plan: When he passed away, he would reach out and grab the bags on his way to heaven. Several weeks after the funeral, the deceased lawyer's wife, up in the attic cleaning came upon the two forgotten pillowcases stuffed with cash.
"Oh, that old fool," she exclaimed. "I knew he should have had me put the money in the basement."
LOOKING GOOD
My face in the mirror isn't wrinkled or drawn.
My house isn't dirty. The cobwebs are gone.
My garden looks lovely and so does my lawn.
I think I might never put my glasses back on.
AT THE BAR THE OTHER NIGHT
An elderly looking gentleman, (mid-nineties) very well dressed, hair well-groomed, great looking suit, flower in his lapel, smelling slightly of a good aftershave, presenting a well-looked-after image, walks into an upscale cocktail lounge.
Seated at the bar is an elderly looking lady.
The gentleman walks over, sits alongside her, orders a drink, takes a sip, turns to her, and says, "So tell me, do I come here often?"
THE RETIREMENT HOME
A man was out walking one day and went by a retirement home. As he passed the front lawn, he saw nine old ladies basking in the sun in lounge chairs. When he looked closer he realized that they were all stark naked.
He went to the door and rang the bell. When the director answered the door, the man asked if he realized there were nine naked old ladies lying in the sun on the front lawn.
The director said, "Yes" and went on to explain that the old ladies were all retired prostitutes living at the retirement home, and they were having a yard sale.
THE LOVE DRESS
The mother-in-law stopped unexpectedly by the recently married couple's house. She rang the doorbell and stepped into the house. She saw her daughter-in-law standing naked by the door.
"What are you doing?" she asked.
"I'm waiting for my husband to come home from work.," the daughter-in-law answered.
"But you're NAKED!" the mother-in-law exclaimed.
"This is my Love Dress." the daughter-in-law explained.
"Love Dress? But you're naked!"
"My husband loves me to wear this dress! It makes him happy and it makes me happy. I would appreciate it if you would leave because he will be home from work any minute." The mother-in-law was tired of all this romantic talk and left.
On the way home, she thought about the Love Dress. When she got home she got undressed, showered, put on her best perfume and waited by the front door.
Finally, her husband got home. He walked in and saw her standing naked by the door.
"What are you doing?" He exclaimed.
"This is My Love Dress." She replied.
"Needs ironing," he said.
JUSTIFIABLE HOMICIDE
A trial is taking place in Mississippi. The defendant is a sweet grandmotherly type.
Defense Attorney: What is your age?
Little Old Woman: I am 86 years old.
Defense Attorney: Will you tell us, in your own words, what happened to you?
Little Old Woman: There I was, sitting there in my swing on my front porch on a warm spring evening when a young man comes creeping up on the porch and sat down beside me.
Defense Attorney: Did you know him?
Little Old Woman: No, but he sure was friendly.
Defense Attorney: What happened after he sat down beside you?
Little Old Woman: He started to rub my thigh.
Defense Attorney: Did you stop him?
Little Old Woman: No, I didn't stop him.
Defense Attorney: Why not?
Little Old Woman: It felt good. Nobody had done that since my Abner passed away some 30 years ago.
Defense Attorney: What happened next?
Little Old Woman: He began to rub my breasts.
Defense Attorney: Did you stop him then?
Little Old Woman: No, I did not stop him.
Defense Attorney: Why not?
Little Old Woman: Why, Your Honor, his rubbing made me feel all alive and excited. I haven't felt that good in years!
Defense Attorney: What happened next?
Little Old Woman: Well, I was feeling so spicy that I just spread my old legs and said to him, "Take me, young man, Take me!"
Defense Attorney: What happened?
Little Old Woman: That's when he yelled, "April Fool!" And that's when I shot the son of a bitch!
THE SPEED DEMON
Ethel loves to charge around the nursing home in her wheelchair, taking corners on one wheel and getting up to a maximum speed on the long corridors.
Everybody tolerates each other, and some of the men have actually been known to join in.
The other day, Ethel was speeding up a corridor when a door opened and Mad Mike stepped out of his room with his arm outstretched, "STOP!" he said in a firm voice. "Have you got a license for that thing?"
Ethel fished around in her handbag and pulled out a Kit Kat wrapper and held it up to him. "OK," he said, and away Ethel sped down the hall.
As she took the corner near the TV lounge on one wheel, Weird William popped out in front of her and shouted, "STOP! Have you got proof of insurance?"
Ethel dug into her handbag, pulled out a beer coaster, and held it up to him. William nodded and said, "Carry on mam."
As Ethel neared the final corridor before the front door, Bonkers Brian stepped out in front of her, stark naked, holding a very sizeable erection in his hand.
"Oh, no!" said Ethel, "Not the Breathalyzer again!"
GEORGE CARLIN ON AGING


Do you realize that the only time in our lives when we like to get old is when we're kids? If you're less than ten years old, you're so excited about aging that you think in fractions. "How old are you?" "I'm four and a half." You're four and a half going on 5.
You get into your teens, and you simply jump to the next number. "How old are you?" "I'm gonna be 16." You could be 12, but you're gonna be 16. Eventually.
Then the great day arrives and you become 21. Even the words sound like a ceremony. You BECOME 21!!
Then you turn 30. What happened there? Makes you sound like bad milk. He TURNED; we had to throw him out. What's wrong? What changed?
You BECOME 21. You TURN 30; You're PUSHING 40. You REACH 50. Then you MAKE IT to 60. By then you've built up so much speed, you HIT 70. After that, it's a day by day thing. You HIT Wednesday…
You get into your 80's; you HIT lunch, you HIT 4:30. And it doesn't end there…
Into the '90s, you start going backward. "I was JUST 92." Then a strange thing happens; if you make it over 100, you become a little kid again. "I'm 100 and a half."
My Grandmother won't even buy green bananas. "Well, it's an investment, you know, and maybe a bad one. I just hate to waste money."
BUMPER SNICKERS
My grandmother has a bumper sticker on her car that says, 'Sexy Senior Citizen.' It's hard to think of my dear old granny in that way. What is she doing? Out entering wet shawl contests? Wheelchair racing? Teeth swapping? Makes me wonder where she got that ten-dollar bill she gave me for my birthday.
GRANDMA'S LETTER
Dear Son,
The other day I went up to a local Christian bookstore and saw a "honk if you love Jesus" bumper sticker.
I was feeling particularly sassy that day because I had just come from a thrilling choir performance, followed by a thunderous prayer meeting, so I bought the sticker and put it on my bumper. Boy, I'm glad I did! What an uplifting experience that followed!
I was stopped at a red light at a busy intersection, just lost in thought about the Lord and how good He is and I didn't notice that the light had changed. It is a good thing someone else loves Jesus because if he hadn't honked, I'd never have noticed!
I found that LOTS of people love Jesus! Why, while I was sitting there, the guy behind started honking like crazy, and then he leaned out of his window and screamed, "For the love of GOD! GO! GO! Jesus Christ, GO!"
What an exuberant cheerleader he was for Jesus!
Everyone started honking! I just leaned out of my window and started waving and smiling at all these loving people. I even honked my horn a few times to share in the love! There must have been a man from Florida back there because I heard him yelling something about a "sunny beach"… I saw another guy waving in a funny way with only his middle finger stuck up in the air. Then I asked my teenage grandson in the back seat what that meant, he said that it was probably a Hawaiian good luck sign or something.
Well, I've never met anyone from Hawaii, so I leaned out the window and gave him the good luck sign back.
A couple of the people were so caught up in the joy of the moment that they got out of their cars and started walking towards me. I bet they wanted to pray or ask what church I attended, but this is when I noticed the light had changed. So, I waved to all my sisters and brothers grinning and drove on through the intersection.
I noticed I was the only car that got through the intersection before the light changed again and I felt kind of sad that I had to leave them after all the love we had shared, so I slowed the car down, leaned out of the window and gave them all the Hawaiian good luck sign one last time as I drove away.
GOD'S IMPROVEMENT
A little girl was sitting on her grandfather's lap as he read her a bedtime story.
From time to time she would take her eyes off the book and reach up to touch his wrinkled cheek. She was alternately stroking her own cheek, then his again. Finally, she spoke up, "Grandpa, did God make you?"
"Yes, sweetheart," he answered, "God made me a long time ago.
"Grandpa, did God make me too?"
"Yes, indeed, honey," he said, "God made you just a little while ago."
Feeling their respective faces again, she observed, "God's getting better at it, isn't he?"
EXERCISES FOR SENIORS
You know how important exercise is, as we grow older. Here are a few suggestions. I start by standing outside behind the house and, with a five-pound potato sack in each hand, extend my arms straight out to my sides and hold them there as long as I can.
After a few weeks, I moved up to 10-pound potato sacks, then 50-pound potato sacks and finally I got to where I could lift a 100-pound potato sack in each hand and hold my arms straight out for more than a full minute!
Next, I started putting a few potatoes IN the sacks, but I would caution you not to overdo it at this level.
TRAILER PARK RETIREMENT, A CHILD'S VIEW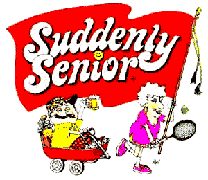 After the spring break, a teacher asked her young pupils how they spent the holidays. One youngster offered the following: "We always used to spend the holidays with Grandma and Grandpa.
They used to live in a nice big brick house. But, grandpa got retarded and they moved to Floriduh. Now they live in a place with lots of other Grandmas and Grandpas. They live in a tin box and have rocks painted green to look like grass.
They ride around in huge tricycles and wear name tags because they don't know who they are anymore. They go to a big building called the wrecked center. They must have fixed it because it looks pretty good now.
They play games and do exercises there, but they don't do them very well. There is a swimming pool, too, but they all jump up and down in it with their hats on. I guess they don't know how to swim. At the gate, there is a dollhouse with a little old man who sits in it.
He watches all day so nobody can escape. Sometimes though, they do manage to sneak out. Then they go cruising in their golf carts.
Grandma used to bake cookies and other neat things, but I guess she forgot how. Nobody there cooks, they just eat out. And they eat the same thing every night, "Early Bird," whatever that is. Some of the people can't get past the old man in the dollhouse. So the ones that escape bring food back to the wrecked center and call it a potluck.
My Grandma says Grandpa worked all his life to earn his retardment and says that I should work hard so I can also be retarded someday too. When I earn my retardment, I want to be the old man in the dollhouse. Then I'll let people out so they can visit their grandchildren."
RETIREMENT, A WIFE'S VIEW
A frustrated wife told me the other day her definition of retirement:
"Twice as much husband on half as much pay."
GRIM FAIRY TALE
A married couple in their early 60s were out celebrating their 35th wedding anniversary in a quiet, romantic little restaurant.
Suddenly, a tiny yet beautiful fairy appeared on their table and said, "For being such an exemplary married couple and for being faithful to each other for all this time, I will grant you each a wish."
"Ooh, I want to travel around the world with my darling husband," said the wife. The fairy moved her magic wand and – abracadabra! – two tickets for the new QM2 luxury liner appeared in her hands.
Now it was the husband's turn. He thought for a moment and said: "Well, this is all very romantic, but an opportunity like this only occurs once in a lifetime, so, I'm sorry my love, but my wish is to have a wife 30 years younger than me".
The wife and the fairy were deeply disappointed, but a wish is a wish…
So the fairy made a circle with her magic wand and -abracadabra! the husband was 92 years old.
The moral of this story: Men are ungrateful idiots, Fairies are female!
REALITY CHECK
Eventually, you will reach a point when you stop lying about your age and start bragging about it.
Don't let anyone tell you that you're getting old. Squash their toes with your rocker.
The older we get, the fewer things seem worth waiting in line for.
Some people try to turn back their odometers. Not me. I want people to know why I look this way. I've traveled a long way and some of the roads weren't paved.
Maturity means being emotionally and mentally healthy. It is that time when you know when to say yes and when to say no, and when to say WHOOPPEE!
How old would you be if you didn't know how old you are?
When you are dissatisfied and would like to go back to youth, just think of Algebra.
You know you are getting old when everything either dries up or leaks.
I don't know how I got over the hill without getting to the top.
The golden years are really just metallic years: gold in the tooth, silver in your hair, and lead in the rear.
Life would be infinitely happier if we could only be born at the age of
and gradually approach 18.
One of the many things no one tells you about aging is that it is such a nice change from being young.
Age seldom arrives smoothly or quickly. It is more often a succession of jerks.
Yeah, being young is beautiful, but being old is comfortable.
Old age is when former classmates are so gray and wrinkled and blind that they don't recognize you.
If you don't learn to laugh at trouble, you won't have anything to laugh at when you are old.
First, you forget names, then you forget faces. Then you forget to pull your zipper up, then you forget to pull your zipper down.
One must wait until evening to see how splendid the day has been.
---
When a woman steals your husband, there is no better revenge than to let her keep him.
---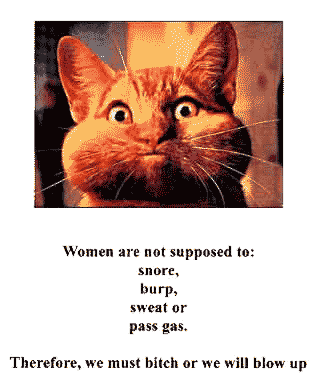 CREATION STORY
On the first day, God created the cow. God said, "You must go to the field with the farmer all day long, suffer under the sun, have calves and give milk to support the farmer I will give you a life span of sixty years."
The cow said, "That's a kind of a tough life you want me to live for sixty years. Let me have twenty years and I'll give back the other forty."
And God agreed.
On the second day, God created the dog. God said, "Sit all day by the door of your house and bark at anyone who comes in or walks past. I will give you a life span of twenty years."
The dog said, "That's too long to be barking. Give me ten years and I'll give back the other ten."
So, God agreed.
On the third day, God created the monkey. God said, "Entertain people, do monkey tricks, make them laugh. I'll give you a twenty-year life span."
The monkey said "Monkey tricks for twenty years? I don't think so. Dog gave you back ten, so that's what I'll do too, okay?"
And God agreed again.
On the fourth day, God created man. God said, "Eat, sleep, play, have sex, enjoy. Do nothing, just enjoy, enjoy. I'll give you twenty years."
The man said, "What? Only twenty years? No way man. Tell you what, I'll take my twenty, and the forty the cow gave back, and the ten the dog gave back and the ten the monkey gave back. That makes eighty, okay?"
"Okay," said God. "You've got a deal."
SO: That is why for the first twenty years we eat, sleep, play, have sex, enjoy, and do nothing; for the next forty years we slave in the sun to support our family; for the next ten years we do monkey tricks to entertain our grandchildren; and for the last ten years we sit in front of the house and bark at everybody.
---
I'M A SENIOR CITIZEN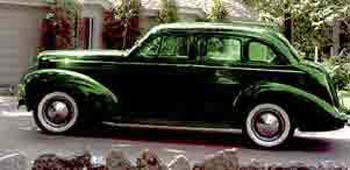 And proud of it!
I'm the life of the party… even when it lasts until 8 p.m.
I'm very good at opening childproof caps with a hammer.
I'm usually interested in going home before I get to where I am going.
I'm good on a trip for at least an hour without my aspirin, beano, and antacid.
I'm the first one to find the bathroom wherever I go.
I'm awake many hours before my body allows me to get up.
I'm smiling all the time because I can't hear a word you're saying.
I'm very good at telling stories. Over and over and over and over.
I'm aware that other people's grandchildren are not as bright as mine.
I'm so cared for – long term care, eye care, private care, dental care.
I'm not grouchy, I just don't like traffic, waiting, crowds, children, politicians.
I'm positive I did housework correctly before my mate retired.
I'm sure everything I can't find is in a secure place.
I'm wrinkled, saggy, lumpy, and that's just my left leg.
I'm having trouble remembering simple words like…uh???…uh.
I'm now spending more time with my pillows than with my mate.
I'm realizing that aging is not for sissies.
I'm anti-everything now: anti-fat, anti-smoke, anti-noise, anti-inflammatory.
I'm walking more (to the bathroom) and enjoying it less.
I'm going to reveal what goes on behind closed doors. Absolutely nothing!
If you are what you eat, I'm Shredded Wheat and All-Bran.
I'm sure they are making adults much younger these days.
I'm in the initial stage of my golden years. SS, CD's, IRA'S, AARP.
I'm wondering if you're only as old as you feel, how could I be alive at 150?
I'm supporting all movements now…by eating bran, prunes, and raisins.
I'm a walking storeroom of facts, I've just lost the key to the storeroom.
I'm a SENIOR CITIZEN, and I think I am having the time of my life!!!!
ALWAYS REMEMBER: The world was made round so that we would never be able to see too far down the road.
ANDY ROONEY LOOKS AT LIFE
Hey, life is tough. It takes up a lot of your time. What do you get at the end of it? A Death. What's that, a bonus? I think the life cycle is all backward.
Let's die first, get it out of the way. Then live in an old age home. Get kicked out because you're too young, get a gold watch and go to work. Work forty years until you're young enough to enjoy retirement. Do drugs, alcohol, party, get ready for high school. Go to grade school, become a kid, play, have no responsibilities. Become a little baby, and go back into the womb, Spend the last nine months floating and finish off as an orgasm.
SIGNS OF MENOPAUSE
You sell your home heating system at a yard sale.
Your husband jokes that instead of buying a wood stove, he is using you to heat the family room this winter. Rather than just saying you are not amused, you shoot him.
You have to write post-it notes with your kids' names on them.
Your husband chirps, "Hi honey, I'm home." And your reply, "Well, if it isn't Ozzie Fucking Nelson."
The Phenobarbital dose that wiped out the Heaven's Gate Cult gives you four hours of decent rest.
You change your underwear after every sneeze.
You're on so much estrogen that you take your Brownie troop on a field trip to Chippendales
It has come to this. I decide to do work on the car, start to the garage and notice the mail on the table. OK, I'm going to work on the car. BUT FIRST I'm going to go through the mail.
Lay car keys down on the desk. After discarding the junk mail, I notice the trash can is full. OK, I'll just put the bills on my desk. BUT FIRST I'll take the trash out.
Since I'm going to be near the mailbox, I'll address a few bills. Now, where is the checkbook? Oops, there's only one check left. Where did I put the extra checks? BUT FIRST I need to put the cup back in the kitchen.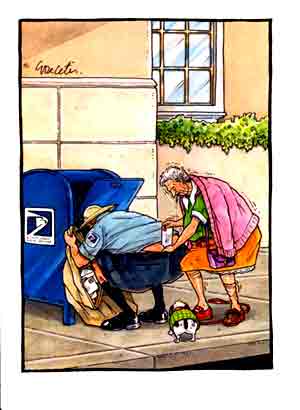 I head for the kitchen, look out the window, notice the flowers need a drink of water. I put the cup on the counter and there's my extra pair of glasses on the kitchen counter. What are they doing here? I'll just put them away… BUT FIRST, need to water those plants.
I head for the door and notice someone left the TV remote in the wrong spot. Okay, I'll put the remote away and water the plants. BUT FIRST I need to find those checks.
END OF THE DAY: Oil in the car not changed, bills still unpaid, the cup still in the sink, checkbook still has only one check left, lost my car keys. And, when I try to figure out how come nothing got done today, I'm baffled because… I KNOW I WAS BUSY ALL DAY!
I realize this condition is serious. I'll get help… BUT FIRST, I think I'll check my e-mail.
OUT OF THE MOUTHS OF BABES
One day a little girl was sitting and watching her mother do the dishes at the kitchen sink. She suddenly noticed that her mother had several strands of white hair sticking out in contrast to her brunette hair.
She looked at her mother and inquisitively asked, "Why are some of your hairs white, Mom?" Her mother replied, "Well, every time that you do something wrong and make me cry or unhappy, one of my hairs turns white."
The little girl thought about this revelation for a while and then said, "Momma, how come ALL of grandma's hairs are white?"
I'M NOT OLD, I'M JUST MATURE
Today at the drugstore, the clerk was a gent.
From my purchase, he took off 10 percent.
I asked for the cause of a lesser amount;
And he answered, "It's the Seniors Discount."



I went to McDonald's for a burger and fries;
And there, once again, got quite a surprise.
The clerk poured some coffee which he handed to me.
He said, "For you seniors, the coffee is free."
Understand — I'm not old — I'm merely mature.
But some things are changing, temporarily, I'm sure.
The newspaper print gets smaller each day,
And people speak softer, can't hear what they say.
My teeth are my own (I have the receipt),
and my glasses identify people I meet.
Oh, I've slowed down a bit, not a lot, I am sure.
You see, I'm not old … I'm only mature.
The gold in my hair has been bleached by the sun.
You should see all the damage that chlorine has done.
Washing my hair has turned it all white,
Calling it blond is just about right.
My car is all paid for, not a nickel is owed. Yet a kid yells, "Old duffer, get off of the road!"
My car has no scratches, not even a dent. Still, I get all that guff from a punk who's "Hellbent."
My friends all get older … much faster than me.
They seem much more wrinkled, from what I can see.
I've got "character lines," not wrinkles, for sure, But don't call me old: just call me mature.
The steps in the houses they're building today
Are so high that they take your breath all away;
And the streets are much steeper than 10 years ago. That should explain why my walking is slow.
I'm keeping up on what's hip and what's new,
And I know I can still dance a mean boogaloo.
I'm still in the running, in this I'm secure,
I'm not really old, I'm only mature.
DEAR GRANDSON
I have become a little older since I saw you last, and a few changes have come into my life since then. Frankly, I have become a frivolous old gal. I am seeing five gentlemen every day.
As soon as I wake up, Will Power helps me get out of bed. Then I go to see John. Then Charlie Horse comes along, and when he is here he takes a lot of my time and attention. When he leaves, Arthur Ritis shows up and stays the rest of the day. He doesn't like to stay in one place very long, so he takes me from joint to joint. After such a busy day, I'm really tired and glad to go to bed with Ben Gay.
What a life. Oh yes, I'm also flirting with Al Zymer.
Love, Grandma
PS The preacher came to call the other day. He said at my age I should be thinking of the hereafter. I told him, "Oh I do it all the time. No matter where I am, in the parlor, upstairs, in the kitchen, or down in the basement, I ask myself, "Now, what am I here after?"
YOU GOTTA KISS A LOT OF FROGS
(before you meet the handsome prince)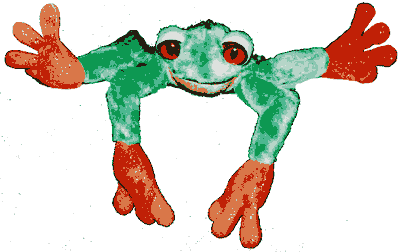 A senior citizen was walking across a damp meadow when he heard a female voice say, "Sir, I would like to ask a great favor of you "He looked around and saw only a frog sitting on a grass pod. "I must be going nuts," he thought, "There's no one here."
The voice then said, "Please, sir. Please help me."
Again all he saw was the frog, looking straight at him. "Who said that?" he asked rather loudly.
"I did, sir. I'm the frog. I was a beautiful 19-year-old princess but a witch put a spell on me. Please help me."
The old man picked up the frog and held it in his hand. "How can I help you?" he asked.
"The only thing that will break the spell is to have a man kiss me in the mouth. Please do it for me, and then I will again turn into a beautiful, sexy, princess and I will really make you feel young again. I will make great love to you."
The man closed his hand about the frog and stuffed it into his pocket. "At my age," he said, "I'd rather have a talking frog."
A DAY ON THE LINKS
Four men were out golfing.
"These hills are getting steeper as the years go by," one complained.
"These fairways seem to be getting longer too," said one of the others.
"The sand traps seem to be bigger than I remember them too," said the third senior.
After hearing enough from his senior buddies, the oldest and the wisest of the four of them at 87 years old, piped up and said, "Just be thankful we're still on the right side of the grass!"
THE JOYS OF BEING MALE
Your rear is never a factor in a job interview.
Your orgasms are real. Always.
Your last name stays put.
The garage is all yours.
Wedding plans take care of themselves.
Chocolate is just another snack.
You can be president.
You can wear a white shirt to a water theme park.
Foreplay is optional.
You never feel compelled to stop a friend from getting laid.
Car mechanics tell you the truth.
You don't care if someone doesn't notice your new haircut.
The world is your urinal.
Hot wax never comes near your pubic area.
You never have to drive to another gas station because this one's just too icky.
Same work… more pay.
Wrinkles add character.
You don't have to leave the room to make emergency crotch adjustments.
Wedding Dress $20
Tux rental $100.
If you retain water, it's in a canteen.
People never glance at your chest when you're talking to them.
The occasional well-rendered belch is practically expected.
New shoes don't cut, blister, or mangle your feet.
Porn movies are designed with you in mind.
Not liking a person does not preclude having great sex with them.
Your pals can be trusted never to trap you with: "So, notice anything different?"
One mood, all the time.
MONOLOGUES
Three old ladies were sitting side by side in their retirement home, reminiscing.
The first lady recalled shopping at the green grocers and demonstrated with her hands the length and thickness of a cucumber she could buy for a penny.
The second old lady nodded, adding that onions used to be much bigger and cheaper also, then demonstrated the size of two big onions she could buy for a penny a piece.
Then the third old lady chipped in with: "I can't hear a word you're saying, but I remember the guy you're talking about."
THE OLD-TIMERS' RIGHT
A group of Sun City Senior citizens was sitting around talking about their ailments:
"My arms are so weak I can barely hold a cup of coffee", said one.
"Yes, I know. My cataracts are so bad I can't even see my coffee", replied another.
"I can't turn my head because of arthritis in my neck", said a third, to which several nodded in agreement.
My blood pressure pills make me dizzy," another went on.
"I guess that's the price we pay for getting old," winced an old man as he shook his head.
Then there was a short moment of silence.
"Well, it's not that bad," said one woman cheerfully. "Thank God, we can all still drive"!
THERE WILL BE A TEST
CAN YOU REMEMBER?
Soda pop machines that dispensed glass bottles?
Coffee shops with tableside jukeboxes?
Home milk delivery in glass bottles, with cardboard stoppers?
Party lines?
Newsreels before the movie?
Telephone numbers with a word prefix? (Drexel-5505)
Howdy Doody?
RPM Records?
S&H Green Stamps?
Hi-fi's?
Mimeograph paper?
Beanie and Cecil?
Roller skate keys?
Drive-ins?
Now add up your score If you remembered 0 to 5, you're still young If you remembered 6 to 15, you are getting older. If you remembered 16 to 25, you are older than dirt
THE INTELLECTUALS
Two retired professors were vacationing with their wives at a hotel in the Catskills. They were sitting on the veranda one summer evening, watching the sunset.
The history professor asked the psychology professor, "Have you read Marx?"
To which the professor of psychology replied, "Yes and I think it's these damned wicker chairs."
A FEW OF MY FAVORITE THINGS
Maalox and nose drops and needles for knitting,
Walkers and handrails and new dental fittin's
Bundles of magazines tied up with string,
These are a few of my favorite things.
Cadillacs, cataracts, hearing aids, glasses,
Polident, Fixodent, false teeth in glasses,
Pacemakers, golf carts and porches with swings,
These are a few of my favorite things.
CHORUS:
When the pipes leak,
When the bones creak,
When the knees go bad,
I simply remember my favorite things,
And then I don't feel so bad.
Hot tea and crumpets,
And corn pads for bunions, No spicy hot food
And no food with onions,
Bathrobes and heat pads and hot meals they bring,
These are a few of my favorite things.
CHORUS:
Back pains, confused brains, And no fear of sinning',
Thin bones and fractures And hair that is thinning',
As we won't mention Our short shrunken frames,
When we remember our favorite things.
CHORUS:
When the joints ache,
When the hips break,
When the eyes grow dim,
THEN I REMEMBER THE GREAT LIFE I'VE HAD,
AND THEN I DON'T FEEL SOOOOO BAAAAD.
AS I AGE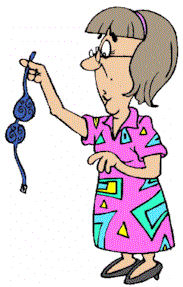 When I was in my younger days, I weighed a few pounds less. I needn't hold my tummy in To wear a belted dress.
But now that I am older, I've set my body free; There's the comfort of elastic Where once my waist would be.
The inventor of those high-heeled shoes My feet have not forgiven I have to wear a size nine now, But I used to wear a seven.
And how about those pantyhose They're sized by weight, you see, So how come when I put them on, The crotch is at my knees?
I need to wear these glasses. As the prints were getting smaller; And it wasn't very long ago I know that I was taller.
Though my hair has turned to silver And my skin no longer fits, But here on the inside, I'm still the same old me, But on the outside, I'm not what I used to be.
I WANT TO GO BACK TO THE TIME WHEN
Decisions were made by going "eeny-meeny-miney-mo."
Mistakes were corrected by simply exclaiming "do-over!"
"Race issues" meant arguing about who ran the fastest.
Money issues were handled by whoever was the banker in "Monopoly."
Catching the fireflies could happily occupy an entire evening.
It wasn't odd to have two or three "best" friends.
Being old referred to anyone over 20.
The net on a tennis court was the perfect height to play volleyball and rules didn't matter.
The worst thing you could catch from the opposite sex was "cooties".
It was magic when dad would "remove" his thumb.
It was unbelievable that dodgeball wasn't an Olympic event.
Having a weapon in school meant being caught with a slingshot.
Nobody was prettier than Mom.
Scrapes and bruises were kissed and made better.
It was a big deal to finally be tall enough to ride the "big people" rides at the amusement park.
A foot of snow was a dream come true.
Abilities were discovered because of a "double-dog-dare." Saturday morning cartoons weren't 30-minute ads for action figures.
No shopping trip was complete unless a new toy was brought home.
"Oly-oly-oxen-all-in-free" made perfect sense.
Spinning around, getting dizzy, and falling down was cause for giggles. The worst embarrassment was being picked last for a team.
War was a card game.
Water balloons were the ultimate weapon.
Baseball cards in the spokes transformed any bike into a motorcycle.
Taking drugs meant orange-flavored chewable aspirin.
Ice cream was considered a basic food group.
Older siblings were the worst tormentors, but also the fiercest protectors.
If you can remember most or all of these, then you have had a great life.
SENIOR FUN AND GAMES
Sag, You're it.
Pin the Toupee on the Bald Guy.
Questions Shouted into your Good Ear.
Kick the Bucket.
Red Rover, Red Rover, The Nurse Says Bend Over.
Doc, Doc Goose.
Simon Says Something Incoherent.
Hide and Go Pee
Spin the Bottle of Mylanta
Musical Recliners
DR. SUESS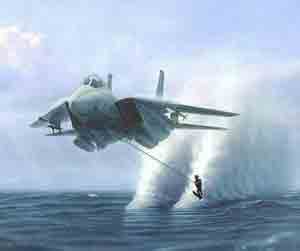 I cannot see
I cannot pee
I cannot chew
I cannot screw
My memory shrinks
My hearing stinks
No sense of smell
I look like hell
How did it get so late so soon? It's night before it's afternoon.
December is here before its June.
My goodness, how the time has flown.
The Golden Years have come at last
The Golden Years can kiss my ass.
THE JOYS OF BEING OVER 50
Kidnappers are not very interested in you.
In a hostage situation, you are likely to be released first.
No one expects you to run into a burning building.
People call at 9 p.m. and ask, "Did I wake you?"
People no longer view you as a hypochondriac.
There's nothing left to learn the hard way.
Things you buy now won't wear out.
You can eat dinner at 4 p.m.
You enjoy hearing about other people's operations.
You get into a heated argument about pension claims.
You have a party and the neighbors don't even realize it.
You no longer think of speed limits as a challenge.
You quit trying to hold your stomach in, no matter who walks into the room.
You sing along with the elevator music.
Your eyes won't get much worse.
Your investment in health insurance is finally beginning to pay off.
Your joints are more accurate meteorologists than the National Weather Service.
Your secrets are safe with your friends because they can't remember them either.
Your supply of brain cells is finally down to a manageable size.
You can't remember who sent you this list.
The world was made round so that we would never be able to see too far down the road.
PONDERINGS
Mid-life has hit you when you stand naked in front of a mirror and can see your rear end without turning around.
If carrots are so good for the eyes, how come I see so many dead rabbits on the highway?
How come we choose from just two people for president and 50 for Miss America?
Ever notice that people who spend money on beer, cigarettes, and lottery tickets are always complaining about being broke and not feeling well?
Isn't having a smoking section in a restaurant like having a peeing section in a swimming pool?
Marriage changes passion Suddenly you are in bed with a relative.
Why is it that most nudists are people you don't want to see naked?
"Old" is when the porn movie you bring home is "Debby Does Dialysis."
The next time you feel like complaining remember: Your garbage disposal probably eats better than thirty percent of the people in this world.
Every time I walk into a singles bar I can hear Mom's wise words: "Don't pick that up, you don't know where it's been."
SIGNS OF WEAR
You may be getting older:
When your sweetie says, "Let's go upstairs and make love," and you answer, "Pick one, I can't do both!"
When your friends compliment you on your new alligator shoes and you're barefoot.
When a sexy babe catches your fancy and your pacemaker opens the garage door.
When going bra-less pulls all the wrinkles out of your face.
When you don't care where your spouse goes, just as long as you don't have to go along.
When you are cautioned to slow down by the doctor instead of by the police.
When getting a little action" means you don't need to take any fiber today.
When "Getting lucky" means you find your car in the parking lot.
When an "all-nighter" means not getting up to pee.
HAPPY ENDING
Jack decided to go skiing with his buddy, Bob. They loaded up Jack's minivan and headed north.
After driving for a few hours, they got caught in a terrible blizzard.
So they pulled into a nearby farm and asked the attractive lady who answered the door if they could spend the night.
"I realize it's terrible weather out there and I have this huge house all to myself, but I'm recently widowed," she explained. "I'm afraid the neighbors will talk if I let you stay in my house."
"Don't worry," Jack said. "We'll be happy to sleep in the barn. And if the weather breaks, we'll be gone at first light." The lady agreed, and the men settled in for the night.
Come morning, the weather had cleared, and they went on their way. They enjoyed a great weekend of skiing.
But about nine months later, Jack got an unexpected letter from an attorney.
It took him a few minutes to figure it out, but he finally determined that it was from the attorney of that attractive widow he had met on the ski weekend.
He dropped in on his friend Bob and asked, "Bob, do you remember that good-looking widow from the farm we stayed at on our ski holiday up North about 9 months ago?"
"Yes, I do," said Bob.
"Did you, er, happen to get up in the middle of the night, go up to the house and pay her a visit?"
"Well, um, yes," Bob said, a little embarrassed about being found out. "I have to admit that I did."
"And did you happen to use my name instead of telling her your real name?"
Bob's face turned beet red and he said, "Yeah, look, I'm sorry, buddy. I'm afraid I did." "Why do you ask?"
"She just died and left me everything."
SMOKIN'
Two old ladies were outside their nursing home, having a smoke when it started to rain. One of the ladies pulled out a condom, cut off the end, put it over her cigarette, and continued smoking.
GERT: Holy smoke, What's that?
MABEL: A condom. This way my cigarette doesn't get wet.
GERT: Where did you get it?
MABEL: You can get them at any drugstore.
The next day, Gert hobbles into the local drugstore and tells the pharmacist that she needs a box of condoms.
The guy, obviously embarrassed, looks at her kind of strangely (she is, after all, almost 90 years of age), but very delicately asks what brand she prefers. Gert answers, "Doesn't matter son, as long as it fits a Camel."
The pharmacist fainted
ELEMENTARY SCHOOL TEST
Kids were asked questions about the old and new testaments. The following statements about the Bible were written by children. They have not been retouched nor corrected, all incorrect spelling has been left in).
In the first book of the bible, Guinness's. God got tired of creating the world so he took the sabbath off.
Adam and Eve were created from an Apple tree. Noah's wife was called Joan of Ark. Noah built an ark and the animals came on in pears.
Lot's wife was a pillar of salt during the day, but a ball of fire during the night.
The Jews were a proud people and throughout history they had trouble with unsympathetic Genitals.
Sampson was a strongman who let himself be led astray by a Jezebel like Delilah.
Samson slayed the Philistines with the axe of the Apostles.
Moses led the Jews to the Red sea where they made unleavened bread which is bread without any ingredients.
The Egyptians were all drowned in the dessert, Afterwards, Moses went up to Mount Cyanide to get the ten ammendments.
The first commandment was when Eve told Adam to eat the apple.
The seventh Commandment is thou shalt not admit adultery.
Moses died before he ever reached Canada .. Then Joshua led the Hebrews in the battle of Geritol.
The greates miricle in the bible is when Joshua told his son to stand still and he obeyed him.
David was a Hebrew king who was skilled at playing the liar. He fought the Finkelsteins, a race of people who lived in bibical times.
Solomon, one of David's sons, had
wives and
porcupines.
When Mary heard she was the mother of Jesus, she sang the Magna Carta.
When the three wise guys from the east side arrived, they found Jesus in the manager.
Jesus was born because Mary had an immaculate contraption.
St. John the blacksmith dumped water on his head.
Jesus enunciated the Golden Rule, which says to do unto others before they do one to you. He also explained, a man doth not live by sweat alone.
It was a miricle when Jesus rose from the dead and managed to get the tombstone off the entrance.
The people who followed the lord were called the 12 decibels.
The epistels were the wives of the apostals.
One of the oppossums was St. Matthew who was also a taximan.
St. Paul cavorted to Christianity, he preached holy acrimony, which is another name for marraige.
Christians have only one spouse. This is called monotony
Want More Senior Jokes?
The fun doesn't stop here! We still have a lot more senior jokes to share with you. Check out the winners of the World's Funniest Joke Contest for guaranteed laughs. If you're looking for something a little bit spicier, our Sexy Senior Joke Book will be perfect for you.
Our Sponsors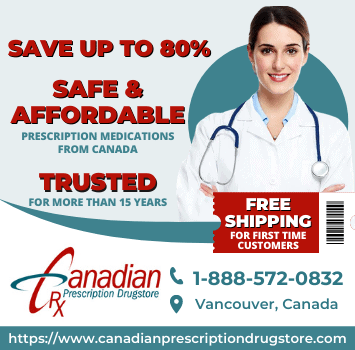 ---
Your ad could be here.
About
This top-ranked site now has over 4,000 pages of humor, nostalgia, senior advocacy and useful information for seniors 50+. Updates weekly!
The daily e-zine for everyone over 50 who feels way too young to be old.
"...the perfect mix of Andy Rooney, Dave Barry, and Garrison Keilor, combining knee-slapping humor with useful information and genuine compassion."
Retired.com
"Thousands look to and trust Suddenly Senior. Other Websites pale in comparison to the real-life, intimate look into senior lives. What sets apart Suddenly Senior is its blistering honesty and its incomparable encouragement. Millions need guidance."
Suzette Martinez Standring
"Best Senior Site ever on the Web! Great, up-to-date information on how seniors can save money on drugs. Wonderful nostalgia. Hard-hitting senior advocacy pieces that get read in high places. Wonderful humor. It's all at Suddenly Senior."
Alexa.com
KUDOS
Now read by 3.1 million in 83 newspapers from Florida's St. Petersburg Times to the Mumbai, India News.