Humor
Best New Jokes Compilation: Mostly Old Jokes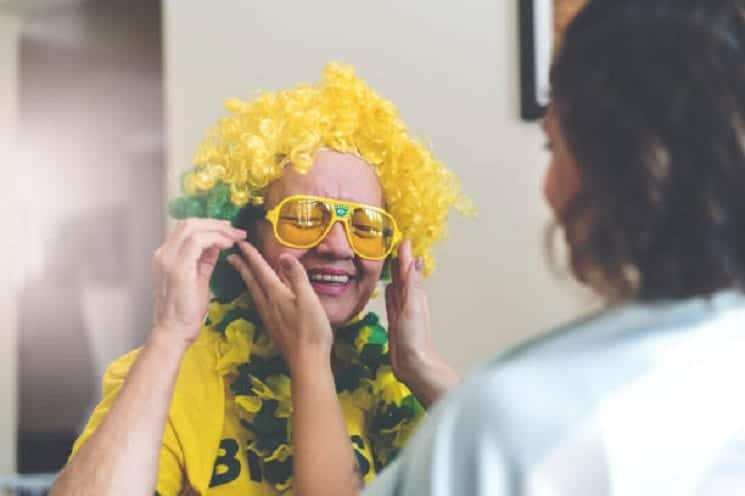 Welcome to Suddenly Senior's All-Time Best New Jokes of the Week Compilation. Enjoy our ridiculously large list of jokes compiled over the last 10+ years.
Check out our other jokes pages:
---
INSURANCE

Two old ladies were sitting on the porch at the old folks home. One turned to the other and asked "Martha, you were married a long time, did you and your husband have mutual orgasm?"
The other little old lady sat and rocked for a minute and said, "No, I think we had State Farm."
---
BEACH BUM

Martha and Betty were at lunch in their Senior Living facility. Martha turns to Betty and asks, "Do you still get horny?"
Betty replies, "Oh sure I do."
Martha asks, "What do you do about it?"
Betty replies, "I suck a lifesaver."
After a few moments, Martha asks, "Who drives you to the beach?"
---
AT THE HOTEL

It was three o'clock in the morning, and the receptionist at a posh hotel was just dozing off when a little old lady comes running towards her screaming. "Please come quickly!" she yelled, "I just saw a naked man outside my window!"
The receptionist immediately rushes up to the old lady's room. "Where is he?" asked the receptionist. "He's over there," replied the little old lady, pointing to an apartment building opposite the hotel.
The receptionist looks over and could see a man with no shirt on, moving around his apartment. "It's probably a man who's getting ready to go to bed," she said reassuringly. "And how do you know he's naked, you can only see him from the waist up?"
"The dresser, honey!" screamed the old lady. "Try standing on the dresser!"
---
MAKING LOVE

An older couple decides to retire for the evening. The husband was almost asleep as his head hit his pillow, but his wife felt a little romantic and wanted to talk.
She says, "You know, when we were courting, you liked to hold my hand".
Wearily, he reaches across and holds her hand for a few seconds, and then tries to get back to sleep.
A few moments later she says, "After that, you used to kiss me softly".
Mildly irritated, he turns over and gives her a peck on the cheek and again settles down for the night.
Thirty seconds later she says, "Then after that, you used to bite me lightly on my neck".
Angrily, he throws back the bed covers and gets out of bed.
"Where are you going?" she asks.
"To get my teeth!"
---
BUS RIDE

A senior citizen's group charters a bus from Brooklyn to Atlantic City. As they entered New Jersey, an elderly woman comes up to the driver and says "I've just been molested!
The driver felt that she had fallen asleep and had a dream. So he tells her to go back to her seat, and sit down.
A short time later, another old woman comes forward, and claims that she was just molested. The driver starts to think he may have a bus load of old wackos, but who would be molesting those old ladies?
About 10 minutes later, a third old lady comes up and says that she'd been molested too. The bus driver decides that he'd had enough, and pulls into the first rest area. When he turns the lights on and stands up, he sees an old man on his hands and knees crawling in the aisles.
"Hey gramps, what are you doing down there?" says the bus driver.
"I lost my toupee. I thought I found it three times, but every time I grab it, it keeps running away."
---
AT THE MUSEUM

Two old ladies visiting a museum, get separated during their tour.
When they finally catch-up with each other, the first old lady says, "Gertrude, did you see the statue of that naked man back there?"
Gertrude replies, "Yes, I was absolutely shocked! How can they display such a thing, especially with his private parts being so large!"
"I know", says her friend, "And cold, too!"
---
VISITING THE GRANDCHILDREN

An elderly couple decides to go and visit their grandson living in California.
The grandfather while shaving one day, notices a bottle of Viagra in his grandson's medicine cabinet.
That evening after dinner, the grandfather explains to his grandson, about finding the bottle of Viagra, and how for a long time, wanted to test the drug out for himself.
The grandson was hesitate about giving him the drug, especially not knowing what type of reaction or side-affect it could have on his elderly grandfather. So he tried to make up different excuses why he shouldn't test the drug, which made no difference to the old man, since his mind was made up.
Finally he says, "Besides gramps, those pills cost $8.00 a piece".
"I don't care", says the old man, "I want to try it"
With that, the grandson hands the old man one powerful blue pill.
The next day after work, the grandson finds $108.00 dollars lying on his bed. Curious, he goes and asks his grandfather why he left so much money.
The old man explains, "I didn't, I only left $8.00. The $100.00 is from your grandmother.
---
FORE

In the early days of mixed play, an English couple, an Irish couple and a Scottish couple are at the links ready to tee off.
The Englishman's wife steps up to the tee first and as she bends over to place ball a gust of wind blows her skirt up and reveals her lack of underwear.
"Allo! Why aren't you wearing any knickers?" her husband demanded. "Well, you don't give me enough housekeeping money to afford to buy any!"
The Brit immediately reaches into his pocket and says, "For the sake of St. Paul, here's pounds 50. Go and buy yourself some underwear."
Next the Irishman's wife bends over to set her ball on the tee. Her skirt blows up to show that she is wearing no undies.
"Bejesus woman! You've no knickers! Why not?" She replies, "I can't afford any on the money you give me!"
He reaches into his pocket and says, "For the sake of St. Patrick, here's 20 pounds. Go and buy yourself some underwear!"
Lastly, the Scotsman's wife bends over. The wind also takes her skirt over her head to reveal that she too is naked under it.
"Hoot mon woman! Why d'ye have nae knickers?" She too explains, "You nae give me enough housekeeping money to be able to afford any!"
The Scot reaches into his pocket and says, "For the sake of St. Andrew, lass, here's a comb. Tidy yourself up a wee bit."
---
THERE IS A LESSON HERE

I was so happy. My girlfriend and I were dating for over a year, and we decided to get married.
My parents helped us in every way, my friends encouraged me. And my girlfriend? She was a dream!
There was only one thing bothering me, and that was my mother-in-law to be. She was a career woman, smart, but most of all, beautiful and sexy, who sometimes flirted with me, which made me feel quite uncomfortable.
One day mother-in-law called me and asked me to come over to check the wedding invitations. So I went.
She was alone when I arrived. As we looked at the invitations, she rubbed her breasts into me so enticingly. I could not help but notice through her sheer blouse that she was wearing no bra. Her breasts were magnificent, to say the least.
She whispered to me, that soon I was going to be married, and that she had feelings and desires for me that she couldn't overcome. She went on to indicate that before I got married and committed my life to her daughter, she wanted to make love to me just for once. She pointed out that no one would be home for at least three hours.
I was in total shock, and I couldn't say anything.
So, she said, I'll go upstairs to the bedroom, and if you are up for it, just come and get me.
I stood there for a moment, watching her go slowly up the stairs in her formfitting miniskirt. I then turned around and went to the front door. I opened it and stepped out of the house.
Her husband was standing outside, and with tears in his eyes. He hugged me and said, "We are very happy and pleased, you have passed our little test. We couldn't have asked for a better man for our daughter. Welcome to the family."
The moral of the story: Always keep your condoms in your car.
---
My husband and I divorced over religious differences.
He thought he was God and I didn't.
---
Some people are alive only because
it's illegal to kill them.
---
I used to have a handle on life,
but it broke.
---
He who dies with the most toys
is nonetheless dead.
---
The gene pool
could use a little chlorine.
---
Consciousness:
That annoying time between naps
---
Being "over the hill"
is much better than being under it
---
A journey of a thousand miles
begins with a cash advance
---
The trouble with life is there's no background music.
---
CRIME WAVE
Gasoline prices have gotten so high, crooks are knocking over service stations and demanding "your unleaded or your life."
---
GAS PRICE COMPARISONS

Diet Snapple 16 oz for $1.29 = $10.32 per gallon
Lipton Ice Tea 16 oz for $1.19 = $9.52 per gallon
Gatorade 20 oz for $1.59 = $10.17 per gallon
Ocean Spray 16 oz for $1.25 = $10.00 per gallon
Quart of Milk 16 oz for $1.59 = $6.32 per gallon
Evian (water) 9 oz for $1.49 = $21.19 per gallon
STP Brake Fluid 12 oz for $3.15 = $33.60 per gallon
Vicks Nyquil 6 oz for $8.35 = $178.13 per gallon
Pepto Bismol 4 oz for $3.85 = $123.20 per gallon
Whiteout 7 oz for $1.39 = $254.17 per gallon
Scope 1.5 oz for $0.99 = $84.84 per gallon
So next time you're at the pump,I guess you should be glad your car doesn't run on Nyquil, Scope or Whiteout!
---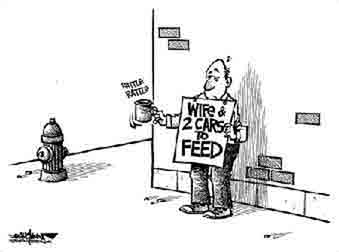 ---
HOT DATE

Did you hear the one about the woman who begged her husband to take her somewhere expensive for a change?
He drove her to the corner gas station.
---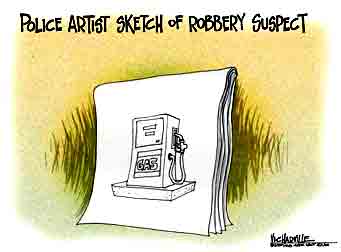 ---
FLIGHT FUEL

A British Airways flight in Chicago couldn't take off Thursday until the pilot got the passengers to chip in twenty bucks apiece for gas.
---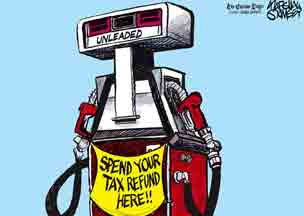 ---
OUR SYMPATHY

"Some sad news — King Fahd has died and, in respect, the Saudi family lowered the flag and raised oil prices." –Jay Leno
---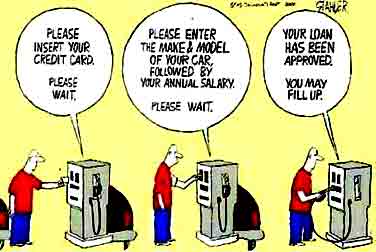 ---
REALLY BAD!

There was a crowd of bees flying around. These bees were a bit different as they were powered by gasoline.
As the swarm along, periodically a bee or two would start to sputter; it would fly down to a gas station, drink up the gas spilled in fueling a car, and then fly up and rejoin the crowd.
One bee began to sputter a little, but flew right by an open gas station. As he passed the second station, he coughing badly, but still he flew on. Finally, as he was on his last fumes, he dove down to a station and gassed up.
When he rejoined the crowd, his bee buddy said: "Look, you passed right by an open station when you started to get low. You passed another station when you were perilously low. And finally, you ran out of gas just in time to glide into that last station. Are you crazy?"
He replied, "Well, it's like this. The first station was a Gulf station. I really don't like Gulf at all. The second station was a Texaco station. That's even worse.
But the third station was an Esso station. Let me tell you, Esso is my brand of gasoline. It's really true. There's an Esso Bee in every crowd!"
---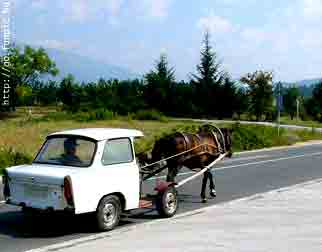 ---
NECESSARY INFORMATION
(a service of Suddenly Senior)

Ever wondered where a driver is from? Wonder no more.
• One hand on wheel, one hand on horn: Chicago
• One hand on wheel, one finger out window: New York
• One hand on wheel, one hand on newspaper, foot solidly on accelerator: Boston
• One hand on wheel, cradling cell phone, brick on accelerator: California. With gun in lap: Riverside
• Both hands on wheel, eyes shut, both feet on brake, quivering in terror: Ohio
• Both hands in air, gesturing, both feet on accelerator, head turned to talk to someone in back seat: Italy
• One hand on latte, one knee on wheel, cradling cell phone, foot on brake, mind on game: Washington (Seattle)
• One hand on wheel, one hand on hunting rifle, alternating between both feet being on the accelerator and both on the brake, throwing a McDonald's bag out the window: Texas (male)
• One hand constantly refocusing the rear view mirror to show different angles of the BIG hair, one hand going between mousse, brush, and rattail to keep the helmet hair going, both feet on the accelerator, poodle steering the car, chrome .38 revolver with mother of pearl inlaid handle in the glove compartment: Texas (female)
• Four wheel drive pickup truck, shotgun mounted in rear window, beer cans on floor, squirrel tails attached to antenna, cousin/spouse in passenger seat: Arkansas
• Two hands gripping wheel, blue hair barely visible above window level, driving 35 on the interstate in the left lane with the right blinker on: Florida.
---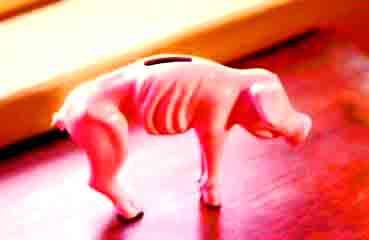 MY PIGGY BANK AFTER I FILLED UP

---
GOOD GUESS

A gas station in Kentucky was trying to increase its sales, so Clem, the owner put up a sign saying, "Free Sex with Fill-Up."
Bubba pulled in, filled his tank, and then asked for his free sex. Clem told him to pick a number from 1 to 10. If he guessed correctly, he would get his free sex.
Bubba guessed 8, and Clem said, "Yours shore enough close. The number was 7. Sorry, no sex this time."
A week later, Bubba, along with Bobby Sue, his blond girlfriend, pulled in for a fill-up. Again he asked for his free sex. Clem again asked him to guess the correct number.
Bubba guessed 2 this time. Again Clem said, "Sorry, it was 4. You were close, but no free sex this time."
As they were driving away, Bubba said to Bobby Sue, "I think that game is rigged and he doesn't really give away free sex."
Bobby Sue replied, No it ain't, Honey. It ain't rigged, I won twice last week."
---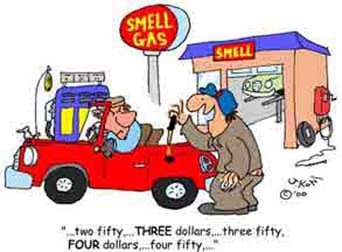 ---
GETTING GASSED
(this week's obligatory blond joke)

A tired trucker came into a truck stop cafe and placed his order. He said, "I want three flat tires, a pair of headlights and a pair of running boards."
The brand new blonde waitress, not wanting to appear stupid, went to the kitchen and said to the cook, "This guy out there just ordered three flat tires, a pair of headlights and a pair of running boards. What does he think this place is .. an auto parts store?"
"No," the cook said. "Three flat tires means three pancakes, a pair of headlights is two eggs sunny side up, and running boards are 2 slices of crisp bacon."
"Oh, OK!" said the blonde. She thought about it for a moment and then spooned up a bowl of beans and gave it to the customer.
The trucker asked, "What are the beans for, Blondie?"
She replied, "I thought while you were waiting for the flat tires, headlights and running boards, you might as well gas up.
---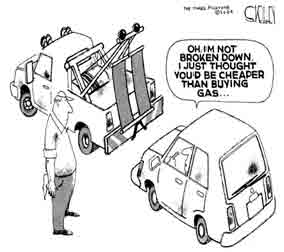 ---
SEX?

Gas prices are affecting my sex life.
With prices almost at $3 a gallon, I only date women in a 5-gallon radius.
---
ONE MORE ADVANTAGE OF THE "GOLDEN YEARS"!!!

My neighbour was out working in his yard, when he was startled by a late model car, that came crashing through his hedge and ended up on his front lawn.
He rushed to help the elderly driver out and sat her on a lawn chair.
"My goodness" he exclaimed:
"You appear quite elderly, to be driving!!"
"Well, yes I am!!" she replied proudly.
"I'll be 97 next month, and I am now old enough that I don't even need a license anymore!!…
The last time I went to my doctor he examined me, and asked if I had a driving license. I told him yes and handed it to him.
He took his scissors out of his drawer, cut the license into pieces and threw them in the waste basket.
"You won't be needing this anymore!!" he said.
"So I thanked him and left!!.."
---
A pig's orgasm lasts for 30 minutes.
---
THE GOLD URINAL

Before Obama was elected President he went to see Bill and Hillary for some
campaign advice, at their spacious home.
After drinking several glasses of iced tea, he asked Bill Clinton if he
could use his personal bathroom.
When he entered Clinton's private toilet, he was astonished to see that
Clinton had a solid gold urinal! Wow!
That afternoon, Obama told his wife, Michelle, about the urinal. "Just
think,' he said, 'when I am President, I too could have a gold urinal.
But I wouldn't have something so self-indulgent!"
Later, when Michelle had lunch with Hillary, she told Hillary how impressed
Obama had been at his discovery of the fact that, in his private bathroom,
Bill had a gold urinal.
That evening, when Bill and Hillary were getting ready for bed, Hillary
smiled and said to Bill:
"I found out who peed in your saxophone."
---
Antarctica is the only continent without reptiles or snakes.
---
ACTUAL EMPLOYEE PERFORMANCE EVALUATIONS

• His people would follow him anywhere, but only out of morbid curiosity"
• "This young lady has delusions of adequacy"
• "He would argue with a signpost"
• "He doesn't have ulcers, but he's a carrier"
• "Got a full 6-pack, but lacks the plastic thing to hold it all together"
• "When his IQ reaches 50, he should sell"
• "If you stand close enough to him, you can hear the ocean"
• "One neuron short of a synapse"
• "If he were any more stupid, he'd have to be watered twice a week"
---
Some mistakes are too much fun to only make once.
---
AMISH REPAIR

An Amish woman was driving her buggy to town when a highway patrol officer stopped her. "I'm not going to cite you," said the officer. "I just wanted to warn you that the reflector on the back of your buggy is broken and it could be dangerous."
"I thank thee", replied the Amish lady. "I shall have my husband repair it as soon as I return home."
"Also," said the officer, "I noticed one of your reins to your horse is wrapped around his testicles. Some people might consider this cruelty to animals so you should have your husband check that too."
"Again I thank thee. I shall have my husband check both when I get home."
True to her word when the Amish lady got home she told her husband about the broken reflector, and he said he would put a new one on immediately.
"Also," said the Amish woman, "The policeman said there was something wrong with the emergency brake.
---
Accept that some days you're the pigeon,
and some days you're the statue.
---
THIS WEEK'S BEST BLONDE JOKE

A blind man enters a Ladies Bar by mistake. He finds his way to a bar stool and orders a drink. After sitting there for a while, he yells to the bartender, "Hey, you wanna hear a blonde joke?" The bar immediately falls absolutely quiet. In a very deep, husky voice, the woman next to him says, "Before you tell that joke, sir, you should know five things –
• The bartender is a blonde girl.
• The bouncer is a blonde gal.
• I'm a 6-foot tall, 200-pound blonde woman with a black belt in karate.
• The woman sitting next to me is blonde and is a professional weightlifter.
• The lady to your right is a blonde and is a professional wrestler.
Now think about it seriously, Mister. Do you still wanna tell that joke?
The blind man thinks for a second, shakes his head, and declares, "Nah, not if I'm gonna have to explain it five times."
---
Never buy a car you can't push.
---
HOW I SPENT MY VACATION WITH GRANDMA AND GRANDPA

A teacher asked her young pupils how they spent their vacation. One child wrote the following:
• We always used to spend the holidays with Grandma and Grandpa. They used to live here in a big, brick house, but Grandpa got retarded and they moved to Florida and now they live in a place with a lot of other retarded people.
• They live in a tin box and have rocks painted green to look like grass. They ride around on big tricycles and wear nametags because they don't know who they are anymore.
• They go to a building called a wrecked center, but they must have got it fixed because it is all right now. They play games and do exercises there, but they don't do them very well.
• There is a swimming pool too, but they all jump up and down in it with their hats on. I guess they don't know how to swim.
• At their gate there is a dollhouse with a little old man sitting in it. He watches all day so nobody can escape. Sometimes they sneak out. Then they go cruising in their golf carts.
• My grandma used to bake cookies and stuff, but I guess she forgot how. Nobody there cooks, they just eat out. And they eat the same thing every night: Early Birds.
• Some of the people can't get past the man in the dollhouse to go out, so the ones who get out bring food back to the wrecked center and call it pot luck.
• My Grandma says Grandpa worked all his life to earn his retardment and says I should work hard so I can be retarded one day, too.
• When I earn my retardment I want to be the man in the dollhouse. Then I will let people out so they can visit their grandchildren.
---
Humans and dolphins are the only species that have sex for pleasure.
---
FILLING IN FOR ST. PETER

Saint Peter had a terrible cold and fever and didn't think he would last the day minding the Pearly Gates of Heaven. So he phoned Jesus to ask for the day off.
"Why, Peter," Jesus said. "You know your health is my first concern. Take as much time as you need."
As Jesus pondered who he might use to replace Peter, he decided to handle the job himself. It was a very slow day and no one approached the Gates until late in the afternoon, when in the distance, Jesus saw a bent, white-haired old man slowly making his way up the path with the aid of a gnarled cane.
As the man neared, Jesus said, "Good afternoon, Sir. How may I help you?"
"Well," replied the man, "I was hoping to enter the Gates of Heaven."
"We would certainly love to have you," said Jesus, "But we do have certain rules as to who can enter Heaven. Tell me, what have you done to deserve such an honor?"
"Actually, I have done nothing so wonderful myself," said the man. "I lived in a small town and led a simple life as a carpenter. But my son," he continued, "now he was special!"
With pride in his voice he said, "I raised him to be a carpenter like myself and did my best to teach him right from wrong. And when he grew older, an amazing transformation overcame him and to this day he's known throughout the world and loved by all alike."
As Jesus listened to the story, a sense of recognition came to him. With a lump in his throat and a tear in his eye, he threw open his arms and cried, "Father!"
Emotional at this outburst, the old man threw open his arms and yelled, "Pinocchio!"
---
When everything's coming your way,
you may be in the wrong lane.

---
HEALTH NEWS

Two cowboys from Texas walk into a roadhouse to wash the trail dust from their throats.
They stand at the bar drinking and talking about current cattle prices. Suddenly, a woman at a nearby table, who is eating a sandwich, begins to cough.
After a minute or so, it becomes apparent that she is in real distress.
One of the cowboys looks at her and says, "Kin ya swaller?" The woman shakes her head, no. "Kin ya breathe?" The woman begins to turn blue and shakes her head.
The cowboy walks over to the woman, lifts up the back of her dress, yanks down her panties, and runs his tongue all over her butt cheeks in a circular motion. The woman is so shocked, that she has a violent spasm and the obstruction flies out of her mouth.
As she begins to breathe again, the cowboy walks slowly back to the bar and takes a drink from his beer.
His partner says, "Ya know, I'd heard of that there 'Hind Lick Maneuver,' but I ain't never seen nobody do it.
---
The male praying mantis cannot copulate while its head is attached to its body. The female initiates sex by ripping the male's head off.
---
THE FALL

Shamus McGuillicutty's boss from the Guinness Brewery in St. James' Gate visits his subordinate's modest Dublin home with bad news.
"I'm afraid there's been a terrible accident, Maggie," he tells Mrs. McGuillicutty. "Shamus has passed away."
"Jesus, Joseph and Mary," as Maggie crosses herself. "Did he have a rapid and painless demise, or did he suffer?"
"I won't be lyin' ta ya, Maggie," says the boss. "He suffered a long and tedious death. Shamus fell, ya see, into the vat of Guinness and drowned."
"Oh, no!," the recent widow wailed. "How awful!"
"Aye," admitted the boss. "He 'ad to get out twice to pee, he did."
---
The catfish has over 27,000 taste buds.

---
TRUE FANATIC

A man had 50-yard-line tickets for the Superbowl. As he sits down, another man comes down and asks if anyone is sitting in the seat next to him.
"No, "he says. "The seat is empty."
"This is incredible!" said the man. "Who in their right mind would have a seat like this for the Superbowl, the biggest sporting event in the world, and not use it?"
He says, "Well, actually, the seat belongs to me. My wife was supposed to come with me, but she passed away. This is the first Superbowl we haven't been to together since we got married."
"Oh … I'm sorry to hear that. That's terrible. But couldn't you
find someone else — a friend or relative, or even a neighbor — to take the seat?"
The man shakes his head. "No. They're all at the funeral."
---
The flea can jump 350 times its body length.
It's like a human jumping a football field.
---
A TRIFECTA OF BEST JOKES FOR THE DOG DAYS OF SUMMER
WIN:

DICTIONARY FOR WOMEN

Argument (ar*gyou*ment): n. A discussion that occurs when you're right, but he just hasn't realized it yet.
Airhead (er*head): n. What a woman intentionally becomes when pulled over by a Police Officer.
Bar-be-que (bar*bi*q): n. You bought the groceries, washed the lettuce, chopped the tomatoes, diced the onions, marinated the meat and cleaned everything up – but he "made the dinner."
Blonde jokes (blond joks): n. Jokes that are short so men can understand them.
Cantaloupe (kant*e*lope): n. Gotta get married in a church.
Clothes dryer (kloze dri*yer): n. An appliance designed to eat socks.
Diet soda (dy*it so*da): n. A drink you buy at a convenience store to go with a half pound bag of peanut M&Ms.
Eternity (e*ter*ni*tee): n. The last two minutes of a football game.
Exercise (ex*er*siz): v To walk up and down a mall, occasionally resting to make a purchase.
Grocery list (grow*ser*ee list): n What you spend half an hour writing, then forget to take with you to the store.
Hardware store (hard*war stor): n. Similar to a black hole in space – if he goes in, he isn't coming out anytime soon.
Childbirth (child*brth): n. You get to go through 36 hours of contractions; he gets to hold your hand and say, "focus….breathe…push…"
Lipstick (lip*stik): n. On your lips, coloring to enhance the beauty of your mouth. On his collar, coloring only a tramp would wear…!
Park (park): v./n. Before children, a verb meaning, "to go somewhere and neck." After children, a noun meaning a place with a swing set and slide.
Patience (pa*shens): n. The most important ingredient for dating, marriage and children. See also "tranquilizers."
Waterproof mascara (wah*tr*pruf mas*kar*ah): n. Comes off if you cry, shower or swim, but will not come off if you try to remove it.
Valentine's Day (val*en*tinez dae): n. A day when you have dreams of a candle light dinner, diamonds and romance, but consider yourself lucky to get a card.
---
Some lions mate over 50 times a day.
---
THE WISDOM OF WILL ROGERS

Don't squat with your spurs on.
Good judgment comes from experience, and a lot of that comes from bad judgment.
Lettin' the cat outta the bag is a whole lot easier 'n puttin' it back in.
If you're ridin' ahead of the herd, take a look back every now and then to make sure it's still there.
If you get to thinkin' you're a person of some influence, try orderin' somebody else's dog around.
After eating an entire bull, a mountain lion felt so good he started roaring. He kept it up until a hunter came along and shot him… The moral: When you're full of bull, keep your mouth shut.
Never kick a cow chip on a hot day.
There are two theories to arguin' with a woman. Neither one works.
If you find yourself in a hole, the first thing to do is stop diggin'.
Never slap a man who's chewin' tobacco.
---
A cockroach will live nine days without it's head,
before it starves to death.

---
SHOW:
$10 IS $10

Fred and his wife Edna went to the state fair every year. Every year Fred would say, "Edna, I'd like to ride in that there airplane."
And every year Edna would say, "I know Fred, but that airplane ride costs ten dollars, and ten dollars is ten dollars."
One year Fred and Edna went to the fair and Fred said, "Edna, I'm 71 years old. If I don't ride that airplane this year I may never get another chance."
Edna replied, "Fred that there airplane ride costs ten dollars, and ten dollars is ten dollars."
The pilot overheard them and said, "Folks, I'll make you a deal. I'll take you both up for a ride. If you can stay quiet for the entire ride and not say one word, I won't charge you, but if you say one word it's ten dollars."
Fred and Edna agree and up they go. The pilot does all kinds of twists and turns, rolls and dives, but not a word is heard. He does all his tricks over again, but still not a word.
They land and the pilot turns to Fred, "By golly, I did everything I could think of to get you to yell out, but you didn't."
Fred replied, "Well, I was gonna say something when Edna fell out, but ten dollars is ten dollars.
---
An ostrich's eye is bigger than it's brain.
---
SEX AT 90

An elderly man goes into a brothel and tells the madam he would like a young girl for the night. Surprised, she looks at the ancient man and asks how old he is.
"I'm 90 years old," he says.
"90!" replies the woman. "Don't you realize you've had it?"
"Oh, sorry," says the old man. "How much do I owe you?"
---
I married Miss Right.
I just didn't know her first name was Always.
---
CAJUN FUNERAL

Three friends from de local Cajun congregation of Thibodeaux, Louisiana were asked, "When you in your casket, and your friends and church members are mourning over you, what would you like dem to say?"
Jacque said: "I would like dem to say, I was a wonderful husband, a fine spiritual leader, and a great family man."
Fouché commented: "I would like dem to say, I was a wonderful teacher, and servant of da church, who made a huge difference in people's lives."
Boudreaux said: "I'd like dem to say, 'Look, he's movin!' "
---
Scientists have discovered a food that diminishes a woman's
sex drive by 90%. It's called a Wedding Cake.
---
WHY FOLKS MOVE TO FLORIDA

A couple, both 78, went to a sex therapist's office in Winter Haven, Florida. The doctor asked, "What can I do for you "
The man asked, "Will you watch us have sexual intercourse "
The doctor looked puzzled, but agreed. When the couple had finished, the doctor said, "There's nothing wrong with the way you have intercourse" and charged them $50.
This happened several weeks in a row. The couple would make an appointment, have intercourse with no problems, pay the doctor, then leave.
Finally the doctor asked, "Just exactly what are you trying to find out?"
The old man said, "We're not trying to find out anything. She's married and we can't go to her house. I'm married and we can't go to my house. The Holiday Inn charges $90. The Hilton charges $140. We do it here for $50 and I get $43 back from Medicare."
Is Florida great or what?
---
Women will never be equal to men until they can walk down the street with a bald head and a beer gut and still think they are sexy.
---
SENILITY: DEFINED

An elderly man went to his doctor and said, "Doc, I think I'm getting senile. Several times lately, I have forgotten to zip up."
"That's not senility," replied the doctor. "Senility is when you forget to zip down."
---
A male gynecologist is like an auto mechanic
who never owned a car.
---
THE SHIPWRECKED REDNECK

A redneck, a sheep, and a dog were survivors of a shipwreck. They found themselves stranded on a deserted island.
After being there a while, they got into the habit of going to the beach every evening to watch the sunset. One particular evening, the sky was a fiery red, with beautiful cirrus clouds, the breeze was warm and gentle; a perfect night for romance. As they sat there, the sheep started looking better and better to the redneck.
Soon, he leaned over to the sheep and put his arm around it, but the dog got jealous and began growling fiercely until the redneck took his arm from around the sheep. After that, the three of them continued to enjoy the sunsets together but there was no more cuddling.
A few weeks passed by, and lo and behold, there was another shipwreck. The only survivor, was a beautiful young woman, the most beautiful woman the redneck had ever seen. She was in a pretty bad way when they rescued her, but they slowly nursed her back to health.
When the young maiden was well enough, they introduced her to their evening beach ritual It was another beautiful evening; red sky, cirrus clouds, a warm and gentle breeze–perfect for a night of romance. Pretty soon, the redneck started to get "those feelings" again.
He fought them as long as he could, but he finally gave in and leaned over to the young woman, cautiously, and whispered in her ear…
"Would you mind taking the dog for a walk?"
---
A woman is like a tea bag…
You don't know how strong she is until you put her in hot water.
---
OF THE FORMERLY RICH HOULIHANS

"Hello, is this Father O'Malley?"
"It is."
"This is the IRS. Can you help us?"
"I can."
"Do you know a Ted Houlihan?"
"I do."
"Is he a member of your congregation?"
"He is." "Did he donate $10,000 to the church?"
"He will."
---
I have yet to hear a man ask for advice
on how to combine marriage and a career.
---
ONE FOR THE REPUBLICANS

I was traveling between Phoenix and Chicago the other day. Just south of Kansas City a tire blew out. Checking my spare,
I found that it too was flat. My only option was to flag down a passing motorist and get a ride to the next town.
The first vehicle to stop was an old man in a van. He yelled out the window, "Need a lift?"
"Yes, I sure do," I replied.
"You a Democrat or Republican?" asked the old man.
"Republican," I replied.
"Well, you can just go to Hell," yelled the old man as he sped off.
Another guy stopped, rolled down the window, and asked me the
same question. Again, I gave the same answer, "Republican".
The driver gave me the finger and drove off. I thought it over and decided that maybe I should change my strategy, since this area seemed to be overly political and there appeared to be few Republicans.
The next car to stop was a red convertible driven by a beautiful blonde. She smiled seductively and asked if I was a Democrat or Republican.
"Democrat " I shouted.
"Hop in!" replied the blonde. Driving down the road, I couldn't help but stare at this gorgeous woman in the seat next to me, the wind blowing through her hair, perfect breasts, and a short skirt that continued to ride higher and higher up her thighs.
Finally, I yelled, "Please stop the car."
She immediately slammed on the brakes and as soon as the car stopped, I jumped out.
"What's the matter?" she asked.
"I can't take it anymore," I replied. "I've only been a Democrat for five minutes and already I want to screw somebody."
---
Coffee, chocolate, and men. Some things are just better rich.

---
THIS WEEK'S BLONDE JOKE

A man entered the bus with both of his front pockets full of golf balls, and he sat down next to a beautiful blonde.
The puzzled blonde kept looking at him and his bulging pockets.
Finally, after many such glances from her, he said, "It's golf balls."
Nevertheless, the blonde continued to look at him thoughtfully and finally, not being able to contain her curiosity any longer, asked …"Does it hurt as much as tennis elbow?"
---
If you want breakfast in bed, sleep in the kitchen
---
HOW FATHER'S DAY CAME TO BE

Mrs. John B. Dodd, of Washington, first proposed the idea of a "father's day" in 1909. Mrs. Dodd wanted a special day to honor her father, William Smart. William Smart, a Civil War veteran, was widowed when his wife (Mrs. Dodd's mother) died in childbirth with their sixth child.
Mr. Smart was left to raise the newborn and his other five children by himself on a rural farm in eastern Washington state. It was after Mrs. Dodd became an adult that she realized the strength and selflessness her father had shown in raising his children as a single parent.
The first Father's Day was observed on June 19, 1910 in Spokane Washington. At about the same time in various towns and cities across American other people were beginning to celebrate a "father's day."
In 1924 President Calvin Coolidge supported the idea of a national Father's Day.
Finally in 1966 President Lyndon Johnson signed a presidential proclamation declaring the 3rd Sunday of June as Father's Day. Father's Day has become a day to not only honor your father, but all men who act as a father figure. Stepfathers, uncles, grandfathers, and adult male friends are all honored on Father's Day.
---
The best contraceptive for old people
is nudity.
---
GOING TO DISNEYWORLD

"Hey Grandpa!, Can you make a noise like a frog?"
"I think I can do that. Why?"
"'Cuz Dad says when you croak, we're going to Disneyworld"
---
Take everything in moderation.
Including moderation.
---
EVOLUTION

First Child: Rush child to the emergency room. Spend the night with him in his room just in case the bleeding started again.
Second Child: Bandage the cut. Spend the next two hours rocking child to relieve the pain.
Third Child: Bandage the cut, tell child to go play.
Fourth Child: Bandage the cut.
---
The advice your son rejected
is now being given by him to your grandson.
---
TIME OUT

A dad was relating a conversation he had with his young daughter, just a bit over two years old. They were discussing geography.
"Where does mommy live?"
"Minneapolis."
"Where does grandma live?"
"Baltimore."
"Where does grandpa live?"
"Baltimore."
"And where does daddy live?"
"At work!"
He took the next day off to spend with his daughter.
---
Fathers often talk about the younger generations
as if they didn't have anything to do with it.
---
TOP TEN THINGS DAD WILL NEVER SAY

Well, how 'bout that? I'm lost! Looks like we'll have to stop and ask for directions.
You know Pumpkin, now that you're thirteen, you'll be ready for unchaperoned car dates. Won't that be fun?
I noticed that all your friends have a certain "up yours" attitude. I like that.
Here's a credit card and the keys to my new car. GO CRAZY.
What do you mean you wanna play football? Figure skating not good enough for you, son?
Your Mother and I are going away for the weekend. You might want to consider throwing a party.
Well, I don't know what's wrong with your car. Probably one of those doohickey thingies, you know, that makes it run or something. Just have it towed to a mechanic and pay whatever he asks.
No son of mine is going to live under this roof without an earring. Now quit your belly-aching, and let's go to the mall.
Whaddya wanna go and get a job for? I make plenty of money for you to spend.
Father's Day? No Big deal.
---
I used up all my sick days,
so I'm calling in dead.
---
FAMILY LOOP

Many, many years ago
When I was twenty three,
I got married to a widow,
Pretty as could be.
This widow had a grown-up daughter
With flowing hair of red.
My father fell in love with her,
And soon the two were wed.
This made my dad my son-in-law
And changed my very life.
Now my daughter was my mother,
For she was my father's wife.
To complicate the matters worse,
Although it brought me joy.
I soon became the father
Of a bouncing baby boy.
My little baby then became
A brother-in-law to dad.
And so became my uncle,
Though it made me very sad.
For if he was my uncle,
Then that also made him brother
To the widow's grown-up-daughter
Who, of course, was my step-mother.
Father's wife then had a son,
Who kept them on the run.
And he became my grandson,
For he was my daughter's son.
My wife is now my mother's mother
And it makes me blue.
Because, although she is my wife,
She's my grandma too.
If my wife is my grandmother,
Then I am her grandchild.
And every time I think of it,
It simply drives me wild.
For now I have become
The strangest case you ever saw.
As the husband of my grandmother,
I am my own grandpa!
---
Sacred cows make the best hamburgers.
---
POOR SEAGULL

A father was at the beach with his children when his four-year-old son ran up to him, grabbed his hand, and led him to the shore, where a seagull lay dead in the sand.
"Daddy, what happened to him?" the son asked.
"He died and went to Heaven," the dad replied.
The boy thought a moment and then said, "Did God throw him back down?"
---
That guy is so old he shops at
EXTREMELY OLD NAVY.
---
READ THE LABEL

Johnny went with his father to see a litter of kittens.
On returning home, he breathlessly informed his mother that there were 2 boy kitties and 2 girl kitties.
"How do you know?" his mother asked.
"Daddy picked them up and looked underneath," Johnny replied, "I think it's printed on the bottom."
---
Teach a child to be polite and courteous, and when he grows up,
he'll never be able to edge his car onto a freeway.
---
BEDTIME STORY

A small boy is sent to bed by his father…
[Five minutes later] "Da-ad…" "What?"
"I'm thirsty. Can you bring me a drink of water?"
"No. You had your chance. Lights out."
[Five minutes later] "Da-aaaad…" "WHAT?"
"I'm THIRSTY…Can I have a drink of water??"
"I told you NO! If you ask again I'll have to spank you!!"
[Five minutes later] "Daaaa-aaaAAAAD…" "WHAT??!!"
"When you come in to spank me, can you bring me a drink of water?"
---
Don't look back,
they might be gaining on you.
---
FROM THE BOOK OF PROVERBS

"A father is a banker provided by nature."
– French Proverb.
"One father is more than a hundred schoolmasters."
– English Proverb.
Mean fathers, wasteful sons.
– French Proverb
Some fathers love another man's daughter most.
– French Proverb
My fathers planted for me, and I planted for my children.
– Hebrew Proverb
Friendship reminds us of fathers, love of mothers.
– Malagasy Proverb
There are many fathers, but only one mother.
– Russian Proverb
Victory has 100 fathers and defeat is an orphan.
– Traditional Proverb
The Pilgrim Fathers landed on the shores of America and fell on their knees; then they fell upon the aborigines.
– American Proverb
---
It's not hard to meet expenses,
they're everywhere
---
A TRIFECTA OF OUR FAVORITE FATHER'S DAY JOKES


WIN


GRAY HAIR?

The boss of a big company needed to call one of his employees about an urgent problem with one of the main computers.
He dialed the employees home phone number and was greeted with a child's whispered, "Hello?"
Feeling put out at the inconvenience of having to talk to a youngster the boss asked, Is your Daddy home?
"Yes", whispered the small voice.
"May I talk with him?" the man asked.
To the surprise of the boss, the small voice whispered, "No."
Wanting to talk with an adult, the boss asked, "Is your Mommy there?"
"Yes", came the answer.
"May I talk with her?"
Again the small voice whispered, "no."
Knowing that it was not likely that a young child would be left home alone, the boss decided he would just leave a message with the person who should be there watching over the child. "Is there any one there besides you?" the boss asked the child.
"Yes," whispered the child, "A policeman."
Wondering what a cop would be doing at his employee's home, the boss asked "May I speak with the policeman"?
"No, he's busy," whispered the child.
"Busy doing what?" asked the boss. "Talking to Daddy and Mommy and the Fireman," came the whispered answer.
Growing concerned and even worried as he heard what sounded like a helicopter through the ear piece on the phone the boss asked, "What is that noise?"
"A hello-copper," answered the whispering voice.
"What is going on there?", asked the boss, now alarmed.
In an awed whispering voice the child answered, "The search team just landed the hello-copper"
Alarmed, concerned and more than just a little frustrated the boss asked, "Why are they there?"
Still whispering, the young voice replied along with a muffled giggle: "They're looking for me."
---
Living on Earth is expensive,
but it does include a free trip around the sun
---
PLACE:


NEW AND IMPROVED

Sally, aged 3, was sitting in her grandfather's lap as he read her a good-night story.
From time to time, she would take her eye's off the book and reach up to touch his wrinkled cheek. By and by she was alternately stroking her own cheek, then his again.
Finally she spoke, "Granddaddy, did God make you?"
"Yes, sweetheart" he answered, "God made me a long time ago."
"Oh she said," then "Granddaddy, did God make me too?"
"Yes, indeed honey" he assured her. "God made you just a little while ago."
"Oh" she said. Feeling their respective faces again, Sally observed, "God's getting better at it now isn't he?"
---
Letting the cat out of the bag is a whole lot easier
than putting it back in.
---
SHOW:


OUR FAVORITE DAD LINES

I figured out why they call our language the "Mother Tongue." Fathers never get a chance to use much of it.
Say what you will about healthy eating and all, but I've always found it awfully difficult to explain to my son (who's 6'4″ to my 5'8″ in height), why junk food is bad for you.
One time my kids wanted to surprise me with a good breakfast in bed on Father's Day. They put a cot in the kitchen.
If you think about it, Adam had more trouble than any of the rest of us buying his Father a gift for Father's Day. I mean, what do you get somebody who's Everything?
I started early teaching my kids the value of a dollar. From then on, they demanded their allowances in gold.
---
I don't want buns of steel.
I want buns of cinnamon.
---
BOB HOPE ONE-LINERS

ON TURNING 70 "You still chase women, but only downhill".
ON TURNING 80 "That's the time of your life when even your birthday suit needs pressing."
ON TURNING 90 "You know you're getting old when the candles cost more than the cake."
ON TURNING 100 "I don't feel old. In .fact I don't feel anything until noon. Then it's time for my nap."
ON GIVING UP HIS EARLY CAREER, BOXING "I ruined my hands in the ring … the referee kept stepping on them."
ON SAILORS "They spend the first six days of each week sowing their wild oats, then they go to church on Sunday and pray for crop failure."
ON NEVER WINNING AN OSCAR "Welcome to the Academy Awards or, as it's called at my home, 'Passover'."
ON GOLF "Golf is my profession. Show business is just to pay the green fees."
ON PRESIDENTS " I have performed for 12 presidents and entertained only six."
ON HIS SIX BROTHERS "That's how I learned to dance. Waiting for the bathroom."
ON HIS EARLY FAILURES "I would not have had anything to eat if it wasn't for the stuff the audience threw at me."
ON GOING TO HEAVEN "I've done benefits for ALL religions. I'd hate to blow the hereafter on a technicality."
---
I spent a fortune on deodorant
before I realized that people
didn't like me anyway.
---
GET RELIGION

While driving in Pennsylvania, a family caught up to an Amish carriage.
The owner of the carriage obviously had a sense of humor, because attached to the back of the carriage was a hand printed sign: "Energy efficient vehicle: Runs on oats and grass. Caution: Do not step in exhaust."
---
A father was approached by his small son who told him proudly, "I know what the Bible means!"
His father smiled and replied, "What do you mean, you 'know' what the Bible means?"
The son replied, "I do know!"
"Okay," said his father. "So, son, what does the Bible mean?"
"That's easy, Daddy. It stands for 'Basic Information Before Leaving Earth.'"
---
There was a very gracious lady who was mailing an old family Bible to her brother in another part of the country.
"Is there anything breakable in here?" asked the postal clerk.
"Only the Ten Commandments." answered the lady.
---
I was thinking about how people
seem to read the Bible a whole lot more
as they get older. Then, it dawned on me,
they were cramming for their finals.
As for me, I'm just hoping
God grades on the curve.
---
LIFE

Is all about ass,
you're either covering it,
laughing it off,
kicking it,
kissing it,
busting it, ….
or trying to get a piece of it.
---
Employment application blanks always ask
'who is to be notified in case of an emergency.'
I think you should write, "A Good Doctor!
---
WHAT'S WRITTEN ON YOUR FOREHEAD?

A husband is at home watching a football game when his wife interrupts:
"Honey, could you fix the light in the hallway? It's been flickering for weeks now." He looks at her and says angrily. "Fix the light? Now? Does it look like I have a GE Logo printed on my forehead? I don't think so."
"Well then, could you fix the fridge door? It won't close right." to which he replied – "Fix the fridge door? Does it look like I have Defy written on my forehead? I don't think so."
"Fine," she says "then you could at least fix the steps to the front door? They're about to break." "I'm not a darn carpenter and I don't want to fix the steps," he says. "Does it look like I have FEDs DIY written on my forehead? I don't think so. I've had enough of you. I'm going to the bar!!!"
So he goes to the bar and drinks for a couple hours. He starts to feel guilty about how he treated his wife, and decides to go home and help out. As he walks to the house he notices the steps are already fixed. As he enters the house, he sees the hall light is working. As he goes to get a beer, he notices the fridge door is fixed.
"Honey, how'd all this get fixed?" She said, "Well, when you left I sat outside and cried. Just then a nice young man asked me what was wrong, and I told him. He offered to do all the repairs, and all I had to do was either go to bed with him or bake a cake."
He said, "So what kind of cake did you bake him?"
She replied, "Hellooooo… do you see Albany's Bakery written on my forehead?"
---
I have gotten that dreaded furniture disease.
That's when your chest is falling into your drawers!
---
REDNECK WITH A HOT DATE

A redneck goes to a pharmacist and says: "I got a hot date tonight, an' I need me some pertection. How much is a pack a' dem rubbers gonna cost me?"
The pharmacist responds: "A three-pack of condoms is $4.99 with tax."
To which the redneck replies: "TACKS! Gawd a' mighty, don't they stay on by themselves."
---
I thought about making a fitness movie,
for folks my age, and call it "Pumping Rust."
---
OLDIE BUT GOODIE

There was a man who had worked all of his life, had saved all of his money, and was a real miser when it came to his money. Just before he died, he said to his wife, "When I die, I want you to take all my money and put it in the casket with me. I want to take my money to the Afterlife with me."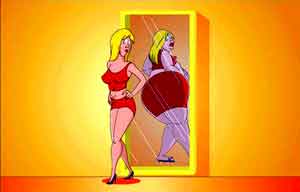 And so he got his wife to promise him with all of her heart that when he died she would put all of the money in the casket with him.
Well, he died. He was stretched out in the casket his wife was sitting there in black, and her friend was sitting next to her. When they finished the ceremony, just before the undertakers got ready to close the casket, the wife said, "Wait just a minute!" She had a box with her, she came over with the box and put it in the casket. Then the undertakers locked the casket down, and they rolled it away.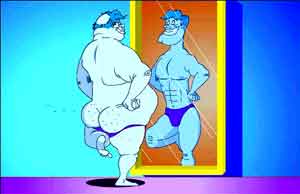 So her friend said, "Girl, I know you weren't fool enough to put all that money in there with your husband."
The loyal wife replied "Listen, I'm a Christian, I can't go back on my word. I promised him that I was going to put that money in that casket with him."
"You mean to tell me you put that money in the casket with him?"
"I sure did" said the wife. "I got it all together, put it into my account and wrote him a check. If he can cash it, he can spend it."
(I'll bet she forgot to put his Driver's License in the box.)
---
I was thinking that women should put pictures
of missing husbands on beer cans!
---
10 POLITE WAYS OF TELLING A GUY HE NEEDS TO ZIP UP

The cucumber has left the salad.
Quasimodo needs to go back in the tower and tend to his bells.
You need to bring your tray table to the upright and locked position.
Paging Mr. Johnson…Paging Mr. Johnson.
Elvis has left the building.
The Buick is not all the way in the garage.
Our next guest is someone who needs no introduction.
You've got a security breach at Los Pantalones.
Men may be From Mars .. but I can see something that rhymes with Venus.
You've got your fly set for "Monica" instead of "Hillary"
---
I was thinking about old age and decided
that it is 'when you still have something on the ball,
but you are just too tired to bounce it'.
---
THIS WEEK'S BLONDE JOKE

The local sheriff was looking for a deputy, and a blonde went in to try out for the job.
"Okay," the sheriff drawled, "What is 1 and 1?"
"Eleven," she replied.
The sheriff thought to himself, "That's not what I meant, but she's right." Then the sheriff asked, "What two days of the week start with the letter 'T'?".
"Today and tomorrow." replied the blonde.
He was again surprised that the blonde supplied a correct answer that he had never thought of himself. "Now, listen carefully, who killed Abraham Lincoln?" asked the sheriff.
The blonde looked a little surprised herself, then thought really hard for a minute and finally admitted, "I don't know."
The sheriff replied, "Well, why don't you go home and work on that one for a while?"
So, the blonde wandered over to the beauty parlor, where her pals were waiting to hear the results of the interview. The blonde was exultant. "It went great! First day on the job and I'm already working on a murder case!"
---
Why do they put pictures of criminals up in the Post Office?
What are we supposed to do — write to these men?
Why don't they just put their pictures on the postage stamps
so the mailmen could look for them while they deliver the mail?
---
Ads seen in "The Villages" Florida newspaper:
Who says seniors don't have a sense of humor?

---
WITH A LITTLE HELP FROM MY FRIENDS

A 75-year-old man went to the doctor's office to get a sperm count. The doctor gave the man a jar and said, "Take this jar home and bring me back a sample tomorrow."
The next day, the 75-year-old man reappears at the doctor's office and gives him the jar as clean and empty as the previous day.
The doctor asks what happened, and the man explains, "Well, Doc, it's like this. First I tried with my right hand, but nothing. Then I tried with my left hand, but nothing. Then I asked my wife for help. She tried with her right hand, but nothing. Then with her left, but nothing. She even tried with her mouth, first with her teeth in, then with her teeth out, and still nothing. Hell, we even called the lady next door, and she tried with both hands and her mouth too, but nothing."
The doctor was shocked. "You asked your neighbor?"
The old man replied, "Yep, but no matter what we tried, we couldn't get that damn jar opened!"
---
FOXY LADY:
Sexy, fashion-conscious blue-haired beauty,
80's, slim, 5'4′ (used to be 5'6′),
searching for sharp-looking, sharp-dressing companion.
Matching white shoes and belt a plus.
---
HONEST ABE

Recently I was grading history tests for my fourth-grade class.
I'd included an extra-credit question: List up to five good facts about Abraham Lincoln.
One of my D students surprised me with this one: "After the war ended, Lincoln took his wife to a show."
---
LONG-TERM COMMITMENT:
Recent widow who has just buried fourth husband,
and am looking for someone to round out a six-unit plot.
Dizziness, fainting, shortness of breath not a problem.
---
A FEW MORE

Birds of a feather flock together, and shit on your car.
Raising teenagers is like trying to nail Jell-O to a tree.
There's always a lot to be thankful for if you take time to look for it. For example, I am sitting here thinking how nice it is that wrinkles don't hurt.
If you can remain calm, you don't have all the facts.
Eat a live toad first thing in the morning, and nothing worse can happen to you the rest of the day.
Always take time to stop and smell the roses and sooner or later, you'll inhale a bee.
If a motorist cuts you off, just turn the other cheek. Nothing gets the message across like a good mooning.
Into every life some rain must fall. Usually when your car windows are down.
It's a small world. So you gotta use your elbows a lot.
Keep your nose to the grindstone and your shoulder to the wheel. It's a lot cheaper than plastic surgery.
Forget the health food. I need all the preservatives I can get.
Blessed are those who hunger and thirst, for they are sticking to their diets.
You're getting old when you get the same sensation from a rocking chair that you once got from a roller coaster.
Perhaps you know why women over fifty don't have babies: They would put them down somewhere and forget where they left them.
My mind not only wanders, sometimes it leaves completely.
Every time I think about exercise, I lie down 'til the thought goes away.
God put me on earth to accomplish a certain number of things. Right now I am so far behind, I will live forever.
It's frustrating when you know all the answers, but nobody bothers to ask you the questions.
If you can remain calm, you just don't have all the facts.
I finally got my head together, and my body fell apart.
Nostalgia isn't what it used to be.
---
SERENITY NOW:
I am into solitude, long walks, sunrises, the ocean, yoga
and meditation. If you are the silent type, let's get together,
take our hearing aids out and enjoy quiet times.
---
MEANWHILE, HERE IN FLORIDA

An elderly Florida lady did her shopping and, upon returning to her car, found four males in the act of leaving with her vehicle.
She dropped her shopping bags and drew her handgun, proceeding to scream at the top of her voice, "I have a gun, and I know how to use it! Get out of the car!"
The four men didn't wait for a second invitation. They got out and ran like mad.
The lady, somewhat shaken, then proceeded to load her shopping bags into the back of the car and got into the driver's seat. She was so shaken that she could not get her key into the ignition. She tried and tried, and then it dawned on her why.
A few minutes later, she found her own car parked four or five spaces farther down.
She loaded her bags into the car and drove to the police station. The sergeant to whom she told the story could not stop laughing.
He pointed to the other end of the counter, where four pale men were reporting a carjacking by a mad, elderly woman described as white, less than five feet tall, glasses, white hair, and carrying a large handgun.
No charges were filed.
If you're going to have a Senior Moment, MAKE IT A MEMORABLE ONE
---
WINNING SMILE:
Active grandmother with original teeth seeking a
dedicated flosser to share rare steaks,
corn on the cob and caramel candy.
---
TO THE REALLY WISE MAN

While my wife and I were shopping at a mall, a shapely young woman in a short, form-fitting dress strolled by.
My eyes followed her.
Without looking up from the item she was examining, my wife asked, "Was it worth the trouble you're in?"
---
BEATLES OR STONES?
I still like to rock, still like to cruise in my Camaro
on Saturday nights and still like to play the guitar.
If you were a groovy chick, or are now a groovy hen,
let's get together and listen to my eight-track tapes.
---
MUTUAL ORGASM

Ethel and Mabel, two elderly widows, were watching the folks go by from their park bench. Ethel said, "You know, Mabel, I've been reading this 'Sex and Marriage' book and all they talk about is 'mutual orgasm.'
"Mutual orgasm here and mutual orgasm there. That's all they talk about. Tell me, Mabel, when your husband was alive, did you two ever have mutual orgasm?"
Mabel thought for a long while. Finally, she shook her head and said, "No, I think we had State Farm."
---
MEMORIES:
I can usually remember Monday through Thursday.
If you can remember Friday, Saturday and Sunday,
let's put our two heads together.
---
HEAVEN, I'M IN HEAVEN

Three guys died together in a terrible accident. Fortunately, they went to heaven.
St. Peter says, "We only have one rule here: Don't step on the ducks, as they are God's favorite creation."
They enter heaven and see ducks everywhere, and it's almost impossible not to step on a duck. The first guy accidentally steps on one, and soon here comes St. Peter with the ugliest woman you've ever seen. St. Peter chains them together and says, "Your punishment is to be chained to this ugly woman forever."
The next day the second guy steps on a duck, and sure enough, St. Peter comes with another real ugly woman and chains them together.
Seeing this, the third guy is very, very careful. He goes for months and doesn't step on any ducks. Then one day, St. Peter comes along with this beautiful woman, a blue-eyed blonde, very young and very sexy. He chains them together and leaves without saying a word.
The man remarks, "Wow! This is great! I wonder what I did to deserve this?"
The Blonde says, "I don't know about you, but I just stepped on a duck."
---
MINT CONDITION:
Male, 1932 model, high mileage, good condition,
some hair, many new parts including hip, knee,
cornea, valves. Isn't in running condition, but walks well.
---
DEAD TED

Two elderly women meet at the launderette after not seeing one another for some time. After inquiring about each other's health, one asked how the other's husband was doing.
"Oh! Ted died last week. He went out to the garden to dig up a cabbage for dinner, had a heart attack, and dropped down dead right there in the middle of the vegetable patch!"
"Oh dear! I'm so very sorry," replied her friend, "What did you do?"
"Opened a can of peas instead."
---
A TRIFECTA OF THE FACTS
WIN
HOW TO STRETCH YOUR PENSION (A Must-Read)
A couple, both age 76, went to a sex therapist's office. The doctor asked, "What can I do for you?"
The man said, "Will you watch us have sexual intercourse?" The doctor looked puzzled, but agreed.
When the couple finished, the doctor said, "There's nothing wrong with the way you have intercourse," and charged them $50. This happened several weeks in a row. The couple would make an appointment, have intercourse with no problems, pay the doctor, then leave.
Finally, the doctor asked, "Just exactly what are you trying to find out?"
The old man said, "We're not trying to find out anything. She's married and we can't go to her house, I'm married and we can't go to my house. The Holiday Inn charges $90; the Hilton charges $108. We do it here for $50 and I get $43 back from Medicare."
---
PLACE
STANDARDS (More from Florida)
Little old lady is sitting on a bench in Miami Beach. A man walks over and sits down on the other end of the bench. After a few moments, the woman asks, "Are you a stranger here?" He replies, "I used to live here years ago."
"So, where were you all these years?"
"In prison," he says.
"For what did they put you in prison?"
He looks at her, and very quietly says, "I killed my wife."
"Oh," says the woman. "So you're single…"
---
SHOW
DOOR TO DOOR SALESMAN: Another helpful suggestion
A vacuum cleaner salesman knocked on a door in a senior community. It was opened by an old lady in a bathrobe.
"Go away" said the old lady. "I haven't got any money! I'm flat broke!" and she proceeded to close the door.
Quick as a flash, the young man wedged his foot in the door and pushed it wide open. "Don't be too hasty, my dear lady!" he said. "Not until you have as least seen my amazing demonstration."
And with that, he emptied a bucket of horse manure onto her hallway carpet. "If this wonderful Kirby vacuum cleaner doesn't remove all traces of this horse manure from your carpet, madam, I will personally eat the remainder of it."
The old Lady stepped back and said, "Well, I sure hope you've got a good appetite sonny, because they cut off my electricity this morning."
---
STAIRWAY TO HEAVEN

Hector and Janet were 85 years old and had been married for 60 year.
Though they were far from rich, they managed to get by because they watched their pennies.
Though not young, they were both in very good health, largely due to the wife's insistence on healthy foods and exercise for the last decade.
One day, their good health didn't help when they went on a rare vacation and their plane crashed, sending them off to Heaven.
They reached the pearly gates, and St. Peter escorted them inside.
He took them to a beautiful mansion, furnished in gold and fine silks, with a fully stocked kitchen and a waterfall in the master bath. A maid could be seen hanging their favorite clothes in the closet.
They gasped in astonishment when he said, "Welcome to Heaven. This will be your home now."
Hector asked Peter how much all this was going to cost. "Why, nothing," Peter replied, "remember, this is your reward in Heaven."
Hector looked out the window and right there he saw a championship golf course, finer and more beautiful than any ever-built on Earth. "What are the greens fees?", grumbled the old man.
"This is heaven," St. Peter replied. "You can play for free, every day."
Next they went to the clubhouse and saw the lavish buffet lunch, with every imaginable cuisine laid out before them, from seafood to steaks to exotic deserts, free flowing beverages and a fountain of champagne.
"Don't even ask," said St. Peter to Hector. "This is Heaven, it is all free for you to enjoy."
Hector looked around and glanced nervously at his wife. "Well, where are the low fat and low cholesterol foods, and the decaffeinated tea?" he asked.
"That's the best part," St. Peter replied. "You can eat and drink as much as you like of whatever you like, and you will never get fat or sick. This is Heaven!"
Hector pushed, "No gym to work out at?" "Not unless you want to," was the answer.
"No testing my sugar or blood pressure or…"
"Never again. All you do here is enjoy yourself."
Hector glared at his wife and said, "You and your damn bran muffins. We could have been here ten years ago !!!!!
---
THEY SAID THE ECONOMY IS BOUNCING BACK.
WELL, I HAVE NEWS FOR THEM. SO ARE MY CHECKS.
---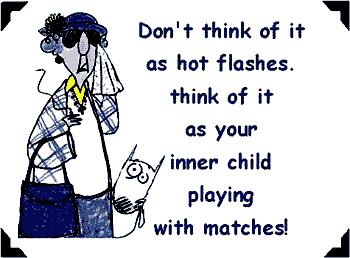 ---
HAPPY BIRTHDAY

Two weeks ago was my 50th birthday and I wasn't feeling too good that morning.
I went to breakfast knowing my wife would be pleasant and say, Happy birthday!" She'd probably have a present for me.
As it turned out, she didn't even good morning, let alone any happy birthday. I thought, well, that's wives for you. I then thought to myself, I'm positive the children will remember.
The children came in to breakfast and didn't even say a word. So, when I left for the office, I was feeling pretty low and despondent.
As I walked into my office, my secretary Janet said, "Good morning, Boss and Happy Birthday!" And I felt a little better that someone had remembered.
I worked until about noon, then Janet knocked on my door and said, "You know, it's such a beautiful day outside, and it's your birthday, let's go to lunch, just you and me".
I said, "By George, that's the greatest thing I've heard all day. "Let's go!"
We went to lunch. We didn't go to where we normally go; instead we went out to a private little place. We had 2 martinis and enjoyed lunch tremendously.
On the way back to the office, she said, "You know, it's such a beautiful day. We don't need to go back to the office right away, do we?" I said "No, I guess not."
She said, "Let's go to my apartment."
After arriving at her apartment she said, "Boss, if you don't mind, I think I'll go into the bedroom and get in to something more comfortable."
"Sure!" I excitedly replied. She went into the bedroom, and in about six minutes, she came out carrying a huge birthday cake, followed by my wife, my kids, and dozens of our friends, all loudly singing Happy Birthday.
And I just sat there on the couch… NAKED.
---
IF YOU ARE GOING TO WORRY, DON'T DO IT.
IF YOU DO IT, DON'T WORRY.
---
ELDERLY HONEYMOON

Luigi and Virginia both aged 72, were married.
After returning from his honeymoon in Florida with his new bride, Virginia, Luigi stopped by his old barbershop in Cleveland to say hello to his friends.
Giovanni said, "Hey, Luigi, how wasa da treepa?"
Luigi said, "Everytinga wasa perfecto except for the traina ride down."
"Whata you nean, Luigi?"
"Well, we boarda da train at Grana Central Station. My beautiful Virginia, she pack a biga basket a food. She brought vina, some nice cigars for me, and we were lookin a forward to da trip. Everything wasa Okey Dokey until we gotta hungry and open upa da luncha basket.
The conductore come a by, waga hisa finger at us anda say, 'no eat in disa car. Musta use a dining car."
"So me and my beautiful Virginia, we go to dining car, eat a biga luncha and start to open a bottle of nice a vino!
Conductore walka by again, waga hisa finger and say, 'No drinka in disa car. Musta use a club a car."
"So, we go to club car, While drinkina vino, I start to lighta my biga cigar, The conductore, he waga his finger again and say, 'No smokina disa car. Must go to smokina car."
"We go to smokina car and I smoke a my biga cigar. Then my beautiful Virginia and I, we go to sleeper car anda go to bed. We just about to go aboomada boomada and the conductore, he walka through da hall shouting at da top of hisa voice, 'Nofolka, Virginia! Nofolka, Virginia!"
"Next time, I'ma gonna take a da bus!"
---
REEVALUATE YOUR GOALS WITH AN EYE TOWARDS BALANCE.
SETTING GOALS IN ONE OR TWO AREAS OF YOUR LIFE,
WHILE FORGETTING THE OTHERS,
IS LIKE TRYING TO ROW A BOAT WITH ONLY ONE OAR.
---
HARVEY AND GLADYS

Harvey and Gladys Goldman are getting ready for bed.
Gladys is standing in front of her full-length mirror, taking a long, hard look at herself.
"You know, Harvey," she comments. "I stare into this mirror and I see an ancient creature. My face is all wrinkled, my boobs sag so much that they dangle to my waist, my arms and legs are as flabby as popped balloons, and…my butt looks like a sad, deflated version of the Hindenberg!"
She turns to face her husband and says, "Dear, please tell me just one positive thing about my body so I can feel better about myself."
Harvey studies Gladys critically for a moment and then says in a soft, thoughtful voice, "Well, there's nothing wrong with your eyesight."
Services for Harvey Goldman will be held Tuesday morning at 10:30 at Beth Israel Synagogue.
---
BEFORE GIVING SOMEONE A PIECE OF YOUR MIND,
BE SURE YOU HAVE ENOUGH TO SPARE.
---
NEW CAR TIME

If my body were a car, I'd be thinking about trading it in for a new model. I've got lots of dents and bumps and my paint job is getting dull.
My fenders are too wide to be considered stylish. They were once as sleek as a little MG; now they look more like my mother's old Buick.
My seat cushions have split open at the seams. My seats are sagging.
Seat belts? I gave up all belts when Ben & Jerry's opened a shop in my neighborhood.
Air bags? Forget it. The only bags I have these days are under my eyes. Not counting the saddlebags, of course.
I have soooooo many miles on my odometer. Sure, I've been many places and seen many things, but when' s the last time an appraiser factored life experiences against depreciation?
My headlights are out of focus and it's especially hard to see things up close.
My reaction is not as graceful as it once was. I slip and slide and skid and bump into things even in the best of weather.
My whitewalls are stained with varicose veins. It takes me hours to reach my maximum speed. I'm burning fuel at an inefficient rate.
But here's the worst of it – almost every time I sneeze, cough or sputter – I leak oil. I'm so ready for a trade in!
---
A FOOL AND HIS MONEY ARE A GIRL'S BEST FRIEND.
---
EULOGY

She married and had 13 children. Her husband died.
She married again and had seven more children. Again, her husband died.
But, she married yet again and this time had five more children. Again, her husband died. Then alas, she finally died.
Standing before her coffin, the preacher prayed for her.
He thanked The Lord for this very loving woman and said, "Lord, they're finally together."
One mourner leaned over and quietly asked her friend, "Do you think he means her first, second or third husband?"
The friend replied, "I think he means her legs."
---
SEX IS A MISDEMEANOR.
THE MORE I MISS IT, THE MEANER I GET.
---
A TRIFECTA OF GROWING PAINS JOKES
WIN
GREAT SEX
The Italian man says, "Last week, my wife and I had great sex. I rubbed her body all over with olive oil, we made passionate love, and she screamed for five full minutes at the end."
The Frenchman boasts, "Last week when my wife and I had sex, I rubbed her body all over with butter. We then made passionate love and she screamed for fifteen minutes."
The old Jewish man says, "Well, last week my wife and I had sex too. I rubbed her body all over with schmaltz, we made love, and she screamed for over six hours."
The Italian and Frenchman were stunned. They asked, "What could you have possibly done to make your wife scream for six hours?"
The old Jewish man replies: "I wiped my hands on the bedspread."
---
I ALMOST HAD A PSYCHIC GIRLFRIEND.
BUT, SHE LEFT ME BEFORE WE MET.
---
PLACE
HAPPILY EVER AFTER
Joe says to his eighty-year old buddy Sam, "So I hear you are getting married?
"Yep!" says Sam. "Next Saturday!"
Joe asks, "This woman, is she good looking?"
"Not really."
"Is she a good cook?"
"Naw, she can't cook too well," replies Sam.
"Does she have lots of money?"
"No, poor as a church mouse."
Joe persists, "Well then, is she good in bed?"
"I don't know."
"Why in the world do you want to marry her then?"
Sam chuckles, "She can still drive at night."
---
IT HAS OFTEN BEEN SAID THAT
"TODAY IS THE FIRST DAY OF THE REST OF YOUR LIFE,"
BUT WHY NOT APPROACH IT WITH THE SAME CARE AND RESPECT
AS YOU WOULD IF IT WERE YOUR LAST?
---
SHOW
DAFFINITIONS
ADULT: A person who has stopped growing at both ends and is now growing in the middle.
BEAUTY PARLOR: A place where women curl up and dye.
CANNIBAL: Someone who is fed up with people.
CHICKENS: The only animals you eat before they are born and after they are dead.
COMMITTEE: A body that keeps minutes and wastes hours.
DUST: Mud with the juice squeezed out.
EGOTIST: Someone who is usually me-deep in conversation.
HANDKERCHIEF: Cold Storage.
INFLATION: Cutting money in half without damaging the paper.
MOSQUITO: An insect that makes you like flies better.
RAISIN: Grape with a sunburn.
SECRET: Something you tell to one person at a time.
SKELETON: A bunch of bones with the person scraped off.
TOOTHACHE: The pain that drives you to extraction.
TOMORROW: One of the greatest labor saving devices of today.
YAWN: An honest opinion openly expressed.
WRINKLES: Something other people have. You have character lines.
---
IF A MAN HAS ENOUGH HORSE SENSE
TO TREAT HIS WIFE LIKE A THOROUGHBRED,
SHE WILL NEVER TURN INTO AN OLD NAG.
---
SENIOR MOMENT

Several days ago as I left a meeting at a hotel; I desperately gave myself a personal TSA pat down. I was looking for my keys. They were not in my pockets. A quick search in the meeting room revealed nothing.
Suddenly I realized I must have left them in the car. Frantically, I headed for the parking lot. My wife has scolded me many times for leaving the keys in the ignition.
My theory is the ignition is the best place not to lose them.
Her theory is that the car will be stolen. As I burst through the door, I came to a terrifying conclusion.
Her theory was right. The parking lot was empty.
I immediately called the police. I gave them my location, confessed that I had left my keys in the car, and that it had been stolen.
Then I made the most difficult call of all, "Honey," I stammered; I always call her "honey" in times like these.
"I left my keys in the car, and it has been stolen."
There was a period of silence. I thought the call had been dropped, but then I heard her voice.
"Idiot", she barked, "I dropped you off!"
Now it was my time to be silent. Embarrassed, I said, "Well, come and get me."
She retorted, "I will, as soon as I convince this policeman I have not stolen your car."
Yep it's the golden years.
---
About Women:
Girls have an unfair advantage over men;
if they can't get what they want by being smart,
they can get it by being dumb.
---
PERIOD.

A kindergarten class had a homework assignment to find out something 'exciting' and relate it to the class the next day.
When the time came to present what they'd found, the first little boy the teacher called on walked up to the front of the class and with a piece of chalk, made a small white dot on the blackboard and then sat back down.
Puzzled, the teacher asked him what it was.
"It's a period," he replied.
"I can see that," said the teacher, "but what is so 'exciting' about a period?"
"Darned if I know," he said, "but this morning my sister was 'missing' one. Mommy fainted; daddy had a heart attack, and the boy next door joined the Army.
---
About Men:
Behind every successful man there is a surprised woman.
---
YAAAH

Two Norwegian hunters from Minnesota, Swen and Ole, got a pilot to fly them to Canada to hunt moose. They bagged six.
As they started loading the plane for the return trip, the pilot said the plane could take only four moose.
Swen and Ole objected strongly. "Last year we shot six and the pilot let us put them all on board and he had the same plane as yours."
Reluctantly, the pilot gave in and all six were loaded. However, even on full power, the little plane couldn't handle the load and went down a few moments after takeoff.
Climbing out of the wreck Swen asked Ole, "Any idea where we are?"
"Yaaah," says Ole. "I tink we's pretty close to where we crashed last year."
---
About Women:
If women didn't exist, all the money in the world would have no meaning.
---
LIKELY STORY

An old man turned 115 and was being interviewed by a reporter for the local paper. During the interview the reporter noticed that the yard was full of children of all ages playing together. A very pretty girl of about 19 served the old man and the reporter, keeping them in fresh tea and running errands for them.
"Are these your grandkids?" the reporter asked.
"Naw, sir, they all be my younguns," the old man replied with a sly grin.
"Your kids?" asked the reporter. "What about this beautiful young lady who keeps bringing us tea? Is she one of your children too?"
"Naw, sir," said the old man. "She be my wife."
"Your wife?" said the surprised reporter. "But she can't be more than 19 years old."
"Thass right," said the old man with pride.
"Well, surely you can't have a sex life with you being 115 and she being only 19," the reporter remarked.
"Sir, " said the old man. "We have sex every night. Every night two of my boys helps me on, and every morning six of my boys helps me off."
"Wait just one minute," said the newspaperman. "Why does it only take two of your boys to put you on, but it takes six of them to take you off?"
"Cause," the spry old man said with a balled fist, "I fights 'em."
---
About Men:
All men are not homeless, but some men are home, less than others.
---
PROPER PLACEMENT PLEASE

A 97-year-old man goes into his doctor's office and says, "Doc, I want my sex drive lowered."
"Sir," replied the doctor, "You're 97. Don't you think your sex drive is all in your head?"
"You're damned right it is!" replied the old man. "That's why I want it lowered."
---
About Women:
There are 2 theories to arguing with a woman. Neither one works.
---
ANOTHER ONE
FOR THE HUNTERS OUT THERE

Roy and Ernest went moose hunting every winter without success.
Finally, they came up with a foolproof plan. They got a very authentic female moose costume and learned the mating call of a female moose. The plan was to hide in the costume, lure the bull, then come out of the costume and shoot the bull.
They set themselves up on the edge of a clearing, donned their costume,moved into their tent and began to give the moose love call.
Before long, their call was answered as a bull came crashing out of the forest and into the clearing.
When the bull was close enough, Roy said, "Okay, lets get out and get him."
After a moment that seemed like an eternity, Ernest shouted, "The zipper is stuck! What are we going to do!?"
Roy says, "Well, I'm going to start nibbling grass, but you'd better brace yourself."
---
About Men:
The best way to get a man to do something is to suggest he is too old for it.
---
PISSING AND MOANING
A South Carolina farm wife called the local phone company to report her telephone failed to ring when her friends called – and that on the few occasions when it did ring, her dog always moaned right before the phone rang.
The telephone repairman proceeded to the scene, curious to see this psychic dog or senile lady. He climbed a telephone pole, hooked in his test set, and dialed the subscriber's house. The phone didn't ring right away, but then the dog moaned and the telephone began to ring.
Climbing down from the pole, the telephone repairman found:
1. The dog was tied to the telephone system's ground wire via a steel chain and collar.
2. The wire connection to the ground rod was loose.
3. The dog was receiving 90 volts of signaling current when the number was called.
4. After a couple of jolts, the dog would start moaning and then urinate.
5. The wet ground would complete the circuit, thus causing the phone to ring. Which proves the fact that some problems CAN be fixed by pissing and moaning.
---
About Women:
Women have a passion for mathematics.
They divide their age in half,
double the price of their clothes,
and always add at least 5 years to the age of their best friend.
---
EVE TALKS TO GOD
Barney and Betty were driving from Washington to Florida to attend their granddaughter's graduation from medical school.
Halfway through their trip, they stopped to visit one of their sons in Kansas for a night.
Barney found a bottle of Viagra in the medicine cabinet. He asked his son Bill about using one of the pills.
Bill said, "I don't think you should take one Dad, they're very strong and very expensive."
"How much?" asked Barney.
"Around $10.00 a pill," answered Bill.
"I don't care," said Barney, "I'd still like to try one, we'll be leaving early in the morning, so I'll put the money under the pillow."
Later the next morning, Bill found $110.00 under the pillow.
He immediately called Barney on his cell phone and said, "I told you each pill was $10.00, not $110.00.
"I know," said Barney. "The hundred is from your Mother."
---
About Men:
Why do men like intelligent women?
Because opposites attract.
---
MARRIAGE COUNSELING
A husband and wife came for counseling after 15 years of marriage.
When asked what the problem was, the wife went into a passionate, painful tirade listing every problem they had ever had in the 15 years they had been married.
She went on and on and on: neglect, lack of intimacy, emptiness, loneliness, feeling unloved and unlovable, an entire laundry list of un-met needs she had endured over the course of their marriage.
Finally, after allowing this to go on for a sufficient length of time, the therapist got up, walked around the desk and, after asking the wife to stand, embraced and kissed her passionately.
The woman shut up and quietly sat down as though in a daze.
The therapist turned to the husband and said, "This is what your wife needs at least three times a week. Can you do this?"
The husband thought for a moment and replied,.. "Well, I can drop her off here on Mondays and Wednesdays, but on Friday's, I fish."
---
About Women:
Brigands demand your money or your life,
women require both.
---
A TRIFECTA OF HIS AND HERS JOKES
WIN
WOMAN'S WORK
A man came home from work and found his three children outside, still in their pajamas, playing in the mud, with empty food boxes and wrappers strewn all around the front yard.
The door of his wife's car was open, as was the front door to the house and there was no sign of the dog.
Proceeding into the entry, he found an even bigger mess. A lamp had been knocked over, and the throw rug was wadded against one wall.
In the front room the TV was loudly blaring a cartoon channel, and the family room was strewn with toys and various items of clothing.
In the kitchen, dishes filled the sink, breakfast food was spilled on the counter, the fridge door was open wide, dog food was spilled On the floor, a broken glass lay under the table, and a large pile of sand was spread by the back door.
He quickly headed up the stairs, stepping over toys and more piles of clothes, looking for his wife. He was worried she might be ill, or that something serious had happened.
He was met with a large flow of water as it made its way out the bathroom door. As he peered inside he found wet towels, scummy soap and more toys strewn over the floor.
Miles of toilet paper lay in a heap and toothpaste had been smeared over the mirror and walls.
As he rushed to the bedroom, he found his wife still curled up in the bed in her pajamas, reading a novel. She looked up at him, smiled, and asked how his day went.
He looked at her bewildered and asked, "What happened here today?"
She again smiled and answered, "You know every day when you come home from work and you ask me what in the world I do all day?"
"Yes," was his incredulous reply.
She answered, "Well, today I didn't do it."
---
PLACE
LONG STORY
A couple was dressed and ready to go out for the evening. They turned on a night light, turned on the answering machine, covered their pet parakeet and put the cat in the backyard. They phoned the local cab company and requested a taxi.
The taxi arrived and the couple opened the front door to leave their house. The cat they had put out into the yard scooted back into the house. They didn't want the cat shut in the house because she always tried to eat the bird.
The wife got into the taxi while the husband went back inside to get the cat. The cat ran upstairs, the man in hot pursuit. Waiting in the cab, the wife didn't want the driver to know the house would be empty for the night.
She explained to the taxi driver that her husband would be out soon. "He's just going upstairs to say good-bye to my mother."
A few minutes later, the husband got into the cab.
"Sorry I took so long", he said as they drove away."Stupid bitch was hiding under the bed. I had to poke her with a coat hanger to get her to come out! She tried to take off so I grabbed her by the neck."
"Then I had to wrap her in a blanket to keep her from scratching me. But it worked. I hauled her fat ass downstairs and threw her out into the back yard!"
The cab driver hit a parked car.
---
SHOW
VASELINE?
An escaped convict breaks into a house, only to find a young couple in bed. While tying the homeowner's wife to the bed the convict gets on top of her, kisses her neck, then gets up and goes into the bathroom.
While he's in there, the husband whispers over to his wife: "Listen, this guy is an escaped convict. He's probably spent a lot of time in jail and hasn't seen a woman in years. I saw how he kissed your neck."
"If he wants sex, don't resist, don't complain, do whatever he tells you. Satisfy him no matter how much he nauseates you. This guy is obviously very dangerous. If he gets angry, he'll kill us both. Be strong, honey. I love you!"
His wife responds: "He wasn't kissing my neck. He was whispering in my ear. He told me that he's gay, thinks you're cute, and asked if we had any Vaseline."
"I told him it was in the bathroom. Be strong honey. I love you, too."
---
About Men:
Eighty percent of married men cheat in America.
The rest cheat in Europe.
---
THE ART OF MAKING LOVE

Three men from different countries were talking about their sex lives.
The Italian says, "Last week, my wife and I had great sex. I rubbed her body all over with olive oil, we made passionate love, and she screamed for five full minutes at the end."
The Frenchman boasts, "Last week when my wife and I had sex, I rubbed her body all over with butter. We then made passionate love and she screamed for fifteen minutes".
The Jewish man says, "Well, last week my wife and I also had sex. I rubbed her body all over with chicken fat. We made love, and she screamed for over six hours."
The Italian and Frenchman were stunned. They asked, "What could you have possibly done to make your wife scream for six hours?"
The Jewish man says, "I wiped my hands on the bedspread!!!"
---
Some women get excited about nothing,
and then marry him.
---
SILENCE IS GOLDEN

Two guys from Montana were out fishing and drinking beer.
All of a sudden one of the fishermen said, "I think I'm going to divorce my wife – she hasn't spoken to me in over six months."
His buddy takes another swig of his beer, thinks for a moment and says, "You better think it over women like that are hard to find."
---
Divorce – from the Latin word meaning
to rip out a man's genitals through his wallet.
---
FATHERLY LOVE

An old country preacher had a teenage son, and it was getting time the boy should give some thought to choosing a profession.
Like many young men, the boy didn't really know what he wanted to do, and he didn't seem too concerned about it.
One day, while the boy was away at school, his father decided to try an experiment. He went into the boy's room and placed on his study table three objects: a Bible, a silver dollar and a bottle of whiskey.
"I'll just hide behind the door," the old preacher said to himself, "and when he comes home from school this afternoon, I'll see which object he picks up.
If it's the Bible, he's going to be a preacher like me, and what a blessing that would be! If he picks up the dollar, he's going to be a businessman, and that would be okay, too. But if he picks up the bottle, he's going to be a no-good drunkard, and, Lord, what a shame that would be."
The old man waited anxiously, and soon heard his son's footsteps as he entered the house whistling and headed for his room. He tossed his books on the floor.
---
Always remember: one good turn
gets most of the blankets.
---
WITH APOLOGIES TO WOMEN EVERYWHERE

First the Lord made man in the Garden of Eden.
Then he said to Himself, "There's something he's needing.'"
After casting about for a suitable pearl,
He kept messing around and created a girl.
Two beautiful legs, so long and so slender,
Round, slim, and firm, and ever so tender.
Two lovely hips to increase his desire,
And rounded and firm to bring out the fire.
Two lovely breasts, so full and so proud,
Commanding his eyes, as he whispers aloud.
Two lovely arms, just aching to bless you,
And two loving hands, to soothe and caress you.
Soft, cascading hair hung down over her shoulder,
And two dreamy eyes, just to make him grow bolder.
T'was made for a man, just to make his heart sing.
Then he added a mouth. Ruined the whole damn thing.
---
Everyone needs to be loved,
Especially when they don't deserve it.
---
HORMONE GUIDE FOR MEN

We know that there are days in the month when all a man has to do is open his mouth and he takes his very life into his own hands! This is a handy guide that should be as common as a driver's license in the wallet of every husband, boyfriend, or significant other!!
DANGEROUS: What's for dinner?
SAFER: Can I help you with dinner?
SAFEST: Where would you like to go for dinner?
ULTRASAFE: Here, have some chocolate.
DANGEROUS: Are you wearing that?
SAFER: Gee, you look good in brown.
SAFEST: WOW! Look at you!
ULTRA SAFE: Here, have some chocolate.
DANGEROUS: What are you so worked up about?
SAFER: What did I do wrong?
SAFEST: Here's fifty dollars.
ULTRA SAFE: Here, have some chocolate.
DANGEROUS: Should you be eating that?
SAFER: You know, there are a lot of apples left.
SAFEST: Can I get you a glass of wine with that?
ULTRA SAFE: Here, have some chocolate.
DANGEROUS: What did you do all day?
SAFER: I hope you didn't overdo it today.
SAFEST: I've always loved you in that robe!
ULTRA SAFE: Here, have some more chocolate.
---
Love is the triumph of imagination over intelligence.
---
PMS DICTIONARY
Pass My Shotgun
Psychotic Mood Shift
Perpetual Munching Spree
Puffy Mid-Section
People Make me Sick
Provide Me with Sweets
Pardon My Sobbing
Pimples May Surface
Pass My Sweatpants
Pissy Mood Syndrome
Plainly; Men Suck
Pack My Stuff.
---
Marriage means commitment.
Of course, so does insanity.
---
EVE TALKS TO GOD
"Lord, I have a problem."
"What's the problem, Eve?"
"I know that you created me and provided this beautiful garden and all of these wonderful animals, as well as that hilarious comedic snake, but I'm just not happy."
"And why is that Eve?"
"Lord, I am lonely, and I'm sick to death of apples."
"Well, Eve, in that case, I have a solution. I shall create a man for you."
"Man? What is that Lord?"
"A flawed creature, with many bad traits. He'll lie, cheat and be vain; all in all, he'll give you a hard time. But he'll be bigger, faster and will like to hunt and kill things.
I'll create him in such a way that he will satisfy your physical needs. He will be witless and will revel in childish things like fighting and kicking a ball about. He won't be as smart as you, so he will also need your advice to think properly."
"Sounds great," says Eve, with ironically raised eyebrows, "but what's the catch Lord?"
"Well, you can have him on one condition."
"And what's that Lord? "
"As I said, he'll be proud, arrogant and self-admiring … so you'll have to let him believe that I made him first. And it will have to be our little secret. Woman to woman."
---
Bisexuality doubles your chances
for a date on Saturday night.
---
A TRIFECTA OF OUR FAVORITE LOVERLY JOKES
WIN
AT THE DRUG STORE
Sarah walked into a pharmacy and told the pharmacist that she needed some cyanide.
The pharmacist said, "Why in the world do you need cyanide?"
Sarah then explained she needed it to poison her husband.
The pharmacist's eyes got big and he said, "Lord, have mercy. I
can't give you cyanide to kill your husband! That's against the
law!
I'll lose my license, they'll throw both of us in jail and all
kinds of bad things will happen! Absolutely not, you can NOT have any cyanide!"
Sarah reached into her purse and pulled out a picture of her
husband in bed with the pharmacist's wife.
The pharmacist looked a the picture and replied, "Well, now. You didn't tell me you had a prescription."
---
PLACE
WORKS WELL
Sally, Betty, and Jo Ann were all getting married. Sally and Betty were from the city, Jo Ann from the country.
They met at the marriage counselor's office to discuss the options of having or not having children right away.
The counselor asked them if they planned on having a baby right away or were going to wait.
All three said that they had discussed this with their potential husbands and all agreed to wait for several years.
The counselor then asked Sally what type of birth control she planned to use. Her answer was, "the rhythm method."
"That will work," said the counselor, "if you keep a good record."
He asked the Betty what system she planned on using. "I plan on using birth control pills," she said.
Again he said, "Yes that will work as long as you don't forget to take them."
He then asked the Jo Ann what system she was planning on using.
Her answer was, "The pail and saucer method."
After a short delay, he again told her that should also work.
He asked them all to come back in one year on a specific date for a follow up on how things were going.
They all met again one year later and Betty and Sally were pregnant. Only Jo Ann was slim and trim yet.
The counselor asked Sally what method she used and what went wrong.
She replied that she used the rhythm method, but somehow got her notes mixed up and, well here I am, going to have a baby.
He asked the second Betty what method she used. She replied, "The birth control pill, but we were camping one weekend and I didn't have my pills with me and as you can see, I too, am going to have a baby.
He turned to Jo Ann and said, "I vaguely remember you were going to use the pail and saucer method. Now I must admit that I don't have a clue what the pail and saucer method is. Will you explain it to me as I see it has worked well for you?
Jo Ann replied, "Well, we make love standing up, and since I am quite a bit taller than my husband, he stands on a pail turned upside down. Now as we are making love, I watch his eyes, and when his eyes get as big as saucers, I kick the pail out from under him."
---
SHOW
JUSTIFIABLE HOMICIDE
A husband was in BIG trouble when he forgot his wedding anniversary.
"Tomorrow," his wife angrily told him, "there had better be something in our driveway that goes from zero to 200 in two seconds flat!"
The next morning, the wife looked outside and saw a small package in the driveway. She brought it inside, opened it, and found a brand new bathroom scale.
His funeral is on Saturday at 2 p.m.
---
Sex is not the answer. Sex is the question.
"Yes" is the answer.
---

ODE TO SPAM
by Charlie Johnston

Oh SPAM! Oh SPAM! Gourmet delight!
My food by day, my dreams by night.
To carve, to slice, to dice you up –
pureed in a blender and sipped from a cup.
What shining deity from Olympus knelt
down to the earth and hog butt smelt?
Creating then man's eternal desire
for swine entrails congealed by fire.
On some corporate farm, a pig has died.
Eyes, tongue, and snout end up inside
that cube of SPAM hidden in the can
I now hold in my trembling hand.
More than mere food, SPAM is for me
a hedonistic expression of gluttonous glee.
Mottled with pork fat, the pink cube engrosses.
My mouth takes it in, my intestine disposes.
Long have my arteries clogged to the sound
of sizzling SPAM when there's no one around –
furtively chewing or swallowing whole.
Triple bypass by forty, my medical goal.
Other processed meat products I've tried or declined
Vienna Sausages, Treet, even pig's feet in brine.
Though each may be tasty in different ways,
none matches SPAM for gelatinous glaze.
That glistening pinkness beckons me
with gristle, fat, and BHT.
Oh Spam, my Spam – the taste, the smell –
The sacred meat product from Hormel.
---
Right now I'm having amnesia and deja vu at the same time.
I think I've forgotten this before.
---

POTTY MOUTH

A woman went up to the bar in a quiet rural club. She gestured alluringly to the bartender who approached her immediately.
She seductively signaled that he should bring his face closer to hers. As he did, she gently caressed his full beard.
"Are you the manager?" she asked, softly stroking his face with both hands.
"Actually, no," he replied.
"Can you get him for me? I need to speak to him," she said, running her hands beyond his beard and into his hair.
"I'm afraid I can't," breathed the bartender. "Is there anything I can do?"
"Yes. I need for you to give him a message," she continued, running her forefinger across the bartender's lip and slyly popping a couple of her fingers into his mouth and allowing him to suck them gently.
"What should I tell him?" the bartender managed to say.
"Tell him," she whispered, "There's no toilet paper, hand soap, or paper towels in the ladies room."
---
I put tape on the mirrors in my house so I don't
accidentally walk through into another dimension
---

HERE IN FLORIDA

Jim, an elderly man living in Florida had owned a large farm for several years. He had a large pond in the back, fixed up nice — picnic tables, horseshoe courts, and some orange and grapefruit trees.
The pond was properly shaped and fixed up for swimming when it was built.
One evening Jim decided to go down to the pond, as he hadn't been there for a while, and look it over. He grabbed a five-gallon bucket to bring back some fruit.
As he neared the pond, he heard voices shouting and laughing with glee. As he came closer he saw it was a bunch of young women skinny-dipping in his pond.
Jim made the women aware of his presence and they all went to the deep end. One of the women shouted to him, "We're not coming out until you leave!"
Jim frowned, "I didn't come down here to watch you ladies swim naked or make you get out of the pond naked."
Holding the bucket up he said, "I'm here to feed the alligator."
---
I like to skate on the other side of the ice.
---

THIS WEEK'S LESSON. Pay attention!

An old man and a young boy were traveling through their village with their donkey. The boy rode on the donkey and the old man walked.
As they went along they passed some people who remarked it was a shame the old man was walking and the boy was riding. The man and boy thought maybe the critics were right, so they changed positions.
Later, they passed some people that remarked, "What a shame, he makes that little boy walk." They then decided they both would walk.
Soon they passed some more people who thought they were stupid to walk when they had a decent donkey to ride. So, they both rode the donkey.
Now they passed some people that shamed them by saying "how awful to put such a load on the poor donkey." The boy and man said they were probably right, so they decided to carry the donkey."
As they crossed the bridge, they lost their grip on the animal and he fell into the river and drowned. The moral of the story: If you try to please everyone, you might as well kiss your ass good-bye.
---
My watch is three hours fast, and I can't fix it.
So I'm going to move to New York.
---
Everywhere is walking distance if you have the time.
---
THE ART OF ADVERTISING

Josie and Flo, both prostitutes, were riding around town with a sign on top of their car that said: "TWO PROSTITUTES — $50.00"
A policeman, seeing the sign, stopped them and told them they'd either have to remove the sign or go to jail.
Just at that time, another car passed with a sigh that read: "JESUS SAVES"
Josie asked the cop, "How come you don't stop them?"
"Well, that's a little different," the cop smiled. "Their sign pertains to religion.R