Humor
The Best Corny Jokes (Great Jokes for Senior Citizens)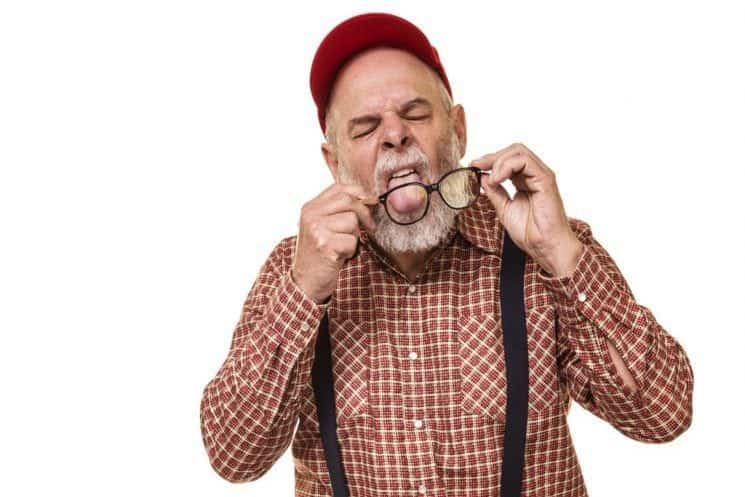 Who doesn't love a great corny joke? These jokes can make even the toughest audience smile. We've gathered the best funny jokes for adults so you can laugh until your stomach hurts.
These adult jokes are not for the faint of heart! If you're looking for something lighter that you can share with your entire family, take a look at our best jokes book and at our favorite jokes for old folks.
More Senior Citizen Jokes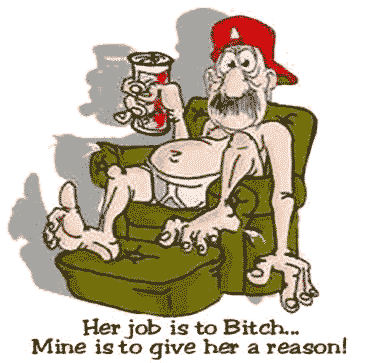 CHOCOLATE CHIP COOKIES
An elderly man lay dying in his bed. In death's agony, he suddenly smelled the aroma of his favorite chocolate chip cookies wafting up the stairs. He gathered his remaining strength and lifted himself from the bed. Leaning against the wall, he slowly made his way out of the bedroom, and with even greater effort forced himself down the stairs, gripping the railing with both hands. With labored breath, he leaned against the door-frame, gazing into the kitchen.
Were it not for death's agony, he would have thought himself already in heaven: there, spread out upon racks on the kitchen table and counters were hundreds of his favorite chocolate chip cookies.
Was it heaven? Or was it one final act of heroic love from his devoted wife, seeing to it that he left this world a happy man? Mustering one great final effort, he threw himself toward the table, landing on his knees in a rumpled posture. His parched lips parted — the wondrous taste of the cookie was already in his mouth, seemingly bringing him back to life.
"Stay out of those," she said. "They're for the funeral."
LONELY LADY

An older lady was somewhat lonely and decided she needed a pet to keep her company.
So off to the pet shop, she went. She searched and searched. Nothing seemed to catch her interest, except this ugly frog. As she walked by the jar he was in, he looked and winked at her. He whispered, "I'm lonely too, buy me and you won't be sorry."
The old lady figured "what the heck," she hadn't found anything else. She brought the frog and put him in the car.
Driving down the road the frog whispered to her "kiss me and you won't be sorry".
So the old lady figured "what the heck", and kissed the frog. Immediately the frog turned into a gorgeous sexy young handsome prince. The prince then kissed the old lady back and guess what the old lady turned into?
She turned into the first motel she could find!
OBITUARY
When the husband finally died his wife put the usual death notice in the paper, but added that he died of gonorrhea. As soon as were the papers delivered when a good friend of the family phoned and complained bitterly, "You know very well that he died of diarrhea, not gonorrhea.
Replied the widow, "I nursed him night and day so of course, I know he died of diarrhea, but I thought it would be better for posterity to remember him as a great lover rather than the big shit he always was
MUTUAL ORGASM
Ethel and Mabel, two elderly widows, were watching the folks go by from their park bench. Ethel said, "You know, Mabel, I've been reading this 'Sex and Marriage' book and all they talk about is 'mutual orgasm.'
"Mutual orgasm here and mutual orgasm' there. That's all they talk about. Tell me, Mabel, when your husband was alive, did you two ever have a mutual orgasm?".
Mabel thought for a long while. Finally, she shook her head and said, "No, I think we had State Farm."
GRANDMA AND THE NUDIST COLONY
A man moves into a nudist colony. He receives a letter from his mother asking him to send her a current picture. Too embarrassed to let her know that he lives in a nudist colony, he cuts one in half and sends her the top part.
Later he receives another letter asking him to send a picture to his grandmother. The man cuts another picture in half but accidentally sends the bottom half. He is really worried when he realizes that he sent the wrong part but then remembers how bad his grandmother's eyesight is and hopes she won't notice.
A few weeks later he receives a letter from his grandmother. It says, "Thank you for the picture. Change your hairstyle? It makes your nose look too short."
STICK IT
Two elderly women were eating breakfast in a restaurant one morning. Ethel noticed something funny about Mabel's ear and she said, "Mabel, did you know you've got a suppository in your left ear?"
Mabel answered, "I have? suppository?"
She pulled it out and stared at it. Then she said, "Ethel, I'm glad you saw this thing. Now I think I know where my hearing aid is.
CRUISIN'
An elderly couple was on a cruise and it was stormy. They were standing on the back of the boat watching the moon when a wave came up and washed the old woman overboard. They searched for days and couldn't find her, so the captain sent the old man back to shore with the promise that he would notify him as soon as they found something.
Three weeks went by and finally, the old man got a fax from the boat. It read: "Sir, sorry to inform you, we found your wife dead at the bottom of the ocean. We hauled her up to the deck and attached to her butt was an oyster and it had a pearl worth $50,000 …..please advise"
The old man faxed back: "Send me the pearl and re-bait the trap"
WALLFLOWERS
A funeral service is being held for a woman who has just passed away. At the end of the service, the pallbearers are carrying the casket out when they accidentally bump into a wall, jarring the casket. They hear a faint moan! They opened the casket and find that the woman is alive! She lived for ten more years and then dies. Once again, a ceremony is held, and at the end of it, the pallbearers are again carrying out the casket. As they carry the casket towards the door, the husband cries out: "BE CAREFUL!!! WATCH THAT DAMN WALL!!!!!!!"
KNOCK ON WOOD
Three sisters ages 72, 74, and 76 live in a house together. One night the 76-year-old draws a bath. She puts her foot in and pauses. She yells down the stairs "was I getting in or out of the bath?".
The 74-year-old yells back "I don't know. I'll come up and see."
She starts up the stairs and pauses. Then she yells "was I going up the stairs or down?"
The 72-year-old is sitting at the kitchen table having tea listening to her sisters. She shakes her head and says "I sure hope I never get that forgetful."
She knocks on wood for good measure and then yells "I'll come up and help both of you as soon as I see who's at the door".
ARRESTED DEVELOPMENT
An elderly couple was driving across the country. While the woman was behind the wheel, the couple was pulled over by the highway patrol.
"Ma'am, did you know you were speeding?" the officer said.
The woman, hard of hearing, turned to her husband and asked, "What did he say?"
"He said you were speeding!" the old man yelled.
The patrolman then asked, "May I see your license?"
The woman turned to her husband again, "What did he say?"
The old man yelled back, "He wants to see your license!"
The woman then gave the officer her license.
"I see you are from Arkansas," the patrolman said. "I spent some time there once and went on a blind date with the ugliest woman I've ever seen."
The woman turned to her husband again and asked, "What did he say?"
The old man replied, "He said he knows you!"
THE VET
Every Sunday a little old lady placed $1,000 on the collection plate. It went on for weeks until the priest, overcome with curiosity, approached her.
"My dear, I couldn't help but notice that you put $1,000 a week in the collection plate," he said.
"Why yes," she replied, "every week my son sends me money, and what I don't need I give to the church."
"That's wonderful. How much does he send you?" the priest asked. "He sends me $2,000 a week," she replied proudly.
"Your son is very successful," said the priest. "What does he do for a living?"
"He is a veterinarian," she answered. "That is a very honorable profession," the priest assured her.
"Where does he practice?"
"Well, she replied, "he has one cat house in Kansas City and another in New Orleans."
WHAT WAS THAT AGAIN?
Two elderly ladies had been friends for many decades. Over the years they had shared all kinds of activities and adventures. Lately, their activities had been limited to meeting a few times a week to play cards.
One day they were playing cards when one looked at the other and said, "Now don't get mad at me. I know we've been friends for a long time, but I just can't think of your name. I've thought and thought, but I can't remember it. Please tell me what your name is."
Her friend glared at her. For at least three minutes she just stared and glared at her. Finally, she said, "How soon do you need to know?
SENIOR MARRIAGE
Two elderly people were living in a Florida mobile home park. He was a widower and she a widow. They had known one another for several years.
One evening there was a community supper in the big activity center. The two were at the same table, across from one another. As the meal went on, he made a few admiring glances at her and finally gathered his courage to ask her, "Will you marry me?"
After about six seconds of 'careful consideration,' she answered. "Yes. Yes, I will."
The meal ended and, with a few more pleasant exchanges, they went to their respective places. The next morning, he was troubled. "Did she say 'yes' or did she say 'no'?" He couldn't remember. Try as he would, he just could not recall. Not even a faint memory. With trepidation, he went to the telephone and called her. First, he explained that he didn't remember as well as he used to. Then he reviewed the lovely evening past.
As he gained a little more courage, he inquired, "When I asked if you would marry me, did you say 'Yes' or did you say 'No'?"
He was delighted to hear her say, "Why, I said, 'Yes, yes I will' and I meant it with all my heart." Then she continued, "I am so glad that you called because I couldn't remember who had asked me."


WHAT HEAVEN'S LIKE
Three guys died together in a terrible accident. Fortunately, they went to heaven.
St. Peter says, "We only have one rule here: Don't step on the ducks, as they are God's favorite creation."
They enter heaven and see ducks everywhere, and it's almost impossible not to step on a duck. The first guy accidentally steps on one, and soon here comes St. Peter with the ugliest woman you've ever seen. St. Peter chains them together and says, "Your punishment is to be chained to this ugly woman forever."
The next day the second guy steps on a duck, and sure enough, St. Peter comes with another real ugly woman and chains them together.
Seeing this, the third guy is very, very careful. He goes for months and doesn't step on any ducks. Then one day, St. Peter comes along with this beautiful woman, a blue-eyed blonde, very young and very sexy. He chains them together and leaves without saying a word.
The man remarks, "Wow! This is great! I wonder what I did to deserve this?"
The Blonde says, "I don't know about you, but I just stepped on a duck."
SENIOR MOMENTS
An elderly couple had dinner at another couple's house, and after eating, the wives left the table and went into the kitchen. The two elderly gentlemen were talking, and one said, "Last night we went out to a new restaurant, and it was great. I would recommend it very highly."
The other man said, "What is the name of the restaurant?"
The first man thought and thought and finally said, "What is the name of that flower you give to someone you love? You know… the one that is red and has thorns."
"Do you mean a rose?"
"Yes," the man said. He turned toward the kitchen and yelled, "Rose, what's the name of that restaurant we went to last night?"
GRAVITY
At the beginning of my shift, I placed a stethoscope on an elderly and slightly deaf female patient's anterior chest wall. "Big breaths," I instructed. "Yes, they used to be," expressed the patient.
THE JOY OF SHARING
The little old couple walked slowly into McDonald's that cold winter evening.
They looked out of place amid the young families and young couples eating there that night. Some of the customers looked admiringly at them. You could tell what the admirers were thinking. "Look, there is a couple who has been through a lot together, probably for 60 years or more!"
The little old man walked right up to the cash register, placed his order with no hesitation and then paid for their meal. The couple took a table near the back wall and started taking food off of the tray. There was one hamburger, one order of French fries and one drink.
The little old man unwrapped the plain hamburger and carefully cut it in half. He placed one half in front of his wife. Then he carefully counted out the French fries, divided them into two piles and neatly placed one pile in front of his wife. He took a sip of the drink, his wife took a sip and then set the cup down between them.
As the man began to eat his few bites of hamburger the crowd began to get restless. Again you could tell what they were thinking. "That poor old couple. All they can afford is one meal for the two of them."
As the man began to eat his French fries one young man stood and came over to the old couple's table. He politely offered to buy another meal for the old couple to eat. The old man replied that they were just fine. They were used to sharing everything.
Then the crowd noticed that the little old lady hadn't eaten a bite. She just sat there watching her husband eat and occasionally taking turns sipping the drink. Again the young man came over and begged them to let him buy them something to eat. This time the lady explained that no, they were used to sharing everything.
As the little old man finished eating and was wiping his face neatly with a napkin the young man could stand it no longer. Again he came over to their table and offered to buy some food. After being politely refused again he finally asked a question of the little old lady.
"Ma'am, why aren't you eating? You said that you share everything. What is it that you are waiting for?
She answered, "The teeth."
HEALTHY FOOD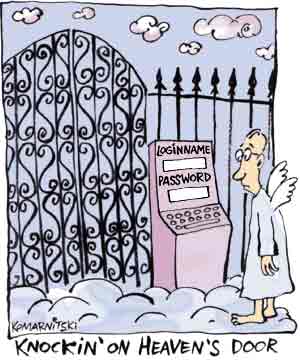 An 85-year-old couple, having been married almost 60 years, die in a car crash. They had been in good health for the last ten years, mainly due to the wife's neurotic interest in health food.
When they reached the pearly gates, St. Peter took them to their mansion, which was decked out with a beautiful kitchen and master bath suite and Jacuzzi. As they oohed and aahed, the old man asked Peter how much of this was going to cost.
"It's free," Peter replied, "Remember, this is Heaven." Next, they went out back to see the championship golf course the home backed up to. They would have golfing privileges every day, and each week the course changed to a new one representing the great golf courses on Earth.
The old man asked, "What are the green fees?"
"This is heaven," St. Peter replied. "You play for free."
Next, they went to the clubhouse and saw the lavish buffet lunch with the cuisines of the world laid out.
"How much to eat?" asked the old man.
"Don't you understand yet?" St. Peter asked. "This is heaven. It's free!"
"Well, where are the low fat and low cholesterol foods?" the old man asked timidly. "That's the best part…you can eat as much as you like of whatever you like and you never get fat and you never get sick. This is Heaven."
The old man looked at his wife and said, "You and your darn bran muffins. I could have been here ten years ago!"
THE KNOB
A lady in her late 40's went to a plastic surgeon for a facelift. The Dr. told her of a new procedure called "The Knob". This small knob is planted on the back of a woman's head and can be turned to tighten up the skin to produce the effect of a brand new facelift forever. Of course, the woman wanted "The Knob."
Fifteen years later the woman went back to the surgeon with two problems.
"All these years everything had been working just fine. I've had to turn the knob on lots of occasions and I've loved the results.
But now I've developed two annoying problems. First of all, I've got these terrible bags under my eyes and the knob won't get rid of them."
The doctor looked at her and said, "Those aren't bags, those are your breasts."
She replied, "Well, I guess that explains the goatee."
FLYING BACKWARDS
Two elderly gentlemen, who had been without sex for several years, decided they needed to visit a cat-house for some tail.
When they arrived, the madam took one look at them and decided she wasn't going to waste any of her girls on these two old men.
So she used "blow-up" dolls instead. She put the dolls in each man's room and left them to their business. After the two men were finished, they started walking home and began talking. The first man said, "I think the girl I had was dead. She never moved, talked or even groaned. How was it for you?"
The second man replied, "I think mine was a witch. When I nibbled on her breast she farted and flew out the window!"
THE LIFESAVER
Two elderly women are sitting on the front porch, doing nothing. One woman turns and asks, "Do you still get horny?"
The other replies, "Oh sure I do."
The first old woman asks, "What do you do about it?"
The second old lady replies, "I suck a lifesaver."
… After a few moments, the first old lady asks, "Who drives you to the beach?"
DEAD TED
Two elderly women meet at the launderette after not seeing one another for some time. After inquiring about each other's health, one asked how the other's husband was doing.
"Oh! Ted died last week. He went out to the garden to dig up a cabbage for dinner, had a heart attack, and dropped down dead right there in the middle of the vegetable patch!"
"Oh dear! I'm so very sorry," replied her friend, "What did you do?"
"Opened a can of peas instead."
ANNUAL PHYSICAL
70-year old George went for his annual physical. All of his tests came back with normal results. Dr. Smith said, "George, everything looks great physically. How are you doing mentally and emotionally? Are you at peace with yourself, and do you have a good relationship with God?"
George replied, "God and I are tight. He knows I have poor eyesight, so he's fixed it so that when I get up in the middle of the night to go to the bathroom poof the light goes on when I'm done poof the light goes off."
"Wow!" commented Dr. Smith, "That's incredible!"
A little later in the day, Dr. Smith called George's wife. "Ethel," he said, "George is doing fine. Physically he's great. But, I had to call because I'm in awe of his relationship with God. Is it true that he gets up during the night and poof, the light goes on in the bathroom, and then when he is through poof the light goes off?"
Ethel exclaimed, "Oh, my God! He's peeing in the refrigerator again!"
STANDARDS
A little old lady is sitting on a bench in Miami Beach. A man walks over and sits down on the other end of the bench. After a few moments, the woman asks, "Are you a stranger here?" He replies, "I used to live here years ago."
"So, where were you all these years?"
"In prison," he says.
"For what did they put you in prison?"
He looks at her, and very quietly says, "I killed my wife."
"Oh," says the woman. "So you're single…"
GRANNY
Granny was in her eighties and much admired for her sweetness and kindness to all. The pastor came to call on her one afternoon early in the spring, and she welcomed him into her parlor.
He took a seat while she prepared some tea. As he sat facing her old pump organ, the minister noticed a cut-glass bowl sitting on top of it, filled with water. In the water floated, of all things, a condom.
Imagine his shock, surprise, and, curiosity! Surely, Miss Granny had flipped! But he felt he couldn't mention the strange sight in her parlor.
"When she returned with tea and cookies, they began to chat. The pastor tried to stifle his curiosity about the bowl of water and the floating item, but soon it got the better of him, and he could resist no longer.
"Miss Granny," he said while pointing to the bowl, "I wonder if you would tell me about this?"
"Oh, yes," she replied, "isn't it wonderful? I was walking downtown last fall and I found this little package. The directions said to put it on the organ, keep it wet, and it would prevent disease! And you know, I haven't had a cold all winter."
EMPTY HANDED
A retired gentleman went into the social security office to apply for Social Security. After waiting in line for a long time, he got to the counter. The woman behind the counter asked him for his driver's license to verify his age. He looked in his pockets and realized he had left his wallet at home. He told the woman that he was very sorry but he seemed to have left his wallet at home. "Will I have to go home and come back now?" he asks. The woman says, "Unbutton your shirt."
So, he opens his shirt revealing lots of curly silver hair. She says, "That silver hair on your chest is proof enough for me," and she processed his Social Security application. When he gets home, the man excitedly tells his wife about his experience at the Social Security office. She said, "You should have dropped your pants, you might have qualified for disability, too."
OLD FREQUENCIES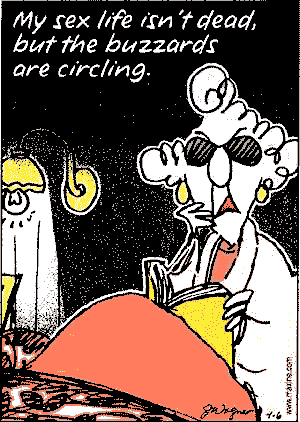 " How often should I plan to have sex," the young groom asked his grandfather on his wedding night. Grandpa said, "When you're first married, you want it all the time maybe several times a day. Later on, sex tapers and you have it maybe once a week or so. Then, as you get older, you have sex maybe once a month. When you get old, you are lucky to have it once a year. Maybe on your anniversary."
"Well, how about you and grandma now?" the younger man asked.
Grandpa replied, "Oh, we just have oral sex now."
"What's oral sex?"
"Well," said Grandpa, "She goes to bed in her bedroom, and I go to bed in my bedroom. She yells, "F**K YOU," and I holler back, "F**K YOU, TOO.
HOW TO STRETCH YOUR PENSION
A couple, both age 76, went to a sex therapist's office. The doctor asked, "What can I do for you?"
The man said, "Will you watch us have sexual intercourse?" The doctor looked puzzled but agreed.
When the couple finished, the doctor said, "There's nothing wrong with the way you have intercourse," and charged them $50. This happened several weeks in a row. The couple would make an appointment, have intercourse with no problems, pay the doctor, then leave.
Finally, the doctor asked, "Just exactly what are you trying to find out?"
The old man said, "We're not trying to find out anything. She's married and we can't go to her house, I'm married and we can't go to my house. The Holiday Inn charges $90; the Hilton charges $108. We do it here for $50 and I get $43 back from Medicare."
NUDIST CAMP NEWCOMER
A man joins a very exclusive nudist colony. On his first day there he takes off his clothes and starts to wander around. A gorgeous petite blonde walks by and the man immediately gets an erection. The woman notices the erection and comes over to him and says, "Sir, did you call for me?" The man replies, "No, what do you mean?" She says, "You must be new here, let me explain. It's a rule here that if you get an erection it implies that you called for me." Smiling, she leads him to the side of the swimming pool, lays down a towel, eagerly pulls him to her and happily lets him have his way with her.
The man continued to explore the colony's facilities. He enters the sauna and as he sat down, he farted. Within a few minutes, a huge, horrible, corpulent, hairy man lumbers out of the steam toward him. "Did you call for me?" says the hairy man. "No, what do you mean?" asks the newcomer. "You must be new here," says the hairy man, "it is a rule here that if you fart it implies that you called for me." The huge man easily spins him around, bends him over a bench and has his way with him.
The newcomer staggers back to the colony office where the smiling naked receptionist greets him. "May I help you?" she asks. The man says, "Here, you can have my membership card, you can have the key back and you can have the $500 membership fee!" "But sir," she replies, "you've only been here a few hours! You haven't had time to see all of our facilities." The man replies, "Listen, lady, I'm 72 years old, I get a hard-on once a month, but I fart 15 times a day!"
LIKE FINE WINE
Bill, a 70-year-old extremely wealthy widower, shows up at the Country Club with a breathtakingly beautiful and very sexy 25-year-old blonde who knocks everyone's socks off with her youthful appeal and outright charm while hanging over Bills arm and listening intently to his every word.
His buddies at the club are all aghast. They corner him and ask, "Bill how did you get the trophy girlfriend?"
Bill replies, "Girlfriend? She's my wife!"
They're knocked over, but continue to ask. "So, how did you persuade her to marry you?"
Bill says, "I lied about my age."
His friends respond, "What do you mean? Did you tell her you were only 50?"
Bill smiles and says, "No, I told her I was 90."
FLORIDA SENIORS
A senior citizen in Florida bought a brand new Mercedes convertible. He took off down the road, flooring it to 80 mph and enjoying the wind blowing through what little hair he had left on his head. "This is great," he thought as he roared down I-75.
He pushed the pedal to the metal even more. Then he looked in his rearview mirror and saw a highway patrol trooper behind him, blue lights flashing and siren blaring. "I can get away from him with no problem," thought the man and he tromped it some more and flew down the road at over 100 mph, then 110, 120 mph! Then he thought, "What am I doing? I'm too old for this kind of thing."
He pulled over to the side of the road and waited for the trooper to catch up with him.
The trooper pulled in behind the Mercedes and walked up to the man. "Sir," he said, looking at his watch. "My shift ends in 30 minutes and today is Friday. If you can give me a reason why you were speeding that I've never heard before, I'll let you go."
The man looked at the trooper and said, "Years ago my wife ran off with a Florida State Trooper, and I thought you were bringing her back."
The trooper replied, "Sir, have a nice day."
SENIOR MOMENTS
Four 'Senior' women were in a beauty parlor getting their hair done when in walks a young chick with a low cut blouse that revealed a rosebud tattoo above one boob. One lady leaned over to another and said, "She doesn't know it yet, but in 50 years she'll be wearing a long-stemmed rose in a hanging basket.
IN A SMALL TOWN
It was a small town and the patrolman was making his evening rounds. As he was checking a used car lot, he came upon two little old ladies sitting in a used car. He stopped and asked them if they were stealing the car. They said, "Heavens no, we bought it."
He said, "Then why don't you drive it away".
Each of the women said, "We can't drive".
The officer momentarily shook his head and then asked, "Then why did you buy it?"
They answered, "We were told if we bought a car here, we'd get screwed, so we're just waiting."
HOG WILD
A little old lady had always wanted to join a local biker club. One day she goes up and knocks on the door. A big, hairy, bearded biker with tattoos all over his arms answers.
She proclaims, "I want to join your club."
The guy was amused but says she needs to meet certain biker requirements to join. The biker asks, "Do you have a motorcycle?"
The little old lady replies, "Yep… my bike's parked over there", and points to a Harley in the driveway.
The biker asks, "Do you drink?"
The little old lady replies, "Yep… drink like a fish. I'll drink any man in your club under the table."
The biker asks, "Do you smoke?"
The little old lady replies, "Yep… smoke like a chimney. At least 4 packs of cigarettes a day and a couple of cigars in the evening, while I'm shooting pool."
The biker is very impressed and asks, "The last question, have you ever been picked up by the fuzz?"
The little old lady thinks for a minute and says, "Nope, but I've been swung around by my nipples a few times."
DOOR TO DOOR SALESMAN
A vacuum cleaner salesman knocked on a door in a Senior community. It was opened by an old lady in a bathrobe.
"Go away," said the old lady. "I haven't got any money! I'm flat broke!" and she proceeded to close the door.
Quick as a flash, the young man wedged his foot in the door and pushed it wide open. "Don't be too hasty, my dear lady!" he said. "Not until you have at least seen my amazing demonstration."
And with that, he emptied a bucket of horse manure onto her hallway carpet. "If this wonderful Kirby vacuum cleaner doesn't remove all traces of this horse manure from your carpet, madam, I will personally eat the remainder of it."
The old Lady stepped back and said, "Well, I sure hope you've got a good appetite sonny because they cut off my electricity this morning."
---
Whether it is an eye roll or a heartfelt laugh, these corny jokes are guaranteed to get a reaction. We hope we've brought a smile to your face. If you're in the mood for more sexy content check out our article on senior swingers.
About
This top-ranked site now has over 4,000 pages of humor, nostalgia, senior advocacy and useful information for seniors 50+. Updates weekly!
The daily e-zine for everyone over 50 who feels way too young to be old.
"...the perfect mix of Andy Rooney, Dave Barry, and Garrison Keilor, combining knee-slapping humor with useful information and genuine compassion."
Retired.com
"Thousands look to and trust Suddenly Senior. Other Websites pale in comparison to the real-life, intimate look into senior lives. What sets apart Suddenly Senior is its blistering honesty and its incomparable encouragement. Millions need guidance."
Suzette Martinez Standring
"Best Senior Site ever on the Web! Great, up-to-date information on how seniors can save money on drugs. Wonderful nostalgia. Hard-hitting senior advocacy pieces that get read in high places. Wonderful humor. It's all at Suddenly Senior."
Alexa.com
KUDOS
Now read by 3.1 million in 83 newspapers from Florida's St. Petersburg Times to the Mumbai, India News.