Humor
Best New Jokes: February 13, 2005
BEST JOKES OF THE WEEK…GUARANTEED
"ALL GLORY COMES FROM DARING TO BEGIN."
HAPPY VALENTINE'S DAY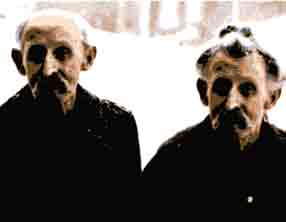 Through the years we have grown together
---

---
THE OBLIGATORY VALENTINE'S JOKE
Don was in his usual place, sitting at the table, reading the paper during breakfast. He came across an article about a beautiful actress who was about to marry a football player who was known primarily for his lack of IQ.
He turned to his wife with a look of bewilderment on his face. "I'll never understand why the biggest jerks get the most attractive wives."
His wife replies, "Why, thank you, dear!"
---

MEANWHILE, IN MEXICO
Alice and Frank are bungee-jumping one day. Alice says to Frank, "You know, we could make a lot of money running our own bungee-jumping service in Mexico." Frank thinks this is a great idea, so they pool their money and buy everything they'll need; a tower, an elastic cord, insurance, etc.
They travel to Mexico and begin to set up on the square. As they are constructing the tower, a crowd begins to assemble. Slowly, more and more people gather to watch them at work. When they had finished, there was such a crowd they thought it would be a good idea to give a demonstration.
So, Alice jumps. She bounces at the end of the cord, but when she comes back up, Frank notices that she has a few cuts and scratches.
Unfortunately, Frank isn't able to catch her and she falls again, bounces and comes back up again. This time, she is bruised and bleeding.
Again, Frank misses her. Alice falls again and bounces back up. This time she comes back pretty messed up — she's got a couple of broken bones and is almost unconscious. Luckily, Frank finally catches her this time and says, "What happened? Was the cord too long?"
Barely able to speak, Alice gasps, "No, the bungee cord was fine…It was the crowd. What the hell is a pinata?"
---

---
WEATHER, WHETHER OR NOT
Although he was a qualified meteorologist, Hopkins ran up a terrible record of forecasting for the TV news program.
He became something of a local joke when a newspaper began keeping a record of his predictions and showed that he'd been wrong almost three hundred times in a single year.
That kind of notoriety was enough to get him fired. He moved to another part of the country and applied for a similar job.
One blank on the job application called for the reason for leaving his previous position. Hopkins wrote, "The climate didn't agree with me."
---

---
AUTOMOBILE INSURANCE CLAIMS
"The accident happened because I had one eye on the truck in front, one eye on the pedestrian and the other on the car behind."
"I started to slow down but the traffic was more stationary than I thought."
"On approach to the traffic lights the car in front suddenly broke."
"I didn't think the speed limit applied after midnight"
"I knew the dog was possessive about the car but I would not have asked her to drive it if I had thought there was any risk."
"Windshield broken. Cause unknown. Probably Voodoo."
"The car in front hit the pedestrian but he got up so I hit him again."
"I pulled away from the side of the road, glanced at my mother-in-law and headed over the embankment."
"The other car collided with mine without giving warning of its intention."
"I collided with a stationary truck coming the other way"
"A pedestrian hit me and went under my car."
"In an attempt to kill a fly, I drove into a telephone pole."
"An invisible car came out of nowhere, struck my car and vanished."
"Coming home I drove into the wrong house and collided with a tree I don't have."
"I thought my window was down, but I found it was up when I put my head through it."
"I had been driving for forty years when I fell asleep at the wheel and had an accident."
"As I approached an intersection a sign suddenly appeared in a place where no stop sign had ever appeared before."
"The indirect cause of the accident was a little guy in a small car with a big mouth."
---
FOR OUR NORTHERN FRIENDS
It was snowing heavily and blowing to the point that visibility was almost zero when Margie got off of work. She sat in her car while it warmed up and thought about her situation. Remembering her dad's advice that if she got caught in a blizzard, she should wait for a snow plow to come by and follow it.
Sure enough in a little while, a snow plow went by, and she followed it.
Quite a while later, Margie was surprised when the snow plow stopped and the driver got out and came back to her car and signaled her to roll down her window. The snow plow driver wanted to know if she was all right, as she had been following him for a long time.
She said that she was fine and told him of her dad's advice to follow a snow plow when caught in a blizzard.
The driver replied that it was OK with him, and she could continue if she wanted, but he was done with the Wal-Mart parking lot and was going over to Kmart next.
---
ZOOLOGY
Doctor Dave had sex with one of his patients and felt guilty all day long. No matter how much he tried to forget about it, he couldn't. The guilt and sense of betrayal was overwhelming.
But every once in a while he'd hear an internal, reassuring voice that said: "Dave, don't worry about it. You aren't the first doctor to sleep with one of their patients and you won't be the last. And you're single. Just let it go."
But, invariably, another inner voice would bring him back to reality, whispering: "Dave, you're a veterinarian!"
---
$20 WORTH
A woman was sitting at a bar enjoying an after work cocktail with her girlfriends when an exceptionally tall, handsome, extremely sexy middle-aged man entered. He was so striking that the woman could not take her eyes off him.
The young-at-heart man noticed her overly attentive stare and walked directly toward her. Before she could offer her apologies for so rudely staring, he leaned over and whispered to her, "I'll do anything, absolutely anything, that you want me to do, no matter how kinky, for $20.00……on one condition."
Flabbergasted, the woman asked what the condition was. The man replied, "You have to tell me what you want me to do in just three words."
The woman considered his proposition for a moment, then slowly removed a $20 bill from her purse which she pressed into the man's hand along with her address. She looked deeply into his eyes and said slowly, with feeling…"Clean my house."
---
A FEW THINGS WE'VE LEARNED…
People who live in glass houses should make love in the basement.
Never read the fine print. There ain't no way you're going to like it.
The trouble with bucket seats is that not everybody has the same size bucket.
To err is human, to forgive – highly unlikely.
Do you realize that in about 40 years, we'll have thousands of old ladies running around with tattoos?
Money can't buy happiness — but somehow it's more comfortable to cry in a Porsche than in a Hyundai.
Living in a nudist colony takes all the fun out of Halloween.
After a certain age, if you don't wake up aching in every joint, you are probably dead.
---
DOGGONE SMART
A local business was looking for office help. They put a sign in the window saying:
HELP WANTED
Must be a good typist and be good with a computer.
Successful applicant must be bilingual.
We are an Equal Opportunity Employer.
A short time later a lovely golden retriever dog trotted up to the window, saw the sign and went inside. He looked at the receptionist and wagged his tail, then walked over to the sign, looked at it, whined and pawed the air.
The receptionist called the office manager. He was surprised, to say the least to see a canine applicant. However, the dog looked determined, so he led him into the office. Inside, the dog jumped up on a chair and stared at the manager expectantly.
The manager said, "I can't hire you. The sign says you must be able to type." The dog jumped down, went to the typewriter and proceeded to quickly type a perfect business letter. He took out the page and trotted over to the manager, gave it to him, then jumped back up on the chair.
The manager was stunned, but told the dog, "That was fantastic, but I'm sorry. The sign clearly says that whoever I hire has to be good with a computer."
The dog jumped down again, went to the computer and proceeded to demonstrate his expertise with various programs, produced a sample spreadsheet and database, then presented them to the manager.
The manager was dumbfounded! He said to the dog, "Hey, I realize that you are a very intelligent applicant and have fantastic talent, but you're a dog — no way could I hire you."
The dog jumped down and went to the sign in the window and pointed his paw at the words, "Equal Opportunity Employer."
The exasperated manager said, "Yes, I know what the damned sign says. But the sign also says you have to be bilingual."
The dog looked him straight in the eye and said, "Meow."
---
THIS WEEK'S DUMB BLONDE JOKE
A blonde calls her boyfriend and says, "Please come over here and help me. I have a killer jigsaw puzzle, and I can't figure out how to get it started."
Her boyfriend asks, "What is it supposed to be when it's finished?" The blonde says, "According to the picture on the box, it's a tiger."
Her boyfriend decides to go over and help with the puzzle. She lets him in and shows him where she has the puzzle spread all over the table.
He studies the pieces for a moment, then looks at the box, then turns to her and says, "First of all, no matter what we do, we're not going to be able to assemble these pieces into anything resembling a tiger."
He takes her hand and says, "Second, I want you to relax. Let's have a nice cup of tea, and then …" he sighed, "Let's put all these Frosted Flakes back in the box."
About
This top-ranked site now has over 4,000 pages of humor, nostalgia, senior advocacy and useful information for seniors 50+. Updates weekly!
The daily e-zine for everyone over 50 who feels way too young to be old.
"...the perfect mix of Andy Rooney, Dave Barry, and Garrison Keilor, combining knee-slapping humor with useful information and genuine compassion."
Retired.com
"Thousands look to and trust Suddenly Senior. Other Websites pale in comparison to the real-life, intimate look into senior lives. What sets apart Suddenly Senior is its blistering honesty and its incomparable encouragement. Millions need guidance."
Suzette Martinez Standring
"Best Senior Site ever on the Web! Great, up-to-date information on how seniors can save money on drugs. Wonderful nostalgia. Hard-hitting senior advocacy pieces that get read in high places. Wonderful humor. It's all at Suddenly Senior."
Alexa.com
KUDOS
Now read by 3.1 million in 83 newspapers from Florida's St. Petersburg Times to the Mumbai, India News.