Simplified Senate Bill Includes More Seniors
Once again, the nation's in economic hot water. This time, blame our fiscal headaches on a hangover from the housing bubble and $100-a-barrel gasoline.
It's always something.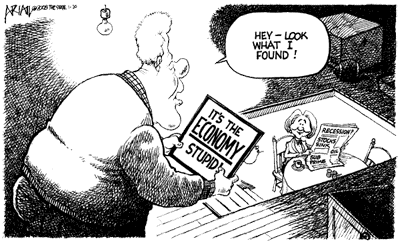 After the dot.com bubble popped back in 2001, President Bush chose to provide "free money" to stimulate the US economy. It happened again in 2003. I guess it worked; we're about to do it once again.
(Of course, the billions currently on the table aren't exactly free. They will be borrowed from those same foreigners who loaned us $850-billion in 2007 to pay for the war, etc. But who's counting? Washington must feel that our grandchildren will magically have the dough when it comes due.)
---
In 2001, even I got a $300 windfall, in spite of the fact that I am a senior on Social Security.
You see, most retirees got nothing. Nor did the millions of Americans earning minimum wage. Sure, they paid lots in payroll taxes, but both then and now Mr. Bush framed the stimulus as "income tax refunds," apparently to make certain those of us who need the cash most wouldn't get it.
And that makes no sense to me.
The whole idea of a consumer economic stimulus, we're told, is to get money as fast as you can to those who will spend it immediately.
For seniors, the average household spends a whopping 92 percent of income each year. That's more than any other group over age 25. Making this a slam-dunk is Social Security's promise to deliver the stimulus within six weeks, far quicker than the IRS can fill the bill.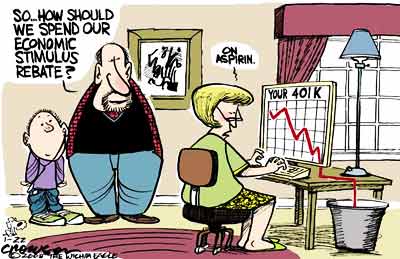 Piddling 2.3 percent cost-of-living increase allowed for 2008 by Social Security Trustees.
Because we're already taped out, we'd spend anything we got immediately on necessary items like utilities, food, and clothing. Instead, couples making $150,000 a year will get the full $1,200, plus $300 for each child. (See sidebar.)
And speaking of folks who won't stimulate the economy by spending all that much of their refund, currently, $50-billion in tax incentives will go to encourage businesses to spend money on new equipment. But think about it. If you were in business, would be spending big bucks on extra machinery when demand is already low?
Can someone explain all this to me? It's goofy!
Senate Rides to the Rescue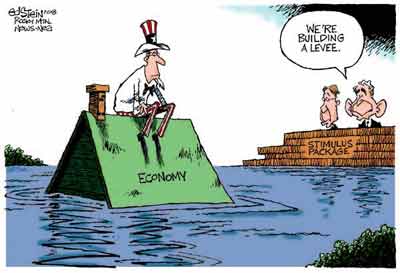 Luckily, the Senate has other ideas. According to Roll Call, the Senate Finance Committee will take up the bill this week, with the full Senate expected to complete work on the measure within 10 days.
As I understand it, the Senate bill under consideration provides $500 per individual and $1,000 per couple to all tax filers who report at least $3,000 in income for 2007. To get the Republicans to go along, there are no income maximums. The Senate would also extend unemployment insurance benefits and provide some additional business tax breaks.
Once again, we need to make our voices heard in Washington. Call your two senators and your representative now at (202) 224-3121, at (800) 828-0498, or (866) 340-9281.
It'll take 10 minutes. And each of us stands to gain at least $500 bucks with which to help our economy.
Call Washington now! Get the money. Stimulate the economy. Enjoy!
AARP LATE TO THE TABLE
As the President's plan ignores about 20-million of their members, AARP probably will be joining us in pushing for greater senior participation.
I say "probably" because you never know with AARP. During a long, embarrassing lapse last week, the only place stimulus package was found on the AARP Website was the following exchange at their Issues and Elections Message Board:
What about Senior Citizens? We have many of the same financial problems as others. In reading the proposals, the DC idiots have worked out we are not even considered at this point. Who is standing up for us???

Who is standing up for us??? Supposedly AARP.

Yeah, right…..And I got a bridge in Brooklyn for sale… All-cash offers only!
WHO GETS WHAT – NOW?
HOUSE VERSION: Driven by what the Wall Street Journal calls "fears of voter backlash," this $146-billion election-year boost provides taxpayers with taxable earnings (including pensions but not Social Security) of more than $3,000, $300 per person or $600 per couple, plus $300 per child.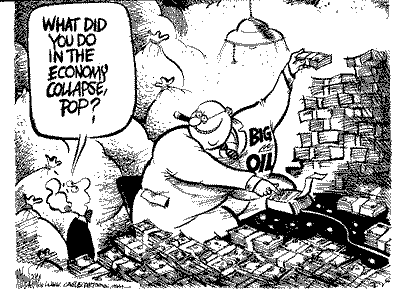 Individuals with incomes high enough to owe income tax could get rebates of up to $600 and couples $1,200. Those with dependent children would get an additional $300 per child. Full rebates would be available for individuals with adjusted gross incomes of up to $75,000 a year, and couples with incomes of no more than $150,000. Those with dependent children would get an additional $300 per child.
For example, a married couple with two kids and earnings between $3,000 and $25,000 would receive a payment of $1,200. Above that income level, the couple would begin to benefit from the portion of the rebate available only to those with income tax liability, and at an income of about $31,000, they would be eligible for a full rebate of $1,800.
SENATE VERSION: Taxpayers with taxable earnings of more than $3,000, from Social Security, pensions, or whatever, would be eligible for $500 per person or $1,000 per couple, plus $300 per child. No maximum limits to income. Total cost: $156-billion.
---
UPDATE…
IRS has news in the mail for you that you won't mind getting
By Andrea Coombes, MarketWatch
Feb. 28, 2008
SAN FRANCISCO (MarketWatch) — You're about to get a letter from the Internal Revenue Service, but don't worry. This one's not an audit.
The IRS said Thursday it will soon start sending letters to more than 130 million Americans to tell them they need to file a tax return if they want to receive their stimulus-package payment.
The informational letters — you don't need to respond to them — will "remind people that they won't need to do anything more than file a 2007 tax return in order to put the stimulus payment process in motion," said Linda Stiff, acting IRS commissioner, in a press release.
The IRS will start sending letters in March. They'll go out in three weekly batches to taxpayers who filed a return last year. For a sneak peek of what the letter will look like, click on the link in the IRS announcement today. See the IRS press release.
Among other things, the letter states that "to receive a payment in 2008, individuals who qualify will not have to do anything more than file a 2007 tax return. The IRS will determine eligibility, figure the amount and send the payment."
But, the IRS warned, some people will need to take an extra step: Recipients of Social Security and veterans' benefits often don't file a tax return, but they will need to do so this year if they want their rebate check. The IRS will send a special letter in late March to some beneficiaries to alert them to this fact.
"In order to receive a stimulus payment, people in this group need to file a tax return if they have at least $3,000 from a combination of certain Social Security benefits, veterans' benefits and earned income. The minimum stimulus payment for these people is $300 ($600 for married filing jointly)," the IRS said in its press release.
Senior Citizen Contest
Win Our $1k Grand Prize
Weekly prizes awarded
About
This top-ranked site now has over 4,000 pages of humor, nostalgia, senior advocacy and useful information for seniors 50+. Updates weekly!
The daily e-zine for everyone over 50 who feels way too young to be old.
"...the perfect mix of Andy Rooney, Dave Barry, and Garrison Keilor, combining knee-slapping humor with useful information and genuine compassion."
Retired.com
"Thousands look to and trust Suddenly Senior. Other Websites pale in comparison to the real-life, intimate look into senior lives. What sets apart Suddenly Senior is its blistering honesty and its incomparable encouragement. Millions need guidance."
Suzette Martinez Standring
"Best Senior Site ever on the Web! Great, up-to-date information on how seniors can save money on drugs. Wonderful nostalgia. Hard-hitting senior advocacy pieces that get read in high places. Wonderful humor. It's all at Suddenly Senior."
Alexa.com
KUDOS
Now read by 3.1 million in 83 newspapers from Florida's St. Petersburg Times to the Mumbai, India News.