For more than 50 percent of men over age 60 and as many as 90 percent of men over the age of 70, that is the question.
You guys know what I mean.
When you can't pee, always feel like peeing, get up a dozen times a night to pee – suddenly life's all about peeing.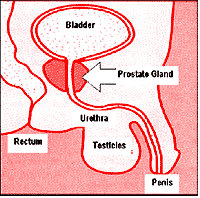 I'd always heard the legs go first. Turns out our plumbing rusts up and springs leaks way before our legs even think about folding. (Why nature pulls such tricks on us old goats is puzzling. May I suggest that she, instead, restore our hair and sharpen our hearing?)
My "going problem" began about 10 years ago. Up three, four, five times a night, my doctor prescribed Hytrin, a drug designed to both relax my prostate and lower my blood pressure.
What more could a geezer ask?
Except, after a couple of years, I was back to where I started, only now dependent on Hytrin. I tried other medications. One, appropriately named Flomax, comes to mind because, while frequent urination is one symptom of an enlarged prostate, weak stop-and-go urinating is another.
Hurry up and wait. I didn't like it when I was in the Army; I certainly didn't like it lingering in front of a commode.
About five years ago, my urologist suggested that it wasn't my growing prostate but my shrinking bladder that was crimping my peeing style. Stretching my bladder by gorging it with water sounded bizarre to me, but who knew? I trusted doctors back then. And the doctor said, "Piece of cake. You'll be out be noon."
Never Pass Up a Toilet
Three days and about a dozen painful, often bloody catheterizations later, I was still in the hospital. My bladder may have been fat and manly again, but the front end of the system was having none of it.
After the bladder-bloating blunder, I adopted a live and let live attitude with my enlarged prostate. We came to a mutual understanding: it wouldn't cause embarrassing leaks and I wouldn't pass up a toilet. Ever.
Then last September, badly in need of a good night's sleep, I read about GreenLight PVP laser prostate ablation, otherwise known as roto-rooting. "Piece of cake," my new urologist told me.
Right then, I should have been wary. Instead, I had the operation and, indeed, was home the same day.
Sure enough, after a day or three of peeing barbed wire, I felt pretty good. Though abbreviated, my stream once again was strong and steady. Still, the frequency problem remained.
My doctor explained that my bladder didn't yet know that the prostate had been reamed. I'd continue urinating more often than I'd like until the bladder caught on.
One week into recovery, for the first time in my life I came to regret that I was born a man. Intense pain while urinating, more frequent urination than ever – one night I counted 14 trips to the bathroom – and trigger-quick urgency. I mean Hopalong Cassidy quick!
My urologist pronounced all this normal, He prescribed an antibiotic that, it turned out, screwed with the DNA of my bacteria causing 192 hours of intense night-and-day diarrhea.
No longer was I concerned about getting up and going to the bathroom. I sat there all night long.
At one point, my primary physician sent me to the emergency room to get hydrated. Long story short, nurses inserted an IV but no liquids. Too busy, they said, even to get me a glass of water. After six hours, I checked out AMA. (I'm still fighting that bill.)
Today, three months after the roto-rooting., although there's no more pain and my stream is strong, albeit brief, I still must get up four to six times every night to pee.
I've tried drawing pictures for my bladder, even shouting into the tube. But with no improvement still, I've concluded that I must have the dumbest bladder on the planet.
What does this mean for all you guys who asked me to report on this somewhat drippy subject? I honestly don't know. My advice is (1) find an urologist you can trust, if there is such an animal, (2) learn as much as possible on the subject, and (3) pray for a brighter-than-average bladder.
And since you ask, my sex life is just fine, thank you very much. I'd say more but you must excuse me. I've got to go.

For others in this series, go to "The Real Truth About Getting Old"
About
This top-ranked site now has over 4,000 pages of humor, nostalgia, senior advocacy and useful information for seniors 50+. Updates weekly!
The daily e-zine for everyone over 50 who feels way too young to be old.
"...the perfect mix of Andy Rooney, Dave Barry, and Garrison Keilor, combining knee-slapping humor with useful information and genuine compassion."
Retired.com
"Thousands look to and trust Suddenly Senior. Other Websites pale in comparison to the real-life, intimate look into senior lives. What sets apart Suddenly Senior is its blistering honesty and its incomparable encouragement. Millions need guidance."
Suzette Martinez Standring
"Best Senior Site ever on the Web! Great, up-to-date information on how seniors can save money on drugs. Wonderful nostalgia. Hard-hitting senior advocacy pieces that get read in high places. Wonderful humor. It's all at Suddenly Senior."
Alexa.com
KUDOS
Now read by 3.1 million in 83 newspapers from Florida's St. Petersburg Times to the Mumbai, India News.