Yesterday, as former Sen. Bob Dole told bewildered neighbors here not to listen to those who say the new Medicare plan drug program is confusing. I was befuddled, overwhelmed, and finally mind-numbed by this most fiendishly complex can of worms that ever wiggled.
I would so like to see Dole brave these swamps. But then, the good senator has a far simpler program. It pays for everything.
Ours should be so simple. It would be cheaper.
Instead, I went to Medicare.gov, entered the drugs I'm using, and…
"No plans were found to have ALL the drugs you selected on their formulary. The following 287 plans have some of the drugs you selected on their formulary."
Humana alone has 36.
I click on. It takes me twenty minutes just to decode the acronyms.
Then it gets tricky.
As far as I can tell, Medicare has decreed that no two plans can be similar or comparable. This $800-billion fiscal fiasco is a mystery inside an enigma wrapped in a conundrum.
Each drug in each plan has its own restrictions: "Formulary Status" (Tier 1, Tier 2, or Tier 3), "Prior Authorization," "Quantity Limits," and something called "Step Therapy."
Don't ask.
If that weren't confusing enough, deductibles vary from zero to $250, and no two copays cost the same. The devil himself could not have devised a more complicated, more bewildering method to compare a meager list of drugs.
Insurance companies could. And did.
I start looking for the fewest restrictions.
About two hours and 30 plans later I'm ready to kill. I need IBM's Big Blue computer, the one that won all those chess games.
Heck, I need an AK-47!
Triple Martini, Please
My wrist is sore, my carpel tunnel screaming. Eyes blurred, neck cramped, and backbreaking, I attempt to recall my own name just as Medicare's site goes blank. And when I try, thank God I can't get back on.
How I wish I were a drinking man.
But instead of a triple martini, I call Medicare – 1-800.663.4227 – to get help from a real human being.
Hopefully.
After recorded messages ("Simply choose the one best meets your needs, blah, blah, blah…") finally asking me to go to Medicare's Internet site for faster service, Latoya comes on the line, wanting my name, address, Medicare number, and a bunch of other stuff.
She may be intrusive, but she's the first human voice I've heard all day. And she's there to help.
I want to ask her to marry me. Instead, I bore her with my drug list.
Latoya brightens. "I have Humana PDP Complete with a zero deductible, a $61.70 monthly premium and a monthly cost share of $130.53."
Hey, that's less than $200 a month! "But what about the gap, the $2,850 out-of-pocket "donut hole?" I ask.
"Huh?"
"You know, that woeful netherworld of coverage from $2,250 to $5,100?"
What?"
I decide not to ask about local drug store availability.
The second plan has a $250 deductible, $10.35 premium and $131.63 monthly cost share. The third, a $100 deductible, $45.89 monthly premium and $126.97 monthly cost share.
Then there was a pause.
"What's next?" I ask.
Turns out Latoya can give me only three of the 287. I plead for another. "But what if the next one is better than the first three?"
No way, José. Three's the limit. "But you might want to call your local State Health Insurance Assistance Program (SHIP)," says Latoya. "But call before January 1st or you'll pay a big penalty."
Just as I am about to correct her, Latoya mutters, "Oh my God! My computer is down. Everybody's computer's down! Oh my God!"
That's the experience Senator Dole declares not confusing. And he's right. It was just stupid.
Drug Prices Changing Already
After months of false starts, false statements, and false promises, we now have a false program, the only understandable part of which states that if you don't sign up by May 15th you will be hit for the rest of your life with a penalty of one percent for every month's delay.
Also, to keep the game interesting, it's like a pari-mutuel: prices for some specific drugs offered by some plans actually changed between last Friday and Monday.
At this point, isn't it clear why America's healthcare system spends more, for worse results than that of any other advanced country in the world?
Bob Dole would tell you not to listen to that, either.
---
HERE'S MEDICARE PLAN HELP
Do what Medicare told me to do: get help from SHIP. Call (800) 677-1116 and ask for health insurance counseling.
Learn your options at https://advocacy.consumerreports.org/. Download an AARP booklet at www.aarp.org/bulletin or check out www.medicarerights.org.
Compare with Canadian drug store prices at any of the advertisers in Canada: Your Prescription for Lower Drug Prices. After careful calculations, I've found buying in Canada is still my cheapest option.
Compare plans. Take a look at ratings, profiles, and discussions about Medicare drug plans.
See what you'll pay. This Kaiser Family Foundation calculator allows users to enter their prescription drug costs to determine what they will pay under the standard Medicare prescription drug benefit.
Whatever you do, don't rush into this program! There's plenty of time.
Sponsored Links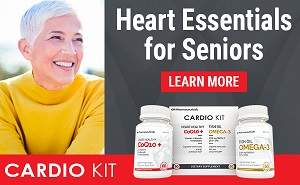 Cardiologist Developed and Recommended
---
Your link could be here.
About
This top-ranked site now has over 4,000 pages of humor, nostalgia, senior advocacy and useful information for seniors 50+. Updates weekly!
The daily e-zine for everyone over 50 who feels way too young to be old.
"...the perfect mix of Andy Rooney, Dave Barry, and Garrison Keilor, combining knee-slapping humor with useful information and genuine compassion."
Retired.com
"Thousands look to and trust Suddenly Senior. Other Websites pale in comparison to the real-life, intimate look into senior lives. What sets apart Suddenly Senior is its blistering honesty and its incomparable encouragement. Millions need guidance."
Suzette Martinez Standring
"Best Senior Site ever on the Web! Great, up-to-date information on how seniors can save money on drugs. Wonderful nostalgia. Hard-hitting senior advocacy pieces that get read in high places. Wonderful humor. It's all at Suddenly Senior."
Alexa.com
KUDOS
Now read by 3.1 million in 83 newspapers from Florida's St. Petersburg Times to the Mumbai, India News.