Seniors are mad as hell today and I don't blame them. Every day I get between 35 and 75 e-mails from readers complaining about the new Medicare Plan D. And every day, after reading and answering this e-mail, I'm so furious that, to simmer down, I must go for a long walk or a hard swim.
This may be good for my health, but not for our country. I can't tell you how many times I've read: "Why don't they just kill us all off when we reach 65?"
Plan D's red tape has most readers hogtied. The insurance companies have more ways to restrict access to needed medicine than the drug companies have alibis for raising prices.
Insurance company-set dosage and quantity limits below prescribed measures leave patients struggling to learn if their dose is even effective.
Required "prior authorization" stops many, cold turkey, from taking drugs their doctors say are vital for chronic conditions.
Others, searching for the cheapest place at which they are authorized to buy their drugs, run smack into the "price paradox," one of many Catch-22s of Plan D. So-called "preferred" pharmacies will not provide price quotes without actually filling the prescription.
Meanwhile, patient assistance programs that provided millions of lower-income seniors with cheap and free medicine have dried up, the drug makers claiming that such life-saving measures are no longer needed because of Plan D.
Names are "not in the system." Codes don't work. Literally, hundreds of Suddenly Senior readers have yet to get any medicine from the private insurance provider they signed up with. Most often, these poor folks can't even get a human being at their new insurance companies to talk to them.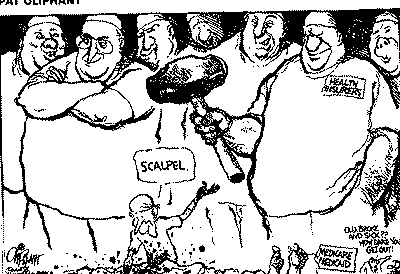 Of course, this would be just another government folly if the consequences weren't so dire. For many seniors, it seems that our health system has been turned over to trolls interested only in their growing pots of gold.
Indeed, it has. But we knew that in 2003 when the drug bill passed.
Written by Big Pharma, it prohibited Medicare from bargaining for cheaper prices as the Veterans Administration does so successfully. In fact, Plan D prohibited Medicare from having anything to do with it, putting the drug program under the thumbs of the insurance trolls instead.
Seniors Not Dumb, Just Passive
Then Congress lied to us. The president lied to us. AARP lied to us. Everyone in Washington told us this was the best benefit since free air.
These folks must believe we seniors are dumber than dust bunnies.
But you know, we're not as dumb as we are passive. And although we knew we were getting screwed – that under Plan D the entire country (our children, grandchildren, even the unborn) is getting fleeced to tune of trillions of dollars – we would have gone along with the program, donut hole and all, if the insurance companies hadn't gotten so blinded by greed that they resisted giving back anything at all in return.

From the beginning, they connived to bamboozle us with different monthly premiums, different drug formularies, different co-payments, different prices, different benefit levels, exceptions and terms that simply couldn't be compared.
Instead of choice, we got chaos. All muddled even more by weekly price and formulary changes. And when frightened by artificial and punitive deadlines, many finally made a crapshoot choice; it turned out it didn't matter.
The insurance companies must have agreed, "Gee, we got away with this so far, why not push it all the way? Let's not give them anything for their money."
So I get hundreds of emails daily from seniors exasperated by the wanton gall of it all.
Yet this time Washington's clowns and cretins may have overstepped. It's my sense that seniors are "mad as hell and aren't going to take it anymore." And like an old bear who'd rather be left alone, 37-million American seniors are slowing rising off their haunches, stealing for an attack.
If there's anyone left in Washington uncorrupted, compassionate, and moral, let him or her stand by us now.
We seniors may be the only ones around who still remember what democracy is all about. Come November, we plan to teach you all a lesson in government of, by, and especially, for the people.
---
The Alliance for Retired Americans says, "If Medicare were allowed to negotiate drug prices directly with the pharmaceutical industry, and if Medicare offered the drug benefit directly rather than private insurers, the combined savings would be more than $600 billion from 2006 to 2013.
Instead, the current structure of the 2003 Medicare Modernization Act will add more than $800 billion to the cost of prescription drugs over the next 10 years." The Alliance urges Congress to enact legislation to improve the Medicare Part D Rx Drug Program for the 43 million Medicare beneficiaries.
Improve the Medicare Part D Rx Drug Program
Improvements should include the following:
Repeal the prohibition against Medicare (the federal government) negotiating drug prices on behalf of all Medicare beneficiaries. Pass legislation to give Medicare the authority and duty to negotiate prices with pharmaceutical manufacturing companies. This is essential to reducing the overall cost of the program, and to prevent windfall profits to drug companies.
Use savings to fill the so-called "extra help" or gap in coverage between $2,250 and $5,100 in drug costs to consumers.
Eliminate the asset test for low-income recipients to receive the extra help.
Prior to May 15, 2006, eliminate or delay the penalty for late enrollment in the program.
Pass legislation to allow Americans to purchase drugs from Canada and other countries with high-quality standards.
Delay the enrollment of dual eligibles for one year to avoid major issues of access for very low-income persons. These people would continue to receive assistance from Medicaid.
Provide every Medicare beneficiary the opportunity to make a one-time change in plan enrollment at any point in 2006.
Allow retirees with employer-provided benefits the change to correct enrollment mistakes in 2006.
Provide the Part D Rx benefit through Medicare (similarly to Part A and Part B), not through private insurance companies. The use of insurance companies has made the program much too complicated by allowing different monthly premiums, different drug formularies, different co-payments, different prices, different benefit levels, etc.
Eliminate the prohibition against people being able to purchase Medigap insurance to cover the gaps in drug coverage.
Develop minimum requirements to assure that most drugs are available in all plans.
Develop incentives to assure that the vast majority of local pharmacies participate in the program.