You know folks; it's getting lonely under the bus these days.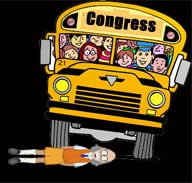 After Congress threw us geezers under the bus by denying us any increase in our Social Security payments, this year I figured we might have a few of them to share the space with us, since they claimed they were doing the same by not taking the automatic pay raise they have handed themselves year in and year out.
Ying for Yang sounded good to me so I settled down for a nice nap under the gas tank. Being a keyboard addict I took my old Mac laptop with me just to log on and read the mail from time to time.
The other day I punched up my frequent dose of statewide economic and business news, to find a story in the South Florida Sun-Sentinel by reporter Sally Kestin (Florida Congressmen spend tax money on luxury cars, high salaries and perks) that came close to causing me to kick the jack out from under the bus and do myself severe bodily harm.
It seems Sally Kestin had done some digging and turned up some interesting facts about our free-spending members of Congress, particularly those from here in Florida. For sure, they passed up their salary increase, but even after using the lack of inflation as an excuse to throw all the seniors in this country under the bus, they gave themselves a 5% increase in spending on their expenses.
One would think, if there was no need for a Social Security increase because we geezers weren't having to pay more for things this year than last, then there would be no need to set aside more of our tax dollars to pay for the operating expenses of our Congresspersons' offices.
Therein lies the rub, though. Congresspeople don't count money like we do. They know no limits. They see no need for balance between what they impose on us and what they scoop up for themselves.
My favorite of all extravagant Florida members of Congress, as Kestin cited in her story, is one of my old favorites from my news days. U.S. Rep. Alcee Hastings, a Democrat from South Florida, once served as a judge until he was impeached and removed from the bench prior to running successfully for Congress.
In spite of the "so-called" Congressional salary freeze this year, Hastings handily increased his income by simply upping the salary of his girlfriend (once his attorney in his struggles to hold on to his judgeship, she was later disbarred) — to $160,000, topping off an increase of 30% in her pay as one of his officers workers over the last three years.
Hastings gets $174,000 a year salary as a Congressman and as a member of the House of Representatives is entitled to an additional $1.5 million in expenses of which he manages to spend at least 95 percent of it each year. Hastings is Florida's top spender among its Representatives.
He has plenty of company in frivolous spending through:
Treasure Coast Republican Tom Rooney charges taxpayers about $2,500 to maintain an aquarium in his office and then lets taxpayers cough over another $600 for bottled water to keep his fish happy.
North Florida Democrat Corrine Brown uses a chauffeured Lincoln Town Car and an SUV to get around charging about $8,000 a year to her office expenses for the rides.
Many of our Congresspeople lease cars rather than buy them and charge the leases to the taxpayers — someone or two cars in Washington and one or two at home. Under a government mandate to "Buy Green" they generally lease cars for several hundred dollars a month more than the average taxpayer could pick them up.
Adding to the cost of car leasing passed on to taxpayers by members of the House of Representatives is that they can only lease them for the length of their present term — two years — and the shorter lease significantly increases its monthly cost.
No one in Washington seems to know how to take a taxi or the subway to and from the airport anymore. They all need limos or gas-guzzling SUVs and why not? They just send the bill for them to the taxpayers.
I've dwelt too long on our free-spending Florida politicians but not many other states can say their Congresspeople — on either side of the aisle — are doing any better. The total cost of the 5% increase in Congressional spending allowances this year is estimated to cost taxpayers another $50 million.
I know, I know, a pittance compared to the spending spree Congress has been on over the last year, but still some extra bucks that could have been used to keep a few more geezers going.
Our elected officials just do not know how to hold the line on any spending. If they can convince us they have held the line in one category, they find a way to make up the difference from another: Hold the line on salary, make up the loss from expenses.
I had expected some more company under the bus by now, but even when our Congresspeople get caught with their hands in the cookie jar, or doing some other dastardly deed, all they ever get is a hand slap and an invite to the White House to see how much it will cost to buy their vote for whatever issue needs to be rammed through next.
It's getting kinda lonely down here under the bus!
---
About the Author
Dave Whitney is a retired journalist and adventurer who has won many writing awards. He was born and raised in central Ohio, attended school in Missouri, served in the US Army Security Agency, and migrated to Florida a half-century ago. Author of four books, he is a former Associated Press writer/editor and has been nominated three times for the Pulitzer Prize during his writing career. As editor and founder of the Free Press newspapers in the Florida Keys, he was the first publisher to pick up Frank Kaiser's "Suddenly Senior" column when it entered syndication. Whitney currently resides in Lakeland, Fla., after living 25 years in the Florida Keys.
Sponsored Links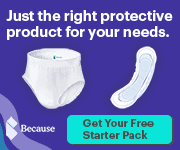 ---
Your link could be here.
About
This top-ranked site now has over 4,000 pages of humor, nostalgia, senior advocacy and useful information for seniors 50+. Updates weekly!
The daily e-zine for everyone over 50 who feels way too young to be old.
"...the perfect mix of Andy Rooney, Dave Barry, and Garrison Keilor, combining knee-slapping humor with useful information and genuine compassion."
Retired.com
"Thousands look to and trust Suddenly Senior. Other Websites pale in comparison to the real-life, intimate look into senior lives. What sets apart Suddenly Senior is its blistering honesty and its incomparable encouragement. Millions need guidance."
Suzette Martinez Standring
"Best Senior Site ever on the Web! Great, up-to-date information on how seniors can save money on drugs. Wonderful nostalgia. Hard-hitting senior advocacy pieces that get read in high places. Wonderful humor. It's all at Suddenly Senior."
Alexa.com
KUDOS
Now read by 3.1 million in 83 newspapers from Florida's St. Petersburg Times to the Mumbai, India News.