I called my Congressman's office today. I wanted to learn how he's coping with his Congressional drug plan.
You see, if I sign with the new Medicare drug plan, my donut hole – the amount from $2,250 to $5,100 where there's absolutely zero drug coverage – is $2,850 out of my pocket. [In 2009, that hole amounts to $4,350.]
I wanted to know how big my Congressman's donut hole is.
My Representative, Mike Bilirakis, as Vice-Chair of the Energy and Commerce Committee, was key to getting Plan D passed. His committee is the funnel through which all such bills must travel.
Perhaps that's why, according to opensecrets.org, the health and pharmaceutical industries have given Mike over a million bucks in legal bribes, all part of Big Pharma's $108.6-million in Congressional payola four years back to assure that Medicare couldn't bargain drug prices. A small price to pay, don't you think, for the $140-billion in windfall profits Plan D is expected to dole out to drug companies in the next 10 years.
But I digress.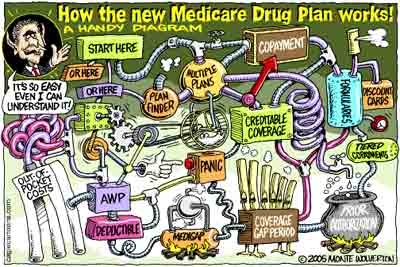 I also wanted to find out from Mike how many drug plans he has to choose from. I figured he might have expert advice for constituents like me, baffled by the promiscuous offerings of over 40 providers here in Florida.
Plus I wanted to ask how often Congressional insurance changes its drug formulary. Under Plan D, they change more often than gas pump prices in a Mideast crisis. I wondered, too, if Mike had to pay out of pocket, like we do, for drugs he needs that aren't supported by his plan.
But when I called, instead of any answers, Shirley in his office asked sternly, "Why do you want to know?"
I explained that just maybe Mike had a simpler, cheaper plan than that available to me, and I wondered how it worked.
Well, I've never been told so nicely that it is none of my damned business.
Retire on $85,000 a Year?
Turns out that Congressfolk gets health coverage through the Federal Employees Health Benefits Program, considered a model by even fiscal conservatives. In 2000, a Congressman and his family paid about 160 bucks a month for complete coverage, the low price thanks to a huge subsidy ironically dubbed "Fair Share."
Congress also has three state-of-the-art Attending Physician's facilities in the US Capital. And superb outpatient/inpatient care at the unofficial Congressional wings of the famed Walter Reed Army Hospital and Bethesda Naval Hospital.
Nice plan, indeed, and no donut hole.
But Congress is different from you and me, with its House and Senate gymnasiums, barbershops and beauty salons, subsidized life insurance, and a pension benefit 2-3 times more generous than what a similarly-salaried executive could expect to receive upon retiring from the private sector. (Congressman Mike will get about $85,000 a year, plus COLAs when he retires after this term.)
All this, plus $174,000 a year [2009] with generous automatic annual raises.
What's wrong with this picture?
Founding Father James Madison wrote, "[I]t is essential to liberty that the government, in general, should have a common interest with the people, so it is particularly essential that [Congress] should have an immediate dependence on, and an intimate sympathy with, the people."
With the average American earning about $35,000, Madison must be spinning at the idea of Congressional salaries in the very top 5 percent. And these guys and girls don't even fill out their own tax returns. The IRS does it for them.
How can we expect Medicare's new Plan D to reflect reality when our representatives in Washington have no stake in it themselves?
So here's my modest proposal: That all present and former government officials receive their health care under the exact same program the rest of us have.

Doesn't matter what you call it. The CRAP (Comparable Rights for All People) Act of 2006, for all I care. Main thing: Do it!
If we get donut holes, they get donut holes. It's that simple, that fair.
I'd call my Congressman for his opinion on all this, but frankly, I get the feeling that his office doesn't want to know how I feel. It may just take an act of Congress to change their minds.
About
This top-ranked site now has over 4,000 pages of humor, nostalgia, senior advocacy and useful information for seniors 50+. Updates weekly!
The daily e-zine for everyone over 50 who feels way too young to be old.
"...the perfect mix of Andy Rooney, Dave Barry, and Garrison Keilor, combining knee-slapping humor with useful information and genuine compassion."
Retired.com
"Thousands look to and trust Suddenly Senior. Other Websites pale in comparison to the real-life, intimate look into senior lives. What sets apart Suddenly Senior is its blistering honesty and its incomparable encouragement. Millions need guidance."
Suzette Martinez Standring
"Best Senior Site ever on the Web! Great, up-to-date information on how seniors can save money on drugs. Wonderful nostalgia. Hard-hitting senior advocacy pieces that get read in high places. Wonderful humor. It's all at Suddenly Senior."
Alexa.com
KUDOS
Now read by 3.1 million in 83 newspapers from Florida's St. Petersburg Times to the Mumbai, India News.