Newark Ohio's Class of 1953 had two functions for its Big 50th Reunion, an outdoor informal mixer and a country club dinner dance.
I hit both. What a wonderful time. Best of all, I figured out some reasons why I love these people so extravagantly, and probably will forever, why the hell nobody seems to forget high school.
Yeah, there's college for some after high school, and maybe frats and sororities, and then there's service and job experiences and a hundred other groups but these all pale before the high school experience. We can join a lot of groups but none of them are as memorable as this one. High school's the mother lode of group memories. It's the imprint and paradigm because that's where the roots are; and for all time, that's the real connection. Face it, where we went to high school, well, that's home, the site of our coming of age and where adult life started. And the people? These are the indelible faces of those you started life with.
The informal meet was held in a large picnic house by this winding little creek all tucked up and away in one cool Central Ohio country lane with big Maples spread out and shading a half-open block and roofed party house. To get there you had to cross little bridges going over the creek and wind up and around roads that split and turned with enough quirks to puzzle a native with a map.
Cash bar and a simple picnic buffet, nothing fancy. I drove up and parked smack dab at the entrance and everybody waved and nodded.
I was a tad rebellious and yes, well, this label doesn't mean diddly squat now. But it was big in the '50s what with Marlon Brando and James Dean and Jackson Pollock and Elvis. You see in the 50's conformity was all around us like a straight jacket and the label "rebel" had imported. We liked Ike but face it, he was dull. The world is beyond all that now but I can say for a fact sin was a lot more fun when sex was prohibited and dirty and there were some real taboos to break. Kids today can't get that. But I digress. The joy of this whole reunion is to be there and celebrate life lived with those who still stand above turf rather than those below it. This is the time not to rebel but to savor.
I'm swimming in a sea of nostalgia
There my classmates were in the flesh and it didn't matter anymore who drove the big car and who had the big house or who had gathered titles or didn't; there was just this incredible love chattering back and forth and hit ratatattatted around you like a boxer hitting a speed bag. Nobody gave a damn about much except they were glad they and you survived and we got to see one another again. We swapped memories and pulled out pics of grandchildren.
It was great. One guy said, "I'm swimming in a sea of nostalgia" and so it was. People surged up into my face in waves remembering this and recalling that and everywhere that roiling sea was around us. We drowned in it, drinking down the fine salt taste like some damn magic potion. And we all got drugged because instead of seeing gray hair and fat and wrinkles we lived also in that world where we saw ourselves as sleek joyous boys and beautiful buxom maids because it was right there, too, it was living before us in our own memories and in the hundreds of memories in the minds running movies all around us. So we relived the good times with those we loved or lusted after 50 years ago, now before us, and glad to see us. And to be quite frank, back at that early age, there was real confusion as to what was lust and what was love and if there was or even could be a difference, or hell, even a separation.
Damn it was fine, standing in a perfect Central Ohio July night, sucking up the rare intoxicating wine of remembrance, taking pleasure even in people you never really knew and hadn't seen for all 50 years but overwhelmed now with their being there and happy they survived and knowing so well what experiences they shared and recalling, hey, I remember the paper he did in junior English, or hey, weren't you the guy who loosed that horrendous fart in French class during final exam? Yes, we trotted out all those happy joys.
And so we burbled on through the night, flitting from table to table, sucking the marrow of the very bones of memory and loving every morsel of it.
Yet, back on the back wall, there was this reverent roster of the dead. It was black-bordered and I missed seeing it but the friend who told me about it the next night described it. I then asked, "Did you read it?" and he said "No," because it spooked him and he didn't linger over what was already a big list because, "Hell, for all I know what's on there might be catching."
He's right, of course, death is here with us as we push up toward 70 and there's no denying it. I know for a fact the man who's spooked about reading the roster has a serious date with his urologist about prostate troubles in a matter of days. The list of incurable and chronic and fatal diseases among us is staggering. A lot of the guys when we ran out of stories just compared cardiac rehabs.
It's there, all right, the knowledge that time is running out and most of the good stuff is behind rather than forward; but for now, for blessed now, there's just laughter and a swim in memories and chugging down the joy of life lived and the swimming in the even greater joy of our early lives together remembered.
The next night at the formal dinner/dance every member of the class stood up and told a little about themselves and where they lived and introduced their significant other, if present, and after a hundred or so it was hard to hear the girls and even the boys got muffled because as much as we wanted to hear, there was just one more secret to share with the guy to the left or with the girl to the right.
One poor devil almost forgot his wife's name when he tried to introduce her and that caused some hoots. Another claimed he'd divorced two wives, had two children and now all he had left was the kids. Of course, they had to be near 50. One of our more comely girls trotted out her new husband "after several others." One wag began with, "My name is Tom, and I'm an alcoholic." He wasn't of course but there were four of us who were admitted alcoholics and three of them had done professional counseling so, to get even, one of us went up and offered to take him to a meeting.
After dessert as the band warmed up, I talked with a lawyer friend with whom I was sent to Chicago and Cincinnati as "honor" students participating in mock government exercises. He attended meetings in Chicago and I simply got drunk and tore up the place. Chicago didn't mind. He, too, recalled Minsky's Burlesque and me was surprised he'd gone. And when I inscribed one of my books for him (The organizing reunion committee had allotted me space and set up a table for me with a big sign, "Ted" Beardshear, Famous Author. It was so sweet. So I plopped down copies of my latest work, Some Die Mad, and schmoozed, which was the important part, and sold a few books to those who needed an autographed doorstop if nothing else). So on the inscription, I thanked him for bailing me out in Cincinnati. His face lit up because he remembered that trip too. He went to meetings and I again got drunk and tore up the place.
Cincinnati didn't mind. What I did mind was that I went across the river and played poker in a whorehouse in Covington, Kentucky. Back then the town was wide open. The game was run under the watchful eye of a small Italian man with a huge 45 cannon in a shoulder holster. After you're broke it's kind of hard to rent a fat woman so I went back to Cincy. The cannon dissuaded me from tearing up the place. Well, he lent me money to buy aspirin and Alka Seltzer for a hangover and some breakfast on the train home. His wife was somewhat surprised at all this convention activity but he didn't mind because he'd gone to the meetings. Or so I thought until he started talking about Minsky's and I can still remember that tall gorgeous buxom blonde girl who could do unspeakable things to a stage curtain. He may have seen that but he never played poker, I swear.
Now the Newark High School class of 1953 was the first, and only, class to have both a riot and then strike. It was our bid for the history book.
In our senior year, our high school basketball team was runner up state champion. After we won that title, the Monday following, the day sprung out there on us was, well, absolutely gorgeous. It was clear nobody wanted to go to school. And all the student body hung outside in front of the school before the bell. We had to be 1,000 strong.
Abe came up to me at the "Famous Author" table and talked about that day. He said he got kicked out of Student Council for his role in the riot/strike. But he said I was also involved. He reminded me I was coming down the walk from school and he was coming up and somebody told Abe that some schools with champion basketball teams got the day off as reward and celebration. Of course, Abe said he and I jumped on this idea and we quick spread the word that we, too, were surely owed a day off and pretty soon we had a mob out front, screaming and yelling and pounding and I was, yes, it was true, there at the front as the crowd demanded of our principal, the formidable Frew C. Boyd, that "We did good and we demand a free day."
Of course, we didn't get it and Frew wouldn't cave in so, hell, we just took it.
How's that for the Fifties?
I don't recall it all. I didn't get kicked off Student Council. But I do remember doing something in front of the mob. One teacher told me later the faculty believed I was out front threatening any student who might want to break the picket line.
Oh, pshaw, me?
In the end, Frew let me stay on Student Council, perhaps because I was Treasurer and there were funds involved. Who knows why Abe got hit and I didn't? Frew was a flaky potentate answering only to his own gods.
Well, at the dinner dance we munched hardy and blew the wheels off our cholesterol reduction meds and the music started and soon there was dancing. By then I'd got all pooped out running around as "Famous Author" and so I asked the first girl I ever loved to dance which was as sweet as when I loved her 50 years ago. She, of course, loved one of my best friends better, that sort of thing. No wonder I wrote bad poetry. She's widowed now, and I've got health problems but we danced and drunk again the wine of remembrance. It was super.
I broke down the "Famous Author" stand and said what goodbyes I could and went home. Oh, but there was one touching moment with the books. A classmate from San Diego bought one and gave me a $50 and when I pushed a $20 at him in change he waved it off. I said, "It's fine; I'm OK, $30 is enough for the book." But again he waved me off and clutched the book to his chest and said, "Some things are priceless." Damn, I was stunned; I almost cried.
Driving home tired and happy, I had this sinking feeling I had forgotten something important. And truth told I had.
The first death in our class was Marvin. His tractor rolled over on him and crushed him near the end of our senior year. He was the first to go. Instead of the scheduled senior assembly, we said prayers for Marvin. He and I shared some work on the B&O Section the previous summer and although we'd not run together at school we got close as gandy dancers. He was one of the quiet ones and when he came out he was a fine fellow and I grew to cherish his friendship and admire him much. The discovery of him as such a rich and full and vital person was a treat.
I wrote a poem that day about Marvin just before the summer of 1953. And I swore to myself a quiet oath that on our 50th Class Reunion I'd read it in his memory. Sure enough, it got lost. I couldn't do what I swore. Perhaps that was best. Like the black border display, it would have been a downer. I do remember one line of poetic description of Marvin. I said he was "stout and strong like Oaken tree." You could say things in poems like "Oaken" back then. Then I went on with untimely felling or something. Now Marvin didn't get to share the next 50 years; he missed a full half-century of joy and agony and gain and loss and victory and defeat and all of it. He missed the rest of his life that we all above the turf got to live. As I said, Death is here and sometimes I turn and feel his hot breath on my neck.
I failed to read your poem, Marvin, and for that, I am truly sorry. Truth is, I lost it. Besides, it would have been a downer and since this is the dance of life and we're still moving, I think you'd approve the lapse.
But know this was in my heart that night: that I love you like I love the rest of the Newark Ohio Class of 1953 living and dead. And 50 years later I remember your smile and the personality you hid and then shared and I still mourn the life you missed. I want to say again, God bless you, because you are our eternal boy.
So, lastly, why is my affection for all these people so extravagant, what are some reasons nobody forgets their high school years?
This was the place I grew up.
This is my spiritual home.
This was the place where I was safe.
This is the ground where the seeds of later life got sowed.
These were the people who were the anvils upon which I forged who I was and what I would become.
These people were the loving teachers of all the really important lessons of living and of life.
To forget your high school years is to amputate a major part of you. It isn't over, of course. The members of the Class of 1953, they teach me yet.
They teach me now of the importance of holding life in reverence.
They teach me the critical importance of enjoying the moment and living well in it.
They teach me the strength of humility, the futility of pride and the emptiness of achieving money and power and status at the price of a soul.
And most of all, they teach me gratitude.
God bless them all.
I lost the poem. But this prose, this prose is for you, Marvin.
To see Kaiser's column on his 50th Class Reunion
Our Sponsors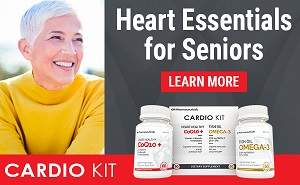 Cardiologist Developed and Recommended
---
Your ad could be here.
About
This top-ranked site now has over 4,000 pages of humor, nostalgia, senior advocacy and useful information for seniors 50+. Updates weekly!
The daily e-zine for everyone over 50 who feels way too young to be old.
"...the perfect mix of Andy Rooney, Dave Barry, and Garrison Keilor, combining knee-slapping humor with useful information and genuine compassion."
Retired.com
"Thousands look to and trust Suddenly Senior. Other Websites pale in comparison to the real-life, intimate look into senior lives. What sets apart Suddenly Senior is its blistering honesty and its incomparable encouragement. Millions need guidance."
Suzette Martinez Standring
"Best Senior Site ever on the Web! Great, up-to-date information on how seniors can save money on drugs. Wonderful nostalgia. Hard-hitting senior advocacy pieces that get read in high places. Wonderful humor. It's all at Suddenly Senior."
Alexa.com
KUDOS
Now read by 3.1 million in 83 newspapers from Florida's St. Petersburg Times to the Mumbai, India News.