Travel
Amazon Adventures: Birth of an Eco-Tour
Racing through Amazon treetops in a dugout canoe, I can only equate this ride to a fox hunt because, well, I've never before been on a monkey hunt. Ediberto handles his handmade watercraft with the precision and balance of a jockey straddling a Thoroughbred. Even with me as a dead-weight observer in the "backseat," the 8-foot-long dugout twists and turns as if it were alive. It slices through the deep, black river water with barely the sound of a horse's heavy breathing; one second, gliding across an open space in the rainforest, the next, shooting straight through a tangle of dense tree branches and spiny palm fronds loaded with spider webs.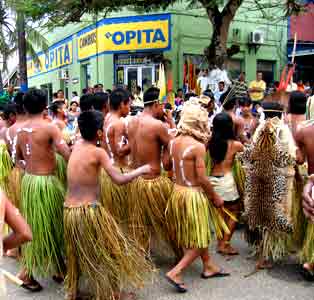 When we slide to the base of a giant Ceiba tree, Ediberto's one-handed paddle maneuver abruptly halts the dugout. While ten other water-jockeys slip quietly into place around the tree trunk, I swear all the excitement is over.
Travel for Seniors: Senior Travel Ideas, Mates, Tours, Groups
But no; this is just the beginning of a two-hour monkey hunt, which will offer up an extremely rare opportunity to see the endangered, white uakaris found only in Brazil's Mamiraua Sustainable Development Preserve.
I had only met Ediberto and his 10 brothers yesterday, when I, and 11 other senior travelers, pulled up in front of their floating village. This time of year, even their livestock lived atop floating rafts on the black water of a tributary in the preserve. Tied up next to the jungle huts, our luxurious 80-foot-long riverboat, Victoria Amazonica, was every bit as intimidating as any Celebrity cruise line behemoth that ties up to a dock in the Virgin Islands. Of course, in this remote part of the world, no one needs a dock-only the seasonally high water on Rio Los Solimoes, which is better known as the Amazon River.
And oh yes, did I mention that we need Moacir Fortes to get us here?
Mo is the renowned Amazon guide (Diane Ackerman refers to him as "infamous" in her book, The Moon by Whale Light) who owns the locally made boat we travel on: "Not everybody wants to go 'sploring like my Key West friends do," says Mo of this particular group of birders and botanists, fishermen and overall nature lovers.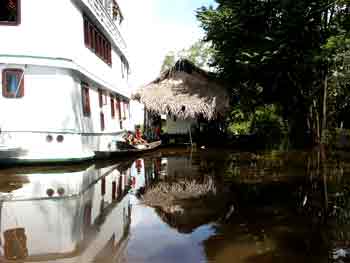 I've made four trips to the Amazon with him, Bob Rowley and Pat Rogers, the Key West couple who developed a close friendship with Mo.
Victoria Amazonica docks next to a floating village in Mamiraua Sustainable Development Reserve in Brazil.
They organize these little jungle jaunts several times a year (305-294-8076), and each expedition is loaded with surprises: Mo always takes us where less spontaneous visitors fear to go. In fact, three days ago, we were invited to a Ticuna Indian village, where "I have not taken my guests before," says Mo.
Usually, these 15-day cruises begin and end in Manaus, Brasil. Located at the confluence of Rio Negro and Los Solimoes, Manaus was hewn out of the jungle during the late-1800's rubber boom and is today, a modern city (1.8 million) in the heart of the Amazon rainforest.
From where these two mighty rivers meet, the Amazon River flows 1000 miles east to the Atlantic Ocean. Truth is, many rivers flow together to create the Amazon River, but Los Solimoes-often referred to as "the upper Amazon"-is actually longer, with an origin in Peru's Andes Mountains. In Brazil alone, Los Solimoes flows 1300 miles west to Manaus.
On this mid-July trip, though, Manaus is merely a stopover en route to Tabatinga, a smallish, frontier town at the westernmost edge of Brazil, where Victoria Amazonica and her six-person crew of boat-boys and chefs await us.
Arriving at dusk, Mo ushers us to the docked boat. Everyone has 15 minutes to settle into his own air-conditioned cabin before we're hustled to a Peruvian border-town for dinner. No matter that we've been traveling 36 hours since leaving Miami, there's much to see and do. That's Mo. Whether he's in town or in the jungle, he runs on high-octane energy to keep up with his curiosity. Just yesterday, he and his crew were at the airport waving goodbye to 20 researchers who chartered Victoria from Manaus to Tabatinga.
Now it's our turn to get Mo's undivided attention for the 16-day trip back downriver to Manaus.
At 6:30 a.m., Pavarotti's version of La Donna E Mobile from the opera Rigoletto, resounds throughout the boat. The early wake-up call is intended to allow some shopping time in Leticia, Colombia before disembarking from Tabatinga, Brazil at 10 a.m. Of course, nothing on these trips ever goes according to plan: Seems that this particular Monday in July is Colombia's Independence Day.
At 8 a.m., by chance, we happen upon a parade that undulates through town with the ambition and force of leaf-cutting ants. Brass bands, and what must be every single native tribe in the Amazon, struts its stuff down Leticia's main drag. Fantasy Fest parties in Key West are considerably rowdier than this crowd of bystanders, but Halloween revelers on the southernmost island in the U.S. could learn from the tri-county Frontiera: At these border towns, costumes and body paint is the real stuff. One woman carries a six-foot-long blow gun, complete with a pouch of poison-tipped darts strapped across her back. Another woman on horseback is, well, an Amazon.
Wave after wave of indigenous people tout their roots with the rainforest. One group is dressed like pink dolphins, better known in these parts as botos, and they carry huge Amazonian lily pads. Another is dressed in black, with each person connected by a black paper-chain-like-leg to a big octopus head. They carry a sign that reads "Tourism is Exploitation." Ouch. We are clearly the only tourists; gawking and walking in the streets, snapping pictures, behaving exactly like the visitors to Key West that everyone who lives there loves to hate. The difference, of course, is that there are no stop lights to ignore in Leticia, and the cops here are Colombian national guardsmen or Brasilian jungle forces toting AK47s.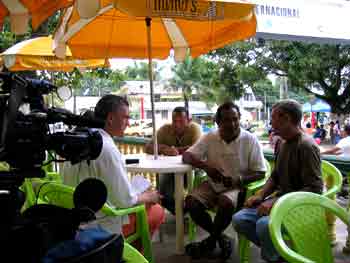 An Iquitos news crew interviews Bob Rowley (far right) and Moacir Fortes (second from right) during an eight-hour parade of indigenous Amazon tribes.
Among the thousands of people who turn out for the Independence Day parade, the novelty of having a few gringos in town does not go unnoticed.
Mo (Portuguese) is invited to talk with an Iquitos news crew (Spanish), who in turn, invites Bob Rowley (English) to say a few words.
As we leave Leticia at 2 p.m., the parade has just ended, and we know we won't catch the multi-lingual banter of the TV interview tonight. We'll be somewhere down river with the Ticuna Indians, who earlier this morning, were all decked out in their finest tribal frocks for the parade.
In some places, Rio Los Solimoes, and the Amazon's overall floodplain, can be seven miles wide during the rainy season from February to July. This is when all of the many rivers that contribute to the mighty Amazon River rise 40, sometimes as much as 70 feet. Markers on a downtown pier in Manaus, Brasil, testify to the huge up and down swings that people, living in this riverine culture, must endure in a year's time. Buildings at the rivers' edges, like boats, are made to float.
Just four days ago, I, and 11 other senior travelers, flew from Manaus to Tabatinga, a frontier town at the western border of Brazil, to embark on a 1300-mile river cruise back to Manaus. The rainy season is just ending, the Amazon's orchid-filled springtime has only a few flowers still clinging to the Macrolobia trees we float by, and the 60-degree nights are a wonderful contrast to the steamy, U.S. summer.
The distance is so great from Tabatinga to Manaus that by the time the riverboat we're traveling on, Victoria Amazonica, returns on July 31 Los Solimoes' water will have dropped significantly, and we'll be sweltering with the temperature change that spring brings to the Southern Hemisphere.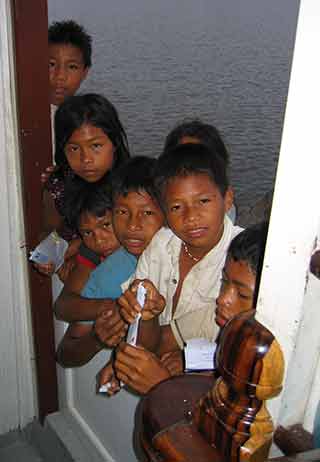 In the early mornings, children from the villages along the river paddle out to our boat anchored mid-river.
But tonight, miles downstream from Tabatinga, a cool 65-degree Fahrenheit produces steam on the river. A sliver of a moon peeks through the clouds in a black sky, and a tribe of Ticuna Indians have laid their wares on blankets placed along the river's highest embankments. Victoria snuggles up to the dewey-damp riverside forest, where most of us jump off the boat to visit with the natives, and where Moacir Fortes, our guide, is just about to begin his mandatory "bead auction," which usually begets an invitation to even more remote Ticuna villages located much deeper in the jungle.
"The Brazilian government protects the culture of its indigenous tribes," Mo explains. "You can only go into villages where you are invited by the chief. Here, Chief Basilio is my friend, and every year when I make this long voyage from Manaus to Tabatinga and back, Basilio invites me and my guests to come ashore. This is the only time villagers will trade their crafts for money. It is the only money they will make from tourism all year."
We buy as if we're single-handedly saving the Brazilian economy: beaded necklaces, hammocks, baskets. Only the freshwater fish market in Manaus is more fun to shop in. When our pockets are empty and our necks are laden with strung-together Brazil nuts, acai palm seeds, feathers, bones and other imaginative natural materials, Chief Basilio waves goodbye to his #1 wife and climbs aboard our 80-foot-long riverboat. He will accompany us tomorrow on a 10-hour canoe trip. Not only will Chief Basilio act as a much-needed local guide through the dense jungle, he will introduce Mo to Chief Pedro.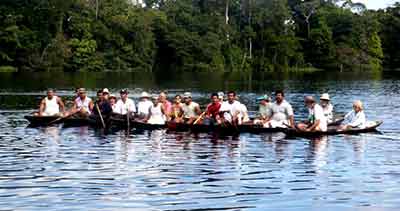 After a white uakari hunt, we gringos in the 'backseats' of these hand carved dugouts learn some lessons in sustainable living in Brasil's Mamiraua preserve.
Overnight, our riverboat travels downstream, and I awaken before daybreak, not only to another rousing round of Pavarotti, but to the chatter of dozens of kids. They have paddled from their river-edge village to where Victoria is anchored offshore. Even tiny tots, barely three or four years old, have jumped into dugouts and canoes to greet us. One little guy gets his thumb smashed between boats, and heavenly glory, he gets to come aboard our boat, which must be to him the equivalent of a spaceship. His wound is cleaned and bandaged. He is given antibiotics, toys and lots of TLC. Then we gringos hop into our canoes with Mo and Chief Basilio to visit this particular Ticuna village. More bead buying, clothes swapping and gift giving takes place. Jean Truby, a Key West orchid guru and our most senior traveler at 87 years old, has the morning's best buy of an exquisitely woven purse with turquoise seeds. It cost $5 US.
While the boys bond around a broken satellite dish, we girls do baby talk, play tic-tac-toe in the dirt, and generally, admire each other's lifestyles. Here, children are revered as much as their elders; they are well cared for by all the villagers, and polite beyond description.
After a mid-morning brunch on Victoria, we get back into our canoes for the marathon ride to Chief Pedro's village. The good news is that a wealth of birds – collard hawks, trogons, a speckled owl — are sighted en route. The bad news is that the sore boat-butts and stiff backs we acquire today usually take 9 or 10 days to develop.
This is only day five.
Because we are the first tourists to visit Chief Pedro's village, we are treated to – you guessed it – a bead buying and crafts-trading session. Here, though, the auction also includes living artifacts. Ceramic bowls, drums made from animal skins and Ticuna tribal wear goes to the highest bidder. For $4 US, I buy a monkey clown suit. It has a wooden face mask beneath a wild head of woven fibrous hair similar to one worn at the parade in Leticia, Colombia, at the beginning of our trip. While Mo and Chief Pedro discuss important river news, Mo's young Brazilian fishing guides, who crew our canoes and oversee that we don't do anything foolish like sink fish hooks into each other or go swimming in piranha infested water, play soccer with the villagers.
Late in the day, as I'm walking the footpath back to our canoes, a little girl dashes out of a wooden hut. She's carrying a parchment bag that she slips into my hand before she turns, runs and disappears into the house. Fortunately, her mama is sitting on the door stoop, and I still have a skirt and blouse, a stuffed pink elephant and a few Portuguese Reales to offer in trade. The crudely made shoulder bag is charming. Surely, it's the day's shopping spree treasure, mostly because it's from a child who has virtually nothing materialistic to give, and who was far too shy to be a part of all the excitement taking place in the Ticuna Common House.
On day six, a shift occurs in the nature of our travel: We're still hundreds of miles from Manaus on Los Solimoes River, where dugouts and canoes are the standard mode of transportation. But now, in addition to the remote indigenous villages, we begin stopping in large towns that pop up along the river. Amatura, for instance, was colonized by Jesuits hundreds of years ago. An evening here is full of carnival booths surrounding the town square. A bandstand with loud speakers sits in front of an impressive cathedral, young couples salsa in the street, and as it so happens, Brazil and Argentina compete this night for the soccer World Cup.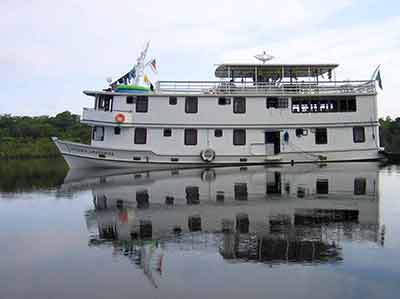 Victoria Amazonica is an 80-foot riverboat. It has 14 private cabins with baths, AC, a bar, and comes staffed with chefs, fishing guides and Moacir Fortes, the renowned Amazon River guide.
The mix of developing river towns and rustic Indian villages could lull us slowly back into the real world were it not for Mamiraua Sustainable Development Preserve on our next day's itinerary.
Mamiraua was officially created in 1996 to protect the rare and endangered white uakaris that live only here. It butts up to RDS Amana, another reserve in Brazil, at Amana's western border, which is already linked in the east to Jau National Park. This troika of parks stretches an awesome distance between Los Solimoes and Rio Negro, and combined, they form the largest, contiguously "protected" tropical forest in the world. Mamiraua has become an international model for sustainable living because, for the first time in Brazil, families living within a preserve are allowed to stay in place, and use its natural resources. In return for their sustenance, Mamiraua families are responsible for policing the remotest corners of the preserve to prevent outsiders from poaching and usurping its resources.
A late afternoon outing to a black water lake in the preserve has all the drama of Africa's Okavango Delta. Huge, open spaces. Big clouds. Birds by the scores: purple gallinules, limpkins, even hoatzins, which are indigenous to Brazil. Hoatzins are in a bird class all their own because they are the only leaf-eating avian in the world. Mo cuts down a tree branch with a sloth hanging perilously close to the water's surface. We relocate this gentle creature to a bigger clump of Cecropia trees where another sloth is, well, barely moving. In this tree, too, is a poutou, another odd Brazilian bird that looks like an owl, hunts like and owl, but isn't really an owl.
The wildlife in Mamiraua is prolific. In all of Brazil, this is where nature travelers have the best chance of spotting pink dolphins, manatees, jaguars, black caimans. Even domestic animals offer unusual sightings. After Victoria ties up to a village floating in 40 feet of black water, we spot cows floating on their own wooden rafts. Then we're invited into Mother Theresa's house (honest, that's her name). She says her husband died last month, and all she has now is her 11 sons — with families — to help with chores.
Immediately, Mo identifies how he, too, can help: He arranges to have these men take us on a hunt the next morning to search for white uakaris. We're excited, of course, and a little nervous, because we're not sure this dugout armada will actually take place. Not even Mo knows who these guys are, and let's face it; they could be the original Amazon headhunters.
Next morning, Pavarotti gives way to the hustle and bustle of prep for the monkey hunt. Hats. Sunscreen. Water. Binoculars. At sunrise, one by one the dugouts pull up to Victoria Amazonica. Mo assigns me to Ediberto's tiny boat. He's the pointman who leads the charge into the jungle. Pat Rogers, who organizes these trips (305-294-8076), is in Raoul's dugout. He's the oldest, and with barely discernible hand signals, he directs each of his brothers' maneuvers as we crash through spider infested tree branches and spiny palm fronds. After about 30-minutes, all 11 dugouts surround a giant Ceiba tree, and I figure the excitement is over. The few glimpses we had of two, big white uakaris was as good as it gets.
Not so. Ediberto hops from the front of his dugout, shinnies up the tree in 40-seconds flat — barefooted no less — and hustles one uakari into a tree-to-tree jumping performance. For the next two hours, each brother anticipates where the monkey is going, and tries to position his dugout for good photo-ops. Though no one scores a National Geo quality photo, each one of us gets a view of the uakari swinging close enough to clearly see the bright red face that distinguishes this rare, white monkey from its more common brown cousin.
When Raoul finally signals the return to the main tributary, this time I know the hunt is over. The uakari refuses to jump another jump. Perched in the Ceiba treetop where the chase began, it is motionless, probably exhausted.
As we head back to our mother ship, all 11 dugouts raft together on the open space of a primary tributary, and the brothers engage in an animated Portuguese conversation. "Did he just say what I think he said?" asks Ann Stark, of no one in particular, but the question gets everyone's attention. Raoul directs the conversation, of course, and it could be just a play by play of the most thrilling moments.
Because most of us speak some Spanish, which is similar to, but not always the same as Portuguese, an exact translation is often lost in the quick flow of the Brazilians' native tongue. Communication isn't always what we think it is, so the back-seat contingent of the dugout armada begins to listen up. Then to our horror, we realize that Raoul's directives to his smiling, head-bobbing brothers go something like this: "When we drop our friends off at their riverboat, we'll go back for the monkey."
By witnessing the brothers' finely honed maneuvers in the jungle, we have come to understand what makes the Amazon's riverine culture work. Unwittingly, we learn that grocery shopping is immensely different from what we know, for today it is not we, the gringos, who'll be losing our heads. Although we thought this was the birth of an eco-tour, not everyone here is on vacation. This is, after all, Mamiraua Sustainable Development Preserve.
About the Author
Barbara Bowers is a freelance writer and photojournalist.
Sponsored Links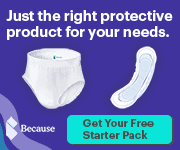 ---
Your link could be here.
About
This top-ranked site now has over 4,000 pages of humor, nostalgia, senior advocacy and useful information for seniors 50+. Updates weekly!
The daily e-zine for everyone over 50 who feels way too young to be old.
"...the perfect mix of Andy Rooney, Dave Barry, and Garrison Keilor, combining knee-slapping humor with useful information and genuine compassion."
Retired.com
"Thousands look to and trust Suddenly Senior. Other Websites pale in comparison to the real-life, intimate look into senior lives. What sets apart Suddenly Senior is its blistering honesty and its incomparable encouragement. Millions need guidance."
Suzette Martinez Standring
"Best Senior Site ever on the Web! Great, up-to-date information on how seniors can save money on drugs. Wonderful nostalgia. Hard-hitting senior advocacy pieces that get read in high places. Wonderful humor. It's all at Suddenly Senior."
Alexa.com
KUDOS
Now read by 3.1 million in 83 newspapers from Florida's St. Petersburg Times to the Mumbai, India News.