Travel
Amazon Adventures I: From Monkey Hunt to pink dolphins, watch out for the poison darts
From Monkey Hunt to pink dolphins, watch out for the poison darts
Racing through Amazon treetops in a dugout canoe, I can only equate this ride to a fox hunt because, well, I've never before been on a monkey hunt. Ediberto handles his handmade watercraft with the precision and balance of a jockey straddling a Thoroughbred. Even with me as a dead-weight observer in the "backseat," the 8-foot-long dugout twists and turns as if it were alive. It slices through the deep, black river water with barely the sound of a horse's heavy breathing; one second, gliding across an open space in the rainforest, the next, shooting straight through a tangle of dense tree branches and spiny palm fronds loaded with spider webs.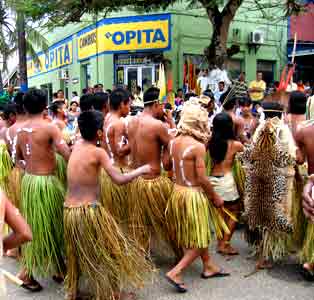 When we slide to the base of a giant Ceiba tree, Ediberto's one-handed paddle maneuver abruptly halts the dugout. While ten other water-jockeys slip quietly into place around the tree trunk, I swear all the excitement's over.
But no; this is just the beginning of a two-hour monkey hunt, which will offer up an extremely rare opportunity to see the endangered, white uakaris found only in Brasil's Mamiraua Sustainable Development Preserve.
I had only met Ediberto and his 10 brothers yesterday, when I, and 11 other senior travelers, pulled up in front of their floating village. This time of year, even their livestock lived atop floating rafts on the black water of a tributary in the preserve. Tied up next to the jungle huts, our luxurious 80-foot-long riverboat, Victoria Amazonica, was every bit as intimidating as any Celebrity cruise line behemoth that ties up to a dock in the Virgin Islands. Of course, in this remote part of the world, no one needs a dock-only the seasonally high water on Rio Los Solimoes, which is better known as the Amazon River.
And oh yes, did I mention that we need Moacir Fortes to get us here?
Mo is the renowned Amazon guide (Diane Ackerman refers to him as "infamous" in her book, The Moon by Whale Light) who owns the locally made boat we travel on: "Not everybody wants to go 'sploring like my Key West friends do," says Mo of this particular group of birders and botanists, fishermen and overall nature lovers.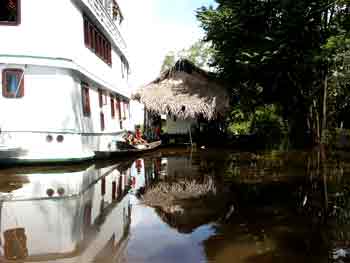 I've made four trips to the Amazon with him, Bob Rowley and Pat Rogers, the Key West couple who developed a close friendship with Mo.
Victoria Amazonica docks next to a floating village in Mamirau Sustainable Development Reserve in Brazil.
They organize these little jungle jaunts several times a year (305-294-8076), and each expedition is loaded with surprises: Mo always takes us where less spontaneous visitors fear to go. In fact, three days ago, we were invited to a Ticuna Indian village, where "I have not taken my guests before," says Mo.
Usually, these 15-day cruises begin and end in Manaus, Brasil. Located at the confluence of Rio Negro and Los Solimoes, Manaus was hewn out of the jungle during the late-1800's rubber boom and is today, a modern city (1.8 million) in the heart of the Amazon rainforest.
From where these two mighty rivers meet, the Amazon River flows 1000 miles east to the Atlantic Ocean. Truth is, many rivers flow together to create the Amazon River, but Los Solimoes-often referred to as "the upper Amazon"-is actually longer, with an origin in Peru's Andes Mountains. In Brasil alone, Los Solimoes flows 1300 miles west to Manaus.
On this mid-July trip, though, Manaus is merely a stopover en route to Tabitinga, a smallish, frontier town at the westernmost edge of Brazil, where Victoria Amazonica and her six-person crew of boat-boys and chefs await us.
Arriving at dusk, Mo ushers us to the docked boat. Everyone has 15 minutes to settle into his own air-conditioned cabin before we're hustled to a Peruvian border-town for dinner. No matter that we've been traveling 36 hours since leaving Miami, there's much to see and do. That's Mo. Whether he's in town or in the jungle, he runs on high-octane energy to keep up with his curiosity. Just yesterday, he and his crew were at the airport waving goodbye to 20 researchers who chartered Victoria from Manaus to Tabitinga.
Now it's our turn to get Mo's undivided attention for the 16-day trip back downriver to Manaus.
At 6:30 a.m., Pavarotti's version of La Donna E Mobile from the opera Rigoletto, resounds throughout the boat. The early wake-up call is intended to allow some shopping time in Leticia, Colombia before disembarking from Tabitinga, Brasil at 10 a.m. Of course, nothing on these trips ever goes according to plan: Seems that this particular Monday in July is Colombia's Independence Day.
At 8 a.m., by chance, we happen upon a parade that undulates through town with the ambition and force of leaf-cutting ants. Brass bands, and what must be every single native tribe in the Amazon, struts its stuff down Leticia's main drag. Fantasy Fest partiers in Key West are considerably rowdier than this crowd of bystanders, but Halloween revelers on the southernmost island in the U.S. could learn from the tri-country Frontiera: At these border towns, costumes and body paint is the real stuff. One woman carries a six-foot-long blow gun, complete with a pouch of poison-tipped darts strapped across her back. Another woman on horseback is, well, an Amazon.
Wave after wave of indigenous people tout their roots with the rainforest. One group is dressed like pink dolphins, better known in these parts as botos, and they carry huge Amazonian lily pads. Another is dressed in black, with each person connected by a black paper-chain-like-leg to a big octopus head. They carry a sign that reads "Tourism is Exploitation." Ouch. We are clearly the only touristas; gawking and walking in the streets, snapping pictures, behaving exactly like the visitors to Key West that everyone who lives there loves to hate. The difference, of course, is that there are no stop lights to ignore in Leticia, and the cops here are Colombian national guardsmen or Brasilian jungle forces toting AK47s.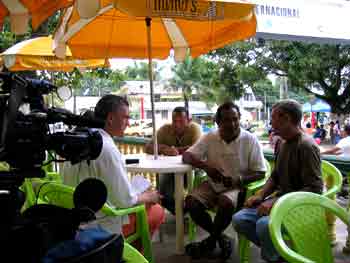 An Iquitos news crew interviews Bob Rowley (far right) and Moacir Fortes (second from right) during an eight-hour parade of indigenous Amazon tribes.
Among the thousands of people who turn out for the Independence Day parade, the novelty of having a few gringos in town does not go unnoticed.
Mo (Portuguese) is invited to talk with an Iquitos news crew (Spanish), who in turn, invites Bob Rowley (English) to say a few words.
As we leave Leticia at 2 p.m., the parade has just ended, and we know we won't catch the multi-lingual banter of the TV interview tonight. We'll be somewhere down river with the Ticuna Indians, who earlier this morning, were all decked out in their finest tribal frocks for the parade.
Read Amazon Adventure: Part II
Barbara Bowers is a freelance writer and photojournalist.
About
This top-ranked site now has over 4,000 pages of humor, nostalgia, senior advocacy and useful information for seniors 50+. Updates weekly!
The daily e-zine for everyone over 50 who feels way too young to be old.
"...the perfect mix of Andy Rooney, Dave Barry, and Garrison Keilor, combining knee-slapping humor with useful information and genuine compassion."
Retired.com
"Thousands look to and trust Suddenly Senior. Other Websites pale in comparison to the real-life, intimate look into senior lives. What sets apart Suddenly Senior is its blistering honesty and its incomparable encouragement. Millions need guidance."
Suzette Martinez Standring
"Best Senior Site ever on the Web! Great, up-to-date information on how seniors can save money on drugs. Wonderful nostalgia. Hard-hitting senior advocacy pieces that get read in high places. Wonderful humor. It's all at Suddenly Senior."
Alexa.com
KUDOS
Now read by 3.1 million in 83 newspapers from Florida's St. Petersburg Times to the Mumbai, India News.