(for those considering retirement down here)
Here's our field guide to Florida hurricanes for those looking to retire here.
Thursday, August 12 – THE DAY BEFORE:
Hurricane Charley will hit us tomorrow at 8 p.m. with winds approaching 120 mph.
Or so they say.
We Floridians react to word of such approaching doom in one of two ways.
We blindly purchase all the canned goods, bottled water, batteries and plywood our SUVs will hold. Or…
"It's party time!"
The thing to remember about hurricanes is that no one really knows where the damn thing is going next. Often, these fickle monsters stall, mid-attack, zigzagging around like a drunken frat boy, occasionally even returning from whence they came.
In my 19 years as a Floridian, I've lived through 40 hurricane watches and warnings. Each filled the airwaves with biblical prophecies of death and destruction.
Thirty-nine missed the mark.
Just now my TV direfully predicts that Tampa Bay's 300,000 coastal residents might as well kiss their collective butts goodbye if they don't vacate immediately,
When we lived in Miami, such wolf-calling occurred so often with such meager consequences – the monster always blinked and veered elsewhere – few paid heed. Until Andrew.
Even when we had our home in Key West, such warnings were laughable. If the Keys were to take evacuation notices seriously, 50,000+ cars would be parked up and down the 100-mile, two-lane highway from Key West to the mainland and Miami.
For most Key Westers, a hurricane is yet another excuse to party. As the highest point on the island, Solares Hill, is but 16 feet above sea level, a 20-foot storm surge will wipe out the entire 3 X. 5 island.
No one's ever thought to build an ark.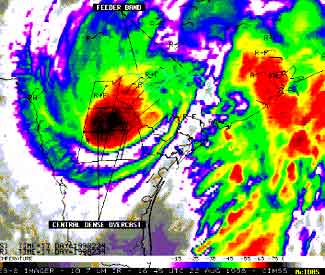 Today, our "Big One," though still in Cuba, has its eye directly on our Tampa Bay-area home. We're overdue here. The last hurricane hit in 1921.
This morning's St. Petersburg Times has pages of helpful, "life-saving" information for readers and their pets. There are photos of residents at Sam's Club piling cases of drinking water onto grocery carts. Others load plywood and generators at Home Depot.
In checkout-line conversations across the area, bragging rights go to survivors of major big blows in the past: Hugo, Camille, Audrey, Donna. A few can still recall the "Great Labor Day" storm of 1935 that took over 400 lives in the Florida Keys.
And, of course, Andrew. Twelve years ago, this behemoth inflicted $27 billion in damage, most in the area just south of Miami, with gusts up to 177 M.P.H. Fifty-eight died. Two hundred thousand were made homeless.
Carolyn and I were there. For months, tens of thousands of our neighbors were without fresh water, electric, ice, even clean, dry clothes.
Still, unless you've experienced such catastrophe, most hurricane warnings are considered more nuisance than emergency.
Friday, August 13 – THE DAY:
It's sunny and calm, the calm before the storm. Just the way Hurricane Andrew started. This morning, the eye is passing the Keys.
Today's headline in huge type reserved for war and calamity:
TARGET: TAMPA BAY. Winds up to 120 mph,
storm surge up to 13 feet, rain up to 8 inches.
According to the St. Petersburg Times, more than 800,000 local residents already have evacuated. In all, some two million have been told to head for higher ground. Grocery and drugstores, even Home Depots and liquor stores, are closed, stripped of stock.
The paper is crammed with advice.
"How can I avoid getting electrocuted?" (Be careful.)
"Without power, will refrigerated food last?" (No.)
"Will flooding bring out snakes and ants?" (Yes. Stay away from floating islands of fire ants.)
Carolyn and I live a few miles inland. Our biggest threats are flooding from a duck pond across the street and flying objects hitting a window.
It's Friday the 13th. How lucky do I feel?
A butterfly flits past my window. What happens to it in 120 mph winds? What a ride that must be!
By noon the air is dead still. I wonder, where have all the birds gone? I remember this same ominous aura in the Midwest just before a tornado. Miami's Hurricane Center continues to report that we're still ground zero for Charley.
All morning we prepare. Our bathtub is now full of water, the refrigerator is blanketed. Candles and flashlights are in every room. Outside, our cars are on high ground, and there's not so much as a stick that can threaten our windows.
We wait.
Charley grows stronger. Though small by Andrew's standards, it's moving fast – 23 mph – and now packs a 145 mph punch. A 20-foot storm surge is predicted. Onshore rain bands already spawn tornadoes.
This is one hairy storm.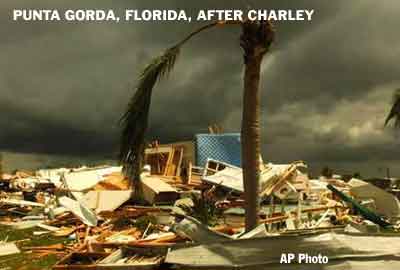 Suddenly, about 100 miles south of us, with the exuberance of a teenager proving his independence, Charley veers sharply east, storming toward shore.
Here tension falls away. Just feel the relief of two million exhales! But for the folks down there, it's a turn for the terrible.
At 3:47 p.m., 160 homes are destroyed on Captiva Island. As Charley smashes inland through Punta Gorda, Winter Haven, Orlando, Daytona, and out to sea and the history books with a Sherman-like ferocity, no one knows the measure of destruction.
Ironically, many who fled our beaches for safety inland, find themselves dead in Charley's path.
Saturday, August 14 -THE DAY AFTER:
Today's paper listed but one death, a Darwin-Award candidate who, mid-storm, stepped outside for a cigarette and was crushed by a falling banyan tree. Surely there are more. After Andrew, the entire world knew of the horror days before those of us deep within, without power or communications.
Our bathtub is empty again, our cars back where they belong. We never lost electric and brooked perhaps a quarter inch of rain.
But wait! What's that down there in the Caribbean following the exact same path as Charley? Yes, Tropical Storm Earl is on his way. We won't be putting the bottled water away any time soon.
POSTSCRIPT:
As of Sunday, August 15th, 16 are now known dead. Property damage in the state is estimated at $11 billion. Thousands are homeless, and 1.1 million Floridians are without power. As many as 17,000 mobile homes have been damaged or destroyed. Up here, we all feel a guilty sense of relief. I imagine most sermons today will beseech God's help for Charley's victims. I know I will.

Sponsored Links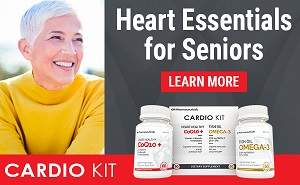 Cardiologist Developed and Recommended
---
Your link could be here.
About
This top-ranked site now has over 4,000 pages of humor, nostalgia, senior advocacy and useful information for seniors 50+. Updates weekly!
The daily e-zine for everyone over 50 who feels way too young to be old.
"...the perfect mix of Andy Rooney, Dave Barry, and Garrison Keilor, combining knee-slapping humor with useful information and genuine compassion."
Retired.com
"Thousands look to and trust Suddenly Senior. Other Websites pale in comparison to the real-life, intimate look into senior lives. What sets apart Suddenly Senior is its blistering honesty and its incomparable encouragement. Millions need guidance."
Suzette Martinez Standring
"Best Senior Site ever on the Web! Great, up-to-date information on how seniors can save money on drugs. Wonderful nostalgia. Hard-hitting senior advocacy pieces that get read in high places. Wonderful humor. It's all at Suddenly Senior."
Alexa.com
KUDOS
Now read by 3.1 million in 83 newspapers from Florida's St. Petersburg Times to the Mumbai, India News.