Trivia & Facts
The Best Trivia Questions for Seniors: Fun Elderly Quizzes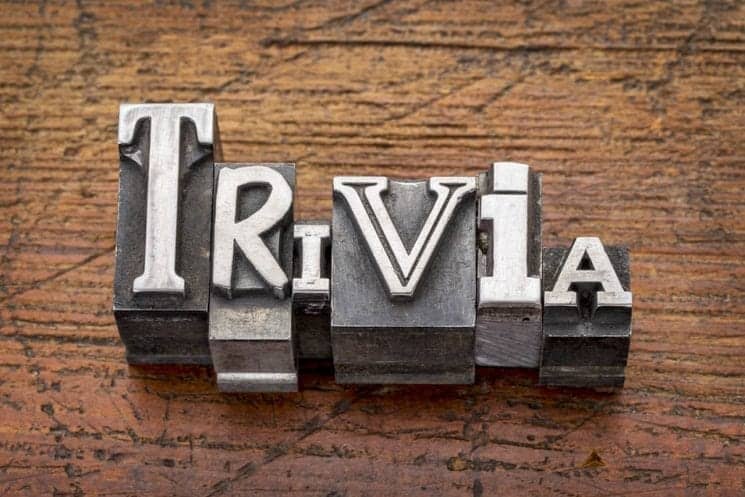 Take a gander at our collection of the best trivia questions for adult seniors and brag about your senior trivia games results before dementia prevents it. We're sure you'll learn and laugh with these easy trivia questions and answers for seniors and those of us that refuse to get old.
Don't take our word for it. Take our online quizzes and funny seniors trivia questions with answers and let us know how well you did.
Play all of our trivia games for seniors. We promise you'll enjoy our elderly trivia for seniors. Print our fun and easy quiz questions for the elderly and share them with your friends.
Printable Easy Trivia Questions for Adult Seniors
All of the following senior trivia links are printable and ready for sharing. Check back for more as we add more quizzes for seniors periodically.
Check out our list of items from yesteryear and see how many you can remember.
Need some easy fun general knowledge questions to stump your friends? Take a look at our fun seniors trivia facts…you may learn something.
Forgetting things, lately? You too, huh? This trivia for the elderly is your chance for redemption. Twenty questions that prove once and for all whether you're older than dirt.
Hey Jude, Take A Walk In Strawberry Fields. Just how good is your failing memory of the Fab Four. The perfect trivia questions for 70-year-olds.
Take a stroll down radio's memory lane. This "Older Than Dirt" Suddenly Senior Trivia Quiz will show you how much you remember!
Yet another chance to prove that you're "Older than Dirt." Remember Liz Taylor's love life, Brando's "Stellaaaa," old Blue Eye's marriages?
Looking for 1940s trivia about WW2? Learn some WW2 history here.
OK, OLD TIMER. You think you remember it all, the Korean War, McCarthy, Elizabeth's coronation, Khrushchev's shoe, Elvis, fins, Sputnik, hula hoops, and Barbie dolls. Let's see how good you really are!
How's your memory today? We won't even ask you to recall long-gone radio personalities. (Maybe next time!) Just a few famous TV cops from the '50s to last season's NYPD Blue. Just the facts, Ma'am.
Remember "Gang Busters?" How about "The Inner Sanctum?" If these questions jog your brain cells, you should do well on this new Suddenly Trivia for Seniors Quiz.
More taxing of the old noggin, seeing if there's anything there from the '40s and '50s.
Here's your chance to prove that your memory's (almost) intact.
What do Sparkle Plenty, Lou Costello, Fibber McGee, Trigger, Doris Day, Black Jack Chewing Gum, 10¢ War Bond Saving Stamps, and Pinocchio have in common? They're all part of this week's Suddenly Senior Trivia Quiz. See how YOU do.
Yet another chance to prove that your memory's (somewhat) intact. Victory Gardens, telephone party lines, blue bulbs, old Studebakers, and how "The gals will all pursue ya." It's all here in the 203 searches for those "Older Than Dirt!"
We know how you did on the 3rd Annual Quiz. Here's your chance to redeem yourself and prove that all those who say that your memory's gone are only half right.
We know how you did on the 3rd Annual quiz! And you thought that you knew something. Ha! This one tests your memory of old ads from the '40s and '50s. Prove that you still have a bit of memory left.
If you can't remember your current phone number but know the earned run average of a 1940s baseball player or your 2nd-grade teacher's name, this is the quiz for you!
A different look at the best films of all time. Will you recognize them? Take this trivia for seniors quiz and found out.
Looking for some classic Disney movie quizzes? Get over 30 trivia questions and answers for seniors here.
Check out our senior version of the impossible quiz. It's equipped with brain teasers and riddles.
Online Trivia Quizzes for Seniors
Remember all of those episodes of Family Feud you watched? See if you remember any of the answers!
Ready to test your intelligence with some general knowledge questions? Let's see how well you do on round two of Family Feud!
You've made it this far…go for round 3 of Family Feud!
Round 4 of Family Feud!
About
This top-ranked site now has over 4,000 pages of humor, nostalgia, senior advocacy and useful information for seniors 50+. Updates weekly!
The daily e-zine for everyone over 50 who feels way too young to be old.
"...the perfect mix of Andy Rooney, Dave Barry, and Garrison Keilor, combining knee-slapping humor with useful information and genuine compassion."
Retired.com
"Thousands look to and trust Suddenly Senior. Other Websites pale in comparison to the real-life, intimate look into senior lives. What sets apart Suddenly Senior is its blistering honesty and its incomparable encouragement. Millions need guidance."
Suzette Martinez Standring
"Best Senior Site ever on the Web! Great, up-to-date information on how seniors can save money on drugs. Wonderful nostalgia. Hard-hitting senior advocacy pieces that get read in high places. Wonderful humor. It's all at Suddenly Senior."
Alexa.com
KUDOS
Now read by 3.1 million in 83 newspapers from Florida's St. Petersburg Times to the Mumbai, India News.