Humor
Best New Jokes: October 19, 2008
BEST JOKES OF THE WEEK…GUARANTEED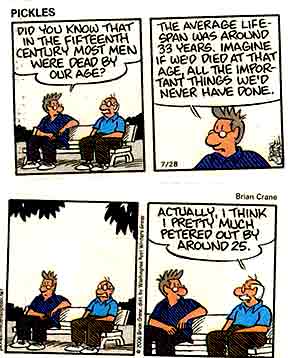 THAT'S WHEN THE FIGHT STARTED
When I got home last night, my wife demanded
that I take her someplace expensive. I took her to a gas station.
That's when the fight started….
I tried to talk my wife into buying a case
of Miller Light for $14.95. Instead, she bought a jar of cold cream for
$7.95. I told her the beer would make her look better at night than the
cold cream.
That's when the fight started.
My husband and I were sitting at a table
at my high school reunion, and I kept staring at a drunken man swigging
his drink as he sat alone at a nearby table. My husband asked, 'Do you
know him?'
'Yes,' I sighed, 'He's my old boyfriend.
I understand he took to drinking right after we split up those many years
ago, and I hear he hasn't been sober since."
"My God!' says my husband, 'Who would
think a person could go on celebrating that long?'
And that's when the fight started.
---
MILDRED
Aunt Mildred was a 93-year-old woman
who was particularly despondent over the recent death of her husband.
She decided that she would just kill herself and join him in death.
Thinking that it would be best to get
it over with quickly, she took out his old Army pistol and made the
decision to shoot herself in the heart, since it was badly broken in
the first place.
Not wanting to miss the vital organ and
become a vegetable and a burden to someone, she called her doctor's
office to inquire as to just exactly where the heart would be on a woman.
The doctor said, 'Your heart would be
just below your left breast.'
Later that night, Mildred was admitted
to the hospital with a gunshot wound to her knee.
---

THE WISDOM OF MAXINE
I am seeing five gentlemen every
day.
As soon as I wake up, Will Power
helps me get out of bed. Then I go to see John.
Then Charlie Horse comes along, and
when he is here, he takes a lot of my time and attention.
When he leaves, Arthur Ritis shows
up and stays the rest of the day. He doesn't like to stay in one
place very long, so he takes me from joint to joint.
After such a busy day, I'm really
tired and glad to go to bed with Ben Gay.
What a life! Oh, yes, I'm also flirting
with Al Zymer
I'm thinking of calling JACK DANIELS
or JOHNNY WALKER to come and keep me company.
Life is like a roll of toilet paper.
The closer it gets to the end, the faster it goes.
---
SPF 30
When promoters of a rock concert encourage
the use of "protection" you assume they are referring to sun
screen.
About
This top-ranked site now has over 4,000 pages of humor, nostalgia, senior advocacy and useful information for seniors 50+. Updates weekly!
The daily e-zine for everyone over 50 who feels way too young to be old.
"...the perfect mix of Andy Rooney, Dave Barry, and Garrison Keilor, combining knee-slapping humor with useful information and genuine compassion."
Retired.com
"Thousands look to and trust Suddenly Senior. Other Websites pale in comparison to the real-life, intimate look into senior lives. What sets apart Suddenly Senior is its blistering honesty and its incomparable encouragement. Millions need guidance."
Suzette Martinez Standring
"Best Senior Site ever on the Web! Great, up-to-date information on how seniors can save money on drugs. Wonderful nostalgia. Hard-hitting senior advocacy pieces that get read in high places. Wonderful humor. It's all at Suddenly Senior."
Alexa.com
KUDOS
Now read by 3.1 million in 83 newspapers from Florida's St. Petersburg Times to the Mumbai, India News.