Retirement
Yes, You Can Afford to Retire in Costa Rica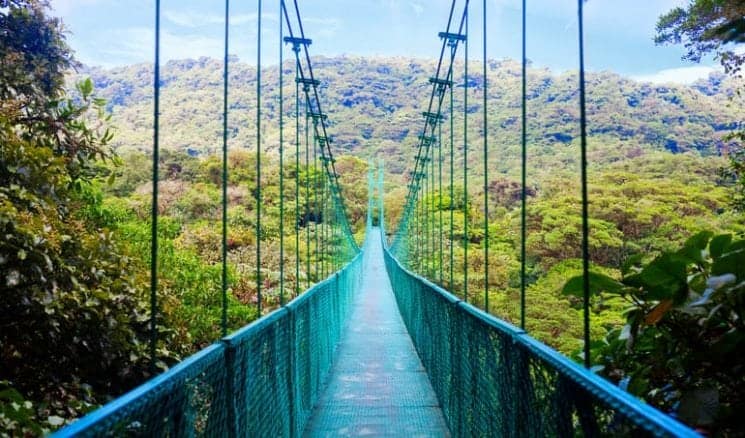 After a lifetime of hard work, harder winters – and possibly hard up for money – how about retiring in Costa Rica. It's a relatively safe place where the temperature's always in the 70s, complete healthcare costs less than $50 a month for the two of you, where a two-bed, two-bath house rents for about $300, and the natives love Americans? You can afford to retire in Costa Rica! Find out how retirement in Costa Rica for Americans has become more attractive.
Got your attention?
Costa Rica is that little piece of paradise lying between Nicaragua and Panama where democracy and political stability flourish and violent crime is virtually unknown. Living there for American retirees is cheap, easy, and fun.
Yes, fun!
Retirement in Costa Rica for Americans
Right now there are about 40,000 Americans living in Costa Rica full-time, at least 11,000 of them on Social Security. When Carolyn and I were there in June [Aging Tarzans, Janes Discover Why Americans Love Costa Rica], we spoke with some of them.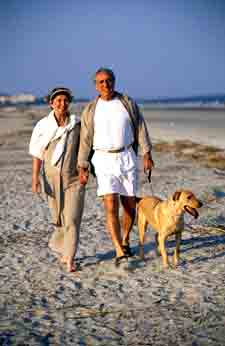 To a person, they wouldn't trade their lives in Costa Rica for anything.
"Why would I want to leave this?" asks George Lundquist, 66, a former Texan. He and his wife have lived just outside the capital of San José for about five years. And with the exception of not seeing their grandkids more often, they couldn't be happier.
George, who offers a four-day, three-night Relocation and Retirement tour, sweeps his pointed finger at the flowering gardens everywhere and says, "We have incredible weather, 73 degrees – plus or minus five – 365 days a year [in the Central Highlands]. Excellent, inexpensive healthcare. Excellent, downright cheap fresh food, including the basic food groups of ice cream, beer, bread, vegetables, eggs, chicken, and pork. And you can buy a nice home for fifty grand!"
George's only regret is that he didn't get to Costa Rica sooner.
Most everyone with whom we spoke claimed that a Gringo retired couple could live well there on $2,000 a month or less. Many find they can live on Social Security alone. A single gentleman we met said that he lives well within his $1,200 monthly check.
But where? With gorgeous beaches on both the Atlantic and Pacific sides of the country, mist-shrouded waterfalls, dewy waterfalls, breathtaking park systems and classy suburbs with fine dining and golf, the choice is wide. As one expat said, "You can live in a fine place by the water, and you can live dirt cheap. But not at the same time."
Costa Rica: Stunning Scenery, Sunshine, and Smiles
A huge help in deciding where to put your real estate dollar is Scott Oliver's How to Buy Costa Rica Real Estate Without Losing Your Camisa. When buying property in this foreign country, where laws and procedures are different, Scott's an excellent guide. This Brit, ex-Wall Street and wealth-management type, fell in love with the "stunning scenery, sunshine and smiles" of Costa Rica, and has been telling it like it is ever since.
Scott's informative WeLoveCostaRica.com newsletter keeps readers up to date on current trends, ideas, and prices. A recent issue featured:
Earn $80K per year tax-free living in Costa Rica?
Future Retreat for "Burnt Out" American Lawyers
Rents & Sales Falling & Rising?
Download Your New 124 'Tips & Traps' Report
How To Easily Find Your New Home in Costa Rica
Want An Expert To 'Help-U-Search'?
The main thing to remember: Go slow.
To see a lot in a short time, I'd suggest that you take a tour, like the 10-day Caravan Tour we took in June. Then, once you have a feel for the place, spend some time in and around San José. Rent a car. Go back to places that interested you. Most important: Keep your eyes open and talk to people.
We stayed at the Hotel Don Carlos in San José.  Their staff is extremely helpful. And when we were there about half the guests were Americans investigating retirement to Costa Rica.
Most expats we spoke with recommended that you rent at first. Give yourself ample opportunity to look around for that perfect place.
Learn some Spanish. Although many Ticos speak English, a little language effort goes a long way to smooth a path to great relationships.
There are at least two Costa Rican English language newspapers. The Tico Times, published every Friday, keeps you up-to-date with local, national, and US news. And the biweekly, Costa Rica Today, is a free paper for tourists. Get them both if for nothing but the ads.
Mexico, Belize, Panama, and others all lure Americans to run away to retire. And each has its good points. But in my book, there's no safer, friendlier, more comfortable place to live anywhere outside the US than Costa Rica.
Not to say there aren't problems. Just a lot fewer in Costa Rica.
Once there, you'll probably agree with George Lundquist: "Nothing could get us to move back north!
Retiring in Costa Rica: Need to Know
Government Requirements: You need to prove an income of $600/mo. You must be a "legal resident" to be eligible for their generous healthcare plan.
Healthcare: $25 – $50/couple for all doctor visits, prescriptions, and hospitalization. Physicians are excellent, most trained in the US.
Roads and Infrastructure: Certainly not as good as the US but better than other Latin American countries.
Getting There: Currently, the roundtrip airfare on American Airlines Miami/ San José is $115 plus tax.
Getting Acquainted: Even old hands, tourists who have visited Costa Rica several times, recommend Caravan Tours (1-800.227.2826) at $995 for 10 days, all meals, activities, hotels transfers, transportation, excursions, even tips included. Plus air. We found it perfect for seeing as much of the country as possible in a very short time.
What to Wear: Climate varies from the temperate central highlands of San José to the much warmer Atlantic and Pacific coasts. Remember, you're only about 10 degrees from the Equator here. Caravan recommends a sweater or light jacket. Carolyn and I each chose to take a lightweight hooded poncho-style raincoat. Plus shorts and loose shirts. A pair of jeans. Casual. Washable. Comfortable water-resistant shoes also are a must. Although the pacing of the tour is excellent and never rushed or strenuous, there is a lot of walking, often in the rain (forests). Laundry service is available at all hotels. And don't forget your swimwear.
Money: As of June 2005, the exchange rate is 475 colones to the dollar. Conveniently, the once almighty greenback is still powerful in Costa Rica, accepted almost everywhere, as are most credit cards. ATMs are found in major cities.
Eating & Drinking: Caravan provides purified water at all meals and free bottled water on the motorcoach. Water is safe to drink in most touristy areas. Breakfasts are usually buffet-style featuring many fresh fruits and eggs cooked to taste. Lunches and dinners generally provide the choice of beef, fish, and chicken with local side dishes.
Toilets: Never a problem.
E-mail: All hotels, except those in the rainforests and La Fortuna (where there are five Internet cafés in town), have high-speed Internet connections, often free.
Language: Spanish is the official language, but we found that English is spoken in all the stores in which we shopped.
Proof of Citizenship: US citizens need only a current US passport valid for six months after your date of entry.
Fishing: Costa Rica is a fisherman's dream, with snook (averaging 14 pounds), tarpon (averaging 80 pounds), red snapper, king mackerel, amberjack, yellowtail, deep-water tuna, Dorado, even sailfish, and marlin. Fly fishermen will enjoy catching bluegill and drum fish. There's good bonefishing as well.
Staying in San José: We enjoyed our little gem, the quaint, charming, artistic and historic downtown Hotel Don Carlos. $70 – $80 double room including breakfast. (1-866.675.9259) Ask Steve Constantine for Room 29.
Retire in Costa Rica: Other Resources
About
This top-ranked site now has over 4,000 pages of humor, nostalgia, senior advocacy and useful information for seniors 50+. Updates weekly!
The daily e-zine for everyone over 50 who feels way too young to be old.
"...the perfect mix of Andy Rooney, Dave Barry, and Garrison Keilor, combining knee-slapping humor with useful information and genuine compassion."
Retired.com
"Thousands look to and trust Suddenly Senior. Other Websites pale in comparison to the real-life, intimate look into senior lives. What sets apart Suddenly Senior is its blistering honesty and its incomparable encouragement. Millions need guidance."
Suzette Martinez Standring
"Best Senior Site ever on the Web! Great, up-to-date information on how seniors can save money on drugs. Wonderful nostalgia. Hard-hitting senior advocacy pieces that get read in high places. Wonderful humor. It's all at Suddenly Senior."
Alexa.com
KUDOS
Now read by 3.1 million in 83 newspapers from Florida's St. Petersburg Times to the Mumbai, India News.