I am so angry I could spit bullets. By the time you finish reading this, you too will be outraged.
Yesterday I received 17 reader emails on one subject. The day before, 26. Last Thursday, 43. All from our brother and sister seniors across the country struggling in quiet desperation to pay for food and medicine simultaneously.
Prescriptions and Profits: Pharmaceutical Industry
Americans pay the world's highest prices for prescription drugs. And the 14 million seniors over 65 without drug coverage pay the highest prices of all. Of these, 10 million – more people than there are living in the entire state of Michigan – frequently must choose between food and lifesaving drugs, unable to afford both.
So when Canadian pharmacies began selling these same drugs for as much as 90 percent less than our corner drug stores, I verified the ease and savings of ordering drugs from Canada, then shouted the news to my readers.
[See Canada: Your Prescription for Lower Drug Prices.]
Here, finally, was a real help for the folks who needed it most.
Even Congress, breaker of Medicare drug-benefit promises for the past eight years, seemed to agree. Last July, the Senate voted overwhelmingly to allow wholesalers, pharmacists, and individuals to re-import US-approved drugs from Canada to take advantage of their lower prices.
But then the rub. The Food and Drug Administration warned of the possibility of "unsafe and counterfeit drugs." The bill then failed, just as a similar House bill died at the hands of the FDA two years earlier.
7 of 11 FDA Commissioners Tied to Big Pharma
Of course, like all things concerning this issue, the game was fixed. Seven of the 11 FDA commissioners who decried the legislation as unsafe have strong financial ties to the US pharmaceutical and medical equipment industries.
Still, seniors including my wife and I kept ordering from Canada, knowing full well that our drugs would be safe, sealed, bar-coded, and lot-numbered. The same in every way as drugs we buy in the US, minus the manufacturers' obscene profits.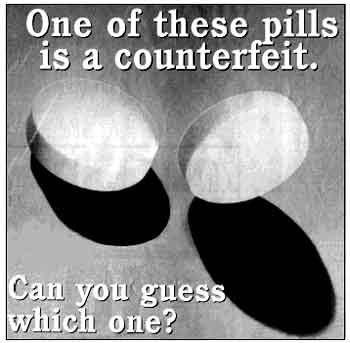 Then, last summer, I got an anonymous call claiming that drugs bought in Canada are inferior, even dangerous.
Other seniors received the same disinformation via mail and advertising.
To the contrary, I believe that the majority of Americans buying in Canada cannot afford drugs at all at artificially inflated American prices.
Were the drug companies – the top seven of which took in more in pure profit than the top seven auto companies, the top seven oil companies, the top seven airline companies, and the top seven media companies – fretting that they might lose a nickel or two?
To the contrary, I believe that the majority of Americans buying in Canada cannot afford drugs at all at artificially inflated American prices.
So, when they buy in Canada, no one loses.
Big Pharma profits from seniors priced out of the US market. And seniors get the medicine they need for good health. Furthermore, the government doesn't have to step in later to pay huge medical bills treating disease caused by lack of medicine.
Big Pharma to Canada: Stop it!
But addicts don't always see clearly. No doubt today's pharmaceutical companies are blinded by their addiction to greed.
Shortly after Big Pharma initiated their scare campaign, they put the heat on Florida storefronts set up to help seniors process prescriptions to be filled in Canada.
Now the campaign has ratcheted up another notch. According to the St. Petersburg Times, drugmaker GlaxoSmithKline has delivered to Canadian pharmacies and drug wholesalers this ultimatum: Stop exporting drugs to the United States or we'll cut you off completely.
These fighting words were issued by an industry that gets over a third of the science for its products absolutely free through the NIH, paid for by taxpayers, to sell at any price it wishes.
Instead of gratitude, last year the industry spent more than $65 million in television ads fighting prescription drug reform, including hundreds of TV commercials lying, "Thank Congressman ______ for fighting to add prescription drugs to Medicare."
The gall!
And now they threaten the lives of America's neediest seniors by trying to cut off access to the more affordable Canadian drugs.
What should we do? What can we do? I want to hear from you.