Suddenly Senior's Best Senior Websites: Part Two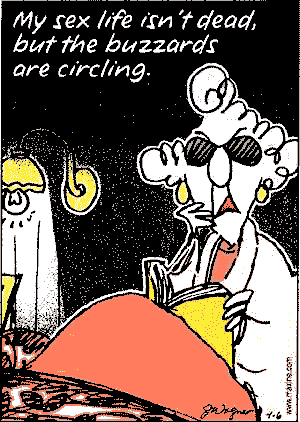 Old Time Radio Programs and Movies section
The site has all 1,399 episodes of CBS Radio Mystery Theater episodes which you can listen to, download as well as searchable by plots, actors, and writers.
Articles from the various sites cover a wide range of topics: the world's biggest turkey and largest hailstones, computer-generated anagrams, mysterious lights in Texas and Queensland, 15 towns named Rugby, Global English, and how to cultivate an herb said to ease arthritic pains. Awards the prestigious Graypow Award, of which Suddenly Senior was a recipient.
LIVING WILL FORMS AND REGISTRATION
Download LIVING WILL (and healthcare surrogate) FORM
Everyone should have a living will to make certain your wishes are fulfilled when you're incapacitated. This form, while compiled especially for Florida citizens, will at least make clear your wishes in other states. Very important!
Documents, which vary by state, also can be obtained online and from various organizations:
Partnership for Caring provides specific advance directive forms for each state at www.partnershipforcaring.org.
Aging With Dignity offers details about getting its "Five Wishes" document ($5 for one, less for multiple copies) toll-free at (888) 594-7437 or on the Web at www.agingwithdignity.org. The document, which is valid in 35 states, including Florida, is easier for most people to understand than the state documents. It is more personal, offering in layman's terms the opportunity, to specify how comfortable you want to be, how you define life support, even how you want to be treated: Would you like visitors from a church? Music in the room? Your bedside surrounded by pictures?
The U.S. Living Will Registry (https://www.usacpr.net/) offers a similar service. Both companies provide links to basic state forms and where to get information but will accept and scan into their computer whatever documents are provided.
Long-Distance and International Calling
Pingo is an easy-to-use calling card for use on domestic and international calls to over 200 countries. If you call from your home or cell phone, you can bypass the need to enter long PIN numbers (just register up to 10 numbers you typically call from). Just dial the Pingo 800 number, then when they answer, dial your desired phone number. Rates are very cheap, check their website for rates to your favorite long-distance friends and relatives. It's ideal for seniors on a budget who don't want to pay their local phone company monthly for a long-distance plan. It also gets around restrictions on calling international numbers from mobile phones.
On vacation? You can also use Pingo to call home from foreign countries. Buy and recharge it over the web at any time. The voice quality is good.
Suddenly Senior staff has been using this service to call the UK weekly for several years with no complaints.
Long Term Disability Claim Information
ElderCare Publishing Co. has put together an ebook on filing Long Term Disability claims titled, "A Consumer's Disability Insurance Guide" giving consumers professional guidance to qualify for the disability benefits to which they are entitled. Cost: $30.
Look out!
Scams aren't fun. At this Consumer Reports site, you'll find links to other sites, offering advice and well-researched content such as how the online hotel booking business works.
Magazine Rack
magatopia.com has a senior life section of articles to enjoy.
Medicare.gov — The Official US Government Site
This official site provides information on health plans, nursing homes, Medigap policies, contacts, and Medicare activities in your area. Also, Medicare Basics, information on coverage, eligibility, enrollment, your Medicare card, replacement card ordering, address changes and help with health care costs.
Your guide through the Medicare maze. Medicare Rights Center (MRC) is the largest independent source of Medicare information and assistance in the United States. Founded in 1989, MRC helps older adults and people with disabilities get high-quality, affordable health care. Free newsletter.
This Kaiser Family Foundation reference library has been updated to include the latest data and research on Medicaid enrollment, financing, state waivers, and access to care. The library also includes recent analyses on the impact of the new Medicare prescription drug benefit on Medicaid and current proposals to restructure the Medicaid program.
Microsoft Tips for Seniors with Impairments
Offers tips on customizing various Microsoft products for seniors with vision, hearing, or other impairments. Free newsletter.
Educational resource with extensive articles on wheelchairs, scooters, accessories, wheelchair sports, disabled travel, transportation, and other mobility aids to enhance the lives of individuals of all ages who need mobility assistance.
MONEY $$$$$
Many of us seniors have stocks and other investments we keep track of. Some of the best places to do this are CNNmoney, Quicken (especially if you keep your records in their program), and MarketWatch, Also, in this age of low-interest returns, check informa to track money market funds for the best rates available. Bankrate.com tracks savings accounts, mortgages, and credit cards.
Kiplinger's Retirement Report [Dec. 2003] suggested that we can all profit by plugging into insiders' stock moves. From the SEC's home page at www.sec.gov, click on "Search for Company Filings. Under "General Purpose Searches," click on "Companies and Other Filers." In the search box, type the name of the company and look for Form 4. At Yahoo! Finance, type in the ticker symbol and click on "Insider Transactions.
This site provides guidance for seniors and family members on issues relating to mortgages and reverse mortgages, and includes a number of useful links.
Here's where you can create your own family website in just three minutes, or so they say. Free family tree software, too.
North American Mature Publishers Association
A non-profit association for publishers of local/regional senior publications, NAMPA was founded in 1994 to provide mature market publishers with regional information exchanges and meeting opportunities. NAMPA members publish over 35 publications with a combined circulation of over 2 million in the United States and Canada.
If you're interested in immigration issues, this is the site for you. Their goals: To examine numerical levels of annual legal and illegal immigration. To educate the public about the immigration-reduction recommendations from two national commissions of the 1990s:
This government site is a relatively easy place to compare facilities as to deficiencies and get explanations and gauges of how important the deficiencies are to patient health and safety. In addition, the website carries data on quality of service in six states, with more to come. The six are Colorado, Florida, Maryland, Ohio, and Rhode Island. Maryland, for example, provides information designed to assist consumers and their families in making decisions about selecting a nursing home.
Old Time Radio Programs and Movies
Also, go to Suddenly Senior radio buff's 7/03 article. Live365 gives you many stations that broadcast vintage radio. Go to "Spoken Word," "Old Time Radio," and "Comedy."
The very best of Radio Drama and Music with some News and Comedy. 24 hours a day!. The very best of Radio Drama and Music with some News and Comedy. 24 hours a day! Out of Lansdale, Penn, on Radio 1620 AM. Click the button on the second page to get it over your computer.
Some wonderful pictures of old radios from the 1930s through the '60s, go to http://oldradio.onego.ru/foy.htm
PHONE DIRECTORIES/LONG DISTANCE RESELLERS/PHONE SERVICE
We're starting this to provide the best general directories on the Internet. Save high charges for "information" with unknown addresses and phone numbers (and sometimes e-mail addresses as well). Others include whitepages.com, yellowpages.com, or infospace.com. Save big money (it costs me 2.5 cents per minute) on long-distance and international calls with resellers like PINGO and OneSuite Corp.
Want to know where a call comes from? At FoneFinder, you can narrow it down to the town. Works internationally, too.
POLITICAL SITES OF INTEREST TO SENIORS
Is that true? Check out claims in political ads at FactCheck.org and truthorfiction.com.
Perhaps the best place on the Internet to learn the truth about what's going on, stuff you won't see elsewhere. Subscribe!
A great organization protecting America's health, safety, and democracy. Learn how your representatives voted, even who's giving money to them.
Brand new as of Oct. 15, 2003. The journal is an effort to significantly increase the number of people who have free access to scientific research, which typically requires a subscription to a journal. Instead of selling subscriptions. In the journal's first issue, Duke University researchers reported that they had trained monkeys with brain implants to control a robotic arm with their thoughts, which could someday help people who are paralyzed.
Retirement Homes
The Library RetirementHomes.com is where seniors and their family members can go to find useful articles, reviews, and discussions on important retirement issues and topics.
Retirement Planning
Find your perfect retirement community, by city, state, and country.
Finally, an excellent site for those of you searching out that perfect place to retire. It may well be the most candid view of "best places to retire" anywhere on the net.
You've probably seen Jim Miller's "Savvy Senior" column next to mine in senior papers. Savvy Senior provides practical information and tips through the nationally syndicated newspaper column, senior resource books, weekly radio show, and television features on NBC's Today show. Sign up for his excellent free email newsletter. Click the link above.
If you have been looking for a place dedicated to helping you plan and make the most of the rest of your life, this is it. Welcome to 2young2retire.com, the online community for people who are using our mature years to turn our hobbies or youthful dreams into new businesses; start careers that express our passions; give back actively in the nonprofit sector; go back to school; get our bodies into shape or ignite our creativity. Features True Stories profiles, volunteer, learning, second career, and living/being well links.
Romance, Senior-style
SeniorMatch is the largest senior personals site for AARP, senior singles, senior admirers to find other sexy seniors.
RV Lifestyle. With more and more seniors taking to the road in motorhomes and trailers, some costing more than the homes they're leaving, this site tells you almost everything you want to know about the RV lifestyle.
Rumors/Urban Legends
Did you get the one about when Colonel Oliver North branded Osama bin Laden as a deadly terrorist during his testimony before the Senate Select Committee investigating the Iran-Contra affair? Or the one about the United States Congress considering a 5 cent tax on email. Also, see Snopes.com and TruthOrFiction. Next time, check these first.
What Would You Like To Do Today?
Improve My:
Health
Wealth
Home
Cooking
Hobby
Sex Life
Garden
Or you may want to:
Trace My Family Tree
Make Me Smile
Take a Vacation
Send a Message to the President
Write to MY Congressman
Write to MY US Senator
Senior Citizens' Resources
Located at USA.gov – Government Made Easy – this is a good place to start when researching the following areas:
Consumer Protection for Seniors
Consumer fraud, elder rights, advocates for nursing home residents…
End-of-Life Issues
Advance directives, estate planning, hospice…
Federal and State Agencies for Seniors
Administration on Aging, Social Security Administration, Veterans' Health Administration…
Health for Seniors
Disease, health care facilities, Medicare, nutrition…
Housing for Seniors
Reverse mortgages, eldercare, nursing home comparison…
Laws and Regulations Concerning Seniors
Age Discrimination in Employment Act, the Medicare Modernization Act, Social Security Act…
Money and Taxes for Seniors
Investing, tax counseling, estate planning…
Retirement
Pension plans, benefits calculator, retirement ages…
Travel and Recreation for Seniors
Amtrak senior discount, older drivers, travel tips…
Senior Communities and Care Providers
New LifeStyles lists state-licensed senior communities and care providers and more nationwide. Search online or order a free metropolitan-area print guide.
Senior Link – Real Solutions to questions about aging parents
Dedicated to providing active solutions to the questions that surround aging parents. To help them maintain independence, safety, and dignity.
This nonprofit SeniorNet provides adults 50+ access to and education about computer technology and the Internet to enhance their lives and enable them to share their knowledge and wisdom.
Senior Publications of Interest
Mark A. Ludwick's The Senior News is this year celebrating 20 years of publication for those aged 50 and better in Northeast Ohio!
Sault Ste. Marie This Week is a Canadian weekly community newspaper out of this chilly and interesting area on the US/Canadian border. With news, weather, sports, columnists, classifieds, photo galleries. Updates daily!
Represents the interests and concerns of Republican senior citizens at both the state and federal levels. The Coalition was founded as a public advocacy group during the fight to repeal the Medicare Catastrophic Coverage Act in 1989.
Seniors For Hire
Seniors4Hire.org is an online Career Center for employers and job seekers 50 years of age and over. It contains career resource information and a job database. Membership is free for job seekers. Employers post job ads for $36.00 and they run for 60-days. With an annual membership, they become Featured Employers.
Health, nostalgia, finances, travel, and recreation — lots of interesting features for "active seniors in the digital age."
A lifestyle magazine for women over fifty started by Tam Gray, a Senior Reporter for Time Magazine, with original content composed of cultural reviews, columns, articles, and sightings There are a discussion forum and pages of annotated links.

Sex Information and Support Websites
Susan's Sex Support Site by Susan Fitzmaurice, M.S., C.R.C., provides education and support regarding sexuality, with many excellent links to other sites that feature senior sexual advice and how to keep the passion alive.
Save on Shipping
FreeShipping.org has coupon codes for major online retailers offering free shipping, including Macy's, Victoria's Secret, Lands End, and more.
Quick Search. Electronic Publications. Disability information. Supplemental Security Income (SSI). Employment support for people with disabilities. Medicare information. Información en Español. Hearings and appeals. How to … Forms. International benefits. Direct Deposit of Benefits.
TELEPHONE STUFF
This is the leading Web destination for first-wave baby boomers. See Suddenly Senior's Weekly Jokes there.
Today's Senior offers readers important and informative information, and businesses an effective and affordable way to get their message to thousands of people that are 50 plus throughout Northern & Central California.
A supportive online writing community for men and women over 18. Containing articles, short stories, poems, interactive forums, blogs, writing classifieds, downloads, writing contests, writing events, writing tips, writing resources, ezine newsletter, famous quotes, author interviews, book reviews, and many more features.
If nostalgia floats your boat, this is the Sea of Dreams. Movies. TV. Music. Bikes. Sports. D&D. Old car ads. You name it, it's here, perhaps even for sale or at auction.
TRAVEL SITES
Travelocity and other great travel sites for seniors going places
Travelocity is one of the big three (Orbitz (which we do not recommend) and Expedia being the others) that travelers generally start with. Especially if you're flying. FlightArrivals comes in handy for those picking you up, providing the latest arrival and departure times of all US and Canadian flights. If you're driving, Mapquest is a great tool, providing the way, the mileage, everything you need to get from here to there. Another top guide, this to scenic routes and historical paths, is RoadTripUSA. Hotels.com is a good booking site for finding discount hotel rates around the world. LuxuryLink is excellent for finding hotels, cruises, tours, and other high-end travel needs.
Suddenly Senior has a great Suddenly Senior Travel Page. Frommer's Budget Travel is a budget travel site with links to hotels, travel clubs, and special discounts for seniors.
All about the boats and the men who dove them. 1168 U-boats have their own pages here. Welcome aboard, sailor.
One of the best government sites around. Point-and-click rate calculation, painless ZIP + 4 lookups, the all-important track-and confirm delivery function, and a service called NetPost that prints and mails paper cards that you design online.
The not-for-profit Vitamins and Nutrition Center provides accurate information on vitamins and nutrition, research on vitamins, and the different effects of vitamin deficiency.
VOLUNTEER!
VolunteerMatch Put in your ZIP Code, this matches you with charities close to home. Since 1998 they've referred more than two million volunteers throughout the US. Senior Corps is a network of programs that tap the experience, skills, and talents of older citizens to meet community challenges. Again, hometown matching needs with volunteers.
Official site of the American Academy of AntiAging Medicine. 8,600 physicians, health professionals, and scientists from 55 countries unite to deliver life-enhancing, life-extending medical care online.
Suddenly Senior long-timers will recall the "Suddenly Senior Forum" which was set up for readers interested in an open forum for seniors. That forum has evolved into Worldwide Seniors, with 300+ members from many different countries.
Said to be the largest collection in the world.
Suddenly Senior – the internationally syndicated column read by 2.3 million bright folks over 50 in 133 countries all of whom have become senior way before their time.