| | |
| --- | --- |
| By Frank Kaiser | TERRORIZING TELEMARKETERS |
One of the perils of retirement is being home during the day, a sitting duck for telemarketers.
Somehow — the details are a closely guarded secret — telemarketers not only know when you're home, but when you're eating, taking your bath or toilet, or just sitting down to relax with a cold one.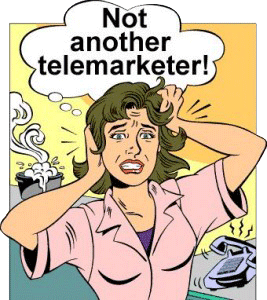 This column is about how telemarketers can become source of humor and joy in your life.
With only a bit of play-acting and creativity, you'll find yourself looking forward to telemarketing calls.
First, you must identify the caller as a telemarketer. That's easy, since they always mispronounce your name. Who else would — or could — mangle Smith or Jones. Or Kaiser, for that matter.
Then, ask her to spell out her name and the name of her company.
"Let's see," you say with deliberate lethargy, "that's B as in bad ass, A as in avoirdupois, R as in wretched, and B as in bye-bye." After you mumble your way through her name and company, become vitally interested in the caller.
"How long have you been with the company? How much money do you make? Have you had to sleep with your boss?" You get the idea.
All telemarketers ask, "How are you today?" in their effort to cement a close and lasting bond.
Tell them.
"Thank you for asking," you spout. "My arthritis is killing me, I have gout in my left ear, and my eyelashes are sore. Did I tell you about my appendectomy last month? I think it's growing back."
Tell them about your just deceased pet, whom you loved more than life itself. Don't omit details, especially every eulogy, word for word, at Fido's elaborate funeral.
STOP SLEEPING WITH MY WIFE!
Every year, so-called police benevolent associations call us for donations. In my mind, these guys are particularly parasitic. More often than not, cops and their families see little or nothing of their collections. Here you don't want to skimp on originality.
My buddy, J.C. Spitznagel's spiel goes something like this: "I know what's going on. I want you to keep your hands off my wife. If you think you can destroy a 50-year marriage with that smooth cop talk of yours, you've got another think coming. I've put up with 50 years of her crap. I'm not about to let some gumshoe roll in the hay with her now."
Works every time! By the way, J.C. is single.
Suddenly Trivia: Under law, if you tell a telemarketer to "Put me on your 'Do Not Call' list and the company calls again, you may get how much from them for every violation? a) $10, b) $100, c) $500, d) $1,500.
Here a few more ploys next time telemarketers come calling.
When the telemarketer gives her name, pretend that she's a long-lost friend. "Betty! It can't be! How have you been since we served time together at that hellhole prison?" Don't allow interruptions. Be relentless. "Oh, Betty you always were the kidder. But tell me, what ever became of that no good lousy husband you tried to murder?"


Immediately, tell the telemarketer that you're delighted that he called, that you are incarcerated at home wearing an ankle bracelet, and that you'd like him to bring over a bottle of Cuddy and some dip.


Insist that it's all a big joke, and you're not falling for it. "Come on, Marge, I know this is you. So cut it out. Hey, I've been meaning to ask, 'How's that guy you ran down last week with your BMW?'"


Tell the caller that you're busy right now, but if she'll give you her home phone number, you'll call her back. When the telemarketer explains that she can't do that, respond with, "I suppose you don't want anyone bothering you at home," When she agrees, give her both barrels!
So there it is, directly from Suddenly Senior's Domesticity and Duplicity Department.
Have fun.
© 2001-2010 — Frank Kaiser
Suddenly Trivia Answer: c) $500.
For more information on the Telephone Consumer Protection Act and how to make big money from telemarketers, check out Title 47, part 64, subpart L of the Code of Federal Regulations or click on http://www.fcc.gov/cgb/consumerfacts/tcpa.html.
To register your phone on the National Do Not Call Registry go to www.donotcall.gov. Once you have placed your home phone number or numbers, including any personal wireless phone numbers, on the national Do-Not-Call list, callers are prohibited from making telephone solicitations to those number(s). Your number or numbers will remain on the list until you remove them or discontinue service - there is no need to re-register numbers.
In Jan. 2007, LuAnn wrote saying that it was impossible to collect anything from these leaches, that the law is without teeth. And sure enough, if you read the statue carefully, she's right. Especially now, in this current Administration where the FCC is controlled by business, many telemarketing businesses.
What you can do is go to your state. Here is what the FCC advisory says: "States themselves may initiate a civil suit in federal district court against any person or entity that engages in a pattern or practice of violations of the TCPA or FCC rules. If you have questions for your state regarding unsolicited telephone marketing calls, you may contact your local or state consumer protection office or your state Attorney General's office. These numbers should be listed in the government section of your telephone directory, or you can obtain them by calling directory assistance."
And in Feb. 2006, we received the following from reader, Marlene Bedford. In
The Telemarketer:
The phone rang as I was setting down to my anticipated evening meal, and as I answered it I was greeted with "Is this Karl Brummer"?
Not sounding anything like my name, I asked who is calling?
The telemarketer said he was with The Rubber band Powered Freezer company or something like that.
Then I asked him if he knew Karl personally and why was he calling this number.
I then said off to the side, "get really good pictures of the body and all the blood", then turned back to the phone and advised the caller that he had entered a murder scene and must stay on the line because we had already traced this call and he would be receiving a summons to appear in the local courthouse to testify in this murder case.
I then questioned the caller at great length as to his name, address, phone number at home, at work, who he worked for, how he knew the dead guy and could he prove where he had been about one hour before he made this call. The telemarketer was getting very concerned and his answers were given in a shaky voice. I then told him we had located his position and the police were entering the building to take him into custody, at that point I heard the phone fall and the scurrying of his running away.
My wife asked me as I returned to our table why I had tears streaming down my face and so help me, I couldn't tell her for about fifteen minutes. My meal was cold, but after what I had pulled, it was the best meal in a long, long time.

---
WANT TO COMMENT ON THIS WEEK'S SUDDENLY SENIOR COLUMN?
FRANK@SUDDENLYSENIOR.COM
GET SUDDENLY SENIOR EVERY WEEK. SIMPLY
SEND A BLANK E-MAIL TO GET-SS@SUDDENLYSENIOR.COM
TO CANCEL YOUR FREE SUDDENLY SENIOR E-MAIL,
SEND A BLANK E-MAIL TO REMOVE-SSLIST@SUDDENLYSENIOR.COM
---
---
LATEST GUEST COLUMNS!
The latest columns from our resident (retired) Drug Pusher, Tom Braun...

The Culmulative Effect
From Susan Pierres, Writer/Photographer:

Crossing the Pond

My 15 Minutes of Fame as the Poster Girl for Menopause
From Joan Price:

Satisfying Senior Sex for Women, Too!
Book Review: Autumn Romance: Stories and Portraits of Love after 50
---
Comment on this week's Suddenly Senior.
Write to Frank at frank@suddenlysenior.com
---
"THE KAISER'S JOURNEY
THROUGH CANCER"
Frank and Carolyn Kaiser have been to hell and back this last year, healthwise. But you can't keep a good man - or woman - down, as they say. They're very much alive and kicking - just kicking a little more slowly and carefully. [Ed]
Let's start with the good news: Both Carolyn's and my cancers are now in remission! There is no bad news. For me, what began last October when doctors discovered a rare and deadly form of small-cell bladder cancer with a zero percent chance of remission — they gave me "perhaps a year" to live — ended this week "cancer free."
WHAT A YEAR THIS HAS BEEN! Frank explains how he and Carolyn cope both having terminal cancer. Hmm. They're coping pretty well if you read between the lines.

Astounding News! Seniors Enjoy Hot Sex
WHERE 15 MINUTES used to be more than adequate, now we make love for an hour or more. And get this: Neither of us has ever been more climactic. Here's yet another reason to welcome aging.

Carolyn's turn to bring you up to date. "I love putting the weekly jokes together foryou, and starting last Sunday, the week's best jokes are again winging their way to you weekly: The Sunday Funnies, courtesy of a friend who loves to laugh.

"I don't remember exactly when this first occurred to me, but I knew I was going to die. And soon." Kaiser gets Stage IV cancer and lives to laugh about it.

On The Trail to Cancer Survival: Carolyn's Stem Cell Transplant
She's been to hell and back. Here's what it's like to be a cancer survivor for a year.

The Pitfalls Of Passionate Caregiving
When I had a heart attack last week, I wasn't about to call 911. My wife, Carolyn, has cancer. She needed caring for. Next thing in knew I was in an ambulance, sirens screaming.
---
Are you Single and Looking?
Good news!
Introducing SuddenlySeniorDating.com
An online dating Websites where Seniors can meet their match!
Free to join!
---
Now read by 3.1 million seniors at Websites and 85 newspapers from the St. Petersburg Times to the Mumbai India News.
CLICK FOR MORE INFO
---
BE SURE TO CHECK OUT THE HELPFUL LINKS BELOW
---
PLANNING YOUR VACATION FOR 2010?
ACCORDING TO GOOGLE, SUDDENLY SENIOR'S TRAVEL PAGE IS AMONG THE MOST POPULAR IN THE WORLD. SEE WHY HERE!
---
THIS WEEK'S BEST SENIOR CARTOON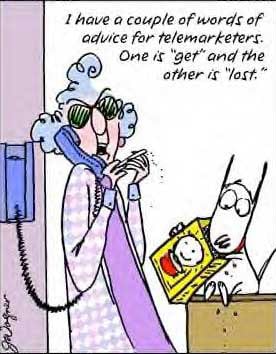 ---
THIS WEEK'S BEST 222 SENIOR SITES
http://www.suddenlysenior.com/links.shtml
- - - - - - - - - - - - - - - - - - - - - - - - -
THE BEST OF SENIOR SEX
http://www.suddenlysenior.com/sexpage.html
- - - - - - - - - - - - - - - - - - - - - - - - - -
SEE THE BEST SENIOR NOSTALGIA ANYWHERE,
http://www.suddenlysenior.com/nostalgiapage.html
- - - - - - - - - - - - - - - - - - - - - - - - - -
SEE THE BEST SENIOR TRIVIA ANYWHERE,
http://www.suddenlysenior.com/triviapage.html
---
Frank Kaiser fdkaiser@gmail.com
http://www.suddenlysenior.com/
Suddenly Senior — the nationally syndicated column read by 3.1-million over age 50 in 176 countries who've become senior way before their time.
Get suddenly senior every Friday. Simply send a blank e-mail to get-ss@suddenlysenior.com. To cancel your free suddenly senior e-mail, send a blank e-mail to remove-sslist@suddenlysenior.com.