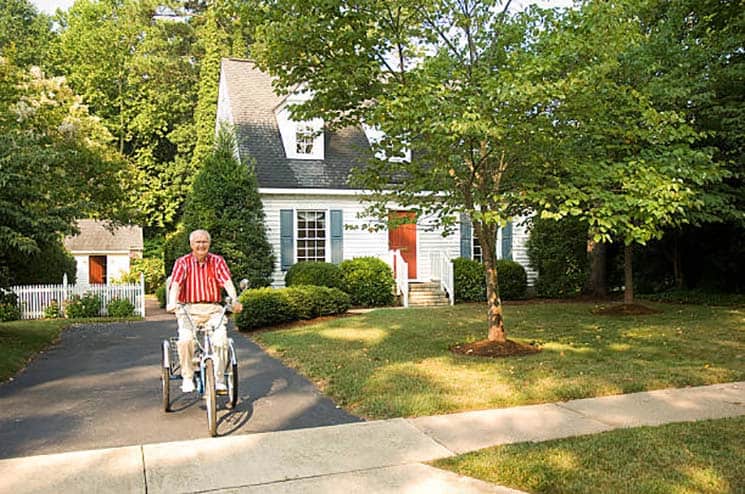 After a Christmas break, a teacher asked her young pupils how they spent their holidays.
One small girl wrote her "child's view of retirement":
We always used to spend Christmas with Grandpa and Grandma.
They used to live here in a big brick home but Grandpa got retarded and they moved to Florida. Now they live in a place with a lot of other retarded people. They all live in little tin boxes. They ride three-wheeled bicycles and they all wear name tags because they don't know who they are.
They go to a big building called a wrecked hall but if it was wrecked, they got it fixed because it's all right now.
They play games and do exercises there but they don't do them very well.
There is a swimming pool there. They go in it and just stand there with their hats on. I guess they don't know how to swim.
As you go into their park, there is a doll house with a little man sitting in it. He watches all day so they can't get out without him seeing them. When they can sneak out, they go to the beach and pick up shells that they think are dollars. My grandma used to bake cookies and stuff but I guess she forgot how.
Nobody cooks. They just eat out. They eat the same thing every night – early birds. Some of the people are so retarded they don't know how to cook at all, so my grandma and grandpa bring food into the wrecked hall and they call it "potluck".
My grandma says Grandpa worked all his life and earned his retardment. I wish they would move back up here but I guess the little man in the dollhouse won't let them out.
Senior Citizen Contest
Win Our $1k Grand Prize
Weekly prizes awarded
About
This top-ranked site now has over 4,000 pages of humor, nostalgia, senior advocacy and useful information for seniors 50+. Updates weekly!
The daily e-zine for everyone over 50 who feels way too young to be old.
"...the perfect mix of Andy Rooney, Dave Barry, and Garrison Keilor, combining knee-slapping humor with useful information and genuine compassion."
Retired.com
"Thousands look to and trust Suddenly Senior. Other Websites pale in comparison to the real-life, intimate look into senior lives. What sets apart Suddenly Senior is its blistering honesty and its incomparable encouragement. Millions need guidance."
Suzette Martinez Standring
"Best Senior Site ever on the Web! Great, up-to-date information on how seniors can save money on drugs. Wonderful nostalgia. Hard-hitting senior advocacy pieces that get read in high places. Wonderful humor. It's all at Suddenly Senior."
Alexa.com
KUDOS
Now read by 3.1 million in 83 newspapers from Florida's St. Petersburg Times to the Mumbai, India News.