TRUE CRIME, MYSTERIES AND HORROR
1930s to 1950s
1. THE SHADOW, debuted 1930.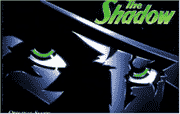 The show was based on a series of novels entitled "SHADOW" by Walter Gibson. Contrary to the title, the show had nothing to do with an invisible man.
Can you remember the bone-chilling quote at the beginning of this radio show which seemingly held the fate of the world in it's embrace for 30 minutes every Sunday afternoon?
A. "Never forget, the shadow is following you."
B. "Who knows what evil lurks in the hearts of men" The Shadow knows!"
C. "Have you seen your shadow?"
---
2. GANG BUSTERS, debuted 1935.

The first program portrayed the death of the Lady In Red's friend, John Dillenger, at the Biograph Theatre in Chicago.
The show featured the sounds of violence, police whistles, breaking glass, the staccato bursts of machine gun fire and metallic burglar alarms.
How was this thriller billed?
A. 'We exist only to bust up the gangs who work to destroy
the American Way of Life."
B. "Wiping out gangland warfare to save the world."
C. "The only national program that brings you authentic police case histories."
---
3. YOURS TRULY, JOHNNY DOLLAR, debuted 1949.
Dollar was played as a freelance insurance investigator with a keen mind, and a nose for murder. He was known for his shameless padding

of expense accounts. As narrator of the show Dollar would begin each show with "Expense account: Item one" and we were off and running.
How did Dollar sign these mostly fictitious accounts, when presenting them to his companies boss?
A. "Love 'ya boss, JD."
B. "Eternally yours, JD."
C. "Yours Truly, Johnny Dollar."
---
4. THE LONE WOLF, debuted 1948.

The Lone Wolf was the pet name for Michael Lanyard, just another radio gumshoe. He was usually found sipping highballs at the Silver Seashell Bar and Grill.
This show had a very noticeable resemblance to another detective series. Can you name the series?
A. Falcon Crest.
B. The Falcon.
C. As the Falcon Flies.
---
5. THE INNER SANCTUM, debuted 1941.

Fear was generated by organ music, rumbling and deep, sounding as if he organ was being played underwater.
What was the sound effect used to open the show?
A. The screech of a Raven saying "Nevermore."
B. The sound of fingernails running down a blackboard. This sound raised the hair on the back of necks all over the US.
C. The sound of a door to the basement being opened, to insane laughter. The groaning and creaking of that door created shivers up and down listeners spines.
---
6. DICK TRACY, debuted 1935.

The show was based on Chester Gould's comic strip detective and opened with a burst of radio code, and Tracy's summary of the crime scene, all relayed on Tracy's wrist radio.
Can you name some of the character side-kicks of Tracy's?
A. Tess Trueheart, Vitamin Flintheart, and probably the most memorable, the crew cut wearing Flat Top.
B. Mahem Milgilicuty, Virginia Vedders, Plug Norton, Butch Fenders.
C. Joe Bob Skinner, Ralph Malph, and old Doc Fogarty.
---
---
COWBOYS AND INDIANS
1930s to 1960s


7. DEATH VALLEY DAYS, debuted 1930.

With stories rooted in fact, this series became one of the most respected dramas of early radio. Written by Ruth Corwall Woodman, it was rich with strange characters, the formost being the Old Ranger who fought the never ending crimes of bushwhackers and cattle rustlers.
Do you remember what sound effect opened the show?
A. The call of an Army-issue bugle.
B."Giddyap! Let's go catch us some bad guys," by an unnamed announcer.
C. "Head 'em up, Roll 'em out!" followed by the crack of a bullwhip.
---
8. GENE AUTRY'S MELODY RANCH, debuted 1940.

Aurty liked to tell his listeners that the show was being beamed directly from his home, Melody Ranch, in the San Fernando Mountains. A "Cowboy Classic"musical number and several simple jokes helped round out every broadcast.
Do you remember the name of Autry's sidekick?
A. Right eyepatch wearing Johnny Jakes.
B. The forever jovial Pat Butram.
C. Cowpoke Bill Jenkins and his wonder horse, Davy Crockett.
---
9. TALES OF THE TEXAS RANGERS, debuted 1950.

Featuring "authentic reenactments of actual Ranger case histories" this series brought cowboy star Joel McCrea to the radio waves. Only names, dates, and places were fictitious "for obvious reasons."
Do you remember McCrea's Ranger name?
A. U.S. Ranger Sammy Spade
B. U.S. Ranger Jase Pearson
C. U. S. Ranger John Goodman Thompson
---
10. WILD BILL HICKOCK, debuted 1951.

Fists flew as Wild Bill Hickock warded off bad men with his knock-out punches and his trusty sidekick, Jingles, butted them with his fat gut. Bad men flew though the air and peace reined once more. At least until the next broadcast.
Who played the title role of Wild Bill Hickock and who played Jingles?
A. Guy Madison was Wild Bill and Andy Devine played Jingles
B. Fess Parker was Bill and Andy Walther played Jingles
C. Clint Eastwood was Bill and Billy Bob Thornton played Jingles
1 THE SHADOW answer: B
2. GANG BUSTERS answer: C
3. "YOURS TRULY, JOHNNY DOLLAR" answer: C
4. THE LONE WOLF answer: B
5. INNER SANCTUM answer: C
6. DICK TRACY answer: A
7. DEATH VALLEY DAYS answer: A
8. GENE AUTRY'S MELODY RANCH answer: B
9. TALES OF THE TEXAS RANGERS answer: B
10. WILD BILL HICKOCK answer: A
---
SCORE HOW RADIO SMART YOU REALLY ARE...
5 to 10 correct: WOW! You are a REAL Radiohead!
2 to 5 correct: Opps, you must have been doing your homework.
0 correct: Whatsamatter" Mommy send you to bed without your radio"
---
FOR YOUR NOSTALGIC PLEASURE

http://www.rusc.com/old-time-radio-downloads.html

Old Time Radio Catalog

© 2005 — Frank Kaiser
---
Send this to like-minded friends. Simply "Redirect," "Forward," or copy, then paste it into an e-mail.
---
BE SURE TO CHECK OUT THE HELPFUL LINKS BELOW

---
AT SUDDENLY SENIOR THIS WEEK...
From radio I learned that hard work, discipline and stick-to-itiveness were essential to marital bliss.

---
Take a stroll down radio's memory lane.This "Older Than Dirt" Suddenly Senior Trivia Quiz will show you how much you remember!
---
Listening to Fibber McGee and Molly...Today!
Reader and old-time radio fan, Mike Sprague, writes about where you can renew old radio memories like The Shadow, One Man's Family, Amos and Andy, Lum and Abner, Our Miss Brooks, Lux Radio Theatre and listen to them today.
---
If you're over 50, this will bring back many wonderful memories. Over 70" It's a memory feast!
---
How's your memory today" We won't even ask you to recall long-gone radio personalities. (Maybe next time!) Just a few famous TV cops from the '50s to last season's NYPD Blue. Just the facts, Ma'am.

---
RECENT COLUMNS
APOLOGIES TO MY
YOUNGEST GRANDKIDS
My generation's made a mess of things. Sorry, but it's up to you to reclaim democracy. Here's how to start. CLICK FOR FULL STORY
WILL WE EVER LEARN
AUSCHWITZ' LESSONS"
In a bloodstained barrack I stood stunned. My fellow Americans had just shunned me, exiling me in this place where 1.6 million were exiled and killed by similar actions and thought. READ MORE HERE.


ROLLING THE DICE WITH
OUR SOCIAL SECURITY
Why is Washington scaring the hell out of us seniors proposing the plundering our nation's most reliable anti-poverty program and providing Wall Street with the spoils" READ WHY HERE.
---
PLANNING A VACATION"
Suddenly Senior's Travel Page has money-saving information you can use whether you're traveling 10 or 10,000 miles.
---
See a list and summaries of Suddenly Senior columns.
Click http://www.suddenlysenior.com/columnlist.html
---
FOUR FUNNY PAGES
OF GREAT SENIOR JOKES!
Suddenly Senior' Sexy Senior Jokes

Suddenly Senior's Favorite Senior Jokes

Suddenly Senior's Great Senior Jokes

Suddenly Senior's Corny Senior Jokes
---
<
---
Have a great weekend, everyone!

Frank

Frank Kaiser frank@suddenlysenior.com

http://www.suddenlysenior.com/

The nationally syndicated column seen by more than one and a half million Americans over 50 who've become senior before their time.