I'll do anything to avoid flying these days, and I used to be a pilot that loved the air. Not anymore. I've grown past the point, physically speaking, that I can handle my own stick and throttle. Flying with the airlines is a pain in the parachute these days. It's almost like the airlines don't want passengers anymore. Freight trains are a lot less trouble, and probably more profitable.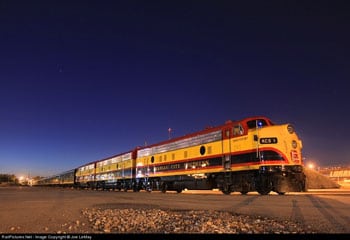 It reminds me of the high-water mark in passenger traffic on trains in this country, a period I lived through and enjoyed back in the mid-20th Century. Railroads did their best to run off passengers so they could concentrate on more profitable freight hauling – and they succeeded.
The way the airlines are behaving today, with their extra charges and ridiculous added fees for everything down to the last sneeze, could it be that they will be the ones to force the powers-to-be to bring the railroads back?
My History with Trains
I started riding the rails at a very young age – around 6. My father was serving in the Army in World War II at Camp Custer, Mich. We lived in Ohio. To visit him meant a wonderful train ride from Columbus, Ohio, to Detroit, Mich., and then a second ride from Detroit to Kellogg on Michigan's southern peninsula, near Camp Custer.
Being way too young to travel by myself, I traveled with my grandmother or stepmother. I will never forget the magnificence of Detroit's main terminal. I had never seen, let along conceived, such a beautiful building.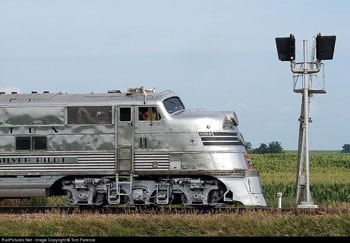 Trains were familiar to me. We lived in the small village of Sunbury, Ohio, about 20 miles north of Columbus. Sunbury was located on the main rail line between Columbus and Cleveland.
Railroad Babies
There were a lot of "railroad babies" in our town. The line running from Columbus into Sunbury had a substantial grade; often when there were long trains to pull up the incline they would add an extra engine – coal burners in those days. Two steam engines chugging up the grade in the middle of the night woke up a lot of people, and since they didn't have television and other forms of nighttime entertainment in those days, they made babies. Or so the story goes!
I loved the old steam engines. I was sorry they were gone by the time I was able to ride trains on my own.
Streamliners
I spent three years riding the "streamliners" between Columbus and St. Louis, Mo., and then on to Mexico, Mo., aboard the City of St. Louis and City of Kansas City and another year riding the great trains of the '50s from Columbus to Fulton, Mo., before going into the Army.
They were great trains in those days. Unlike the trains of World War II, they were not packed with soldiers. The red caps, conductors, and trainmen of the period were polite and attended to their duties with a sense of pride in their work.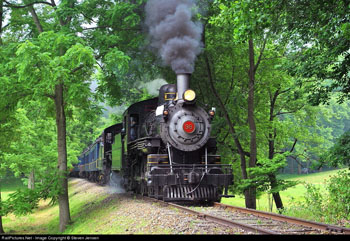 Pullman Cars
In fact, I didn't realize how train travel was deteriorating until the Army gave me 40 guys and assigned us to an old Pullman car from Wooster, Mass., to Tacoma, Wash., to ship out for the Far East in 1956. When I drew my orders as the group leader, it sounded like a great deal. They would just hitch us on the end of fast passenger trains and send us across the top of the United States.
But once we got to the station, and saw the Pullman car we had been assigned, all hopes of luxury disappeared. We had one Pullman porter assigned to the car and for some reason, he had forgotten to check the Pullman beds for mattresses before we pulled out.
Thankfully we had a considerable amount of gear with us, so we spent a week crossing the country sleeping on mattresses made of winter overcoats and other items from our Army duffel bags.
Greatest Trip Ever
Nonetheless, it was the greatest train trip I ever took – around Lakes Ontario and Erie, into and out of Chicago, and across the Great Northern Route through the Dakotas and Montana to the Continental Divide. Then down the Columbia River Valley into Washington state, before angling north to Tacoma.
I remember sitting in awe most of one night as we rolled across the Great Plains. Balls of sagebrush pitched and tossed across the land under a full moon.
We used one of the compartments at one end of the Pullman car for a card room and the one at the other end for a day room. Every time the train stopped for a few minutes, the guys jumped off and restocked the beer supply, then came back aboard to continue a poker game that lasted from one side of the country to the other.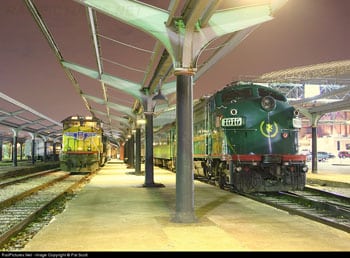 That beat up old Pullman car was my last ride in the declining days of the great passenger trains in this county.
But I did spend nearly three years in Japan where trains were the main mode of transportation. Returning in the 1980s and again in the 1990s, I found I could spend a month or more in Japan without ever needing a car. And, the Bullet Trains were superb rides.
Amtrak Trains
In the 1970s when I was living in Jacksonville, Fla., and working out of Washington, D.C., I gave traveling by Amtrak a try and found it a great ride – not up to the heyday of the great streamliners, but comfortable and convenient nonetheless.
It took about the same amount of time to catch the Metroliner from D.C. to downtown New York City as it did to get to the airport, wait in line, catch the flight, and then find a cab into the city. Instead, I enjoyed the air-conditioned comfort of a train car between the two cities.


In Jacksonville, I could board Amtrak late on a Sunday afternoon, ride overnight in sleeping compartment comfort, and be at work in Washington on Monday morning – before my cohorts showed up from the suburbs. It cost about the same as a plane ticket and was much more fun and comfortable.
Today I jump on Amtrak in Lakeland, Fla. where I live, and ride a couple of hours up the line to Palatka to have dinner with a friend. It costs $23 one-way, less than the gas to drive it, and much more comfortable.
Amtrak may never come near the peak of luxury that the old streamliners reached, but it is clean, comfortable and affordable. And you don't have to worry about someone fondling your privates before you board. If airlines keep abusing passengers the way they are doing now, they just might force us back to the trains.
And that wouldn't bother me at all.
Sponsored Links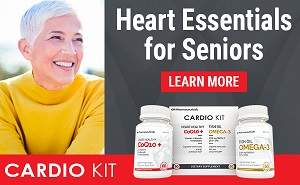 Cardiologist Developed and Recommended
---
Your link could be here.
About
This top-ranked site now has over 4,000 pages of humor, nostalgia, senior advocacy and useful information for seniors 50+. Updates weekly!
The daily e-zine for everyone over 50 who feels way too young to be old.
"...the perfect mix of Andy Rooney, Dave Barry, and Garrison Keilor, combining knee-slapping humor with useful information and genuine compassion."
Retired.com
"Thousands look to and trust Suddenly Senior. Other Websites pale in comparison to the real-life, intimate look into senior lives. What sets apart Suddenly Senior is its blistering honesty and its incomparable encouragement. Millions need guidance."
Suzette Martinez Standring
"Best Senior Site ever on the Web! Great, up-to-date information on how seniors can save money on drugs. Wonderful nostalgia. Hard-hitting senior advocacy pieces that get read in high places. Wonderful humor. It's all at Suddenly Senior."
Alexa.com
KUDOS
Now read by 3.1 million in 83 newspapers from Florida's St. Petersburg Times to the Mumbai, India News.