I'm getting tired of all the balderdash about "Buy American." When I go shopping for living essentials, I find that most of them are not made in America and a lot of the few that are simply are too expensive for my budget.
Take for example my recent purchase of an electric razor. I take a lot of blood thinners because I have a clotting problem. Therefore I rarely shave with a blade razor simply because it takes too long to stop the bleeding if I cut myself.
For more years than I want to count, I have shaved with a fine electric razor. They last for years. The particular brand I use used to cost me about $25 when I replaced it every five or six years.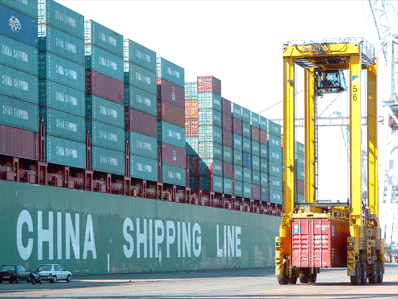 Recently the last one I was using finally died. I went to the local drug store to see what they had. Lo and behold the price of them had more than tripled. But, right there beside them on the rack was one that looked just like it, for $10. I took it down and examined it. It had an American brand name but was "Made in China."
I thought about it a while and finally said, "What the heck!" The $65-$70 I was saving by buying this Chinese product would more than fill the gas tank on my car. I can always use the extra gas money.
Believe it or not, that $10 electric razor is doing yeoman's duty on my face and neck. What more could I ask for?
After all, I am 75 years old, and although I am not destitute, I do live on a fixed income. Every penny counts when it comes to buying food and other living essentials. If I can save a tank full of gas by buying a razor made in China instead of a U.S. product, it fits my financial needs.
Besides that, when relating this incident, I have been told that I would have likely been buying an "American" product made of parts made in China had I paid the higher price for my favorite old brand of razor.
That's true in a lot of our purchases. Take cars for instance. I volunteer one or two days a week to haul patients to and from the Shriners Hospital in Tampa. A car dealer along the way has been donating the gas to run the two vans we drive, so I stop at the dealer's to fill up each trip. While one of the dealer's workers fills my tank I get the opportunity to browse through the new vehicles that recently have been delivered.
I have yet to find a sticker on any of these American-made – by a company who received a major government bailout to provide jobs for American workers among other things – that says any of them are 100 percent "Made in America." They may have been assembled in the U.S. but they are assembled from transmissions made in Mexico or France, motors made in Canada or Korea, and millions of other parts from around the world.
So who is kidding whom in this "Buy American" campaign? It's balderdash, pure and simple.
Those of us living on fixed incomes owe it to ourselves to make the most of the limited resources we have.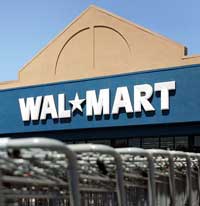 Why pay $10 for a brand name T-shirt in a shop at the mall when you can go up the street and buy the same T-shirt for $3 on sale at Walmart. Check the labels, they are all made in the same place whether it be Outer Mongolia, Timbuktu or Anytown, SC. Buy a half dozen of these T-shirts and you've saved enough to fill up at least half your gas tank. That's what really counts to a senior on a fixed income.
Besides that, I am not all that worried about China running us into the ground economically, any more than I was when the whole world seemed to think Japan was going to sink us financially a quarter of a century ago.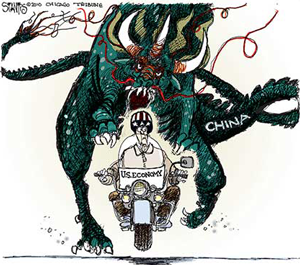 We complain about our rapidly rising prices. But take a look at what the Chinese are trying quietly to deal with when it comes to everyday living in that vast country of 1.3 billion people, a full billion bodies more than what lives in the U.S.
Grocery costs in China rose a staggering 55 percent in a single year recently when farmers cut production because of increased feed costs. Vegetable prices have jumped 30 percent in a single year because of bad weather. Three people were killed in a stampede to buy cut-price cooking oil because the price of edible oils in China shot up 34 percent due to reduced oilseed crops.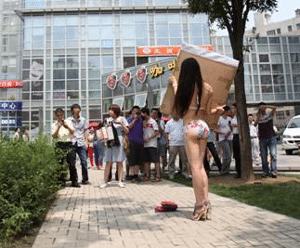 With the price of groceries escalating at that rate, China faces some tough battles for higher wages. Although I will admit I like the way office workers in China strike for their cause. Instead of sleeping like animals in a city park in protest of many undefined causes, as is the current American way, female Chinese office workers have been known to climb into their bikinis and parade with a sign for higher pay in local parks adjacent to the businesses for which they work. Now that is class even an old duffer can appreciate!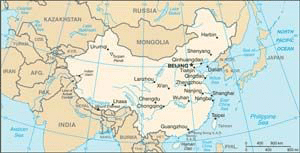 So while China may have the edge right now, it will eventually slip just as the Japanese lost their competitive advantages in the world market. That doesn't mean that we don't have some fiscal housecleaning to do here in the U.S. but it does mean that over the long run we can and should remain competitive on a world scale.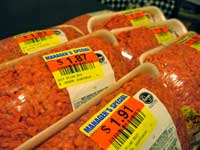 And we geezers have a duty to ourselves to keep up with the market the best way we can. If that means buying Chinese for the time being then so be it. If that means driving by my favorite Winn-Dixie and stopping at Aldi's on the way home to save 25 cents a pound on hamburger than I will continue to do it.
About
This top-ranked site now has over 4,000 pages of humor, nostalgia, senior advocacy and useful information for seniors 50+. Updates weekly!
The daily e-zine for everyone over 50 who feels way too young to be old.
"...the perfect mix of Andy Rooney, Dave Barry, and Garrison Keilor, combining knee-slapping humor with useful information and genuine compassion."
Retired.com
"Thousands look to and trust Suddenly Senior. Other Websites pale in comparison to the real-life, intimate look into senior lives. What sets apart Suddenly Senior is its blistering honesty and its incomparable encouragement. Millions need guidance."
Suzette Martinez Standring
"Best Senior Site ever on the Web! Great, up-to-date information on how seniors can save money on drugs. Wonderful nostalgia. Hard-hitting senior advocacy pieces that get read in high places. Wonderful humor. It's all at Suddenly Senior."
Alexa.com
KUDOS
Now read by 3.1 million in 83 newspapers from Florida's St. Petersburg Times to the Mumbai, India News.