First, know that this new drug plan, despite its name, is private insurance in which Medicare plays no role. In fact, its main purpose is to kill Medicare as we know it.
It lacks all the virtues of Medicare: reliability, clear national standards, automatic enrollment, and clinical decision-making left in the hands of doctors and patients.
Instead, Plan D includes massive corporate welfare, increases your premiums, offers no benefit stability, confuses the hell out of everyone, and was enacted under an ethical cloud.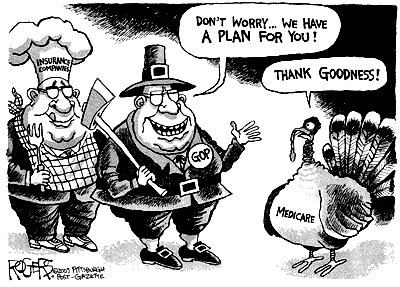 If you're a vet, you're lucky. Stay with your drug plan. The same goes for most corporate retirement health plans.
But if you have no drug coverage, regard Plan D the perfect storm of spending the treasury dry, taxing your pocketbook to new limits, and creating the most perplexing scheme since John wrote Revelations.
Consider:
Medicaid Eliminated for Seniors – About 5.5 million seniors on Medicaid will be shifted automatically to Part D coverage on Jan. 1, a tidy windfall for the insurance companies. Many will face potentially catastrophic consequences. Life-saving medications may not be covered. Doctors and hospitals may have to be replaced. Our most vulnerable – nearly 4 in 10 have mental or cognitive impairments -will be thrown into a pool of sharks.
This year's 13.2 percent jump in the Medicare premiums coming on top of last year's record 17.4 percent increase, raises grave questions about its painful effect on millions of older and disabled Americans living on fixed incomes.
Elimination of Patient Assistance Programs – Companies like Bristol-Myers Squibb, Merck, and Johnson & Johnson, sensing the potential saving of some $4-billion a year, are telling Medicare-eligible drug recipients that unless they are turned down by insurers – hardly likely, it would illegal – they are no longer eligible for coverage, not even when the patient hits the catastrophic $2,850 out-of-pocket "donut hole."
Boston University School of Public Health estimates that 61 percent of the estimated $850 billion in Medicare dollars used in Plan D's first 10 years will remain with drug makers as added profits. That's a whopping $519-billion windfall for Big Pharma, courtesy Bush & Co.
Death of Drug Company Discount Cards – Lilly, Pfizer, GlaxoSmithKline, Novartis and others now offer medicine for as little as 12 bucks a month to moderate-income seniors. Already Lilly has notified 235,000 seniors that its program, Lilly Answers, will end next May. All others are expected to follow.
Among the many atrocities hidden in this 700-page bill is a cap on the use of general revenues for Medicare. This will create a phony crisis in about four years leading to cutbacks in a Medicare-covered hospital and doctor care, as well as drug benefits, significantly increasing your out-of-pocket costs.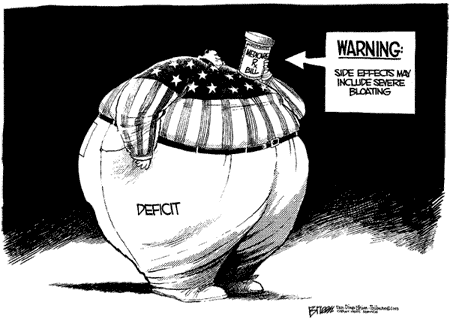 Quantity Limits on Drugs Create Barriers to Access – Many plans impose quantity limits to restrict the duration of treatment or limit the monthly dose for cholesterol-lowering statins, antidepressants, angiotensin II receptor antagonists, proton pump inhibitors, ACE inhibitors, osteoporosis and Alzheimer's medications. Often plans require that a patient first try a cheaper drug. Remember too, drugs not covered and bought at full price outside your particular plan are not counted toward the deductible.
If Congress had considered your interests at all, Medicare's prescription drug benefit would be a nationwide benefit with standard premiums, cost-sharing structure and lower, negotiated drug prices.
You're Locked In, Insurers Aren't – Even if you're fortunate enough to find an insurer that covers all or most of your drugs – Lots of luck! – after May 15, you can't change insurers until the following November. At any time, however, your insurer can raise premiums, cut benefits, shift drugs covered, even decide to go out of business as so many did six years ago when government payments dried up.
If the Republicans have their way, Medicare will die. The new bill offers private health insurers $12 billion in subsidies to compete against Medicare, may the best plan win! How else could they compete? HMOs spend 15 – 32 percent on overhead where Medicare spends less than 2 percent.
Nest Eggs Penalized – Been saving all your life for a rainy day? An estimated 2.4 million folks with Medicare having incomes below $14,355 ($19,245 for couples) are expected to be ineligible for low-income subsidies because of asset tests.
Lower prescription drug prices would allow Medicare to eliminate the "donut hole" in Medicare prescription drug prices. In one estimate, a 50 percent reduction in prescription drug prices – a discount similar to what other industrialized countries have achieved through price negotiation – would enable Medicare to close the donut hole, increase access to prescription drugs and reduce total drug spending.
Saving Money Penalized – Although you can often save 40 – 70 percent safely by buying your drugs in Canada and elsewhere, such purchases will not count toward your deductible limits under Plan D.
Although the new Medicare plan won't count purchases outside the US, for anyone spending less than $1,500 next year, Medicare's premiums, deductibles, and co-pays make buying Canadian drugs a far cheaper option. In fact, figuring in the drug bill's donut hole where it pays not a dime in coverage from $2,250 to $5,100, under Plan D I must purchase about $7,000 in medicine next year before I break even.
Employers Drop Drug Coverage – Despite the $86-billion the bill gives corporations to induce employers to keep providing retiree prescription drug benefits over the next decade, it isn't enough to forestall many from joining the trend toward slashing retiree benefits. After all, your former employer can legally cut your present drug coverage to the bare minimum provided by Plan D and keep his share of the 86 billion. The Congressional Budget Office figures that about 2.7 million retirees will lose employer benefits as a result of the new law.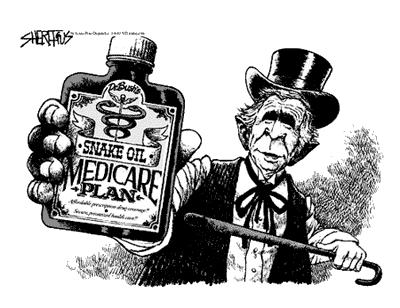 Finally, just last week the Bush administration weighed in as Congress decides between either charging higher fees to the poorest Americans with Medicaid or reducing overpayments to insurance companies profiting from sponsorship of private Medicare plans.
Need I tell you which side the administration took?
About
This top-ranked site now has over 4,000 pages of humor, nostalgia, senior advocacy and useful information for seniors 50+. Updates weekly!
The daily e-zine for everyone over 50 who feels way too young to be old.
"...the perfect mix of Andy Rooney, Dave Barry, and Garrison Keilor, combining knee-slapping humor with useful information and genuine compassion."
Retired.com
"Thousands look to and trust Suddenly Senior. Other Websites pale in comparison to the real-life, intimate look into senior lives. What sets apart Suddenly Senior is its blistering honesty and its incomparable encouragement. Millions need guidance."
Suzette Martinez Standring
"Best Senior Site ever on the Web! Great, up-to-date information on how seniors can save money on drugs. Wonderful nostalgia. Hard-hitting senior advocacy pieces that get read in high places. Wonderful humor. It's all at Suddenly Senior."
Alexa.com
KUDOS
Now read by 3.1 million in 83 newspapers from Florida's St. Petersburg Times to the Mumbai, India News.