My late aunt and uncle had one of the most rip-roaring arguments of their marriage over what to say on their tombstone. After 60 years of marital bliss, attempting to agree on an epitaphial eulogy almost did them in.
She wanted simple: their names, the dates, and nothing more. He wanted praise, an embellished testament of their lives – especially his – in perpetuity.
As he died first, she prevailed. Their big mistake had been in waiting to make this monumental decision at the dusk of their lives.

Now is the time to start thinking about your epitaph. It's never too early.
As you know, life after 50 is patch, patch, patch.
What if you died yesterday? Your stone might well read: "Here lies Betty. We'd say more, but she wasn't ready."
Folks spend more thought picking out their screensaver than they do their epitaph. This is a mistake. It can even lead to tombstone typos like: "Gone to be an angle" or "Rest in piece."
Such bloopers are forever.
Suddenly Trivia Question: One of the strangest funeral customs still practiced in the world is a) sending the deceased to sea in a tall ship, b) filling the body with knickknacks, c) mourners laughing all the way to the burial ground, d) eating the body.
An epitaph is a public declaration, the last and probably longest-lasting expression of your life.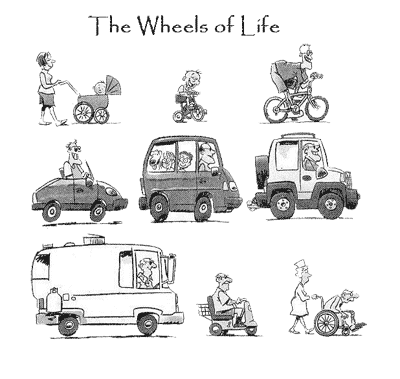 What do we remember about W.C. Fields, for example? That he was the most successful juggler of his generation? That he was the first movie star important enough to have his name billed above the producers? No. We remember his epitaph, "On the whole, I'd rather be in Philadelphia."
So what can you say about yourself that's profound enough for eternity?
According to Boswell, Dr. Johnson believed "allowance must be made for some degree of exaggerated praise. In lapidary inscriptions, a man is not upon his oath."
Maybe my Uncle Charlie was right after all.
One thing is certain, terseness is essential. In 200 years, how many will choose to read these faded words on stone?
Here lies a poor woman who was always tired;
She lived in a house where help was not hired.
Her last words on earth were: Dear friends, I am going
Where washing ain't done, nor sweeping, no sewing:
But everything there is exact to my wishes;
For where they don't eat there's no washing of dishes…
Don't mourn for me now; don't mourn for me never –
I'm going to do nothing forever and ever.
Nice sentiment, but geez, it's way too long. Better, this:
Five times five years I lived a virgin's life
Nine times five years I lived a virtuous wife;
Wearied of this mortal life, I rest.
Speaking of virgins, I always liked this one:
Here lies all that remains of Charlotte,
Born a virgin, died a harlot.
For sixteen years she kept her virginity,
A marvelous thing for this vicinity.
And this: "She sleeps alone. At last."
So how do you begin to compose your life in a few short and pithy phrases?
If you're a professional person, you might begin with your occupation. An Arkansas doctor's epitaph read: "Office upstairs."
Attorney John Strange had this to say about himself: "Here lies an honest lawyer. That is Strange."
A dentist, this: "Filling his last cavity."
Perhaps religion, or the lack of, is uppermost in your mind. Short and to the point are, "Oh reader, be prepared" and "The Lord don't make no mistakes." More fun, perhaps, is this from Thurmont, Maryland:
Here lies an Atheist
All dressed up
And no place to go.
Whatever, don't procrastinate. Even if you live to be a centenarian, here, from Nova Scotia, is what happens if you don't prepare an epitaph for yourself:
Here lies
Ezekiel Aikle
Age 102
Proving The Good
Die Young.
For me, I always liked the brevity and wit of Dorothy Parker, whose epitaph reads, "Excuse my dust." But I plan to dodge the bullet with cremation.
I never did like writing deadlines.
Suddenly Trivia Answer:d) Herodotus wrote that the Calatians ate their own dead. Queen Artemisia supposedly mixed the ashes of her beloved with wine and drank it. Talk about body! To this day, certain African tribes are known to grind the bones of their dead and mingle them with their food.
---
READERS RESPOND WITH THEIR OWN FAVORITE EPITAPHS…
"Across Frank Kaiser's cap
read 'Old Fart'
Within Frank Kaiser's chest
beat a Big Heart.
www.suddenlysenior.com
suddenly cut too short."
Suzette Standring, a good friend and author of the column "Slice of Sudden Laughter" at http://www.readsuzette.com
"Ashes to ashes, dust to dust.
Going to be cremated, no muss nor fuss.
No tombstone needed for one to tend,
When my ashes simply glide with the wind.
That way I will always be with you or until
The wind stops and becomes permanently still."
Carol Davey
"The manner of his death was thus:
He was druv over by a bus."
Joe Klock
"I'll be right back!" What Johnny Carson said would be his epitaph.
Richard Watherwax
"Look down here as you pass by,
as you are now so once was I,
as I am now, you too will be,
remember, this is eternity." From County Tipparary, Ireland
Patrick and Shelia Webster
"Here lies Lester Moore
Victim of a 44
No Les
No Moore."
Bob Diorio
And more…
"Here lies the body of Jonathan Moore
He tried to slam a swinging door!"
Donna Harvey
"I told you I was sick!" From the Key West cemetery.
Rev. Don Olson
About
This top-ranked site now has over 4,000 pages of humor, nostalgia, senior advocacy and useful information for seniors 50+. Updates weekly!
The daily e-zine for everyone over 50 who feels way too young to be old.
"...the perfect mix of Andy Rooney, Dave Barry, and Garrison Keilor, combining knee-slapping humor with useful information and genuine compassion."
Retired.com
"Thousands look to and trust Suddenly Senior. Other Websites pale in comparison to the real-life, intimate look into senior lives. What sets apart Suddenly Senior is its blistering honesty and its incomparable encouragement. Millions need guidance."
Suzette Martinez Standring
"Best Senior Site ever on the Web! Great, up-to-date information on how seniors can save money on drugs. Wonderful nostalgia. Hard-hitting senior advocacy pieces that get read in high places. Wonderful humor. It's all at Suddenly Senior."
Alexa.com
KUDOS
Now read by 3.1 million in 83 newspapers from Florida's St. Petersburg Times to the Mumbai, India News.