Remember your dream? You were going to sketch beside a waterfall in Maui? Or sail a clipper ship to Tahiti? Or turn your hobby into a successful business, making work pleasurable again.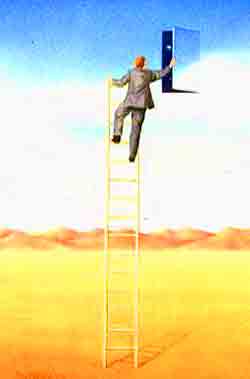 Yeah, that one. The one in which you write the Great American Novel, pose for the cover of Entertainment Weekly and live happily ever after.
Today, instead of clipper ships, waterfalls, and south sea breezes, you're clipping coupons for peanut butter, crossing borders for cheaper prescriptions and planning your shopping according to which store has the Senior Specials.
What the hell happened?
Dumb question, huh? You had to raise a family. You had to work. Maybe you had to care for your parents. All sorts of things interfered.
And you got old.
Damn!
Thing is, once we stop dreaming, we stop living. Without a dream, we're just taking up space. As someone said to me the other day, "The only difference between a rut and a grave is the depth."
Unfortunately, most of us don't have the resources to fulfill our earlier dreams of, say, trekking the Himalayas or collecting post-World War II British sports cars.
Actually, our resources are far more valuable as they include our energy, our enthusiasm, and our unique talents just waiting to be developed. It's everything you need to become alive again, chasing doable dreams that rejuvenate and satisfy more than a dozen old Jaguar XK-120s.
The alternative, mind you, is mental and spiritual rot from the inside out.
Haven't we all had a retired aunt or uncle who sat around all day every day, abdicating life, believing that was what retirement was all about? Here in my retirement community, I see folks who do nothing to enliven their brains and bodies but fill their mouths with complaints. Then they die, perhaps from boredom. So sad.
Isn't it time to develop a new dream? And make that dream a reality?
A friend with whom I played bassoon in high school recently found an amateur orchestra in her city and, within a year of buying a relatively cheap bassoon on eBay, she was performing the solo in "Sorcerer's Apprentice." Her grandchildren gave her a standing ovation.
I know a retired lady named Peg who last year decided to get up off the couch on which she'd been potatoing and take free community college art courses, something she always wanted to do but never before had the time. Today she's among the happiest people I know. She paints daily, filling hours formerly long and boring with creativity and excitement. This month, she has an exhibit at the town library, and just last week she sold her first painting. For real money!
Suddenly Trivia: According to Microsoft, what percentage of Americans over age 60 uses a computer? a) 30%, b) 40%, c) 65%.
There are retired folks out there – millions of them – making new dreams come true every day. Many find fulfillment by helping others. I'm not talking bake sales here. According to the Wall Street Journal, 24 million Americans age 55 and older serve as volunteers, many finding positions with influence and authority.
Like investigating and determining the needs of abused and neglected kids? Or patrolling their neighborhoods with Community Watch? Or working with the homeless? See http://www.2young2retire.com/ for dozens of dynamic ideas.
Get paid for doing something you love. Like ballroom dancing on a cruise ship. Or acting in a Wild West show. See Senior Related Links.
Want the challenge of a lifetime?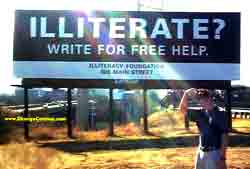 Teach illiterate adults to read. To 24 million adult Americans, this column could be all about Russian oil production. Think what they miss in life! Imagine the satisfaction of opening the world of words to an illiterate adult. I must warn you from personal experience, teaching literacy, not the Peace Corps, is the hardest job you'll ever love. Call 1-888-528-2224.
Not to say that joining the Peace Corps is dull. A 77-year-old friend of mine just returned from his second PC gig, an exciting stint in Estonia, wondering where he'll go next.
I know folks over 60 who are enjoying second careers in photography, model building, woodworking, and cooking – mere hobbies before they retired.
No excuses. OK?
If you find yourself in a rut without dreams, you'd better move fast before folks think you're dead and bury you.
Suddenly Trivia Answer: a) 30+%
Senior Citizen Contest
Win Our $1k Grand Prize
Weekly prizes awarded
About
This top-ranked site now has over 4,000 pages of humor, nostalgia, senior advocacy and useful information for seniors 50+. Updates weekly!
The daily e-zine for everyone over 50 who feels way too young to be old.
"...the perfect mix of Andy Rooney, Dave Barry, and Garrison Keilor, combining knee-slapping humor with useful information and genuine compassion."
Retired.com
"Thousands look to and trust Suddenly Senior. Other Websites pale in comparison to the real-life, intimate look into senior lives. What sets apart Suddenly Senior is its blistering honesty and its incomparable encouragement. Millions need guidance."
Suzette Martinez Standring
"Best Senior Site ever on the Web! Great, up-to-date information on how seniors can save money on drugs. Wonderful nostalgia. Hard-hitting senior advocacy pieces that get read in high places. Wonderful humor. It's all at Suddenly Senior."
Alexa.com
KUDOS
Now read by 3.1 million in 83 newspapers from Florida's St. Petersburg Times to the Mumbai, India News.