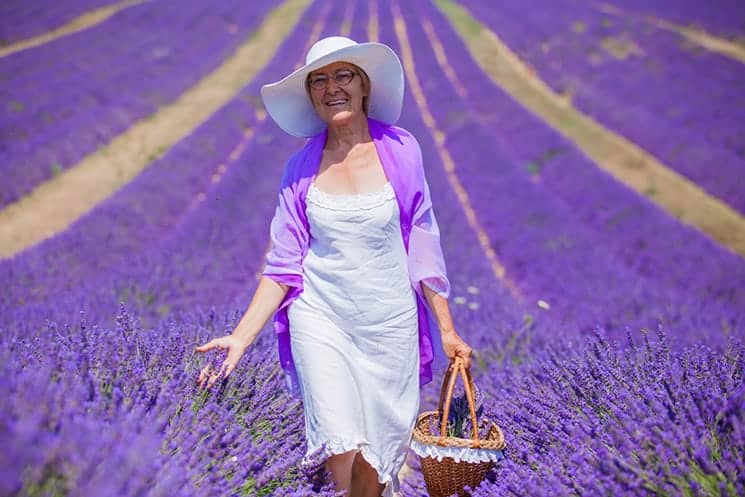 "When I am an old woman, I shall wear purple", the British poet Jenny Joseph writes in her poem "Warning". She describes the restraints and responsibilities of middle age and looks forward to finally abandoning them. When she is an "old woman" who will wear purple "with a red hat which doesn't go and doesn't suit me."
I was way ahead of her. Purple has been my own favorite color since I was in my 30s. There was always a dress of that hue in my closet. It was exceptional in its fit, fabric, cut, or its long flowing skirt. I never felt more femininely attired than when I'd step out wearing a beautiful purple dress. Red felt too flashy.
Blue was ordinary and safe. Green was soothing. But purple! It made me feel bold, passionate, and regal.
I recently pulled into a parking lot to find that spaces closest to the building were labeled "Reserved for people 75+". Having just turned 75, I was happy to comply.  And at the airport, people over 75 don't have to remove their shoes for TSA.  At my local Amtrak station, people my age are allowed to board first.
I take these kind gestures from society to mean that I am now an "old woman". I truly don't feel like an old woman, at least in spirit. Yet, when I turned 75, I told a friend, "Maybe I have another decade left."
Old Woman Wearing Purple
So if I am an "old woman" now, but have been wearing purple for decades, what's left for me to aim for in this last chapter of my life? Does that make as bold and empowering a statement as my purple attire?
It certainly isn't an adventuresome bucket list. I've traveled a lot as a single woman across the country and to Europe twice. It was all in an era when it was bold for a woman to travel by herself. After I married (my now ex-husband), we went to his native country of India.  My current husband and I have gone to Sedona, Hawaii, Costa Rica, Puerto Rico and on several Road Scholar trips for people over 50.
At 75, my wanderlust is gone. Not because of age, but because of temperament. As the Persian poet Omar Khayyam said in "The Rubaiyat of Omar Khayyam" — "A Book of Verses underneath the Bough, A Jug of Wine, a Loaf of Bread–and Thou Beside me singing in the Wilderness". That's what I yearn for now. Except make mine sparkling mineral water and multi-grain bread beside a lake. And, of course, my wonderful husband.
I've written two books, had countless essays published, compiled an anthology for my writing group. I found my soulmate, and my soul work, which is helping others express themselves through writing.
Ever since I had to rebuild my life in my 30s after a serious health crisis, I've looked up to vital centenarians as role models for the triumph of the human spirit. If people 100 and over could remain engaged with life and continue to thrive after all of their inevitable losses, certainly I could too.
Growing Old with Purple
Recently, the 86 year old woman I am helping to write a story declared with excitement, "I have started to plan my 100th birthday party." While I am deeply inspired by her optimistic spirit, as my body and memory fade, living to 100 isn't as alluring as it used to be. Yet, I do want to master what research shows contributes to becoming a vital centenarian the ability to adapt.
So what IS bold and empowering for me at 75? I wrap myself in my alpaca purple shawl with beautiful lacy designs. Then I plop onto my contemporary purple sofa, purchased 20 years ago before I was an "old woman". I pull out my journal and start writing.
Slowly, an understanding materializes. I've known for a while that for me, being bold is not stepping out in a purple dress or playing "Leaving on a Jet Plane" on my internal jukebox. It's about going inward and tuning in to the slowly emerging voice that urges me to make peace with some hard realities.
As much as I love my stepdaughter, she will never become the daughter I always wanted. And my track record of successfully using alternative healing for the last four decades must give way to pharmaceuticals as I juggle the management of four new health issues that have beset me in the past year.
Finally being able to accept these truths, although sobering, actually brings a peaceful smile. Yet I know I have only scratched the surface of issues I must learn to adapt to.
Contemplating the growing list, this old woman suddenly falls asleep surrounded by purple.
About the Author
Blog – http://joanleof.com/wp/blog/
Sponsored Links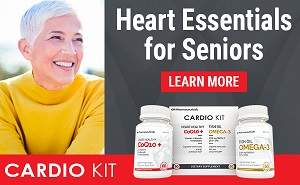 Cardiologist Developed and Recommended
---
Your link could be here.
About
This top-ranked site now has over 4,000 pages of humor, nostalgia, senior advocacy and useful information for seniors 50+. Updates weekly!
The daily e-zine for everyone over 50 who feels way too young to be old.
"...the perfect mix of Andy Rooney, Dave Barry, and Garrison Keilor, combining knee-slapping humor with useful information and genuine compassion."
Retired.com
"Thousands look to and trust Suddenly Senior. Other Websites pale in comparison to the real-life, intimate look into senior lives. What sets apart Suddenly Senior is its blistering honesty and its incomparable encouragement. Millions need guidance."
Suzette Martinez Standring
"Best Senior Site ever on the Web! Great, up-to-date information on how seniors can save money on drugs. Wonderful nostalgia. Hard-hitting senior advocacy pieces that get read in high places. Wonderful humor. It's all at Suddenly Senior."
Alexa.com
KUDOS
Now read by 3.1 million in 83 newspapers from Florida's St. Petersburg Times to the Mumbai, India News.