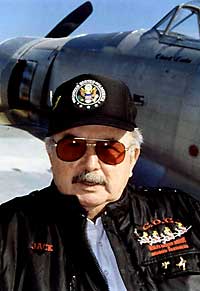 I mentioned to someone just the other day that I've finally reached an age that on occasion can be depressing.
Besides the burden of living alone, and not having anyone around to share things with, a lot of people who I have admired for their talent in the arts seem to be passing away. The movie stars that we grew up with, and held in awe for the roles they played on the screen, along with the singers and dancers who gave us so many hours of pleasure are slowly joining the ranks of the missing.
I miss them!
We get far fewer phone calls these days. Dogs and cats love us, cause they know we give good "petting" and aren't stingy with the groceries. The senior ladies that see us shopping in the grocery store, with the cart loaded with Oreos, Twinkies, Ice Cream, and so on (just kidding, Dr. Atkins) tend to bump into our cart to see what kind of reaction they can gather. Only a widower would have a cart full of all that good stuff!
Life, as we age, changes.
One of my sage sayings at this age is: "One of the benefits of aging is the amount of compassion I have developed for my fellow human being where age thirty it boiled down to, "Punch him out and let's get the hell out of here!" But now it's" what can I do to help…"
Occasionally memories flood in from somewhere, triggered by a remark, some familiar scent, or a someone that looks like someone else you knew a long time ago.
You fill up the time with activities. I never did as many crossword puzzles before, and now if I can't finish the two in the morning paper I get frustrated. You notice that those "Senior Moments" come around every now and then, and tend to get you wondering what it was you were just thinking about.
Occasionally thoughts about your old home and all its haunts make you wonder if you should go back more often. But a lot of the contacts you had at home, both family and friends, have passed on. The children are there, but there not children anymore. Seasoned adults with families, and all of the problems that life can give them in this confused age we live in.
The amount of hypocrisy in this country today, tends to make cynics of us all. We seem to have lost the integrity that once was so precious. We are lied to constantly, double-talked to daily, and asked to believe the government is doing its very best to make our lives more bearable.
Thirty, forty, or fifty years ago we thought that life was going to go on forever. Aging never entered the equation. Old people ended their working years and then headed for the nursing home. Going back to work was no substitute for the rocking chair. These were supposed to be the leisure years.
Gasoline costs ate up our leisure funding.
But… life can be great if you want it!. Most of the seniors I know seem to sort of quit everything. They put their 30 years behind the plow, and they feel they deserve to fish, golf, or play all day long. That grows so quickly old. They have reached a destination in life, where they feel they can't go on another journey. Unfortunately how wrong!
We can still meet people who will make an influence on our lives. We can still do things that will broaden the horizon, that up to now, was shrinking. We can still go places that will add to our education. And a lot of it can be accomplished with small costs, a lot of enthusiasm, and an open mind, and a friend to share it with.
Someone once told me I might live to be a hundred. I replied, "I don't think I would like to"….. but I will try to live each day so that it does bring me some rewards in the way of happiness, new friends, new places, and a better understanding of my fellow man.
There are some great people who make some of the wheels go around. I've met a few, but there are some others I haven't met yet, but would like to. Each of us can contribute just a little more to make someone else's day a little brighter. Fill the lonely hours with whatever you can find, if it enriches your life and makes you a happy and better person.
---
When asked to write a short bio, here's what Jack said:
How does one write a short "Bio" (biography)? When you've passed 80 it stands to reason you've seen and experienced a lot more than you probably should have. Unfortunately I was a "Depression" child, along with a twin sister, and a brother two years younger. We were part of that great unwashed public that didn't know things were that "bad" , as we thought "bad" was normal. Got out of High School in June of 1941 and from way up in the Upper Peninsula of Michigan… Iron Mountain… Ritchie and I hitchhiked all the way down to Green Bay, Wisconsin to join the United States Marine Corps. Why? we thought the uniform was the greatest. Unfortunately the Marine recruiter was out to lunch, and that left only the US Navy recruiter with two young, uneducated, naive, eager, willing live bodies ready to join anything, and go somewhere. We did both counts. Then six months later along came World War Two. Almost five years in Naval Aviation (on the enlisted side) with an all expense tour of what are now far off and exotic places. Thirty-nine months of active combat….. flying around some of the more remote spots the Lord made in the South Pacific. God must have loved the water, 'cause he sure made a lot of it.
But fortunately, we survived. A little older, and a little wiser. Not as wise as we feel we are now, but enough to recognize the girl of my dreams, when she passed in review. She was ex-United States Marine Corps. Served her hitch at Cherry Point Naval Air Station, and was the best-looking Marine I had ever seen. Whatever she saw in me, must have satisfied her, for when we were not watching, five children came out of the woodwork. Yep, only six years separating all five…. that's what I got for riding home in the ambulance with the wife, after each delivery. Our trials and tribulations were no rougher or better than most couples our age. You struggle to get ahead, fall back a little, keep advancing, learning, progressing, and somehow it keeps coming together.
I had some success in the newspaper field, but the pay was like working in a bank in those lean years. You could have all the titles you wanted, but raises were far and few between. I discovered that sales could provide a much better income, and became what is known as a Manufacturers Representative. That meant I could sell for a specific manufacturer, in a specific territory, on a specific commission. We represented about five manufacturers from the New York area, and sold throughout most of the Midwestern states, which meant much traveling. But it also meant one got to meet many, many new people…. and some of them made major impacts on my life. The beauty of meeting people for the first time, is the mystery of what you can gain from them. Sometimes the gain is so great, you deeply wish you could have met them twenty years ago.
My bride…after learning that "Life Really Begins" when the dog dies, and the kids leave home, obtained a Class 6 Security License and devoted her skills to selling annuities, and pension plans. You just know she did well! She was also the world's greatest feminist… and I've got calluses on both knees to prove it. But I always admired her spirit of…."Don't tell me I can't do that"! She was undaunted by whatever obstacle was placed in front of her. And in many ways a far superior being than I was! And I loved her for that….
After the children went there own ways, we discovered the wonderful world of travel. Europe on $50 a day (for two) became a reality if you stayed where the locals stay, drank where the locals drank, and ate where the locals ate. Going to Munich and staying at the Holiday Inn was not our way of seeing Germany. Finding a Zimmer (German Bed & Breakfast) was the only way to know the locals. Riding the train, bus, or barge gave us much insight as to how the locals lived and played. Making friends this way was easy…. and lasting. I still write or call a few that made an impact on our lives. We were both self employed and wouldn't have it any other way. I still fly (yes at 80) but aerobatics are very limited, and only in superb weather. Just the sheer fun of putt putting along in a super cub flying about 400 above the ground is the best it can get. I still fly at sixteen and seventeen thousand feet in ex-military jets, but that's another realm which requires a lot of input from the brain… and you know the input doesn't came through as fast as it used to.
Life is good, if you want to make it good. We had our good and bad times, but it all went toward the learning process. One of the best saying I learned from someone was, "Every once in a while, out of the blue, go over and give your partner a big hug! You'll be amazed what that will do" Try it! I guarantee the results will astonish you. I warm all over when I still see an elderly couple walking together holding hands. I look back and think with deep regrets the times that I had to spend away from my bride, and with her gone, I can never recover those precious seconds, minutes, hours, days, months, and years. It's been a great life, and could have been so much greater had she lived (passed away from cancer) but we had 43 years together. It's wonderful that the Lord makes me remember all of the good times, as I seem to have forgotten the bad times. I know there have been couples that have led better lives than we did, but in looking back I wouldn't trade a second of it away.
I knew I couldn't write a short bio…. could have said, "Been there, done that"! but this is better, right?
Senior Citizen Contest
Win Our $1k Grand Prize
Weekly prizes awarded
About
This top-ranked site now has over 4,000 pages of humor, nostalgia, senior advocacy and useful information for seniors 50+. Updates weekly!
The daily e-zine for everyone over 50 who feels way too young to be old.
"...the perfect mix of Andy Rooney, Dave Barry, and Garrison Keilor, combining knee-slapping humor with useful information and genuine compassion."
Retired.com
"Thousands look to and trust Suddenly Senior. Other Websites pale in comparison to the real-life, intimate look into senior lives. What sets apart Suddenly Senior is its blistering honesty and its incomparable encouragement. Millions need guidance."
Suzette Martinez Standring
"Best Senior Site ever on the Web! Great, up-to-date information on how seniors can save money on drugs. Wonderful nostalgia. Hard-hitting senior advocacy pieces that get read in high places. Wonderful humor. It's all at Suddenly Senior."
Alexa.com
KUDOS
Now read by 3.1 million in 83 newspapers from Florida's St. Petersburg Times to the Mumbai, India News.