---
Real Russia Summary:
An intimate 19-page turn-of-the-21st Century portrait of the real Russia 17 hours by train and a world apart from Moscow. It's a proud, yet corrupt place on the brink of collapse, perhaps even starvation. The focus is on the men and women in and around the incongruously glamorous Russian modeling industry attempting to cope with an unyielding system of extortion, business disincentives, and old-fashioned Communist-era bureaucracy. Color photos included.
"Tourism, Russian-Style" published in the Jan. 2000 issue of The World & I Magazine.
---
On the Volga, 600 miles south of Moscow, the real Russia abandons hope.
I'm in Saratov, a city of 920,000 about 17 hours by train southeast of Moscow, judging the performance and style of some of the most beautiful models on the planet. And I can't help thinking about the 1985 Wendy's TV commercial parodying
a Russian fashion show, featuring portly, unsmiling Russian women in drab, shapeless dresses. "Evening-vare," is introduced, the woman holding a flashlight. Then "Beach-vare," which was essentially evening-vare with a beach ball.
Remember?
What a difference 14 years makes.
This evening in Saratov is unprecedented, even exotic for post-Communist Russia. In the shadow of an era that pronounced evening wear as bourgeois, each of
thirty-four dress designers have created three original collections — traditional, contemporary, and avant-garde. Collaborating with them are the considerable talents of 120 hairdressers, 70 cosmetologists, 40 graphic artists, and 73 professional models.
Thus tonight young new-wave Russian clothes designers will present what may well be the most creative and elaborate fashion show ever seen in this troubled land. Saratov may be 560 miles from the nearest design boutique, but "that doesn't mean we're a bunch of ignorant peasants here," says organizer Veronica Novozhenina. For these last six months, she has flattered, cajoled, even browbeaten the fashion teams to work together for the best possible outcomes. "With their big egos, not everyone has been in agreement," she says. Novozhenina, who earns her living designing military uniforms, and her tailor husband, Vladimir, have invested thousands of hours to get the show-up and running.
It is an extraordinary display of hope in a hopeless land.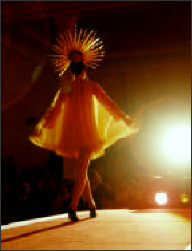 On the runway, tall, young Russian women with perhaps the world's longest legs and green eyes sparkle — no heroin chic here — do their best to seduce this standing-room-only audience with exacting footwork and sweeping swirls. The models, their cheeks still wearing winter blush, are uniformly gorgeous. That's not unusual in this story-steeped place on the Volga River. A walk down German
Street, Saratov's pedestrian Arbat, and you see more attractive young women per capita than on New York's Fifth Avenue. Legend has it that in 1247 the conquering Tatars ordered all of Russia's most beautiful women to Saratov.
They're still here.
Hungry, Angry, Cold
Outside the weather is gray, drizzly and a shuddering 45° Fahrenheit, unusually chilly for early summer, and exactly as it was when my wife, Carolyn, and I arrived a week earlier. We were greeted outside the train station by a 40-foot-high Stalin-era statue of hate-orchestrator and spymaster Felix Dzerzhinsky, founder of the Soviet secret police, his outstretched arm pointing the way downtown. Although such memorabilia of Soviet icons have all but disappeared in Moscow, Saratovians, with their broken sewers and pot-holed streets, primitive telecommunications and drinking water the color of strong tea, simply ignore past follies. Current matters are more pressing. Pensions and salaries haven't been paid. People are hungry, angry and, since the entire region's centralized heat was cut off May 1st, cold.
Little-known to foreigners — my "comprehensive" 416-page Explorers Guide to Russia has no mention of the Ohio-sized oblast — Saratov was a "closed" city until 1992. Situated on the Volga River, this was a major military aircraft manufacturing site and a vital part of the Soviet space program. It was the home of the first man in space, Yuri Gagarin. Outsiders were not welcome. Even today, Americans draw hostile stares from locals unaccustomed to foreigners. In fact, with "America's NATO" stealing three of Russia's former client states, the "NATO-instigated Kosovo situation," a distressing $60 billion foreign debt, and a deep feeling of betrayal by their disastrous experiment with an "American-style" market-based economy, many Russians are fervently anti-US — more so than at any time during the Cold War.
And they show it.
Resentment runs deep. Like most Russians, Saratovians are fiercely suspicious of everything. After 70 years of promises, most recently ex-President Boris N. Yeltsin's drunken assurances of a prosperity "just around the corner," folks here believe nothing they hear and little they see. In Russia, nothing is what it seems. Autocratic and about as unpopular as Americans, Yeltsin and his wealthy friends are widely blamed for hobbling this huge, proud country. "Russians will put up with anything," says our taxi driver as he makes his way from the train station, complaining that Yeltsin and his 39-year-old-daughter and closest aide, Tatyana, are stealing billions of dollars and millions of jobs. "He gives Mother Russia to his oligarch friends and the mafia."
The verdict is still out on Vladimir V. Putin, the country's new acting president after Yeltsin stepped down on the last day of 1999.
The Russian Mafia
State-sanctioned thugs who, unlike the government itself, efficiently collect taxes from 90 percent of all enterprises — is made up in large part of former KGB spooks. Mafia ranks also include cops, ex-military, even groups of out-of-work coal miners who have garnered the necessary physical and political clout to control and extort entire industries. Watch carefully and you'll see the old and crippled beggars who stand outside newly refurbished Orthodox churches ante up $6 or so each day to these thugs. Several times I saw three or four no-neck mobsters park their late model Mercedes on sidewalks outside businesses, descend into them and return a few minutes later with their vig. I'm from the old Chicago; I know bagmen when I see them.
Although corruption has been abundant since before Peter the Great, and bribery institutionalized from the inception of the October Revolution, both are endemic in today's Russia. To live, to eat, to exist here today means that you must be corrupt, if for no other reason than evading draconian taxes. Police, earning an above average $200 a month, routinely stop cars to extort $10 to $50. They have absolute power to confiscate your operator's license without which you cannot drive. Although you can appeal, it's four months to a year before your day in court. That's four months to a year without a car. Better to bribe.
The Last Volunteer
As our tiny Lada taxi takes my wife and me to the offices of our temporary employers at USAID subcontractor, ACDI/VOCA, we pass a tall, angular, even regal statue of Lenin, then scores of shivering women — babushki — each supposed to exist on a $4 monthly pension that never comes, selling home-grown fruits and vegetables from their dachas, small plots of land on the outskirts of town. The city as a whole looks clean. As during the Soviet era, early morning street sweepers with twig brooms keep even the most dilapidated streets and sidewalks free of trash. The VOCA office, five stories up from Sacco & Vanzetti Street (yes, that's the street name), has no elevator and only one telephone, that shared with a bank two stories below. My wife and I are the last volunteer American consultants to work with the agency in western Russia. By the end of the month, this office will be closed, all US aid for business development migrating to eastern Russia. No one here knows why.
"I presume your government thinks everyone in Saratov now understands the market economy," grins Andrei Nikolaev, the thin and intense 34-year-old VOCA Regional Program Director. This is still the land of single-entry bookkeeping, '70's clothing fashion, and the ugliest print and sandwich-board advertising. It's difficult to understand why USAID is taking its dollars elsewhere when only in this year before the millennium is business in Eastern Europe finally learning the importance of customers and the marketing and advertising that attracts them. That's what my wife and I do: workshops, seminars, and consulting individual companies in marketing. Mostly it's teaching the power of a good idea, a totally new concept here.
Once this office closes, Andrei hopes to open something for tourists. "We want to develop a kind of ecological tour, but taxation here is arcane and exorbitant. In Russia studying all the taxation laws takes time. Once prepared, I will apply for a license."
It's not easy. To start a business here you must pay 20,000 rubles ($800) just to register.
Anatoly Selivanov, Andrei's 23-year-old assistant, explains the drill. "First you must bribe the Saratov Trade Ministry. Then another bribe for business licenses. A monthly bribe for temporary sanitary licenses. Bribes to the tax agency. And don't forget weekly payoffs to the mafia." They look at one another, shaking their heads.
Once a new business is registered, you need $280 more for the business license. Next, by law, every business must always keep at least deposited $380 in bank for "working capital." Anatoly, who has been doing most of the legwork for the projected new tourist business, explains, "If you close your firm, you lose that money to a 'document fund.' Which means the bank steals it.
"We also must pay to register our business name, pay for fire emergency service, for 'epidemic station' [sanitation tax], for stamps and seals. Police always check stamps." The whole ordeal of starting a business here is so complicated that you must hire a lawyer, paying her professional fee on top of everything else. Of course, there's an alternative. But if you don't legally register, you can't advertise, use a bank account, or work with other companies. "You could be jailed," Andrei adds. As elsewhere in the world, state bureaucracy does its best to stifle business. The System may have changed in the early 1990s but the same people are still in charge.
Russia's Most Beautiful
The fashion show ostensibly celebrates the 200th birthday of poet Alexander Pushkin, one of Russia's most beloved figures. ("To read Pushkin in Russian is to know the soul of Russia," is a mantra heard often as the poet's birthday is celebrated throughout Russia's 11 time zones from St. Petersburg to the Bering Strait.) Here in this hard-edged military ballroom now turned temporarily elegant with comely models and their richly colored clothes, the audience is snatched away from the mind-numbing bureaucracy with which every Saratovian must cope.
On the runway are fantasy evening gowns, more suited for romantic movie scenes or Paris couture. Brilliant red, shimmering white, dynamic black with crystal beading, the gowns are ingeniously designed, barely covering slight breasts. Fabrics are soft, drapeable knit jerseys that cling to every subtle curve of the models' bodies, each dress, handpainted and sewn, ending in huge bursts of fabric underlined by yards of netting, moving with a life of its own with each step. One wonders how these designers got their hands on such luxurious fabrics in this remote part of Russia.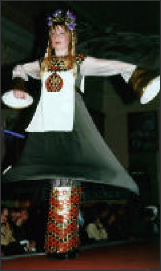 The Avant-Garde Competition, especially, draws respectful ahs from the crowd. Marionettes, with hinged elbows, knees, and ankles meet on the runway with creatures leafy and betwigged, sparkling and sunny, all reflections of Pushkin as seen through turn-of-the-century Russian eyes.
It costs little to dream, and the designers for the last two months have employed their vivid and artistic imaginations to drape fabric on live models until their sketches became reality. It may not be Chanel, but it's certainly the best Russia has to offer at the turn-of-the-millennium.
Some 500 Saratovians have paid $2.60 each to attend the "Top Show," as it's called, held in the ballroom of this massive old mansion built at the turn of the century and turned into an army officers' club in the 1930s. The Russian army, now ragged and broke, rents out most of the place to dance and other groups for practices and recitals. Covering the walls are huge, heroic paintings in the style of social realism that Stalin so loved and demanded. My favorite: a 10' x 20' mural of Gorky fervently addressing a Soviet writers' group of about 30 around a dinner table.
They're all so … attentive.
For over three hours of mostly pounding contemporary American music, kaleidoscopic lights and decidedly universal fashion themes, the runway manifests grace, art, beauty, spirit, and adventure that few in the audience will ever have money enough to attain. In fact, nothing shown will be sold. "It's good practice for the models," says 27-year-old Koozma Zassypkin, as if to justify the hundreds of hours he and his partner put into the show metamorphosing some of the girls from self-conscience teens to professional models that strut, spin and float.
In the end, five of us vote on the best models, a gorgeous and sophisticated 6-foot 16-year-old being the overall winner (seen here with translator and author). Another panel of judges, hopefully far more qualified, hands out yellow roses to the best designers, hairdressers, and cosmetologists.
Koozma and his partner, 41-year-old Lidia Pronina of the Bell Model Agency, sit at the end of the now-empty runway, relaxed and relieved after working with models 12 hours a day, every day for the last two weeks. "It was stupendous, no?" asks Zassypkin, an experienced international model himself, in his singsongy St. Petersburg accent.
Later, at a small party for the politicians, organizers, and judges, memorable for dozens of toasts, each sealed with vodka, Koozma tells me that for years he accepted the Soviet government's propaganda condemning the US and all things capitalistic. "But then as I traveled around I began to see Americans wearing fashionable clothes and quiet shoes, with zoom lenses on their cameras." Most impressive to him were the Americans' easy manners. "You Americans smile all the time," he exclaims.
Russians rarely smile in public. Especially in Moscow, where petrochemical pollution continually tears the eyes. "That's the National Scowl," a Brit living in Moscow recently said of the look on the face of everyone coming off the Metro. "They may not know it, but they're a sad, sad race of people. While the whole world is trying to become integrated and globalized, Russians want to exist alone, apart from everyone. The Russian idea of the future, today, is returning to the past."
Some say Russia is once again in a pre-revolutionary stage, perhaps this time preparing to jump into a form of fascism just as a defeated, humiliated, and economically unstable Germany did in the early 1930s. Russian history as taught in schools is a myth. Tsars are faulted, not for their repression, but for being weak rulers unfit to exercise authority properly. There is a nostalgic view of a Camelot ruled by princes in the same tradition as today's oligarchic rule. Within its history, Russia has no true model for success.
From Engels to Marx
One day the weather is ideal and Lidia, Koozma and his girlfriend, Svetlana, take Carolyn and me across the Volga, though the city of Engels to the town of Marx, driving by hundreds of typical Russian cottages, their shutters painted haint-blue or green to ward off evil spirits. We pass new suburbs where three-story brick homes are going up with Spanish arches and elaborate red-brick window borders. "The 'New Russians' are building here," says Koozma. The New Russians, as in Those- Who-Get-Rich-On-Our-Misery. Mafiosi. Arms dealers. High-level bureaucrats. Politicians. Bandits of all stripes.
We follow ever-deteriorating roads to a lovely, secluded lake where we have a picnic. "A real American-style picnic for our American friends," Koozma exults. Roasted hot dogs, chips, and all the trimmings. After we eat and explore the surroundings, the conversation gets serious. "You Americans talk about the future," Koozma says. "The word means nothing here."
Lidia joins in, "Our leadership is corrupt; there's no hope in sight. It may take two more generations to find a leader who is as interested in the people as he is in lining his pockets. We have no heroes. We lost much of our culture to perestroika."
"Keepers of our knowledge, the librarians, make $3 a month," she continues. "Kids can't afford school books, often sharing with five or six others. All the best teachers are now at elite private schools. Children of the Duma [Russia's Parliament] are all educated in England. Anyway, good education and training count for nothing anymore."
Swetlana adds, "And the attitude of Russians is, 'Wait for the government to do something.' There's no hope, there's no future until Russians become individuals, not dependent on government help. I love my country, but God help us."
The road from Soviet Communism has been rocky. Mikhail Gorbachev's perestroika initiated freedoms that cannot be negated. But with them came his attempt to criminalize drinking, which destroyed the nation's vineyards and vodka- making potato crop. Then Gorbachev created the first economic crisis when overnight he moved from fixed prices to free. But with all stores still owned by the state and with no competition, staples like soap and sugar were suddenly unaffordable. Cigarettes disappeared for months. Where, no one knows.
The ensuing struggle for power was won by Boris Yeltsin and his gang of kleptomaniacs, all bureaucrats and ex-Communists. Most Russians we met feel that life is harder now than in 1991 at the end of the Cold War. There may be freedom, but there is absolutely no economic security. And Russians' need for security is why the Revolution held on for 70 long years.
Before perestroika, there were no goods, lots of money. As Russians say, "We pretended to work and they pretended to pay us." Today stores are full but the people have little money to buy. A corrupt plutocracy rules, controlling virtually all of the country's assets and squeezing Russia dry as its elite systematically transfer billions to foreign banks.
The August
"Actually, it wasn't too bad until 'The August,'" says Alexei Melinkow, our Russian/English translator. We're walking through a cold drizzle to the Barracuda Restaurant for a lunch of pizza, one of the few foods we recognize in this city. "The August" (or "The Deval," "The Crisis," or "The Collapse") is how many refer to August 17, 1998, the day the Russian government defaulted on $40 billion in domestic bonds and devalued the ruble by about 40 percent. Overnight Russia's already feeble financial structure became completely unglued sending chaos through the economy and revealing the lauded transition to a market economy to be just another Potemkin Village.
The country was suddenly plunged into one of the deepest economic depressions ever experienced by an industrialized nation. Everyone still on the government payroll — 60 percent of the national workforce — saw their meager salaries slashed, while prices of most consumer goods remained the same. Only bread, electricity, and a few other basics also dropped in price. Today, to help avoid strikes and possible riots, gasoline still is only 25¢ a gallon, and a pack of Marlboros sells for only a buck. But that's little consolation to teachers who were earning $60 a month suddenly having to make do with $15. Janitors at the local art museum who earned $8.68, now are expected to live on $2.08. A month.
After the economic collapse, all financial business halted. Banks closed. Saratov depositors in Moscow-based banks lost everything. Tatiana Nastya, the mother of one of the Top Show models, sold her home just the week before, putting all $23,000 in the bank. With The August, it was gone. All of it. Nor was it just the provinces that got mugged. A Moscow friend of ours, Tatjana Podorozhanskaya, a custom doll designer, lost almost $20,000 to her bank, her life savings.
Not surprisingly, soon after the crash, Moscow's main stock market plummeted to a record low at just 8 percent of its worth only a year before. Foreign investors fled Russia in droves. They're not expected back any time soon. Key to their return is Russia's ability to pay its debts and to establish a viable credit system. Most economists agree that further default on Soviet-era debt is inevitable. And credit? It's in the same batch of ideas as "the future." Credit cards, the plastic that has helped bring Poland and the Czech Republic into the market economy of the '90s, vanished in Russia when the two banks offering them went bankrupt.
Derek Goddard, an expatriate Briton running Moscow's ExecuSearch International, recently told me, "I should have seen the devaluation coming." His personnel search firm helped supply formative American companies in Moscow with qualified help. "McDonald's stopped hiring in May," Goddard said. "They have deep political connections here." Two other clients quit the country before summer. "But we were so busy hiring for other American firms we didn't see the signs. Just days before The August, PriceWaterhouse wined and dined us — their suppliers — they were so hungry for decent people to fill their posts. Shortly after the crash, they sacked 5,000 people. All at once. Most American companies had mass firings, pulling out all but skeleton staff. Goddard's firm was forced to take a new road, hiring Russian information technology professionals for talent-hungry Irish software firms.
Although exporters did well, as did farmers in competition with foreign produce, most business in Russia momentarily stalled. Alex Grechenuk, the owner of a Saratov advertising agency and radio station, explains, "Business stopped dead for two months. Then, slowly, it was born again. Only this time what used to cost 1,500 rubles cost only 500." Today his volume, if not his profit, is back to pre-1998 levels.
What little credit there was in the economy got sucked out. Without credit, and without a reliable banking system, Russia is condemned. The country's gross national product has declined by half since 1991, about that of Belgium. And it's still falling. Birth rates plummet and death rates jump. According to The N.Y. Times, Russian's population, now at 146 million, is projected to fall to 120 million — and by 2050, to 80 million.
Banks, they say, now function only to launder money for the mafia. A popular Russian joke: A man enters a bank and asks an employee about opening an account. He says, "I want to open an account in your bank. Who should I talk to?" The bank employee responds, 'A psychiatrist.'
Getting by
After The August, everyone who could took a second or third job. Inside St. Petersburg's Pulkovo Airport we encountered Sergei Raimuev, an Aeroflot pilot for 25 years, whispering to us in English about a "cheap" drive to our hotel. He was augmenting his $500-a-month pilot's salary as a taxi driver, seeking out English- speaking tourists to transport them to their hotels for $20 to $40, far less than the mafia-controlled cabbies there. "It's chancy," he admitted as we drove the three miles to our hotel. "I don't know what they'd do if they caught me. But I have two daughters at the university. I must have the money." Sergei is one of the few Russians we meet who still has a ready smile.
For Alexei Melinkow, our translator in Saratov, moonlighting is survival. His regular full-time job is teaching somba (kickless) wrestling at a nearby sports school for which he makes $15 a month. He hasn't been paid for four months.
Melinkow is 25, good-looking, intelligent and shrewd. Virtually penniless, he's forced to live with his parents. He can afford neither rent nor dating. "I'd like to marry and have a family, but how?" he asks, shrugging his shoulders. He's an excellent translator, a university graduate, and a paratrooper who fought and was injured in Chechnya. Yet Melinkow's only hope of ever having a home of his own is inheriting his parents' apartment and dacha. That's a future common to most young Russians. When they marry, the couple moves in with one set of parents.
In the meantime, Melinkow's father, a retired policeman shot twice in the line of duty, struggles as well. He and his retired schoolteacher wife augment their joint $32-a-month pension by growing tomatoes, potatoes, celery, cucumbers, carrots and herbs at their dacha. Chickens and a cow also work the small plot. They survive primarily thanks to the cow; each year they slaughter, freeze, eat and sell its calf. When possible, Melinkow's dad works as a locksmith or repairing TVs and typewriters. His wife makes and sells jams. "We work hard only to survive," he tells me.
An efficiency apartment in Saratov costs the ruble equivalent of $6,000 to $7,000. The same apartment rents for $60 to $75 month or more. A one-bedroom apartment runs $9,000 to $11,000. Not a lot compared with Moscow's high end of $2,500 per square meter; a one-bedroom apartment there can cost $200,000 or more. But not possible even in Saratov on a typical salary of $15 month; transportation alone is $1 a day. For a day's freelance translating, Melinkow earns $4.50.
Taxing Problems
Two days after the "Top Show," we're on the third floor of the old officers' club, all sitting around in the large studio rented by the model agency, eating alphabet crackers in the shape of Cyrillic letters and discussing the new marketing plan Carolyn and I have created for them. In a far corner, a beautiful young girl stiffly practices her runway walk.
"The only way to earn money is on the international market," Carolyn says, preaching to the choir. Everyone in the room knows there's little money in Russia. Which means there's little market for upscale models. Adding to the difficulty, the government puts a 2 percent of gross sales cap on advertising expense, advertising, of course, being an area where models can succeed. However, as ad agency owner Alex Grechenuk says, "Like everything in Russia, there are ways around it." Our marketing plan leans heavily on publicity and direct mail aimed at European advertising and model agencies, film companies, publications, and catalog photographers. We also present an idea to build a new profit center with a modeling school for those less-than-dazzling girls of Saratov. Koozma and Lidia seem delighted. "It's the ugly girls who have the money," Lidia says.
"But God help us if we do make some money," she adds and laughs. For just as the government seems to put every obstacle in the way of starting a new business, disincentives abound as well when attempting to profit from that business. Little wonder Russia today has five to six small businesses per thousand firms compared with 100 or more in other industrialized countries. There's no culture of investment here. And without small businesses, there's no middle class. Without a middle class, the future of a democratic Russia is in doubt.
Government taxation is a basic disincentive. First, on all income, there's a 5 percent trade tax and a 20 percent "added value" tax. There's a "Dwelling Maintenance Tax of 1.5 percent of gross income, a "Territory Cleaning Tax" of 1 percent, and a 3.6 percent for a "Roads Maintenance Tax" (local roads: 3.1%; federal roads: 0.5%).
Any profit is taxed at 35%.
For employees, the taxes are even more depressing. From every salary deduct a 28 percent payroll tax for a pension fund, a 5.4 percent social insurance tax, a tax for orphanages and another for possible permanent disablement. Then there's a 3.6 percent medical tax, a 1.5 percent unemployment tax, a 1 percent "Transfer Tax" (Don't ask!), and 1 percent education tax. We're at 40.5 percent of gross, and counting. Next, take another 12 to 35 percent of the gross salary for a federal income tax. On top of that, every employee is subject to sales taxes, inheritance taxes, luxury taxes, customs taxes, and the heavy-footed Russian value-added tax tacked onto products every step from manufacture to consumption. There's even a government-ordered banking fee of from 3 percent to 7 percent of every sum withdrawn, depending on what the money is spent for. Yet another reason banks are shunned.
"If the taxmen would just take out a lump sum and divide it among themselves it wouldn't be so bad," exclaims Elena Konyokhova, a lawyer friend of Lidia. "The way it is now, to survive economically a business must keep two sets of books."
"And do all business in cash," Lidia pipes in. "Even when we have a contract for models, as we did last month with Philip Morris, once it is paid the contract is ripped up." The only exception to this cash economy is the use of bank-wire transfers for some distant purchases.
Mention stockholder dividends and everyone laughs at the notion.
Stockholder equity is a concept difficult to grasp for Russians and their government. While waiting for a plane to St. Petersburg, we met an American employee of Conoco, just out of Houston on his way up to the White Sea peninsula oil fields in the Arctic Circle. "Conoco would invest $5 billion there if the Russians could only understand that we Americans want a return on investment," he said. Again, taxes fight progress. Most Western oil companies pulled out of Russia way before last August's crisis. Because of taxes. "They started reasonably enough," the oilman said, "with just five taxes. But all too soon we were paying 33 different taxes on every barrel." BP and the rest left. Conoco, in a joint venture with Russia, has invested $500 million in the peninsula's field. More than anyone else. "It's just too much to abandon," he explained.
The Russian-American oil company is now running at minimal production, exporting only 30 percent of that. Although some export taxes were eliminated last September, total export taxation is now back up to $8 a barrel. "We're essentially giving the oil away now, with an eye on the future," the Conoco man said.
On Golden Hill
It is the last day of school everywhere in Russia. In Saratov, hundreds of kids run about town, each in his or her school dress uniform. One of the most intriguing is a short black dress, covered by a white apron, and a puffy white hat; akin to that of French maids. Later, the white aprons are removed. But the fluffy white hats and short, tight, black dresses remain as the du jour. All those graduating wear red sashes across their chests. Little brass bells affixed to blouses tell the world that the youngsters are moving on.