How we are influenced by folks we've never met…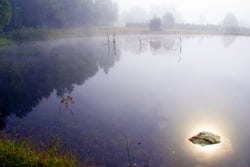 This Easter Sunday, April 16, 2006, is the 40th birthday of my younger son, whom I've never met.  And it's more than possible that I never will.
Yet, he is one of many people whose invisible presence continually encourages me to pay attention to who I am.
There are a number of old cellar holes on our farm. They date back well over a century and represent lives I can only imagine.  I daydream of walking across America without a nickel.  It's an expression of my heart's calling to give myself completely to the moment, moving through every fear of lack and need.
Obviously, I needn't wear out a dozen pair of boots to achieve that goal.  Still, I'm aware that if I actually did embark on such a pilgrimage, demanding as it might be, it wouldn't compare to the challenges faced by those who, 200 years ago, attempted to survive on a Vermont mountainside.
The most conspicuous of these early settler foundations-the remnants of a home and barn is part of a several acre sweep of pasture and orchard in which, over the past few years, I have built an ever-growing family of sculptures out of stone.
Among my motivations, I've discovered as I go, is honoring all who were stewards of this land before I and my family took on the job.  I know the names of virtually none of those who precede me, just as I don't know the name of my younger son since at birth he was given up for adoption.  However, what I feel in relationship to both them and him is gratitude for their part in deepening my connection to the entire human family.
Please don't confuse my stone whatchamacallits with the creative expressions of artists like Vermont's Dan Snow, a master at building in stone without mortar.  The Greek philosopher Pythagoras called a stone frozen music.  That makes Dan Snow a composer of symphonies so jaw-droppingly beautiful, if I were 30 not 60 I'd pester him like a drunken mosquito to let me be his apprentice.
Fortunately, like just about everything else in life, I don't have to know a whole lot about stones to experience the joy of playing with them.
As it is, Dan and I have never met, though that doesn't prevent me from feeling his influence.  Patience, attunement, playfulness-these are but a few of the qualities his creations evoke in me as I dabble in my own frozen music.
Being an author draws to me the responses of untold numbers of people I'll never meet in person, every one of them a gift, believe it or not even those who think I'm nuts.
Through these many so-called strangers, the universe showers me with kindness, one form of which is an occasional fat wink that sends a chill up my spine.
My younger biological son was born in a New York State village located about halfway between Rochester and Syracuse.  Some 20 years later in a Rochester restaurant, a waiter of college age approached me and said, "Boy, I've got a friend in Syracuse who looks just like you."
Then, about five years ago two friends of mine were having lunch in Amherst, Massachusetts (the home of my beloved alma mater, it so happens), when they became transfixed by another patron who was a youthful clone of me down to the way he walked, sat, gestured and ran his fingers through his hair.
I wish many things for this man whose invisible presence graces my life, including that he too hears the universe whispering: "Hello, playmate."
Steve Roberts is the author of Cool Mind Warm Heart, a collection of essays, stories, and photographs of stone sculptures he builds on his Vermont farm.  He can be found on the web at CoolMindWarmHeart.com.

About
This top-ranked site now has over 4,000 pages of humor, nostalgia, senior advocacy and useful information for seniors 50+. Updates weekly!
The daily e-zine for everyone over 50 who feels way too young to be old.
"...the perfect mix of Andy Rooney, Dave Barry, and Garrison Keilor, combining knee-slapping humor with useful information and genuine compassion."
Retired.com
"Thousands look to and trust Suddenly Senior. Other Websites pale in comparison to the real-life, intimate look into senior lives. What sets apart Suddenly Senior is its blistering honesty and its incomparable encouragement. Millions need guidance."
Suzette Martinez Standring
"Best Senior Site ever on the Web! Great, up-to-date information on how seniors can save money on drugs. Wonderful nostalgia. Hard-hitting senior advocacy pieces that get read in high places. Wonderful humor. It's all at Suddenly Senior."
Alexa.com
KUDOS
Now read by 3.1 million in 83 newspapers from Florida's St. Petersburg Times to the Mumbai, India News.