Here's how you can tell the new Medicare drug bill was written by the pharmaceutical and insurance industries.
Try reading it.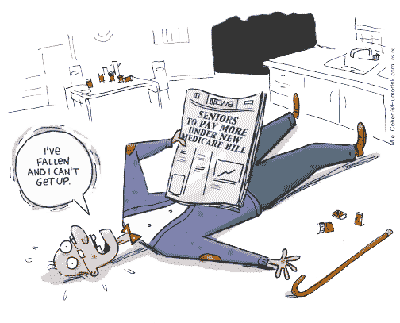 Never in US legislative history has a law been so convoluted, so impenetrable, so impossible for the average person to understand.
Little wonder that even the folks at Medicare don't get it. In the first printing of their "Medicare and You" handbook, they omitted mention of a $2,850 coverage gap.
But with drug coverage starting Jan. 1, and enrollment packets in our mailboxes by October, we must make a decision. Soon.
President Bush, acknowledging the bill's complexity, suggests that we geezers ask our children to help us navigate this swamp of bureaucratic gibberish.
Since each HMO's plan will offer different drugs, you must divine which pills you will be taking next year. Come down with an illness not covered by your chosen HMO and you're screwed.
Maybe the president's right: Ask your kids what you'll be sick with next year.
And while you're at it, ask just how sick you'll be. Will you need $1,000 worth of drugs? Two thousand? Five thousand?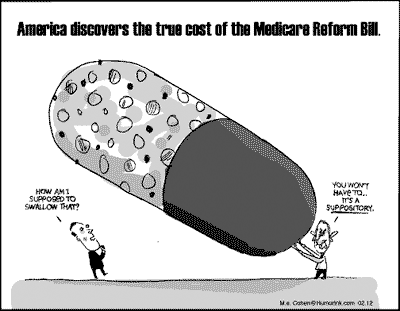 If you're thinking that this $855.7-billion fiasco* was passed primarily to make a killing for drug and insurance companies, you're mostly right. Fourteen million lower-income people, however, will be eligible for subsidies.
Individuals with incomes capped at $1,197/mo. ($1,604 for couples) are eligible for considerable assistance. For a full subsidy, individuals must have incomes of $1,077 or less per month ($1,444 for couples) and less than $6,000 in assets ($9,000 for couples). Cars and houses don't count. There are some breaks even for couples making up to $1,625/mo. with assets of up to $23,000.
For the rest of us, the average Medicare beneficiary will pay MORE for their prescription drugs under the new law than they will without it.
Especially if you, like me, now buy your drugs from a Canadian pharmacy.
Although the new Medicare plan won't count purchases outside the US, for anyone spending less than $1,500 next year, Medicare's premiums, deductibles, and co-pays make buying Canadian drugs a far cheaper option.
In fact, figuring in the drug bill's "donut hole" where it pays not a dime in coverage from $2,250 to $5,100, I must purchase about $7,000 in medicine next year before I break even.
That's assuming, of course, that my particular plan pays for my particular drugs, a shaky assumption indeed. This law allows companies to change drugs covered pretty much at will.
DON'T BE COERCED
AARP's Medicare Drug Benefit Calculator may be of help here. Use it, then compare with prices on your Canadian pharmacy's site.
For example, if you spend $1,200 on medicine with the new drug plan, AARP's calculator tells you that your out-of-pocket premiums, deductibles, and co-pays will be $907.50, for a savings of $292.50. For this demonstration, let's use the fair assumption that prices are 40 percent less in Canada. Subtract 40 percent of $1,200 ($480) and you'll get $720.
Bottom line? Buying from a registered Canadian pharmacy will save you $187.50 over the Medicare drug plan.
Let's say you spend $5,000 next year on drugs. Your out-of-pocket expenses add up to $3,920. Figure the approximate cost in Canada is $3,000, you save $920.
Between $1,900 and $2,500 it may be advisable to enroll in the Medicare plan and use Canadian pharmacies when you enter the donut hole or when your plan denies coverage of drugs you need. Compare individual drug prices with Canada's first.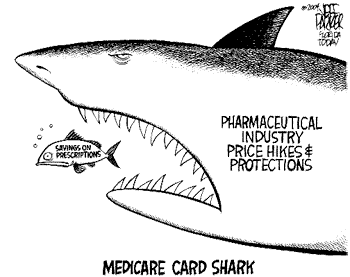 Keep in mind that this new drug bill is voluntary. Sure, HMO and Medicare propaganda will attempt to unnerve you. Witness the 1-percent/mo. penalty for joining after May 15.
If enough of us stick to our guns, however, Congress will be forced to make changes for the better.
If you decide to enroll, consider a "stand-alone" plan. At least you'll have the benefit of traditional Medicare, instead of being at the mercy of an HMO.
HMO? Mercy? There's an oxymoron! Remember, there are excellent reasons why HMO's are distrusted so.
Jackie Mason said, "It's no longer a question of staying healthy. It's a questions of finding a sickness you like." And one that happens to be covered by your HMO.
* During negotiations over the Medicare drug bill, the Bush Administration promised Congress that the total cost would not exceed $400 billion, all the while knowing that it would cost at least $593 billion. This March, the Congressional Budget Office (CBO) estimated the cost of the drug benefit to be $855.7 billion from 2006 to 2015.
About
This top-ranked site now has over 4,000 pages of humor, nostalgia, senior advocacy and useful information for seniors 50+. Updates weekly!
The daily e-zine for everyone over 50 who feels way too young to be old.
"...the perfect mix of Andy Rooney, Dave Barry, and Garrison Keilor, combining knee-slapping humor with useful information and genuine compassion."
Retired.com
"Thousands look to and trust Suddenly Senior. Other Websites pale in comparison to the real-life, intimate look into senior lives. What sets apart Suddenly Senior is its blistering honesty and its incomparable encouragement. Millions need guidance."
Suzette Martinez Standring
"Best Senior Site ever on the Web! Great, up-to-date information on how seniors can save money on drugs. Wonderful nostalgia. Hard-hitting senior advocacy pieces that get read in high places. Wonderful humor. It's all at Suddenly Senior."
Alexa.com
KUDOS
Now read by 3.1 million in 83 newspapers from Florida's St. Petersburg Times to the Mumbai, India News.