You've got to wonder. How long did it take them to find Wanda?
Recently, with the Washington press corps in tow, President George W. Bush accompanied Wanda Blackmore, 74, to a Missouri pharmacy where Wanda saved 17 bucks on a prescription using her shiny new Medicare discount card.
Whoop-de-do! What a grand display of compassionate conservatism.
Yet, even with a multi-million dollar taxpayer-funded advertising program, a swamp of discount-card company brochures that's got retirement community postmen crying "Uncle," and the president's own assurance that we will all save thousands on prescriptions with this program, few seniors have signed up.
The administration claims otherwise, but most of the 3.3 million seniors enrolled were registered automatically by their HMOs.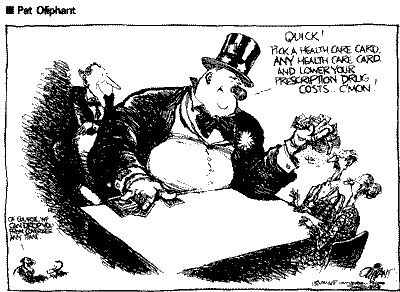 Which makes me wonder about Wanda.
Perhaps she didn't get the word that while she's bound to one of the 73 approved card companies for a year, her drug prices may bob up and down like a crazed Yo-Yo. Discounts, even drugs covered, can change weekly to maximize profits.
Too, she probably didn't know that these 73 companies have paid the president and his friends $5 million since 2000. As you'd expect, the 20 approved companies involved in fraud charges gave the lion's share.
That's only right.
So one-sided is this program in favor of the discount card companies, you might conclude that – like the $855.7 billion Medicare Drug Program that begins Jan. 2006* – this law was written by the drug industry for the drug industry.
But just because The Boston Globe claims the White House allowed Bush contributor and drug-card industry CEO David Halbert to craft the discount card program doesn't mean it's true.
Stupid, Desperate Seniors
So where does this leave the rest of us who, unlike Wanda Blackmore, still question if there's anything in this program for us?
HHS and the discount carders provide nothing but confusion.
These folks must believe that we seniors are so stupid and desperate that we'll leap upon this program like an early-bird special. Yet to fathom it takes an MIT doctorate with the world's most sophisticated spreadsheet program.
Even then, your chances of getting dealt a straight flush in poker are better than finding the best MediCard for your particular needs. At least the poker hand can't morph into a pair of dogs right before your very eyes.
It comes down to this:
Seven million seniors had 2003 incomes of less than $12,570 for singles or $16,863 for marrieds. If you are among them, you probably qualify for an annual $600 credit for medicine. Use it! Doesn't matter which card you sign for, it costs you nothing.
If you currently use a Pfizer Share or LillyAnswers card and want to continue with their excellent discounts, you must sign with U-Share from United Healthcare. Call 1.800.274.0344. Without the new card, Pfizer and Lilly will cut you off come August. For specific details, see Cheap and Free Drugs: Here's Where to Get Them
Other than that, it's a crapshoot. You'll find good information at The Alliance for Retired Americans including which 20 card companies are the biggest crooks at this point.
Always compare your card company's prices on generics with Costco's or other deep discounters.
And always compare prices on your branded pharmaceuticals with those of a licensed Canadian pharmacy. See Canada: Your Prescription for Lower Drug Prices. Chances are excellent that Wanda Blackmore would have saved a hell of a lot more than 17 bucks buying from our northern neighbors.
So Wanda, wherever you are, know that when it comes to the new MediCards, most of us seniors are also from Missouri. Too bad Washington doesn't grasp that.
* Recommended reading: Common Cause's "Democracy On Drugs – The Medicare/Prescription Drug Bill: A Study in How Government Shouldn't Work."
About
This top-ranked site now has over 4,000 pages of humor, nostalgia, senior advocacy and useful information for seniors 50+. Updates weekly!
The daily e-zine for everyone over 50 who feels way too young to be old.
"...the perfect mix of Andy Rooney, Dave Barry, and Garrison Keilor, combining knee-slapping humor with useful information and genuine compassion."
Retired.com
"Thousands look to and trust Suddenly Senior. Other Websites pale in comparison to the real-life, intimate look into senior lives. What sets apart Suddenly Senior is its blistering honesty and its incomparable encouragement. Millions need guidance."
Suzette Martinez Standring
"Best Senior Site ever on the Web! Great, up-to-date information on how seniors can save money on drugs. Wonderful nostalgia. Hard-hitting senior advocacy pieces that get read in high places. Wonderful humor. It's all at Suddenly Senior."
Alexa.com
KUDOS
Now read by 3.1 million in 83 newspapers from Florida's St. Petersburg Times to the Mumbai, India News.