America's health should be protected, not the economic health of Big Pharma. We desperately need leadership, not political clout. It's killing us.
With all the headlines about the Cox 2 Inhibitors and their contribution to increasing heart disease and death, I was wondering what the Surgeon General of the United States thinks should be done about the fact that the FDA has not challenged the pharmaceutical manufacturers clinicals on Vioxx, Celebrex and Bextra in a forth right manner.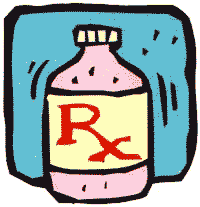 The problem was I could not remember the name of our Surgeon General and have not read one word in the newspapers or on the medical Internet sites as to what he is thinking or doing. Consequently, I went to Google to pull up his name and discover what is happening in the Surgeon General's office.
I discovered he is promoting Global Health. He gave a speech on November 10th of this year outlining the reasons why we should be concerned about Global health. I can't disagree that this should be a concern since diseases travel beyond borders, but I would think the number one priority would be United States Heath. It is in desperate need of Improvement and change, especially as it relates to how the FDA supervises the production, distribution and marketing of pharmaceuticals in this country.
Over the years, the FDA has not always had strong and independent leadership. Back in 1981, the day after Regan was sworn into office, he issued an Executive letter to the acting director of the FDA stopping him from taking any regulatory actions. Within 30 days, he was replaced by Dr Hayes, who was a political appointee to insure the approval of Aspartame, which was then being manufactured by the G. D. Searle Company. Prior to these events, Donald Rumsfeld was hired as President of G. D. Seale in part because they could not get Aspartame approved by the FDA. Aspartame was approved by a rigged FDA review board and was approved in July of 1981. Rumsfeld had the political clout to get it accomplished. [1] Who cares if the U. S. Army Biochemical Division had it on their list of potential biochemical agents? Rumsfeld went on to window dress the company and sell it for over $3 billion dollars. In the process, he was handsomely rewarded financially.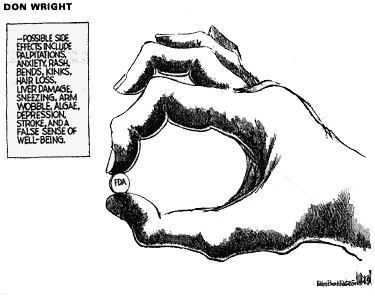 In 1983, Senator Ted Weiss held Congressional hearings on the Nsaid drug called Zomax, which was manufactured by the McNeil division of Johnson and Johnson. The drug had a high allergic reaction profile as well as a carcinogenic dimension and the FDA and McNeil admitted to 14 deaths from the drug. The actual number that was finally reported to the FDA was 187. The statistical projection if all deaths had been recognized and reported would have been in the range of 4000. Deaths could have been limited if the FDA had demanded a recall of the drug, but it remained in distribution for about a year after the Congressional hearings. The FDA did not stand up and take charge of the situation. Congressman Weiss was so incensed by Dr. Hayes actions as head of the FDA, that he wanted to impeach him. [2]
In 1990, Dr Kessler became head of the FDA and had dual agendas that included improving product labeling and making tobacco a FDA controlled drug. He had the fortitude to last 8 years at the FDA. The tobacco lobby indirectly harassed and tried to discredit Dr. Kessler, and convinced Congress that they should not approve the building of a modern up-to-date FDA headquarters. It was delayed until after Dr. Kessler resigned from the FDA. Dr. Kessler collaborated with Dr. Koop in trying to develop an approach to rein in the use of tobacco. [3]
When Dr. Koop was Surgeon General, his agenda was to reduce smoking by children. Dr. Koop didn't realize that during his seven-year tenure he was to reinforce the views of President Reagan on AIDS, Abortion and Smoking. He got into trouble with the White house and special interests, but was strong enough in his leadership role to stay the course. Not until Jeffrey Weigand, an insider whistle blower from the tobacco industry arrived on the scene, did they acquire the ammunition to slow and reverse the health damage being done by tobacco to Americans that smoked.
Jeffrey Weigand was protected from death threats while he opened up the secret agenda of the tobacco industry to Dr. Kessler and the justice department. Later, a movie called "The Insider" chronologicalized the events.
Pro Industry sites that you can still find on the Web castigate and demonize Dr. Kessler. That is the price paid by anyone in Washington that tries to defend and improve the quality of life for Americans when it interferes with the economic health of special interests. Dr. Kessler's book, "Question of Intent" outlines his initiatives and successes and failures while he was head of the FDA.
Our current President George W. Bush appointed a new FDA commissioner named Mark McClellan who was in charge for less than two years and was promoted by Bush to manage the 2003 Medicare Initiative that was pro Big Pharma. Dr. McClellan is a political appointee and his brother is the Press Secretary for President Bush and they are from Austin, Texas, where their daddy was mayor.
Ex-Congressman Tauzin who was Bush's point man on the Medicare bill will make a reported $2 million dollars a year job running Big Pharma's National Association in January 2005. It looks like we have parallel Inaugurations.
Today, the FDA is rudderless and the White House sees it as a way to reduce controversy and let Big Pharma to continue to have their way. Without strong positive support from President Bush and Bipartisan support from Congress, there will not be any change in the way the FDA operates and is manipulated by Big Pharma.
No one with any understanding will agree to take this position unless they are handed a mandate to correct the weaknesses of the FDA and the influence of Big Pharma. Dr. David Graham has had the courage to speak the truth and be heard in regards to Vioxx. Cox 2 Inhibitors are the tip of the iceberg and 1 out of 10 drugs marketed in the last 30 years remains on the market with a Black Box Warning, the equivalent of face savings for the FDA and the manufacturer. [4] It has little to do with better medicine, but keeping the manufacturer economically viable.
To create a positive wave of change, President Bush has to lead and give our invisible Surgeon General, Dr. Richard Carmona, and the faceless FDA Director a mandate to do what's right for the American Public and not Big Pharma and their bottom line agenda. America's health should be protected, not the economic health of Big Pharma. We desperately need leadership and not political clout. It's killing us.
Sweet Misery Documentary 2004
Zomax Congressional Hearings, Congressman Ted Weiss 1983
Question of Intent, Author Dr. David Kessler
Estimated to be 56 drugs with potentially fatal side effects
---
T. Braun, Pharmacist, Buyer, Marketing Executive for a Major Drug Chain. Active for over 45 years in Pharmacy.
Legal Stuff: Disclaimer – This document is informational in nature. Medical advice should be secured through your physician.
About
This top-ranked site now has over 4,000 pages of humor, nostalgia, senior advocacy and useful information for seniors 50+. Updates weekly!
The daily e-zine for everyone over 50 who feels way too young to be old.
"...the perfect mix of Andy Rooney, Dave Barry, and Garrison Keilor, combining knee-slapping humor with useful information and genuine compassion."
Retired.com
"Thousands look to and trust Suddenly Senior. Other Websites pale in comparison to the real-life, intimate look into senior lives. What sets apart Suddenly Senior is its blistering honesty and its incomparable encouragement. Millions need guidance."
Suzette Martinez Standring
"Best Senior Site ever on the Web! Great, up-to-date information on how seniors can save money on drugs. Wonderful nostalgia. Hard-hitting senior advocacy pieces that get read in high places. Wonderful humor. It's all at Suddenly Senior."
Alexa.com
KUDOS
Now read by 3.1 million in 83 newspapers from Florida's St. Petersburg Times to the Mumbai, India News.