Because it was over almost before it started, many now wonder what the Canadian War of 2006 was really all about.
America had enjoyed peace with our "Neighbor to the North" for 200 years. In all that time, our greatest conflict argued how to spell the word "colour."
Then, six years ago, American grannies began bussing across the border to buy their prescription drugs. It was just a trickle at first. But as more and more Americans – especially uninsured senior citizens – found themselves priced out of the US drug market, Americans began to realize that their life-saving medicines, unaffordable in the US, were a near steal in Canada.
By 2004, over a million Americans were saving up to 90 percent on our Lipitor and Nexium, Fosamax and Tamoxifen, buying across the border. While totaling less than one percent of US pharmaceutical sales, the drug companies went nuts.
Crazed, facing the potential loss of the most lucrative hustle in history, American drug purveyors turned to their wholly-owned subsidiary, the US Government.
The FDA began to harass seniors returning from Canada on buses. Credit card companies were intimidated into denying Canadian pharmacy charges. The Justice Department even threatened legal action against US insurance companies covering Canadian-purchased drugs.
Such thug tactics proved futile.
Tens of millions of tax dollars went to advertise dire FDA warnings about "life-threatening foreign drugs" and "dangerous Canadian pharmaceuticals." But by then, seniors were aware that almost all US drugs are made abroad. And, seniors asked, "Where are the dead Canadians?"
Clearly, bigger guns were needed.
In a "We'll show 'em!" stance, large manufacturers, led by Pfizer and GlaxoSmithKline and in the name of US customer safety, cut off drug supplies to Canada.
Shortages developed. The Canadian government, citing the USFDA's own safety concerns, revoked Pharma's drug patents allowing Canadian-regulated generic drug manufacturers to make Lipitor and other drugs.
Big Pharma went wacko.
Meanwhile, the half-trillion dollar 2006 Medicare Drug Bill went into effect, exposing it as nothing but one big donut hole. Seniors were livid.
Wag the Dog
Shortly after the midterm elections, US Marines invaded Canada.
Almost immediately, a language barrier bogged down the US forces. Although 2,600 translators were attached to the original invasion force, most spoke only Arabic. None spoke Canadian.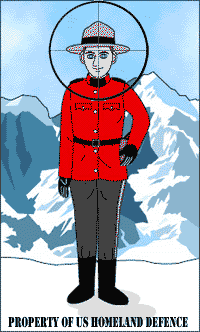 Bivouacking in the woods turned sticky when Marines, trained for desert warfare, were incessantly spurred to battle stations by amorous moose. And although Pentagon propaganda painted Canada as "America's Attic" to be cleaned up, and Canadian citizen, Santa Claus, as a "Person of Interest," invading Marines had a tough time firing on the unarmed and smiling Mounties.
Seeing Santa in handcuffs brought even hardened leathernecks to tears.
On the home front, the cry went out: "Remember the Maine. Remember Pearl Harbor. Remember Lipitor!"
Jim Carrey, Mike Myers, and thousands of other Canadians were rounded up and shipped to Guantanamo. Mountie hats and Dudley Doright jodhpurs were outlawed. And in the US Senate restaurant, Canadian bacon was renamed "Freedom Pork."
Within days it was over. Canada surrendered. The US immediately promised democracy, reinstated universal health care and, to pay for US patented drugs, a trillion dollars was granted Health Canada. For a mouse that didn't even roar, Canada made out well.
Little wonder the Canuks added "Great" to the "Canadian War of 2006," eh?
Senior Citizen Contest
Win Our $1k Grand Prize
Weekly prizes awarded
About
This top-ranked site now has over 4,000 pages of humor, nostalgia, senior advocacy and useful information for seniors 50+. Updates weekly!
The daily e-zine for everyone over 50 who feels way too young to be old.
"...the perfect mix of Andy Rooney, Dave Barry, and Garrison Keilor, combining knee-slapping humor with useful information and genuine compassion."
Retired.com
"Thousands look to and trust Suddenly Senior. Other Websites pale in comparison to the real-life, intimate look into senior lives. What sets apart Suddenly Senior is its blistering honesty and its incomparable encouragement. Millions need guidance."
Suzette Martinez Standring
"Best Senior Site ever on the Web! Great, up-to-date information on how seniors can save money on drugs. Wonderful nostalgia. Hard-hitting senior advocacy pieces that get read in high places. Wonderful humor. It's all at Suddenly Senior."
Alexa.com
KUDOS
Now read by 3.1 million in 83 newspapers from Florida's St. Petersburg Times to the Mumbai, India News.