Fifty years ago, Prevention magazine was the stalwart for promoting prevention of disease states through healthy eating. Somewhere along the way, they lost their compass for a while and started to accept advertising from pharmaceutical companies promoting pharmaceuticals. Today, the majority of physicians in the United States believe in treating the symptoms of disease states and have a propensity not to explore the impact of lifestyle, poor nutrition and lack of nutrients as the root cause in many illnesses. The term "allopathic medicine" describes modern medicines approach for treating illness. In turn, a growing minority of physicians practice "naturopathic medicine" a holistic perspective on the practice of medicine based on a belief in treating the "whole patient" (mind-body-spirit). In more simple terms, it means there is a goal of reversing or preventing disease states by these physicians. The weight of allopathic medicine has dominated medicine's approach for treating illness with the use of pharmaceuticals as being the main convenient treatment form in the last half of the 20th century.
Several years ago, the National Geographic researchers launched a global search for those places on earth where people live into their 11th decade. After extensive research, they found five places on earth where the inhabitants live an extra decade longer than anywhere else. The locations are:
Sardinia, Italy
Okinawa, Japan
Nicoya Peninsula, Costa Rica
Icaria, Greece
Loma Linda, California
Unsurprisingly, there are no places in the United States that are a unique place, but research has found there is a unique group of people with a dedicated lifestyle that allows them to be considered a blue zone, so named for these unique locations on earth where human existence is extended an additional decade or so.
In California, for over 150 years, the Seven Day Adventists, which believe in healthy eating which embraces a vegetarian dominant diet, exercise along with a religious view that believes in meditation and strong family ties has emerged as the Fifth Blue Zone. This runs contrary to the fact that demographers believe lifespans for future generations will shorten.
It is now believed that those living in the United States will begin to have a decrease in longevity due to a lifestyle that is being negatively impacted by fast food, toxins in our environment and in what we consume and a decline in physical activity.
Those living in the blue zone have some common characteristics. Strong family ties, a plant-based diet including legumes, regular mild exercise and socially active. One characteristic that I believe is very important is the fact that there is plenty of sunshine year round in these 5 locations… The best source of Vitamin D. Venn diagram created by the Quest Network to illustrate longevity clues in Blue Zones.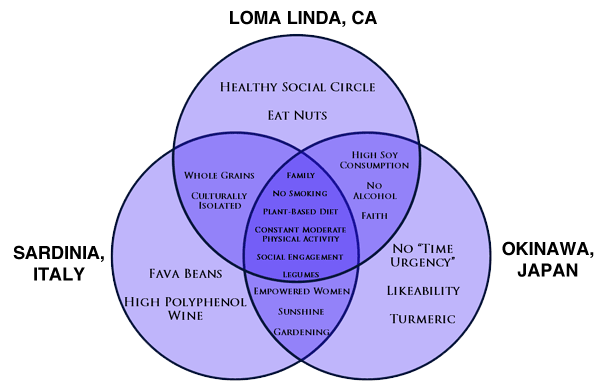 The research has been done by Dan Buettner. He has written several books on the subject. The scientists say we can all live an extra 12 years if we shift gears and reject those lifestyle habits that impede our ability in the United States to stay healthy.
Independently, N2E for you (N2E4U.com) has been created by this writer who has become totally convinced that each American has to find his or her right balance of good nutrition, specific nutrients which we lack for a variety of reasons and exercise to live a long healthy life plus a healthy mind-body state.
N2E believes that the only way to improve health outcomes in the United States is through health education being offered at the community level. The Seventh Day Adventists from Loma Linda, California are showing us the way. They sponsor a healthy people conference at Loma Linda University every year to educate all that are interested. The question is: Will we have the courage to exchange our current lifestyle for a lifestyle that will offer all of us an opportunity to live into the 11th decade?
Founder N2E Health Education Foundation, LLC
Bringing Health Education to the Community
---
T. Braun, Pharmacist, Former Buyer, Marketing Executive for a Major Drug Chain. Active for over 45 years in Pharmacy.
Legal Stuff: Disclaimer – This document is informational in nature. Medical advice should be secured through your physician.
About
This top-ranked site now has over 4,000 pages of humor, nostalgia, senior advocacy and useful information for seniors 50+. Updates weekly!
The daily e-zine for everyone over 50 who feels way too young to be old.
"...the perfect mix of Andy Rooney, Dave Barry, and Garrison Keilor, combining knee-slapping humor with useful information and genuine compassion."
Retired.com
"Thousands look to and trust Suddenly Senior. Other Websites pale in comparison to the real-life, intimate look into senior lives. What sets apart Suddenly Senior is its blistering honesty and its incomparable encouragement. Millions need guidance."
Suzette Martinez Standring
"Best Senior Site ever on the Web! Great, up-to-date information on how seniors can save money on drugs. Wonderful nostalgia. Hard-hitting senior advocacy pieces that get read in high places. Wonderful humor. It's all at Suddenly Senior."
Alexa.com
KUDOS
Now read by 3.1 million in 83 newspapers from Florida's St. Petersburg Times to the Mumbai, India News.