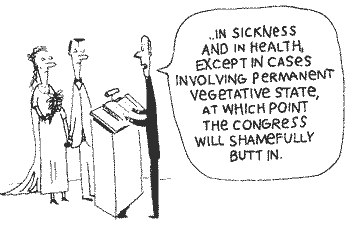 Down the road from me, just outside Terri Schiavo's hospice, it's been a nutfest.
Until her death this morning [March 31, 2005], police snipers, alert for assassins, patrolled rooftops as protesters, some from as far away as Brazil and Japan, bull-horned prayers to an apparently hard-of-hearing God.
Jugglers for Jesus competed with trumpeters, minstrels, drummers and – who'd have guessed – Jesse Jackson for the attention of the press while Woodside Hospice residents just beyond prayed only for a quiet, peaceful place in which to die.
More than 50 protesters were arrested, most for attempting to sneak water to a woman in her 15th year of a persistent vegetative state, her brain's cortex gone, replaced long ago by inert spinal fluid. A woman who, before her heart stopped in 1990, is said to have beseeched her husband and others to never keep her alive by extraordinary means.
Now that Terri is finally free, the irony remains of a husband – who became a nurse and spent a million dollars to care for her – widely slandered for attempting to follow his wife's wishes. Death threats, flying like shrapnel over Baghdad, have been made against Michael Schiavo, Pinellas-Pasco Circuit Judge George Greer, Attorney Felos, Schiavo's sister and her children, even against me after I first wrote of Terri's plight several weeks ago.
Judge George Greer, who ordered the removal of Terri's feeding tube, has been called a "killer" by pro-life Websites demanding his impeachment. Self-proclaimed Christians threatened his life so relentlessly that he was forced to hire armed bodyguards. Greer's Calvary Baptist Church, one of the area's largest, asked him to "reconsider his membership." All this in the name of God.
Who says He doesn't have a sense of humor?
In Washington and Tallahassee, hypocrites strutted and crowed at the top of their game until silenced by polls showing most Americans wanted government to butt out of private family matters. Yet before it was over, every branch of government, state and federal, had its say.
When Majority Leader Tom DeLay and his Congressional Circus of Political Pranksters convened the special session giving Schiavo's parents a final avenue of appeal, we knew we were in for some spectacular sanctimonious skullduggery.
DeLay argued that Schiavo's spouse couldn't legally vouch for her wishes. Yet in 1988, he and his mother did just that when they withheld dialysis from DeLay's 65-year-old father, letting him pass in peace.
Our President rushed to Washington from his Texas ranch "to save Terri." This same man, while governor of Texas, fought for and signed a bill allowing hospitals the right to remove life support when families cannot pay, no matter the family's wishes in the matter.
Senate majority leader Bill Frist, MD – after viewing heavily edited three-year-old videos – proclaimed that Terri could recover. This same guy recently dubbed stem cell research as "…giving false hope to people, and I can tell you as a physician who's treated scores of thousands of patients that you don't give them false hope."
Meanwhile in Tallahassee, where pandering is next to Godliness, there was so much wailing and gnashing of teeth that at one point we braced ourselves for the shoot-out at the OK Hospice when Governor Bush considered sending state troopers to kidnap Mrs. Schiavo from the protection of our Pinellas County cops.
"Err on the side of life" is a worthy idea which both Bushes endorsed.
Yet when it comes to questionable death penalty cases, George and his brother have proved time and again to be on death's side – the sooner the better. In 2000 George W. Bush summarily sent a juvenile to death after five members of his own parole board and four justices of the U.S. Supreme Court argued to spare the young man's life.
Not to be outdone, Governor Jeb has done everything in his power to limit death penalty appeals, even when DNA proves innocence.
And while all this hypocrisy flooded our lives, and Terri's deathwatch so saddened us all, Democrats, with few exceptions, said nothing. Which may be the most hypocritical position of all.
Rest in peace, Terri. You've given us much to ponder.
About
This top-ranked site now has over 4,000 pages of humor, nostalgia, senior advocacy and useful information for seniors 50+. Updates weekly!
The daily e-zine for everyone over 50 who feels way too young to be old.
"...the perfect mix of Andy Rooney, Dave Barry, and Garrison Keilor, combining knee-slapping humor with useful information and genuine compassion."
Retired.com
"Thousands look to and trust Suddenly Senior. Other Websites pale in comparison to the real-life, intimate look into senior lives. What sets apart Suddenly Senior is its blistering honesty and its incomparable encouragement. Millions need guidance."
Suzette Martinez Standring
"Best Senior Site ever on the Web! Great, up-to-date information on how seniors can save money on drugs. Wonderful nostalgia. Hard-hitting senior advocacy pieces that get read in high places. Wonderful humor. It's all at Suddenly Senior."
Alexa.com
KUDOS
Now read by 3.1 million in 83 newspapers from Florida's St. Petersburg Times to the Mumbai, India News.