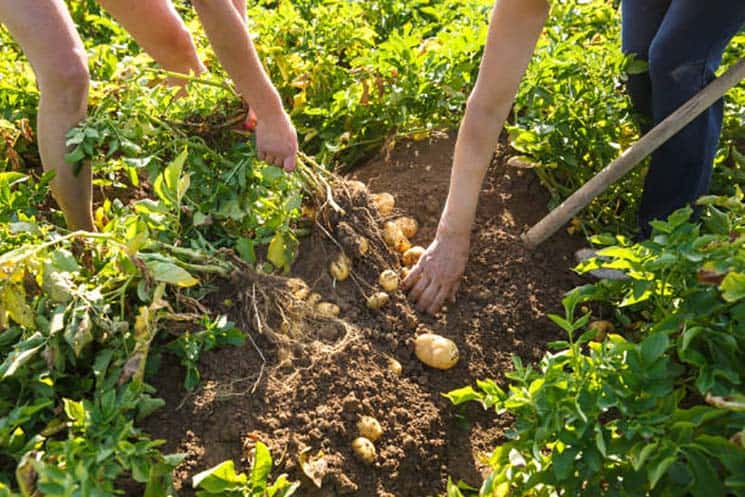 Do you remember childhood seasonal activities?  Some make fond memories, others spark, "I can't believe I got roped into doing that."  We've been "tater digging" with our granddaughters for eight years.  Now Bella and Lulu are 13 and 10.
I'm a 64-year-old city gal, born and bred in San Franciso, now living near Boston, with a very romanticized view of farming.  My husband David and I once considered buying a home in the middle of six acres in New Jersey, and I was all agog at the prospect of planting corn fields and rows of tomatoes.  David balked, 'It's 1-1/2 miles of dirt road to the house!  Who's going to snow plow all that in the winter?"
I said, "I will!  Buy me a tractor!"
Somehow, he doubted his 4'10" city-gal of a wife, and boy! Did I give him the sharp edge of my tongue when he wouldn't see "living on the land" my way?
Later, we landed in Massachusetts, and I quickly lost interest in even weeding our quarter-acre yard.  In a word, David saved me from myself.
But the wonder of the harvest has never left me.  I just need it in dribs and dabs, and U-Pick farms fit that bill.
I won't get all holier-than-thou with talk of farm-to-table eating, or how it allows my granddaughters to appreciate where their food comes from, or even the necessity of reclaiming lost sensibilities of honest, manual labor.  All of that is true.
But I just like to get dirty.
We buy a bushel box, and off we go into the potato fields.  Pitchforks are stuck into the ground here and there.  However, experience proves that with every pitchfork push into the ground, about three perfect specimens are run through the tines.
It's better to angle in the fork deep and gently at the furrow and lift.  Then use your hands to sort through the dirt, and uncover buried treasure.  It's like finding Easter eggs.  Some potatoes are small, but more often than not, somebody hollers, "I found a big'un!"
In years past, I used a little red wagon to haul Bella and Lulu to the fields for picking, and later, to haul them and our loot back.  Today, they are much bigger, and I'm too short for workhorse duty.  Now it's nice to have Grandpa David haul the wagon.
Well, it wasn't all that nice the first time he joined us four years ago.  What with his added manpower, I thought, "Let's fill two-bushel boxes instead of one!"
That year we got a late start, the ground was hard, and the fields were spent on the very hot afternoon we arrived.  Bella and Lulu lost interest after filling the first box and went to visit the 4-H barn.  Somebody should go with them, right? "Hey, gals, wait up!" I said.
Poor David was left to fill a whole box by himself in the broiling sun.
He was absent from our tradition for the following two years.
But this year, he came and we (very sensibly) filled one box, arriving on an overcast and cool day.  Though the girls are bigger, they piled into the little red wagon with the bushel box of newly dug potatoes.  That made David the Clydesdale, pulling the crowded wagon over bumpy furrows through the fields, and back to the parking lot.
After all these years, Bella and Lulu adore our annual tradition, which delights me and David.  But does he secretly wonder, "How did I get roped into this?"
Our Sponsors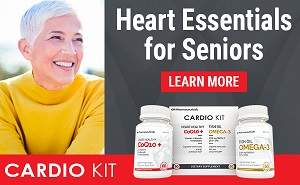 Cardiologist Developed and Recommended
---
Your ad could be here.
About
This top-ranked site now has over 4,000 pages of humor, nostalgia, senior advocacy and useful information for seniors 50+. Updates weekly!
The daily e-zine for everyone over 50 who feels way too young to be old.
"...the perfect mix of Andy Rooney, Dave Barry, and Garrison Keilor, combining knee-slapping humor with useful information and genuine compassion."
Retired.com
"Thousands look to and trust Suddenly Senior. Other Websites pale in comparison to the real-life, intimate look into senior lives. What sets apart Suddenly Senior is its blistering honesty and its incomparable encouragement. Millions need guidance."
Suzette Martinez Standring
"Best Senior Site ever on the Web! Great, up-to-date information on how seniors can save money on drugs. Wonderful nostalgia. Hard-hitting senior advocacy pieces that get read in high places. Wonderful humor. It's all at Suddenly Senior."
Alexa.com
KUDOS
Now read by 3.1 million in 83 newspapers from Florida's St. Petersburg Times to the Mumbai, India News.