Rattlesnake at best is a survival food. That's how I was introduced to it. That's where I prefer to leave it. Even when it's packed in an attractive can, labeled "gourmet" food, and sold at a high price.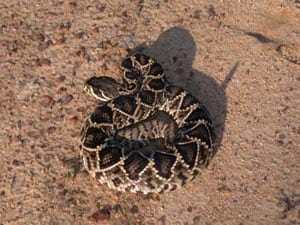 Shortly after I moved to Florida in 1958 I was sitting around the Florida Tackle & Gun Club out on Goodby's Lake in Jacksonville when the subject of Scouting came up.
I am an Eagle Scout.
What was needed was a Scoutmaster for a troop at a local church. I told the guys I would help out where I could. The next thing I knew I was Scoutmaster.
What I could have never anticipated was that the Boy Scout District Commissioner's sons were in my troop – all four of them. This was a camping troop. They loved the outdoors. So did the District Commissioner.
We made every camp and jamboree within driving distance. We camped on islands in the St. Johns River, Boy Scout camps, parks along the ocean, and Silver Springs.
Ross Allen owned Silver Springs at the time. He was the leading herpetologist of the day. His reptile institute at Silver Springs led the world in snake research.
Ross also was a great outdoorsman. He loved living, on his own, in the Florida wilderness and teaching others how to do it.
I met Ross Allen on one of the Scouting trips to Silver Springs.
Eventually I became an Assistant District Commissioner and was in charge of teaching adult Scout leaders Scouting skills.
One of the things I hooked into was Ross Allen's survival courses. We would gather together with between 25-40 adult Scout leaders from around the state on a Friday night at Silver Springs.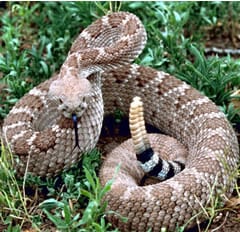 Ross would issue a mosquito bar – a net large enough to cover one person – and a folding shovel to each person in the party. You were expected to bring your own knife, axe, and canteen. This was all the equipment that was permitted.
On this you were going into the woods of Central Florida and live from Friday night until Sunday afternoon.
Just to make sure no one starved to death, Ross issued enough frog legs and rattlesnake meat for a Friday night campfire cookout.
That was the first place I ate rattlesnake and I am still ambivalent about it. As a survival food it's great, but then so are snails and I guess, if you get hungry enough, lizards, worms and bugs.
Skinned, gutted, wrapped in aluminum foil and cooked in the hot coals of a campfire, rattlesnake has a bit of a fishy smell to it when you raise it to your mouth but actually tastes a good deal like chicken.
If I'm not carrying a gun, which is my preferred way for dispatching rattlesnakes, I always carry a walking stick when I'm in the woods in Florida. We do have some big snakes.
If I run into a rattlesnake, I try to let him go his way. But, if I want him for food, I'll stop him with the walking stick by hooking him behind the head and chopping it off immediately. I don't play around with rattlesnakes.
I saw Ross in the hospital after he had been bitten the 93rd or 94th time, at a point when he had built up so many anti-toxins in his blood that we flew him all over the country to donate blood to other snake bite victims, and he was sick, his arm swollen up until it looked like a black balloon.
BIG SNAKE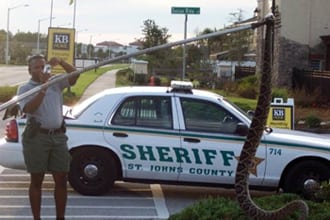 These photos of a big rattlesnake have been crawling around the Internet for a couple of years claiming it is a 15-foot rattlesnake caught in St. Augustine, FL.
That would be a monster of a rattlesnake since Eastern Diamondback Rattlesnakes average about 5-1/2 foot in length.
Actually the snake was caught in St. Augustine in the Fall of 2009, but it was only 7 feet, 3 inches in length, still big for a rattler. The reported record length for an Eastern Diamondback is 8 feet.
Its length was enhanced in these photos by holding it closer to the camera than the objects in the background.
Even at 7-foot, 3-inches that would still be a lot of survival food by Ross Allen's standards.
I don't plan to get rattlesnake bit.
After a day or so in the woods living on pine needle tea, rattlesnake starts to look pretty good. In fact, they are down right tasty when stuffed with the heart of a palmetto stalk, packed in mud, and laid in the coals of a fire.
If you haven't had anything else to eat since the night before, a little baked rattlesnake stuffed with palm heart is absolutely delicious.
I gave up rattlesnake eating and teaching survival courses with Ross shortly after I got married my first time.
I had been married three weeks when I got the call from Ross to come down and help take a group out.
When I showed up on Friday night there were 40 Girl Scout leaders waiting to take the weekend survival course.
It also was the first time I ever saw a newspaper reporter at one of these outings.
A nice feature story ran in the Sunday newspaper about Ross and I spending the weekend in the woods with 40 women. Of course, my new wife read it before I got home from teaching the course.
"I thought you were out with the Boy Scouts?" She admonished.
"I think I just said Scouts," was all I could sheepishly reply.
Sponsored Links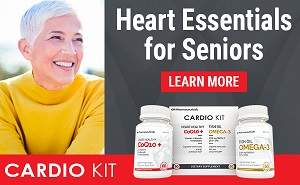 Cardiologist Developed and Recommended
---
Your link could be here.
About
This top-ranked site now has over 4,000 pages of humor, nostalgia, senior advocacy and useful information for seniors 50+. Updates weekly!
The daily e-zine for everyone over 50 who feels way too young to be old.
"...the perfect mix of Andy Rooney, Dave Barry, and Garrison Keilor, combining knee-slapping humor with useful information and genuine compassion."
Retired.com
"Thousands look to and trust Suddenly Senior. Other Websites pale in comparison to the real-life, intimate look into senior lives. What sets apart Suddenly Senior is its blistering honesty and its incomparable encouragement. Millions need guidance."
Suzette Martinez Standring
"Best Senior Site ever on the Web! Great, up-to-date information on how seniors can save money on drugs. Wonderful nostalgia. Hard-hitting senior advocacy pieces that get read in high places. Wonderful humor. It's all at Suddenly Senior."
Alexa.com
KUDOS
Now read by 3.1 million in 83 newspapers from Florida's St. Petersburg Times to the Mumbai, India News.