Travel
Stampede Promises Old Cowpokes Swaggering Good Time in Calgary
Carolyn and I stood, dusty and wide-eyed, just behind the chutes where the rugged cowboys and fractious horses connect. We'd already seen maybe 40 tough-as-nails cowpokes get thrown, flung and otherwise launched into flights of embarrassment when we spotted the boys.
Standing on the rail were three buckaroos, complete with stern mien, chaps, red shirts and black hats, waiting for their turn in the arena. Only instead of attempting to stay atop a large, bucking animal for eternity's longest eight seconds, these kids run after a wild pony, struggle to catch it, and to put one of their number on board.
For these little cowboys, children of the rodeo circuit, this is life at its best.
Carolyn queried their ages: Seven, nine and eleven. Then she asked, "Plan to do this all your life?"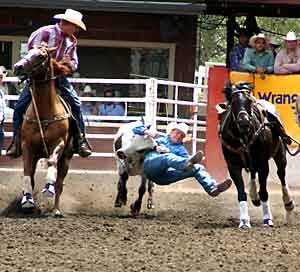 The seven-year-old – his name was Ian – hoisted up his silver belt buckle, looked her square in the eye, and said, "Ma'am, it beats workin'."
For 10 days every July, cowkids like Ian join the hootin' and hollerin' of a couple dozen marching bands, half a hundred floats, and maybe 1,000 horses as 400,000 onlookers welcome "The Greatest Outdoor Show on Earth" to one of the most charming cities on earth – Calgary, Alberta – located in the eastern foothills of the magnificent Canadian Rockies.
Since 1923, this annual shindig called the Calgary Stampede has turned everyone attending into a provisional cowpuncher.
Cowboy hats are mandatory. You'll be surprised how they can positively affect an attitude. Carolyn and I swaggered the entire week.
Yep!
The Stampede is far more than the world's best cowpokes risking their dignity. This combination carnival midway, state fair, rodeo, chuckwagon race, Native American powwow, and Broadway-style musical with more than a hint of Cirque du Soleil promises – and delivers – fun for everyone.
There are karaoke contests, free all-you-can-eat pancake breakfasts, Texas Hold 'em tournaments, heart-stopping midway rides, running with the bulls, even sheep shearing contests if you're into that.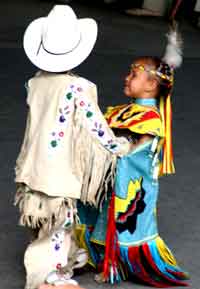 Most colorful for that new digital camera of yours is the Indian Village, a mock native camp set up on the 137-acre Stampede grounds. Here, members of Treaty Seven Nations camp out, eating, sleeping, working, playing and dancing for the full duration of the event. Their tepees welcome you day and night.
And every evening a world-renowned troupe of 160 talented young performers puts on a spectacular show equal to Broadway musicals we've seen. Alone, this 90-minute, $2.98 million production is worth the trip to Calgary.
Side trips not to be missed are an afternoon at Spruce Meadows where you'll see international show jumping at its best. And not far from there is Calgary's Heritage Village where pre-1914 life is recreated live in over 150 historical exhibits including a steam train you can ride.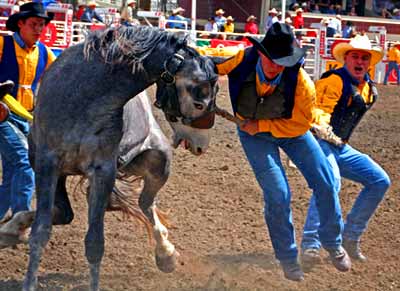 Of course, the big event is the daily rodeo where the world's best cowboys, cowgirls, and rodeo livestock compete in chuckwagon racing, barrel racing, bull riding, and bareback horse bucking. Broncobusters from around the world use all their wit and strength to stay aboard for just eight seconds.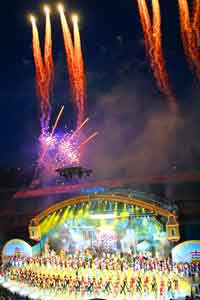 It's said that rodeo livestock has the easiest jobs in the world. Their career lasts maybe five minutes – in eight-second intervals – before they're retired to stud and romp in the grassy plains just this side of North America's most spectacular mountain range.
For those of you less fortunate, mossy on up to Calgary July 7 to 16, 2006, and see why they call those 10 days "Canada's Mardi Gras." A tee shirt saying, "It ain't cheatin'. It's Stampede!" says it all.
Beats workin'.
THE FACTS

Costs: Even with the Canadian dollar at a high of CDN 1.18 cents to our dollar (Canada's dollar is worth 85 US cents), most everything is very reasonable by US standards. And you don't need a car. Most hotel and motel rooms (ours cost about $100 a night) are on Calgary's light rail system where it's a direct shot downtown and to the Stampede. Rodeo ticket prices range from $20 to $42. For the evening show featuring chuckwagon races and the spectacular grandstand show plan to spend from $25 to $55. All prices quoted are in US dollars. Call (800) 661-1767 or go to www.calgarystampede.com.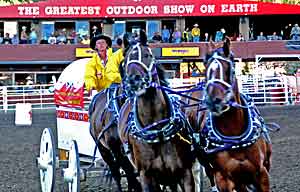 Getting There: Our roundtrip airfare from Tampa to Calgary was about $400 each.
Weather: The weather is perfect in July, 65 to 74 degrees. Occasional rain may dampen a raincoat or umbrella, but never your spirits.
What to Wear: Cowboy garb is de rigueur. Jeans and a cowboy hat will do just fine no matter where you go. Garb, plain to fancy, boot to hat, is available everywhere.
Calgary Accommodations: Call Tourism Calgary Accommodation Services at (800) 661-1678.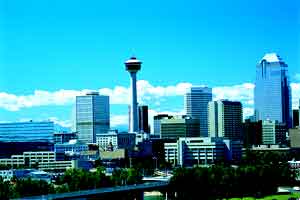 Calgary Attractions: Aero Space Museum, (403) 250-3752 or go to www.asmac.ab.ca. Calaway Park, Western Canada's largest outdoor family amusement park. (403) 240-3822 or go to www.calawaypark.com. Heritage Park Historical Village (see story) (403) 268-8500 or go to www.heritagepark.com. Spruce Meadows site is at www.sprucemeadows.com or call (403) 974-4200. Race City Motorsport Park features a 1⁄4 mile dragstrip, 1/2 mile high-banked oval and a 2-mile road course. From May to October. (403) 272-RACE or go to www.racecity.com. Calgary Science Centre with interactive exhibits for the grandkids. (403) 268-8300 or go to www.calgaryscience.ca. Calgary Zoo with over 900 animals. Open year-round. (800) 588-9993 or go to www.calgaryzoo.com.
While You're There: Banff, in the heart of the Canadian Rockies, is but an hour away by car. Or do as we did and take the two-day deluxe Rocky Mountaineer, "The Most Spectacular Train Trip in the World" to Vancouver. For information, call (604) 606-7200 or go to www.rockymountaineer.com.
About
This top-ranked site now has over 4,000 pages of humor, nostalgia, senior advocacy and useful information for seniors 50+. Updates weekly!
The daily e-zine for everyone over 50 who feels way too young to be old.
"...the perfect mix of Andy Rooney, Dave Barry, and Garrison Keilor, combining knee-slapping humor with useful information and genuine compassion."
Retired.com
"Thousands look to and trust Suddenly Senior. Other Websites pale in comparison to the real-life, intimate look into senior lives. What sets apart Suddenly Senior is its blistering honesty and its incomparable encouragement. Millions need guidance."
Suzette Martinez Standring
"Best Senior Site ever on the Web! Great, up-to-date information on how seniors can save money on drugs. Wonderful nostalgia. Hard-hitting senior advocacy pieces that get read in high places. Wonderful humor. It's all at Suddenly Senior."
Alexa.com
KUDOS
Now read by 3.1 million in 83 newspapers from Florida's St. Petersburg Times to the Mumbai, India News.