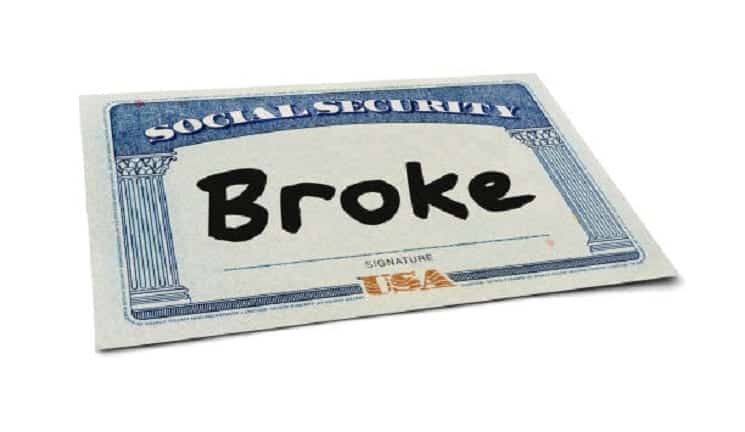 The claims that the Social Security system is "broken" are as phony as those that told us that weapons of mass destruction were to be found in Iraq.
The annual reports by the Social Security and Medicare Trust Funds trustees have said for years that payouts from the system were solid for the next 35 to 40 years. In 2001, it told us that 2038 was the year. In 2006, we're told it's 2040.
But in 2001, the Bush administration began to proclaim that the System was "broken." A commission appointed by the President told us that deep benefit cuts, tax increases or massive federal debt were inevitable if Social Security was not fixed.
But the way it works is simple: collect enough to pay your bills, then save the excess for future needs.
The 2006 report says that $1.6 trillion has been deposited into the Social Security Trust Fund as of the end of 2005. It also says that more is coming each year for the next ten years: a total of $2.3 trillion more! Thus, by 2015, the Social Security Trust Fund is projected to hold more than $5.0 trillion in savings.
Considering that the total annual budget of our federal government is less than $3 trillion, that's a ton of money!
So, how can a system that continues to collect more than it pays out, is projected to do so for at least another 10 years, and is projected to have more than $5 trillion in savings by 2015 be "broken?" It can't be.
The real problem is that no real money has or is being put into the Social Security Trust Fund.
The real problem is that Congress and the Bush administration simply spend the Social Security surplus year after year, rather than put that money where it really belongs.
The real problem is that those who tell us that the system is "broken" have no intentions of reimbursing the Trust Fund for the missing $5 trillion!
The trustees' report should tell us that the Social Security Trust Fund is dry. But it doesn't. It says, in so many words, that if there was real money in the Fund, for the years between 2017 and 2027, we would only need to tap the interest paid on the principal. Then, only after 2027, would we need to tap both the interest and principal. Dire projections past 2040 are based on "assumed" future interest rates and rates on fertility and immigration.
The bottom line: A game is being played here by people who have no intention of repaying the Social Security Trust Fund, now or in the future, and have every intention of reducing or eliminating promises made to retired Americans.
Senior Citizen Contest
Win Our $1k Grand Prize
Weekly prizes awarded
About
This top-ranked site now has over 4,000 pages of humor, nostalgia, senior advocacy and useful information for seniors 50+. Updates weekly!
The daily e-zine for everyone over 50 who feels way too young to be old.
"...the perfect mix of Andy Rooney, Dave Barry, and Garrison Keilor, combining knee-slapping humor with useful information and genuine compassion."
Retired.com
"Thousands look to and trust Suddenly Senior. Other Websites pale in comparison to the real-life, intimate look into senior lives. What sets apart Suddenly Senior is its blistering honesty and its incomparable encouragement. Millions need guidance."
Suzette Martinez Standring
"Best Senior Site ever on the Web! Great, up-to-date information on how seniors can save money on drugs. Wonderful nostalgia. Hard-hitting senior advocacy pieces that get read in high places. Wonderful humor. It's all at Suddenly Senior."
Alexa.com
KUDOS
Now read by 3.1 million in 83 newspapers from Florida's St. Petersburg Times to the Mumbai, India News.