While it has been rumored for a while that the nearly 60 million Americans who draw Social Security benefits may find them frozen again this year it has finally been confirmed by Washington that there will be no Social Security cost-of-living increase in 2011.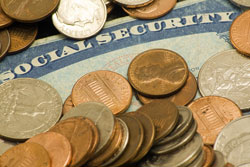 Not only was such duly noted in the news media on what would normally be a slow news day – Columbus Day – it was pointed out that this will be the first year since Social Security came into being in 1935 that the system will pay out more money then it takes in.
Washington claims Social Security is broke!
Wait a minute! If Social Security has collected more in taxes than it has paid out in benefits for the past 74 years, how can it be broke?
That's a stupid question, I know.
Those holier-than-thou Members of Congress in Washington who deny seniors a COLA (Cost of Living Adjustment) again this year have simply spent what we have paid in for the past 74 years. Blown it, if you wish.
And although they made a big thing about not taking their automatic pay raises last year when seniors went without a small COLA, that isn't going to happen this year.
Last year Congress gave themselves a 5-percent increase in expense money because they said this was necessary to keep up with the cost of doing business while at the same time saying seniors did not need any more money because it would not cost them more to live in 2010 than it did in 2009.
This year Congress is taking its pay raise and will again add to its expense allotments. In addition, the people who work for them on the government payroll will get their annual raises.
Congress claims it cannot do business without more money, but claims seniors do not need any more to live on because they will be paying the same for everything next year that they paid the year before last.
Can anyone with any sense buy that?
Are any of you seniors paying the same or less this year for the bread, milk, and meat – not to mention corn flakes – that you buy at the grocery store than you did two years ago.
That's not even a fair question!
Prices have continued to creep up steadily – some, especially beef, in leaps and bounds – over the past two years.
And that doesn't take into consideration the increased taxes seniors are paying or the extra load of taxes and fees that will kick in next year once the mid-term elections are past.
Taxes and fees, of course, don't count when it comes to figuring the cost of living.
The government measure most commonly used to determine whether seniors are due a COLA is the Consumer Price Index compiled by the Bureau of Labor Statistic under the U.S. Department of Labor.
Some such measure has been made of the economy since 1912. Today's measure of the Consumer Price Index in no way resembles the earliest one. The CPI has been "readjusted" so many times that the so-called market basket of common goods it measures changes as often as it seems the politicians need to adjust the index to produce figures they want to see.
You might scoff at that, but I don't. Experience and observation have taught me otherwise.
Alice Rivlin was the first director of the newly established Congressional Budget Office from 1975 to 1983. I had the good fortune to have breakfast with her at the Washington Journalism Center about midway through her tenure at a time when the Bureau of Labor Statistics was getting ready to make major changes in the CPI's market basket.
Rivlin was all for adjusting the CPI during the period in which she was a vociferous critic of Reaganomics. She did not see the need for increases in any Social Security benefits back then.
She went on to serve under President Bill Clinton as the deputy director of the Office of Management and Budget from 1993 to 1994 becoming director of OMB from 1994 to 1996 – the first woman to hold the Cabinet-level position.
She was a governor of the Federal Reserve from 1996 to 1999, during which time she served as the Fed's vice-chair.
Rivlin is now back in the White House circle as a member of President Obama's 18-member Debt Reduction Task Force.
Thirty years ago Rivlin was not a proponent of increasing Social Security benefits and you can bet she has not changed.
Seniors are not going to get any break out of this Congress or this administration with people like Rivlin coming up with ways to reduce government debt.
How politicians can flip off a potential voting block of nearly 60-million people is beyond me, but that is what they have done to seniors again this year.
Dave Whitney is a retired journalist and adventurer who has won many writing awards. He was born and raised in central Ohio, attended school in Missouri, served in the US Army Security Agency, and migrated to Florida a half-century ago. Author of four books, he is a former Associated Press writer/editor and has been nominated three times for the Pulitzer Prize during his writing career. As editor and founder of the Free Press newspapers in the Florida Keys, he was the first publisher to pick up Frank Kaiser's "Suddenly Senior" column when it entered syndication. Whitney currently resides in Lakeland, Fla., after living 25 years in the Florida Keys.
About
This top-ranked site now has over 4,000 pages of humor, nostalgia, senior advocacy and useful information for seniors 50+. Updates weekly!
The daily e-zine for everyone over 50 who feels way too young to be old.
"...the perfect mix of Andy Rooney, Dave Barry, and Garrison Keilor, combining knee-slapping humor with useful information and genuine compassion."
Retired.com
"Thousands look to and trust Suddenly Senior. Other Websites pale in comparison to the real-life, intimate look into senior lives. What sets apart Suddenly Senior is its blistering honesty and its incomparable encouragement. Millions need guidance."
Suzette Martinez Standring
"Best Senior Site ever on the Web! Great, up-to-date information on how seniors can save money on drugs. Wonderful nostalgia. Hard-hitting senior advocacy pieces that get read in high places. Wonderful humor. It's all at Suddenly Senior."
Alexa.com
KUDOS
Now read by 3.1 million in 83 newspapers from Florida's St. Petersburg Times to the Mumbai, India News.