Medicare D is a bureaucratic mess. The reason is obvious. It was designed to help maintain the status quo of the pharmaceutical manufacturers and not benefit the American public.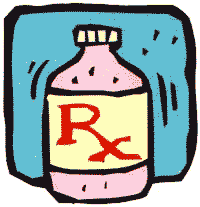 Healthcare costs in the United States amount to 16 percent of Gross Domestic Product today. In the year 2000, the costs were 73 percent higher than the average for all other major countries around the world. Quality of US healthcare at the same time ranked 37th.
Shamefully poor results for the dollars being spent. Bush's Band-Aid approach has accomplished little.
There have been a number of meetings around the country, and there are more in February through April. They want to hear from you. I'm going to one in March, and I have put together a practical list of changes that will have far reaching impact.
The only ones to oppose this list are special interests that lobby our congressman for a favored position that allows the special interests to make money at the cost of good Healthcare for Americans.
My Top Thirteen List
Provide only nutritious snacks in all schools through high school.
Educate our children and grandchildren about good health including basic healthcare and the necessity of an active physical childhood. It is up to our schools to make this happen.
Stop all Consumer ads on Prescription Drugs. It conveys the message to children and adults alike that drugs are OK to consume. They are not unless under a doctor's order and supervision.
Physicians should be directed by their Medical Associations to practice evidence-based medicine that minimizes costs and medical treatment based on conservative and proven rational medical treatment.
All medical records should be in a central database for ready access by medical professionals.
Surgical treatment decisions should be confirmed by documentation generated by a computerized diagnostic system.
The Medwatch system should be a mandatory government financed hospital based system to report all adverse drug and drug device failures.
Identify the location of hospitals where the ER departments are under siege and build local Public Health Urgent care facilities to remove the burden from the hospitals that need to treat only the life threatening conditions. The first step in restoring the Public Health system in this country.
All medical professional students should have mandatory training and service for one year in Public Health facilities.
The medically inept professionals should be retrained for non-life threatening positions within the medical community rather than hidden from view.
Prescriptions paid for by public funds should be bought on a competitive bidding basis.
All hospitals should be able to determine which drugs are to be in their formulary system based on the Evidenced Based Medicine approach.
Toxic additives in food should be banned. MSG, Aspartame and etc.
Improving healthcare in the United States is an evolutionary, not a revolutionary process. Medicare D plan tells you why. Most of the above recommendations cost little to accomplish in terms of the ballooning costs associated with the results of not having these commitments in place over the last 50 years.
If you agree with any of these suggestions, contact your Congressman and demand that action be taken. We can't wait any longer for responsible action by our elected representatives.
A conduit website to your Congressman www.thelibertycommittee.org Click on "Elected Officials" to access. Seniors speaking up in unison have the ability to change the shameful state of Healthcare in the US.
The above changes should have been included in Band-Aid Bush's Report to the Nation speech.
T. Braun, Pharmacist, Buyer, Marketing Executive for a Major Drug Chain. Active for over 45 years in Pharmacy.
Legal Stuff: Permission is granted to all to reproduce this document in whole and redistribute to all that are as concerned as I about the future of our Medical system that has so many superior attributes that is operating under needless dark clouds of distress.
Disclaimer – This document is informational in nature. Medical advice should be secured through your physician.
About
This top-ranked site now has over 4,000 pages of humor, nostalgia, senior advocacy and useful information for seniors 50+. Updates weekly!
The daily e-zine for everyone over 50 who feels way too young to be old.
"...the perfect mix of Andy Rooney, Dave Barry, and Garrison Keilor, combining knee-slapping humor with useful information and genuine compassion."
Retired.com
"Thousands look to and trust Suddenly Senior. Other Websites pale in comparison to the real-life, intimate look into senior lives. What sets apart Suddenly Senior is its blistering honesty and its incomparable encouragement. Millions need guidance."
Suzette Martinez Standring
"Best Senior Site ever on the Web! Great, up-to-date information on how seniors can save money on drugs. Wonderful nostalgia. Hard-hitting senior advocacy pieces that get read in high places. Wonderful humor. It's all at Suddenly Senior."
Alexa.com
KUDOS
Now read by 3.1 million in 83 newspapers from Florida's St. Petersburg Times to the Mumbai, India News.