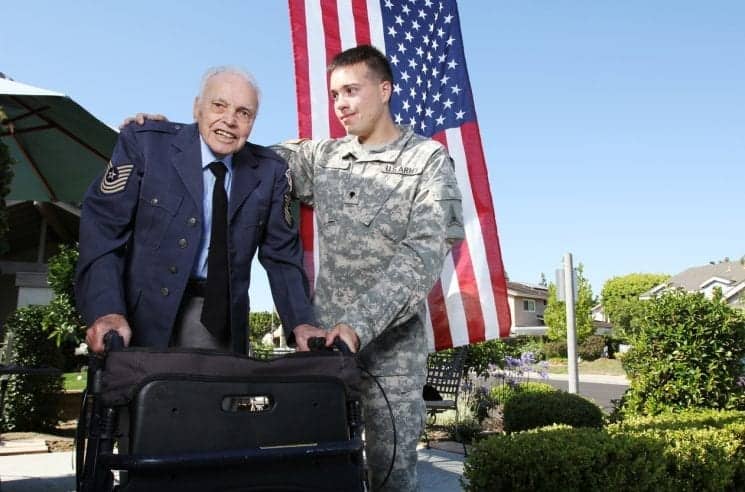 For senior Veterans and their loved ones, finding a proper home to retire in and spend their golden years is of the utmost concern. More than one-third of Americans over the age of 65 are wartime Veterans. Or they are the spouse of a wartime Vet who may qualify for pension benefits for veterans through the VA. However, only a small portion of those eligible ever redeem their benefits. For Veterans, surviving spouses, and family members, VA Pension Benefits can help offset the costs of senior living, long-term care, and assisted living facilities. For Veterans overwhelmed by the high costs associated with assisted living, nursing homes, adult day care, and home care aids; there are pension benefits for veterans available that could help cover some or all of the costs.
The three senior pension benefits for Veterans are the following:
Basic Pension
For Veterans in good health who are over the age of 65. This pension helps Veterans and their families who may be struggling financially. It provides a supplemental monthly income that is tax-free. Recipients must meet active duty and income requirements to qualify.
Aid and Attendance
For Veterans who require assistance with daily tasks and are over the age of 65. The Aid and Attendance benefit is available for both Veterans and/or their surviving spouses. Veterans can use the benefit to offset some or all of the costs associated with assisted living. There are various names that this program is referred to. It is formally known as the Aid and Attendance benefit.
Housebound
For Veterans who have a high disability rating that restricts them from leaving their home. Similar to the Aid and Attendance benefit, this benefit also applies to Veterans and/or their surviving spouses. Veterans can use the benefit to offset the costs of having an at home-caretaker due to a disability. Recipients must meet the active duty service requirements, but they are not required to have incurred the disability during this period.
The Aid and Attendance Benefits and Housebound Benefits can be applied on top of the Basic Pension, but cannot be used in addition to one another. Additionally, to qualify for the Aid and Attendance and Housebound benefits, a Veteran must qualify for the basic pension.
Veterans must meet a number of requirements pertaining to service, disability status, and income in order to be eligible for VA Pension Benefits. They must also provide documentation that substantiates these claims towards eligibility. The VA website has an online quiz to help Veterans quickly determine their status.
Benefits for Veterans: General Requirements
The Veteran must have served at least 90 days of active duty, with one of those days being during active wartime.
The Veteran must meet at least one of the following criteria:
Age 65 or older with limited or no income
Totally and permanently disabled
A patient in a nursing home
Receiving Social Security Disability Insurance
Receiving Supplemental Security Income
Conclusion
To apply, you can go online to the VA website and submit an online application. You can also download VA Form 21P – 534EZ, or search for the Application for DIC, Death Pension, and/or Accrued Benefits. You can complete and mail the physical form along with the required documents to your local Pension Management Center. Or visit your local regional benefits office to submit the application in person or ask any questions.
---
COO @ Landmark Senior Living
Matthew Boyle is the Chief Operating Officer at Landmark Senior Living, a series of top-rated Assisted Living Facilities in the midwestern United States. He has been working in the healthcare space for 7 years. He graduated from Duke University in 2011 Summa Cum Laude. Matthew and the team at Landmark create a supportive environment for the elderly.
Our Sponsors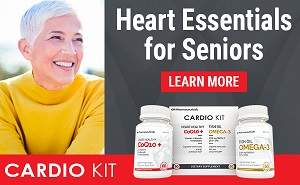 Cardiologist Developed and Recommended
---
Your ad could be here.
About
This top-ranked site now has over 4,000 pages of humor, nostalgia, senior advocacy and useful information for seniors 50+. Updates weekly!
The daily e-zine for everyone over 50 who feels way too young to be old.
"...the perfect mix of Andy Rooney, Dave Barry, and Garrison Keilor, combining knee-slapping humor with useful information and genuine compassion."
Retired.com
"Thousands look to and trust Suddenly Senior. Other Websites pale in comparison to the real-life, intimate look into senior lives. What sets apart Suddenly Senior is its blistering honesty and its incomparable encouragement. Millions need guidance."
Suzette Martinez Standring
"Best Senior Site ever on the Web! Great, up-to-date information on how seniors can save money on drugs. Wonderful nostalgia. Hard-hitting senior advocacy pieces that get read in high places. Wonderful humor. It's all at Suddenly Senior."
Alexa.com
KUDOS
Now read by 3.1 million in 83 newspapers from Florida's St. Petersburg Times to the Mumbai, India News.